Do you need a project management degree?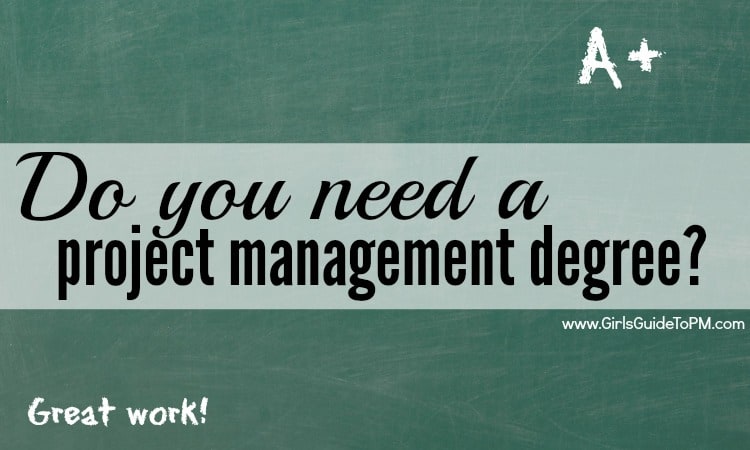 Recently someone got in contact with me to ask about how to get into project management. I thought I'd repeat here what I said to her, in case anyone else finds it useful. She wrote:
I have been advised that you have to do a degree in a particular subject e.g. engineering, do project management training e.g. PMI, PRINCE2 etc and work your way up in order to become a project manager.  Is this true? On the other hand, I have been advised to do a degree in project management and do work experience in a particular field to build up your experience.
So, do you need a degree in project management to become a project manager?
Firstly, I should say that I don't think you require a degree in a particular subject in order to become a project manager – both my degrees are in English Literature and I work as an IT project manager in the healthcare sector. But you will benefit from a project management qualification such as PMP, CAPM or PRINCE2 in order to get a job as a project manager.
Having said that, this might be different if you want to work in a non-office/non-generalist field such as architecture or civil engineering. For all that project management is mainly transferable skills I wouldn't know where to start with building shopping centres or roads after the years doing what I do.
Personally, I think employers value work experience over a degree, so a degree in project management, while it will show that you have the technical and soft skills, will not ensure you a job. What I would do is this: get a degree in a subject I enjoy and could find work in, and then add project management as a specialism later through targeted work experience and certificates. Oh, that's what I actually did do.
Having a degree is a useful back up in case you change your mind later about wanting to work in project management. If you really want a project management degree, there are lots of Masters level courses that offer professionals with experience the ability to codify that through academic and practical study. So if you do want to 'prove' your skills, I would suggest doing so at a later date with one of those once you have some work experience to your name. The risk of a undergraduate degree in project management is that you actually find out you don't much like it after all and then you're stuck with it.
There are other options for building your project management skills without taking a degree. These training courses are good options for improving your skills.
Please note that this is my personal opinion and that I cannot give tailored career advice over email. You can find my views on whether CAPM or PRINCE2 is the right choice for you here.