Master's in Project Management vs MBA: 10 Expert Tips to Help You Decide
Here's the TL;DR: The MBA will give you more flexibility later in your career and should probably be the route you choose.
While everyone has individual goals and it's impossible for someone on the internet who doesn't know your personal situation to advise you, an MBA is worth serious consideration.
In this article, I'll share 10 expert tips from a range of people about their experiences to help you choose the right higher education goals for you, so you can make the right choice for your career.
What's the difference between a Master's in Project Management and an MBA?
A Master's degree in project management will give you a deep insight into the theory and technical skills required to work in a strategic project leadership role. You'll learn the project management processes inside and out, the practical skills of leading project work and gain the knowledge to work in complex projects.
An MBA is a Master of Business Administration degree: it will give you a rounded view of what it takes to operate in a general leadership role. You'll learn cross-business skills that will help you lead and manage at work.
So, which one should you choose? Here are 10 expert tips to help you decided whether to go the MBA or the Master's in Project Management route.
1. Match your choice to your career goals
Michael Hamelburger, CEO of financial consultancy The Bottom Line Group, says it's important to make your degree choice based on what you want from your career.
"It depends on where you want to concentrate on your career," he says. "If project management is heavily involved in your business or work, then you should pursue a degree that focuses on it," he recommends.
"If you like a more generalized approach, then an MBA is recommended since you get courses in accounting, marketing and sales."
This might sound obvious, but it's worth taking a moment to actually reflect and consider your career goals, instead of rushing into the choice.
2. Match your choice to your background
A project management program may be a good choice if you already have several years of experience leading projects and know that's where you are going to make your career.
Let's say you already have a bachelor's degree in information technology, engineering or pretty much any other topic. An advanced degree would possibly help you secure one of the many project management positions in your specialism.
Reflect on what you've achieved so far and what makes most sense as the next step.
3. Think long term
Project management professionals move into a range of different jobs as they go through their career. In other words, you might not be a project manager forever.
"Before choosing between a Masters in Project Management or an MBA, ask yourself how niche you want your career to be," says Kyle Elliott, a career coach specializing in high tech and Silicon Valley. "MBA programs tend to be broader and more comprehensive while Masters in Project Management programs tend to be narrower and more focused."
More than 1/3 of Kyle's clients are project managers. "If you are pretty certain you will be staying in project management for the entirety of your career, consider opting for a Masters in Project Management," he recommends. "If you want more options as you advance in your career, it may behove you to pursue an MBA."
Kyle says that it's worth remembering that many project managers move to roles beyond project management as they advance throughout their careers. He recommends asking the university how your degree program will support your career growth should you be interested in pursuing executive and C-Suite roles that encompass functions beyond project management.
Good careers advisors and program leaders will be happy to have this conversation with you.
If you are pretty certain you will be staying in project management for the entirety of your career, consider opting for a Masters in Project Management. If you want more options as you advance in your career, it may behove you to pursue an MBA.

Kyle Elliott
4. Consider what will you learn
An MBA education is diverse and covers a range of topics like:
Leadership and communication skills
Critical thinking
Human resources management
Finance
General management
International business
Operations management
Marketing and sales
Basically, a broad business education.
A project management degree is focused and you'll learn topics like:
Portfolio management
Leadership skills
Risk management
Resource allocation and project resource management
Communication skills specific to a project environment
Managing project teams.
A project management course is likely to include a capstone project which brings together all the topics you've learned.
Have a flick through the Project Management Body of Knowledge – PMBOK® Guide for the kinds of topics that you'll dive into in depth throughout your course.
Which of those lists is more appealing to you?
5. Consider the course content
Before you sign up to any course, you need to think about whether the course content, format and structure is a good fit for you. That goes beyond looking at the list of subjects and considering how the course is taught.
"An MBA can be pursued right after an undergraduate degree, making it more accessible," says Grant Aldrich, CEO of Online Degree, an educational platform with tuition-free courses.
"There's also usually no research project component involved if that's not your cup of tea," Grant adds. "The main benefit of a Master's in PM is that it's not industry-specific. You can lead projects across different industries."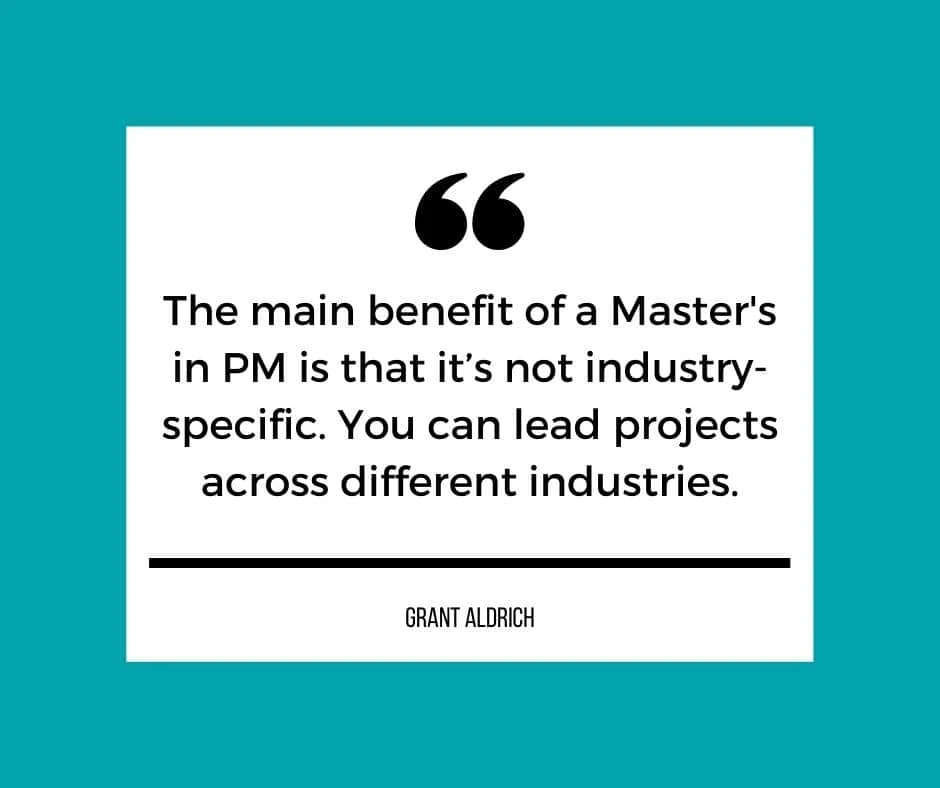 6. Think about what's more versatile
"My best advice to students that are on the fence about either getting their MBA or Masters in Project Management is to go for the MBA," says John Ross, CEO of Test Prep Insight, an online education company in the higher ed space that helps students prepare for the GMAT and GRE, which are prerequisites to getting into Masters programs.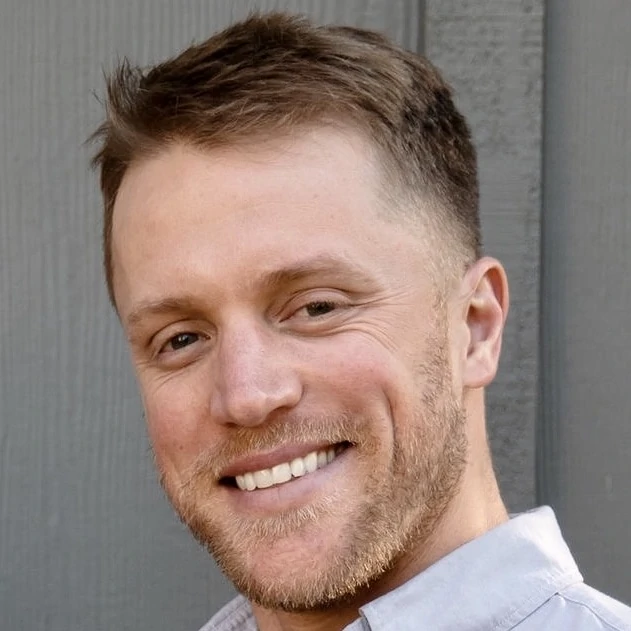 "If there is any hesitation at all, I think the default should be going to business school," he adds. "Having an MBA just provides much more versatility in terms of being able to expand your role down the road. If you get your Masters in Project Management, you are more or less confined to working in project management."
That might be OK, if you are sure that project management is the career path for you.
"The Masters in Project Management is narrowly applicable," John says. "For many folks, that is absolutely fine, and in such cases, I have no concerns about people getting their Masters in Project Management. It is an extremely respectable degree, and carries a lot of weight in the project management world."
However, John has advice for people who are struggling with the choice about which option to go with.
"If the decision gives you pause, and there is any chance that down the road you may want to make a lateral move from project management into operations, business development or another role within your firm, your MBA will provide a lot more value," he says.
"MBA's just provide you with more utility in terms of application, and as an added bonus, many MBA programs now have a number of courses focusing on project management."
Many MBA courses offer the option to take modules in project management, so you can look for an MBA program that lets you specialize and choose a project management concentration.
7. Check what's in most demand
The career advice I give most often is to check out job adverts for roles in the industry you'd like to work in, and see what certifications or requirements they are looking for. There's no point taking courses if potential employers don't see the value in them.
"The MBA is a comprehensive degree and well sought after by the business world," says Dr. Michael Provitera, Editor of the Human Resource Management and Organizational Behavior Collection of Business Expert Press. "Project Management is a great credential, but it is not an MBA major. If it is, then it is not very common."
Ben Passman agrees. "I have been in the recruiting industry for 15 years," he says. "I have placed countless people in new jobs, and many of them were Project Managers. If a candidate were to ask me for my advice on this subject, my answer is clear. Get the MBA!"
8. Consider the job prospects
Look at the average salary of people securing project management jobs from the courses, programs and schools that you are looking at.
Job prospects vary and it's fair to say that courses from some institutions are more in demand than others. That doesn't have to massively influence your decision, but you might want to consider the reputation of the university and how that is going to affect your job prospects (if you think it will).
9. Consider project management certifications
"In all these years, I have seen job postings that require an MBA and not having one can be a disqualifier," says Ben. "On the flip side, there are very few positions that require a PMP Certification or a Master's in Project Management. So my advice is to get the MBA, and pursue a career in project management if that is what you desire."
You can always get a Project Management Professional (PMP)® certification (or any other project management qualification that is in high demand in your country) while you are studying for your degree or afterwards.
There are also graduate certificates in project management that take less time to earn and could be equally interesting for a future employer.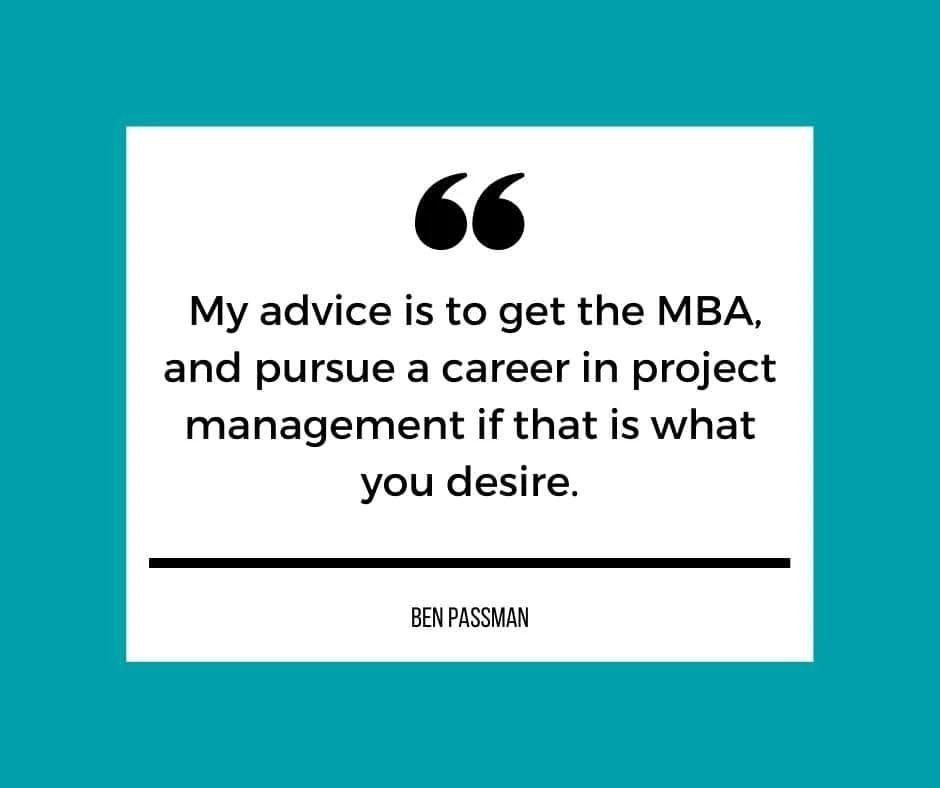 10. Look for accredited degrees
While you are making your choice, another factor to consider is whether the Project Management Institute (PMI), or the governing body in the country where you want to work, accredits the degree.
PMI, for example, has a Global Accreditation Center that reviews and accredits project management courses. That's a benefit because if you graduate from an accredited program, you will automatically gain some kind of PMI-related benefit – perhaps credit towards a certification or the opportunity to take the PMP exam at the same time as your other studies.
Look at what's available to you, and if you have two equally good courses, accreditation by a project management professional body could make the difference to your choice.
11. Consider the length of study
"Masters in Project Management are for those who don't need a summer internship, which is a hallmark of the traditional two year MBA programs," says Stacy Blackman, CEO of Stacy Blackman Consulting, a leading higher education and MBA admissions consulting firm.
Look at the course duration and consider how long you can commit for. If you can study full-time, you can complete a Master's level course in a year, so you'll be available for jobs sooner.
12. Think about where the school is
MBA students and Master's students can take advantage of online programs so you can study at a wider range of institutions than before as you won't need to spend so much time on campus (if any).
Even if you do an online course, you may still have to attend the school for certain modules, summer schools, or team work elements where you work on a case study. If the university is far away, you will have the additional costs of travel and accommodation to attend.
13. Do your research: Your success is your own responsibility
Business schools and universities provide potential students with a whole lot of information, but ultimately you have to use your project management skills to analyze the data and make the best decision for you.
Stacy Blackman says that it's important to think diligently about the fit with your personal and professional goals.
"Read, read, and read some more," she says. "Pore over the websites of all schools that interest you to learn about the curriculum, teaching methods, professional clubs, extra-curricular offerings, and student life. Sign up to receive email announcements with admissions updates and information. Look for and download the career placement reports from the program websites and evaluate recruiting potential for each program."
In other words, part of your decision-making needs to be around how likely it is that you're going to get a job at the end of your course.
"Business schools have developed comprehensive career services but it is essentially participants themselves who should propel their own success," Stacy adds. "You should take time and effort to set clear career goals before applying for a business program. Based on these you should select the most appropriate business schools considering all that they can offer – curriculum, network, learning environment, business exposure, and career services, among others. Business schools care more and more about your success, but ultimately your career and lifestyle are your own responsibility."
You should take time and effort to set clear career goals before applying for a business program.

Stacy Blackman
What to do if your chance of getting into a top MBA school is slim
OK, so what we're seeing so far is that you need to do your research and make the best choice for you in terms of career goals, but that it's likely an MBA will give you a more rounded and employer-friendly higher education option.
However, what if you don't meet the requirements for a good MBA program? What if your test scores aren't quite good enough to get in? That doesn't need to limit your career opportunities.
"The Masters in Project Management is an excellent alternative for applicants who are vulnerable in terms of 'chances for getting admitted to competitive MBA programs, which usually have a requirement for years of work experience and minimum academic stats inclusive of GPA and test score," says Stacy.
"Masters in Project Management programs almost always have a high acceptance rate, compared to 11% or 6% at the top MBA programs of Harvard and Stanford respectively," Stacy explains. "Masters in Project Management are less competitive than MBA programs by a large margin."
That might be a consideration if you look back at your career and studies to date and think you might not make the cut for the MBA program of your choice.
Having said that… it's always worth reaching out to the head of program at the schools you are considering and talking to them about course requirements. You never know – don't discount your background until you've checked. You may have it all wrong and you'd be the perfect fit for the course.
Your next steps
Graduate degrees are a big commitment in terms of time, cost and energy, so make sure you've done your research and really thought through your decision. The Masters in Project Management vs MBA debate is a very personal one, and your choice is going to depend on what you want to do with the rest of your career.
The good news is that your choice does not have to determine your future career path. Let's say you consider an MBA the best option right now. It won't close any doors for you. And neither will a Master's in Project Management. Higher education of any kind shows employers that you are willing to invest in your career and that you are dedicated to further learning, and that you have the knowledge, skills, tools and techniques required to operate in a leadership role.
Whatever you choose, as long as it feels like the right next step, you can make it work.
Pin for later reading