BrainBOK Review: PMP and CAPM Training [2023]
This blog is reader-supported. When you purchase something through an affiliate link on this site, I may earn some coffee money. Thanks! Learn more.
Read our review guidelines.
[Ad] I received a copy of BrainBOK to review.
Category: Training for students preparing for Project Management Professional (PMP)® and Certified Associates in Project Management (CAPM)®: BrainBOK review.
BrainBOK is an online, reasonably-priced project management training program and toolkit for students preparing for PMP® and CAPM® exams.
I've reviewed the product in depth so I can confidently recommend it. In this review, I'll share more about BrainBOK's features and the pros and cons of this project management training tool.
Cost and plans
There's a free version to allow you to test out a limited number of features.
The PMP pack includes all the practice exams and the important proof of your 35 contact hours for your PMP® application is $139.99 for 60 days access.
CAPM® plans are slightly cheaper.
It's also cheaper if you take the pack for a shorter period of time, but I wouldn't recommend it: 90 days (3 months) is the commonly-recommended time to get ready for your exam.
If you don't want all the training materials, you can buy the elements separately:
an exam pack to work through the exam simulator and test yourself
the ITTO pack
the flashcards pack.
Oh, and there's a money back guarantee!
Cost-effective training
BrainBOK PMP Training
Get BrainBOK's comprehensive suite of PMP® exam prep tools, including a full training program, ITTO pack, flashcards, practice exams and a formula guide.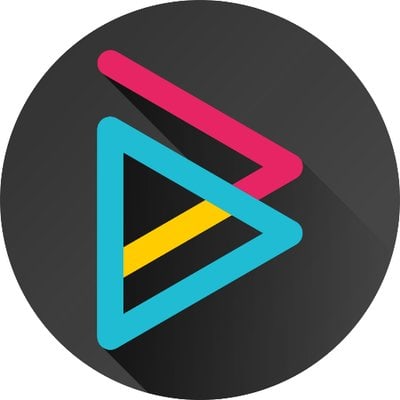 We are pleased to be an affiliate of BrainBOK #ad
Product features
PMP and CAPM training has been online for a long time but right now it seems like there are more choices than ever before. One product I reviewed recently is BrainBOK, and as you can guess from the name it's a PMP and CAPM self-study toolkit.
BrainBOK is an app from Harwinder Singh, the project management expert behind the PMP prep blog, Deep Fried Brain. He kindly gave me access to the product for a short while so that I could review it for you.
Inside the BrainBOK app you have:
ITTOs
Flashcards
Quizzes
Exams.
Understanding the ITTOs with BrainBOK
How many PMBOK® Guide processes have Enterprise Environmental Factors as an input?
Now the Seventh Edition of the PMBOK® Guide is available, ITTOs really don't matter that much any longer. However, if you like the confidence of knowing you have reviewed all the materials and understand the processes, the ITTO Explorer that comes with BrainBOK makes all of that transparent. I've never seen anything like this before and it's really good.
It shows you the complete set of processes and the ITTOs that go with them.
Click a process and you'll get the description and details of that process. You'll also see the inputs, outputs, tools and techniques, plus a list of where the data flows in from and goes out to. Drill down and see the page reference number from A Guide to the Project Management Body of Knowledge (PMBOK® Guide) too, but be warned these are Sixth Edition references, so not 100% relevant for your current set of study materials.
Within the Explorer, you can toggle between grouping them by Process Group or Knowledge Area so you can test yourself in different ways. However… again it's worth repeating that process groups and knowledge areas do not exist in the 2021 PMBOK® Guide. You'll also want to review:
The ITTO Explorer is all clickable so you can explore the processes and how they interact with each other, and it works perfectly on mobile! So important for when you want to study on the move.
Take A Quiz
The whole point of online training systems is to learn things, so you want to know how well you are doing at retaining the knowledge, right?
The BrainBOK built-in quizzes help you do that. You can choose a quiz for a particular knowledge area, or, as you get further through your studies, broaden it out to all knowledge areas.
You can test yourself on all areas where questions come up in the PMP® or CAPM® exam.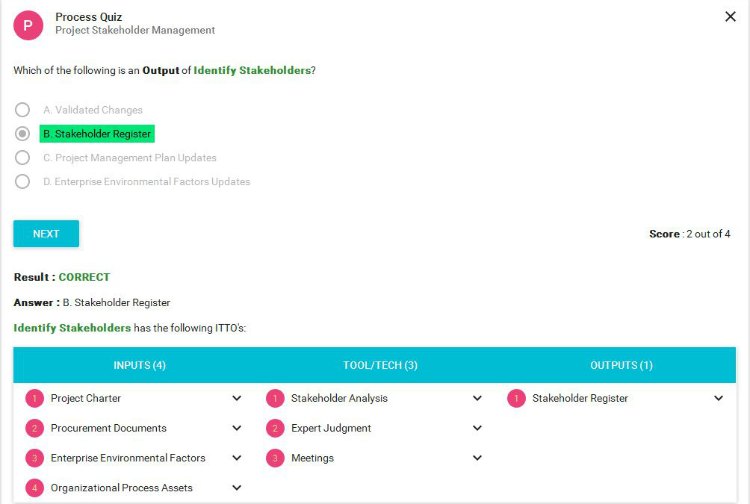 Here's an example of a quiz question. Don't look at my score! I promise that in real life I'm better at stakeholder management than that.
Study Flashcards
I'm not a massive fan of flashcards although I know they work for some people. Personally I prefer to write out my own as the process of creating them helps me remember them.
However, for your commute or when you're on the go it can be helpful to have digital flashcards as a memory jog.
You can bookmark them and note that you got the answer correct or incorrect. If flashcards are your thing, BrainBOK has you covered with 2000 of them. They are suitable for both PMP® and CAPM® exam prep.
PMP Mock Exam Questions
One of the things that has helped me most in the past is taking a mock exam and practice questions. Practicing under exam conditions gives you a feel for what the real exam is going to be like.
I would definitely advocate taking PMP practice exams as part of your studies. That goes for whatever certification you are aiming for: mock exams are a huge help with preparing yourself mentally and checking your knowledge.
BrainBOK has 6 PMP practice exams covering each of CAPM® and PMP®, with varying levels of difficulty and focus. However, note that BrainBOK's materials are only advertised as compliant with the PMBOK® Guide – Sixth Edition, and we're now on PMBOK 7.
The simulator is fun to use and easy, and I found it did not have a learning curve to get going. But the questions aren't going to be 100% representative of what you see on the exam.
Mastery Mode
A unique feature is Mastery Mode that tracks and records areas that you need to work on, helping you improve as you study.
Whenever you get a question wrong or mark an exam question for review it gets added to your Mastery Mode personal database. Then go to take the Mastery Mode exam – this is a personalized exam for you based on what the system knows you have struggled with in the past.
Get the question right and it's removed from your Mastery Mode database. Get it wrong and that area will continue to be tested until you've mastered the skill.
This is a really good way to make technology work for you and to minimize the amount of tracking you have to do yourself about areas that you find easy or hard.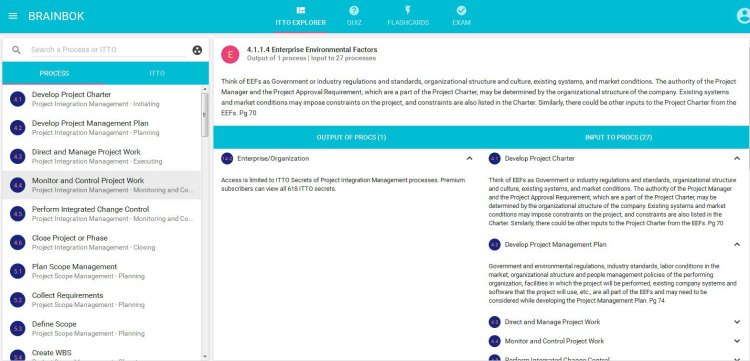 Pros and cons
Pros
Very affordable
Provides 35 contact hours of formal training for your PMP application (and therefore also meets the contact hours requirement for CAPM) — if you plan to apply for either certification you'll know what a big stress reliever having your contact hours will be.
Good range of exam questions
Excellent ITTO explorer that really makes it clear what goes into which process and how the processes interact
Flashcards save you the effort of having to make your own
Fantastic reports and analytics that help you understand where you should be spending more study time.
Cons
There are a few things that I would like to see in BrainBOK:
More explanation of why you would choose to use each process and what they are for
It's purely self-study material: you have to be very disciplined about using the resources
Wouldn't it help you study more if you made your own flashcards? (Although I agree having them on mobile is a huge benefit for my commute)
There are no video courses or tutor-led material, which you typically find with other online PMP prep courses
The ITTO Explorer is less relevant to the 2021 Exam Content Outline, although it is still good material to be familiar with for the actual 'doing' of being a project manager.
No evidence that BrainBOK materials reflect the 7th edition.
BrainBOK is a great way of making the PMBOK® Guide accessible. It's a good tool for PMP mock exams and practice questions, and will help you test your knowledge of project management.
However, to be a great project manager in real life, I think you'd still benefit from other training material too.
For example, BrainBOK is a fantastic tool for digging into the detail, but there's very little narrative explaining what project management processes are for or why you would choose to use them.
Essential read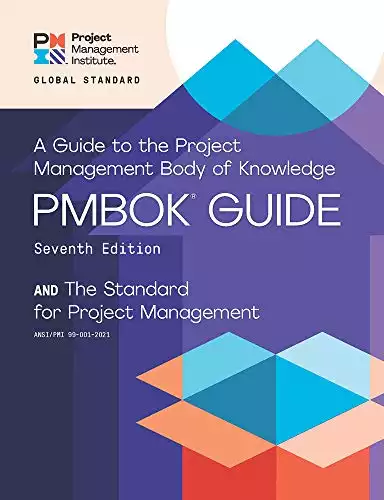 We earn a commission if you click this link and make a purchase, at no additional cost to you #ad
If you are new to project management, you would benefit from knowing this because it will help you do your job and give you more confidence in the workplace. It will also help you answer some of the exam questions, because you'll be able to apply your everyday knowledge to the situations in the questions.
You can get this sort of background information from a companion PMP study guide (here are my favourite PMP prep books), or you might feel you don't need it, if you already have a few years of experience so you understand why you are doing certain things.
And if you are going for the CAPM®, the exam is 100% based on the contents of the PMBOK® Guide so it becomes less important to have that rounded view of what it means to manage projects in real life.
Who is BrainBOK for?
BrainBOK is a great tool for you if you:
Are studying towards PMP or CAPM
Are self-motivated enough to create a study plan and use the materials
Are prepared to read PMBOK 7 as well to supplement the material provided, for rounded exam prep.
Are on a limited budget, or don't want to spend too much money to get an easy way to meet your contact hours requirement.
If you like the idea of having a trainer guide you through the material, I recommend The PM PrepCast. If you need the interaction of a classroom and a live setting, check out what courses or prep classes are offered by your local PMI Chapter.
In summary…
The strength of BrainBOK is in the performance analytics. Whether it is quiz questions, flashcards or exams, it's easy to see your strengths and weaknesses with the data you get out of the tool.
This will help you spend more time on the areas that you struggle with. The mock PMP exams and exam practice questions will help build your confidence in a way that reading a study guide will not.
Test out BrainBOK for free here.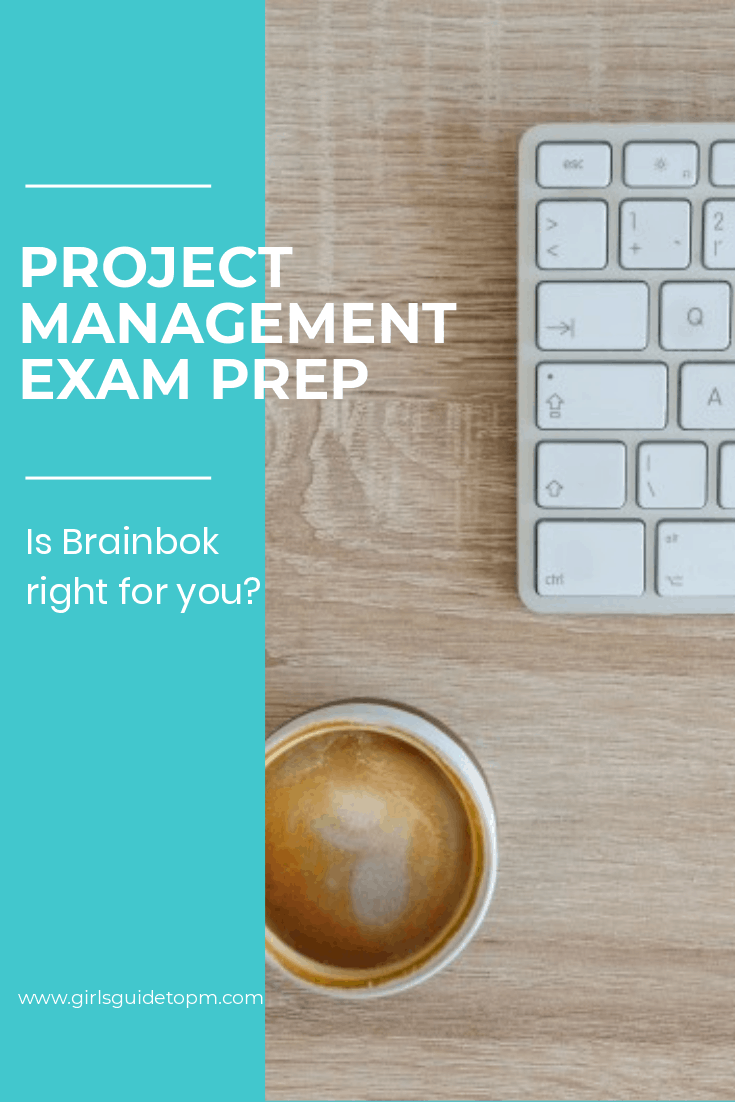 Save
---
Recommended CAPM and PMP Prep Books
---
Cost-effective training
BrainBOK PMP Training
Get BrainBOK's comprehensive suite of PMP® exam prep tools, including a full training program, ITTO pack, flashcards, practice exams and a formula guide.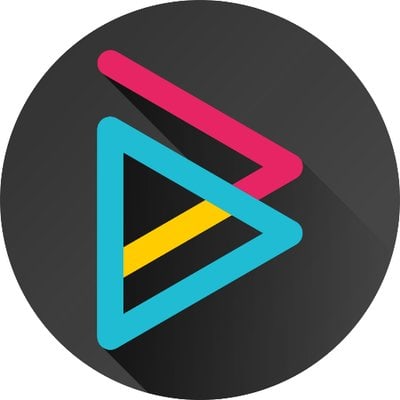 We are pleased to be an affiliate of BrainBOK #ad