28 Small Talk Conversation Starters For Those Awkward Moments


You know when you're at a networking event and you have to queue to get a coffee and you think you should say something to the person next to you but you don't know what?
Or you're picking up a vendor from reception and you've got 3 minutes to fill before you reach the meeting room where the proper talk can begin?
Those moments always used to catch me out too. How do you break the ice without it sounding forced or fake? How do you actually do networking?
I've put together 28 small talk conversation starters to get you through those difficult pauses. They are mainly angled around chatting to new people at events or big meetings, but you can adapt them to use with new faces at work too (especially number 12, which is my go-to phrase for being in the lift with someone I have just collected from reception, followed by 'So you found the building OK?').
Read next: 6 Reasons why Professional Networking is Important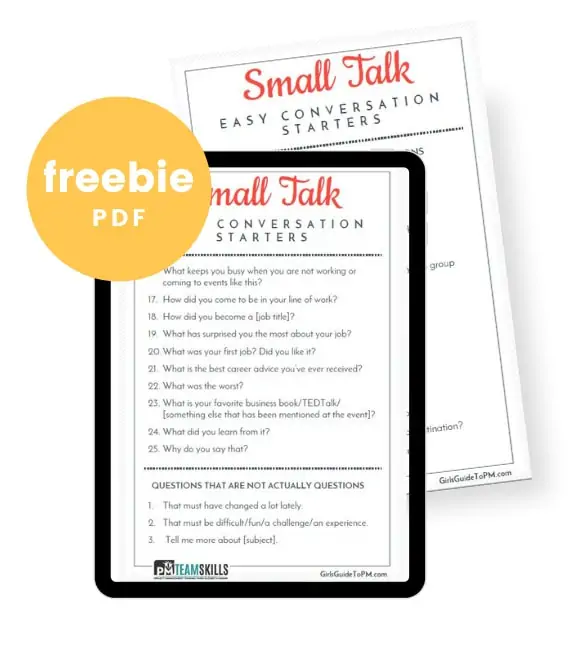 They are split into two categories:
Questions that are actually questions
Questions that are not actually questions
When I first published the list a US reader wrote to me and said he now lived in the UK and people would NEVER ask the first question, unless they were the Queen.
Well, I am obviously not the Queen and I ask that all the time, and am asked that by the people I meet. I think it's pretty common at networking events, especially professional ones, although I wouldn't phrase it quite that way to one of the parents I met in the playground. I don't think he realized I was British!
You obviously can't whip out the list and read from it, but memorize a few that seem to sit best with you and keep them in mind.
Whether you are networking within your organization or just trying not to be Billy-no-mates at a conference, it never hurts to have a few stock phrases to use when you have to make small talk with other people.
The great thing about these phrases is that the people you use them with change all the time. It's not going to matter if you ask 20 people the same question as they are hardly likely to meet up and compare your conversational abilities! So while you can get away with just the one, it's worth having a few stashed away to make it more interesting for you and also so you can flex with the situation.
Wondering where you can go to use these? Check out my list of current project management conferences.
Sign up for access to the Resource Library and I'll mail you the link to the resource library where you can download the freebie. Then fold it up small and keep it in your bag 🙂