6 Reasons Why Professional Networking is Important
This blog is reader-supported. When you purchase something through an affiliate link on this site, I may earn some coffee money. Thanks! Learn more.
My inbox used to be full of invites to webinars, breakfast seminars and afternoon presentations, and that's just from vendors. Nowadays, a lot of the events are virtual, which makes it a little harder to do networking, but not impossible.
Even so, once I add in the professional development events from the project management groups I belong to, I could be attending something every week.
Aside from the free drinks, what are the reasons why networking is important for your career? In this article I'll explain 6 reasons why you want to take advantage of the benefits of networking.
Networking is an essential part of your job, whether you know it (or like it) or not.
Will Kintish expands on this in his book Business Networking – The Survival Guide: How to make networking less about stress and more about success.
He explains 6 reasons behind the importance of networking and why you should invest time and effort into getting it right.
Here they are, with my thoughts alongside.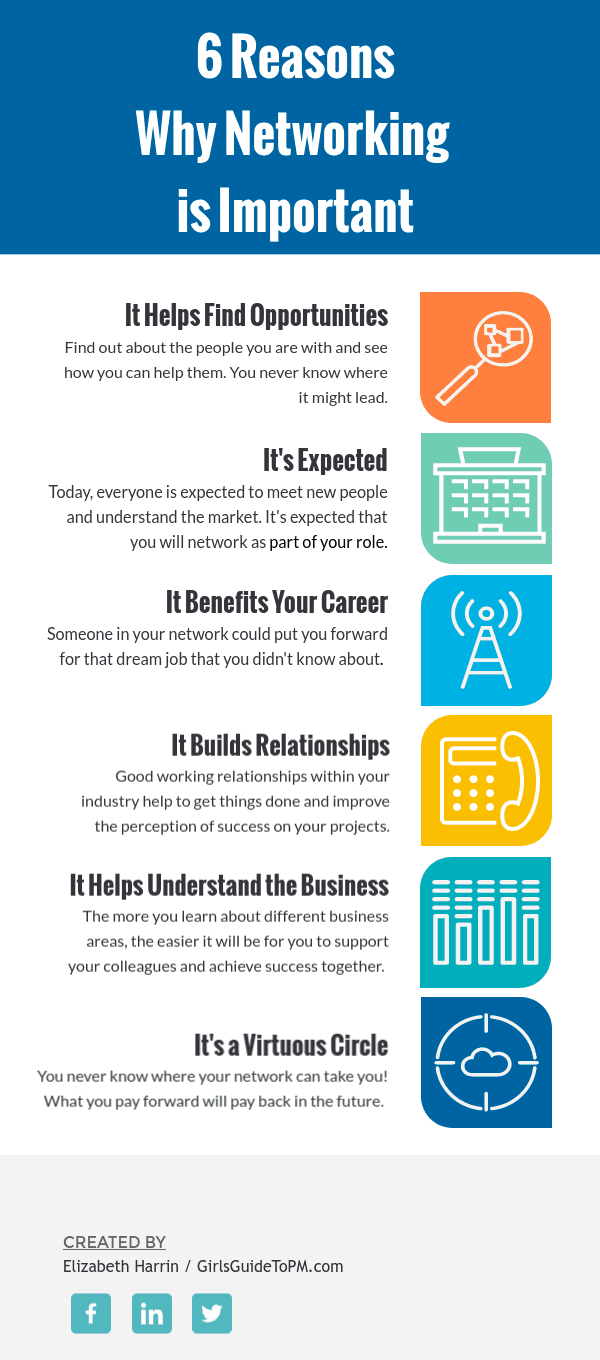 1. Networking is about spotting opportunities
Networking is not sales. Put that thought out of your head. In fact, it's the opposite. Networking is about spotting opportunities, so you want to spend time asking questions about the person you are talking to and their business, to try to see whether they have any problems that you can help with.
In fact, in a prime example of networking gone wrong I was on the receiving end of a 'sell'. It was at a PMI conference and I was chatting to Clark A. Campbell, author of The One Page Project Manager. Another man came over. He talked about himself and his work for what felt like a long time.
When he excused himself Clark said to me, "That was a missed opportunity for him." He had missed the opportunity to talk to Clark – an expert on project communication and reporting, and me – an expert on collaboration tools for project managers and although he knew who we were and what we had done he asked us nothing beyond that. He didn't get anything out of the conversation (and neither did we).
That's not networking, that's just filling up time with meaningless chatter. I remember the incident for how bad it was, but I have no clue today who that man was. So much for making an impression.
2. Networking builds relationships
And there is nothing project managers need more than good relationships with others at work. "Spending time on building a relationship could deliver results in the future," Kintish writes.
If you have been project managing for a while you'll know how important it is to cultivate relationships with stakeholders past and present, and my own research for my book, Customer-Centric Project Management, shows that good working relationships improves the perception of project success as well.
3. Networking is expected
This is my favorite reason. "Even if your role isn't explicitly to bring in new business or to market the company," Kintish writes, "you are probably expected, as most people are, to meet new people and understand the market place as part of your role."
This is definitely the case for project managers. You need to quickly pick up information about the new project and how do you do this? Through talking to people. That's networking! Building your internal network is just as important as focusing on creating new contacts outside of your workplace.
4. Networking is Good For Your Projects
Kintish says that it's a way to learn more about the business, understand the industry better and hear about the challenges faced by your contacts.
If you're managing project stakeholders, this is important as you have to deal with the 'what's in it for me' approach that many of them will take.
The more you understand about their areas of the business, the easier it will be for you to demonstrate your business acumen and talk to them in language they can understand.

Source: NetWorkWise
5. Networking Can Further Your Career
Many, many jobs aren't advertised, so if you want to be in with a chance of getting that internal promotion or taking a role outside your company as a step up, you have to network to find out about them.
People recommend people they like, so while you might not have met the person you will be working for in the future you might have met one of their contacts who could put you forward for that dream job.
6. Networking is a Virtuous Circle
"If done right, meeting more people leads to more business and career opportunities, which leads to meeting more people and more business, and so on," Kintish writes.
It might not feel like it now, but you never know what doors are going to open in the future, so it's worth operating as if that next useful contact is round the corner. They probably are.
There are a lot of reasons why networking is important, but you have to balance attending events, both in-person and virtual, with fitting in everything else in your life.
Networking doesn't have to take up a lot of time if you approach it with care, and you consider what you are doing strategically.
My short ebook on professional networking will help you focus most of your networking efforts where you think you'll get the most payback.
Generally for project managers not looking to change jobs, that's going to be on building your internal network within your company.
Building little networking moments into your day and prioritizing your internal network can be really beneficial for stakeholder engagement and your career longer term.
A version of this article first appeared in 2015.
Pin for later reading: