Preceden Timeline Maker Review
This blog is reader-supported. When you purchase something through an affiliate link on this site, I may earn some coffee money. Thanks! Learn more.
Read our review guidelines.
Software: Preceden
Pricing: Free for 1 public timeline/1 user, then there is a Personal and a Business Plan
Supplier: Preceden LLC
Languages: The interface is in English, but you could enter event information and labels in your own language
Summary: Preceden is an online time maker that creates roadmaps and visual timelines quickly. It's a good choice for project managers and is a useful communication tool for professionals looking to share key dates and events with others in a presentation.
Preceden: Overview
Preceden is a tool designed to create online visual timelines.
My main reason for using Precenden is to create images that I can use in PowerPoint, because lining up all those tiny milestone diamonds and drawing arrows that stay exactly the same width even when I copy and paste them is a huge headache.
Timeline maker features
Preceden has all the features I was expecting in an online timeline maker and more. I wasn't expecting to be able to allocate percent complete, although I'm glad that is an option as it helps with sharing status.
You can also add project dependencies, which is a nice touch, as some roadmap tools just create the bars without allowing you to link between them.
I liked the option to add layers, which represent workstreams, or the person doing the work, teams and so on.
The timeline maker doesn't take a traditional view of milestones. If you mark an event as a milestone, it adds a long vertical line up and down the page at the start of that activity. It looks like a way to partition events or phases, but you can also do that using the layers. Traditionally, on a Gantt chart, milestones are shown as a diamond icon, but of course that's not the only way.
If you have milestone lines, plus the 'today's date' line, plus dependency lines I can imagine your timeline might get a little cluttered.
Creating a timeline in Preceden
There are three templates for starting a timeline, although 'Simple' is really a blank template from which you start from scratch.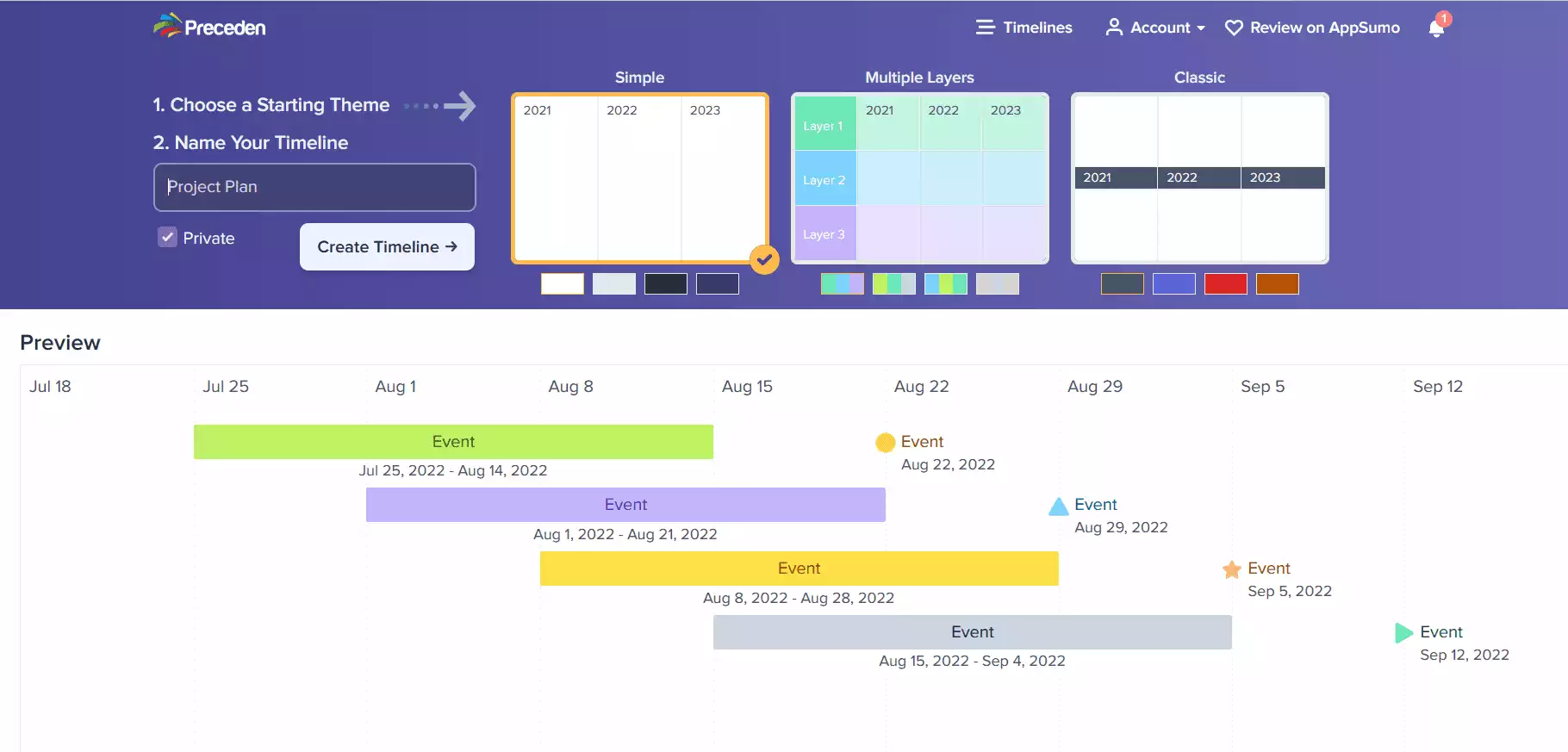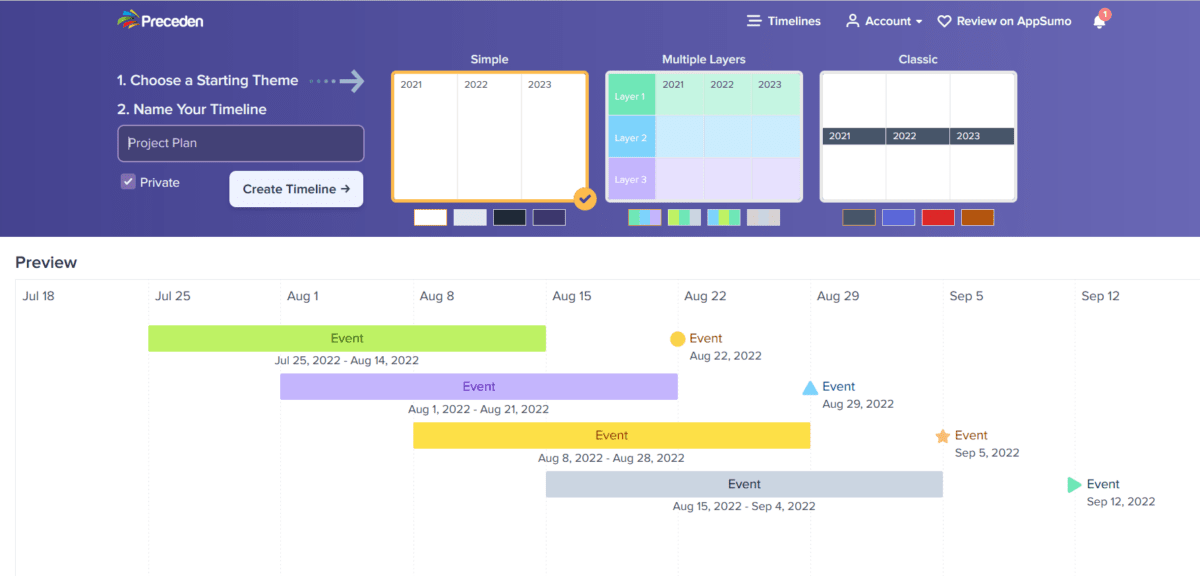 Start by setting all the appearance options so they apply by default to new tasks (which are 'events' in the language of Preceden).
There are lots, so focus on the colors, where you want the labels to show, what data is going to appear on the timeline and the default shape. I just choose a classic shape, because that's what most of my team are going to recognize, but pick the fancier ones if you want a bit of variety on the timeline.
Don't forget to hit Save Changes when you are done. Add your first event and you are off! It really is very intuitive.
Advantages of Preceden
I love the interface, and I love how my timelines look on the screen.
I particularly love the option to choose 'approximate' dates and the edges of the bars fade out to represent the fuzzy logic of not knowing exactly when a task will start or end. Genius. And a much-needed feature for many teams.
I love the choice of icons, and that I can use different images to mark different events. If you don't add an end date, the icon shows up as the milestone marker. If you do add an end date, you just get the 'normal' roadmap bar.
Being able to set colors is good too. The colors cycle through as you add new events. I manually edited my events so that governance and milestones were pink and normal bars were teal.
Being able to show dependencies is great. I like that the timeline auto-adjusts to show the most appropriate segmentation of time. I created one that started off showing weeks, and as I added more events it automatically shifted to show the roadmap in months instead, which was what I wanted.
You can override this and set it to whatever scale you like, and even set a date range if you only want to show tasks from a certain period – very useful if you are presenting a long project and want to hone in on what is happening now.
Tasks in the past automatically grey out (although you can turn that option off if you prefer not to use it).
Disadvantages of Preceden
I did find some things that I wished were different. The bulk editor, for example, only lets you edit event descriptions, dates, colors and notes. I couldn't find a way to add dependencies from there.
If you add a dependency and then take it off, the start date is lost.
When you add a task in the bulk editor and hit enter, it takes you down to enter the next event name. It would be better if it moved you across to enter the start date, as you get a red error notice reminding you that there is no date yet.
There is no undo button – as I learned after I deleted an event by mistake and then couldn't remember what it was.
But overall these are small points.
Is Preceden a Gantt chart tool?
No, Preceden is not a fully-fledged Gantt charting software. It doesn't do some of the things that we would normally expect to see in project management scheduling tools like resource allocation (that's actually the main one).
That's fine, because I wouldn't manage my project with Preceden. It's not a tool for project managers to create detailed schedules and allocate work to other people – it's a visual project management tool for high-level (and medium-level) roadmaps. Use it to show an overview of the work, present progress to clients and gain buy in from senior stakeholders.
Sharing timelines
Timelines can then be shared either through the link or by downloading a PDF or presentation-ready image for PowerPoint or Keynote. You can also export as a spreadsheet, use the HTML embed option or switch your screen to presentation mode.
Check out the sample timeline I created if you want to see what it looks like.
How does Preceden compare to other timeline makers?
The comparison table below shows how this software stacks up against others in the market that I have bought and tried.
| | | |
| --- | --- | --- |
| | | |
| | | |
| | | |
| Currently $59 for a lifetime licence | $99 per year for a professional licence | |
| | | |
| | | |
Best value
Currently $59 for a lifetime licence
Most functionality
$99 per year for a professional licence
Precenden vs Office Timeline
The main difference between Precenden and Office Timeline is that Precenden does not integrate with PowerPoint. You can download a PowerPoint-sized image to copy and paste into your presentation, either standard or widescreen format.
Office Timeline is a plugin for PowerPoint. That gives you more options as you can move the elements around as they are PowerPoint elements. It is totally customizable. You can use your brand fonts from the PowerPoint menu.
In Preceden you can only use the pre-loaded fonts which are the Google fonts available for the webpage. Many standard 'Office' fonts aren't there so I had to find a close match. That might be an issue for organizations where adherence to brand standard in communication materials is a must-have.
You can customize a lot in Preceden, but I found that the exported images for PowerPoint made my text look small. You can add extra elements on top of the image if you wanted to add call out boxes for commentary etc, but you don't have the same granular control that you do in Office Timeline for each individual element.
Office Timeline for me has the advantage here, as I want to predominantly use my visual timelines in PowerPoint decks for executives.
However, if your team were more open to sharing timelines via a link and looking at them in real time online, then Preceden suits that use case. I also think that Precenden is faster to use as I created my roadmap so quickly.
Precenden vs Vizzlo
Vizzlo is one of my favorite graphics tools, and you can create timelines in the tool.
Vizzlo is graphics software and it does a lot more than simply creating timelines. As a result, you don't get the same level of control over the different elements on the screen. You can create a branded set of colors and fonts to create a bespoke theme, and you can do the same in Preceden.
I think there are more font choices in Vizzlo, but it is more limited in the number of events you can have and the formatting options available.
Like Preceden, Vizzlo exports the timeline as an image that you can embed into a presentation (or anywhere else).
If you want a really simple timeline, Vizzlo does that (along with lots of other graphics that improve your slide decks no end – I use it all the time) but Precenden is a better for project management timeline maker.
My conclusions
I think Preceden is very good. It suits my requirement, which is to have a decent online timeline maker that is super-fast to use.
It has plenty of personalization options that make it suitable for project management and teams looking to create visual roadmaps. And did I mention it's fast? If your sponsor asks you to update it, you can very easily make changes on the fly.
I would recommend the tool. Why not check it out?
Preceden Timeline Maker Review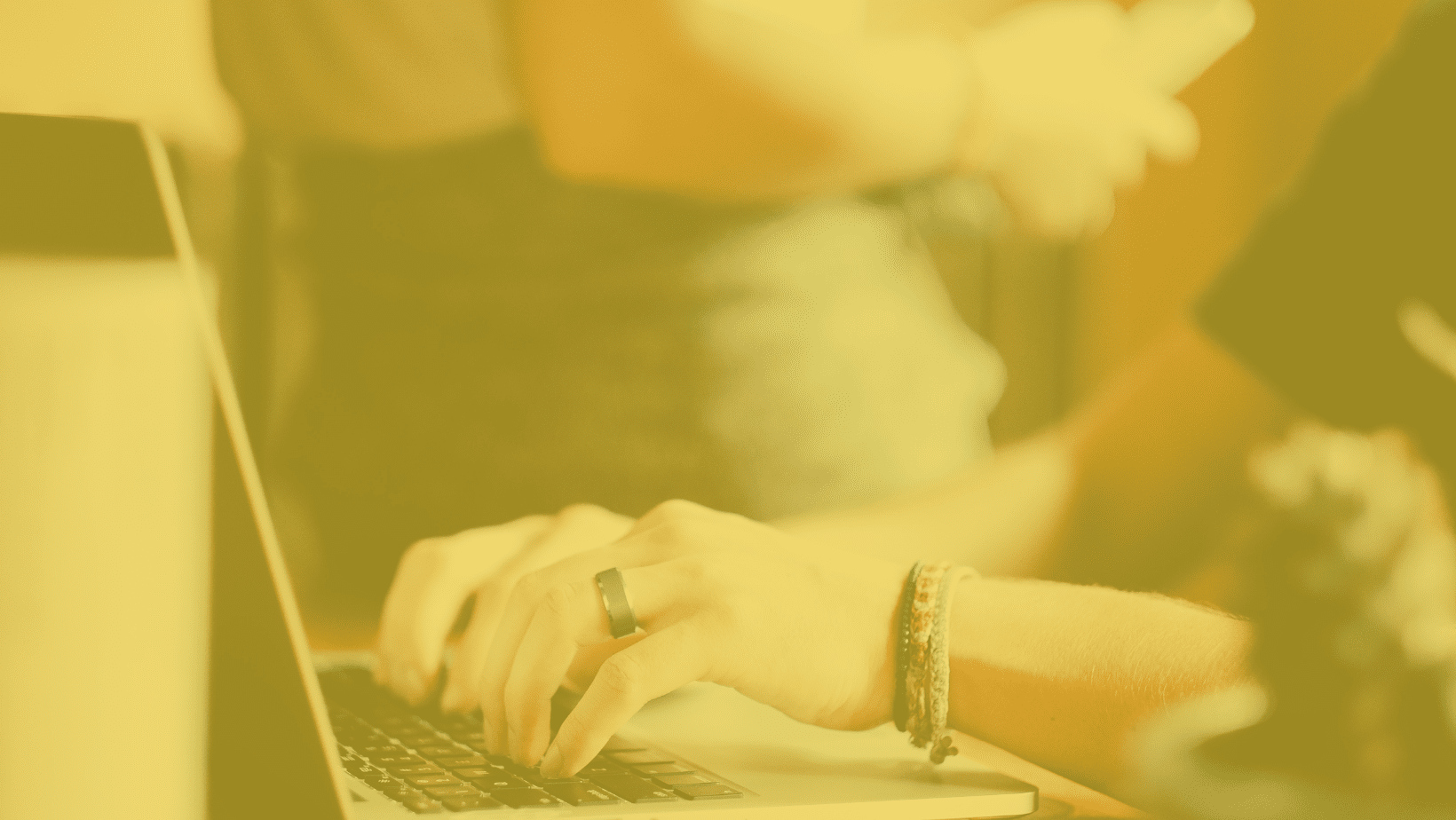 I bought Preceden to test out this online timeline and roadmap maker. Read my review to see if it's right for you.
Price: 59
Price Currency: USD
Operating System: Any
Application Category: Timeline maker