Your Ultimate Guide to Leadership in Project Management
This blog is reader-supported. When you purchase something through an affiliate link on this site, I may earn some coffee money. Thanks! Learn more.
Are you an effective leader when it comes to working with your project teams?
Do you think of yourself as a project manager or a project leader?
Perhaps you've been thrown in at the deep end of a project that urgently needs someone to take control (sounds familiar!).
Or maybe you're mid-project and things are starting to veer off track. You know you need to steer everyone to bring it back on course, but how?
Or maybe you've watched and admired great leaders you work with and wondered whether you have what it takes to do the same? (spoiler alert – you do!).
You already know how important it is to be able to lead well on any project, but how do you become a great leader?
And how can you build the confidence and skills you need to step up and lead as a project manager?
The role of leadership in project management
It's fair to say that projects with strong leaders are more successful than those without.
No matter what level of project management you are at though, leadership is an essential and valuable part of your role.
PMI defines leadership as the:
"Knowledge, skills and behaviors specific to leadership oriented, cross-cutting activities that help an organization achieve its business goals."
The importance of leadership can't be understated. The PMBOK® Guide refers to leadership as an important part of the team performance domain, and while there is more to being a team player than leadership abilities, it's a big part of what sets the best project managers apart.
Leadership is one of the traits that determine whether you are in the top 2% of project managers (the 'alphas'), so if you want to get ahead, it's definitely something to work on.
And leadership skills make up one-third of the PMI Talent Triangle. For which of course, PMI certification holders will be asked to earn PDU's, and you can do that through professional development such as this Leadership PDU package. 
But no matter what project you are taking on, or what your project leader role is, there will always be a constant – people.
Project manager vs project leader – what's the difference?
Managing a project and leading a project are not the same thing, a balance of both is key to being a successful project manager.
Managers do the right things. Leaders do things right.
Just re-read that line again.
The project will demand your management skills of problem-solving operational issues, focusing on the bottom line, and making sure systems and structures are in place for things to happen.
But the project team will need your leadership skills, your questioning of what and why, and your ability to keep the long-range vision in sight.
The main differences between management and leadership are shown in the image below. Basically, you can sum it up like this:
Management is about tasks. Leadership is about people.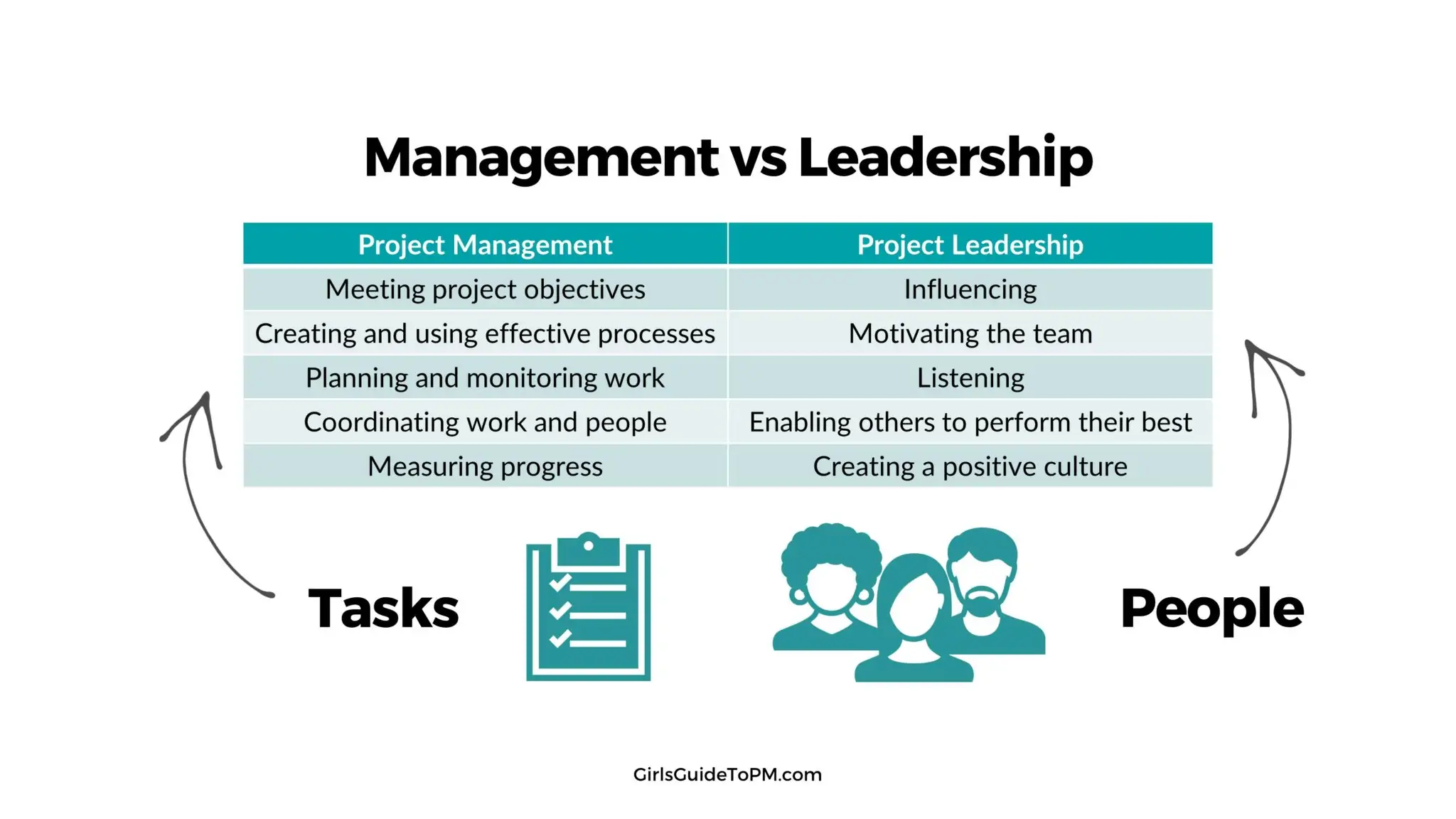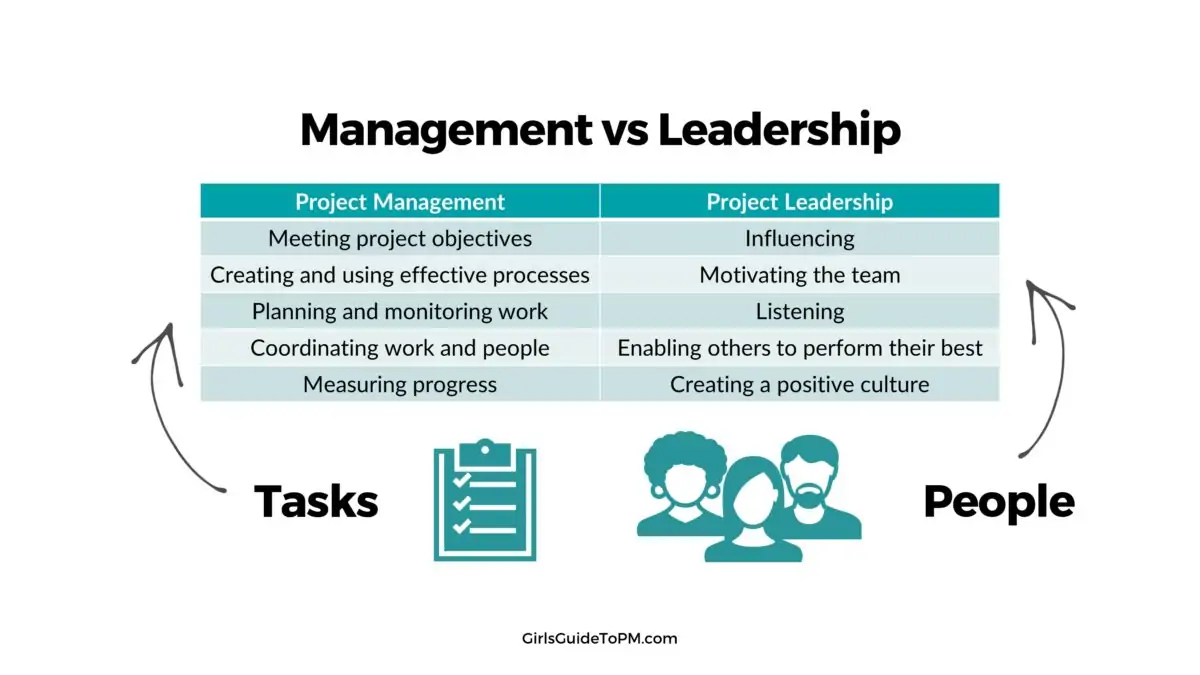 Leadership skills in project management
There's a long list of people skills you'll need as a project leader. Luckily, most of which are things you already use.
Having the confidence to recognize them from past experiences and knowing how to use them to their best is where you can grow and develop to become an effective leader – because there is no 'best way' to lead.
Grouping the skills together can help you keep them front of mind. Here are four groups of leadership skills to focus on.
1. Visionary skills
Your project exists for a reason. You should be able to clearly describe the vision and the common goal you're trying to achieve. Inspiring others with optimism and positivity, motivating and engaging project team members. And empowering those working with you to achieve the same goals.
Tip: Co-create the vision with the project team and key stakeholders – don't try to come up with it yourself as it really does need acceptance, support, and buy-in from everyone.
2. Relationship building skills
In all project management roles, you'll need to build relationships with people on all levels from subject matter experts to executives.
A good project leader needs to build their trust and take on their concerns. Use persuasion, negotiation, and compromise in equal measure to resolve conflicts.
And you'll need to work hard on building new relationships too. As Michael Tanner referred to in our recent interview together, it can help to "do your homework on the culture and background of colleagues" to better understand those that you're working with and what else may or may not be influencing them.
The good news is that having the right people involved has a direct impact on the work environment and project culture – which in turn influences the success of a project.
Basically: people = success.
3. Communication skills
I reckon I spend about 90% of my time on communicating, and you've probably read that statistic elsewhere too (it was in PMBOK® 6). So getting project communications right is essential – perhaps the most important of all the soft skills.
Manage expectations, take on board feedback, and keep things open and transparent. That's the way to better results.
Asking questions and more importantly, listening to the responses is key. Really listen in. What can you learn from the answers?
4. Critical Thinking
Effective leaders have to demonstrate critical thinking because that's how you can:
Find and remove sources of bias
Dig into the root cause of problems
Deal with complexity
Make the right decisions
Be reflective and observational.
Critical thinking plays an important role in data-driven decision-making. Effective project leadership often means being the decision-maker.
Critical thinking also supports team creativity, conflict resolution, team building, and being able to act on constructive feedback. All these things contribute to project success.
5. Your values
Your values come into their own as you focus on your leadership skills.
Honesty, integrity, kindness. Being trustworthy, loyal, respectful, and decisive.
They're all qualities you already possess.
But how you use these in the work you do to lead your project team will make a big difference in becoming an effective leader and especially in how you choose to intervene in conflict situations.
And it's this that's at the heart of great project leadership. The ability to use the skills in your own style to get the best out of those you're working with. It's all about helping others to do their best work.
As you can see, a lot of leadership is about having the interpersonal skills and emotional intelligence to operate in a complex project environment.
Leadership styles in project management
Styles of leadership in project management vary from those with an autocratic approach, where you'll make decisions without the involvement of the team, to the more collaborative approaches that encourage input from others and empower teams to take action.
There are lots of different leadership styles. Some common ones include those presented by Cindy Margules at a PMI conference.
Visionary Leadership – aims to provide long-term direction and vision, moving people towards shared dreams: "If you aim at nothing, you will surely hit it"
Affiliate leadership – aims to create harmony by connecting people to each other: "Union gives strength"
Participative leadership – aims to build commitment and generate new ideas: "Valuing people's input and getting commitment through participation"
Coaching leadership – focuses on the long-term professional development of others: "Helping others to identify their unique strengths and weaknesses"
Pace-setting leadership – aims to accomplish tasks to a high standard of excellence: "Obsessive about doing things better"
Directive leadership – with the aim of driving compliance: "Please just do what I say".
The APM Body of Knowledge 7th Edition talks about these approaches to leadership:
Situational leadership, where a project manager adapts their style and approach to the needs of the team and the work that needs to be done. For example, switching to a more directive approach to achieve an objective that might be threatened. Or choosing to use a coaching style when time and goals allow.
And servant leadership as an increasingly understood style for embracing the different social and ethical elements of a project leader role. And doing so in a way that's more authentic, collaborative and emotionally intelligent.
But ultimately, it's not a one-size-fits-all approach. Everyone has their own individual style that will be a combination of some or all of these at different times.
The circumstances will determine what style is best and when.
Being the team leader in a crisis is very different to the day-to-day leadership on a project.
Your style will need to adapt, and of course, that's a skill in itself.
Tailoring your leadership style
Effective project management relies on being able to choose the right style of leadership.
You can flex how you lead, and you most definitely should. The approach you take depends on a number of things including:
How experienced the team is with this kind of work. A team that is facing a new type of project might need more directional leadership to get them going until they are comfortable. High performing teams will need less direction.
How experienced the team members are in doing their work. New joiners and junior colleagues may need more support, more oversight and a more coaching style of leadership. Old hands will probably appreciate you backing off and letting them get on with it.
What governance structure is in place. More governance, or more levels of reporting hierarchy, might influence how much delegated leadership is possible.
Where the team is based. Switch up your style to best support the team, wherever they are.
How can I improve my leadership skills as a project manager?
So how do you take action on improving your leadership skills and style as a project manager?
Well, practice makes perfect. With so many of the skills required it's a constant work in progress.
Issues will arise that will challenge you and in doing so you'll continue to grow.
When I interviewed Mike Clayton, author of Brilliant Project Leader, he highlighted three things – listening, decision-making, and stepping away – that you can practice every day as a leader to help hone your skills.
Other actions you can take to improve your leadership skills in project management are to:
Continually develop your leadership skills. There are so many resources to learn from, but these books are some personal favorites:
Get yourself a mentor or coach who can help build your confidence and help you to battle off that annoying little voice on your shoulder telling you that you can't do it. My own mentoring program has helped lots of women do exactly that.
Talk to your organization about developing the leadership skills of both yourself and others to improve performance. Remember you don't have to be a manager to be a leader, everyone can benefit from leadership mentality.
Have a conversation with your organization about what leadership means to them. Understand what styles suit best and engage others in understanding. The more everyone understands what makes a good leader, the more engagement and success.
Leadership is important. If not the most important part of being a successful project manager.
But of course, leadership is only piece of the project management pie.
If you want to know more about the other skills required to juggle all the projects and keep everything moving forward (and still leave the office on time) watch my free webinar on Managing Multiple Projects.
Pin for later reading