Coursera Plus: Why It's Worth It (in 2023)
This blog is reader-supported. When you purchase something through an affiliate link on this site, I may earn some coffee money. Thanks! Learn more.
As a project manager, we are always learning new things. If you hold a professional certification like the Project Management Professional, an APM qualification, or PRINCE2, you'll also be expected to carry out some professional development each year as well.
And that all costs money – often money that our employers won't pay for us. There is another way to build your skills and manage your budget: Coursera Plus.
What is Coursera Plus?
Coursera Plus is Coursera's subscription plan.
Coursera is a global online learning platform that has training material on a wide range of business-related topics. Think of it as an alternative to LinkedIn Learning, with content from world-class universities and tutors.
The Plus membership opens the doors to all of those online courses – there are thousands of courses.
There is a monthly or annual payment option. There is also a free trial, so you can check out what is included in the Plus program and make sure that you are comfortable committing to a subscription.
So what do you get for your money?
What's included in Coursera Plus
It gives you access to 7,000+ courses and specializations (which are a collection of courses that lead to a certificate) with one monthly or annual subscription.
Over 90% of the courses on the platform are available with the Plus subscription.
You have unlimited access to the training from 170+ leading companies and universities. And you can earn certificates for all of them (there might be a few that don't offer certificates – everything I looked at did, and Coursera advertises that you can earn unlimited certificates).
There are more than 15 Professional Certificate programs (including all the courses from Google) available too, but degrees and some other classes are excluded from the subscription plans.
How much is Coursera Plus
The cost of Coursera Plus in the UK is £49 per month or £331 per year ($59 USD per month or $399 USD per year), which represents a saving on the monthly version. The annual plan would be my recommendation if you know you want to commit to a year.
Alternatively, if you browse around and only want to buy one course, it might be cheaper to skip Coursera Plus and just go with paying for that course or specialization as a one-off. Courses range from £40-65 per month, with many programs being able to be completed in a month if you really go for it.
Check the pricing in your country, but it is going to be similar.
Benefits of Coursera Plus
Here are 7 benefits of Coursera Plus, based on my experience using the platform for professional development.
1. Study anything
Want a course on work breakdown structures? Agile methods? How to give presentations? Coursera has all of those and much more.
Does Coursera Plus include all courses?
No, it does not. The subscription excludes online degree courses and training from some partners such as IBM and Stanford University. But with around 90% of the content available to Plus members, you will be sure to find a course to help you progress.
Use the search filters to find the right kind of courses for you.
2. Cost-effective learning
Coursera has a free option, but the content is limited. For example, while you can audit the Google Project Management Certificate (auditing a course means you can see the materials), you can't take the assessments or do the peer reviews without a subscription.
If you are planning on doing a few courses during a 12-month period then the Plus option gives you access to loads of quality learning materials without having to pay extra.
Recommended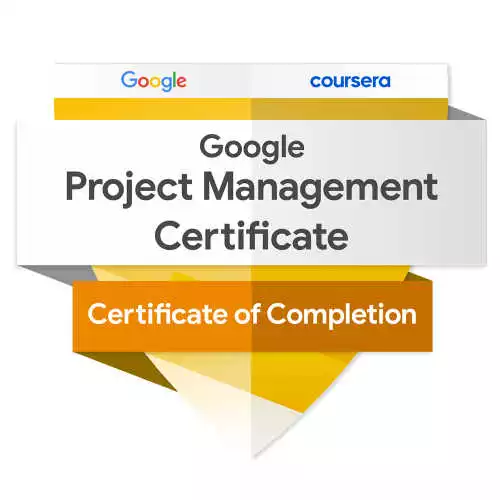 Google Project Management Certificate
A solid, professional, well-recognized project management course from a great training provider. Perfect for beginners and people interested in learning more about project management as a career.
Learn more
We earn a commission if you click this link and make a purchase, at no additional cost to you #ad
3. Fits with your schedule
How many of us have the time to put aside a week for a classroom course? I can hardly believe that's what I used to do. I can't imagine it now: flexible learning is the way to go.
The good thing about online learning is that you can fit it around your day job.
For example, I listened to some Agile training while I was going about my other tasks. I downloaded the Coursera app and had that on my iPad, so I could watch the videos while I was cleaning my teeth and …er… doing other bathroom things, and I also had the videos on while cooking dinner.
I managed to get through a lot of the content without having to 'sit and learn.' Note: don't do this if you feel like you learn best if you take a lot of notes. I would never have got the potatoes peeled if I had to stop and jot down notes all the time.
4. Earn certificates
The main reason I signed up for Coursera is because I wanted certificates.
Does Coursera Plus include certificates?
Yes, it absolutely does!
Is it worth paying for Coursera certificates?
I think so, but you do have to acknowledge that they aren't 'worth' as much as, say, a degree or a professional certification like the Project Management Professional (PMP)® that also recognizes your experience in the field and has certain eligibility criteria and a proctored exam.
I am a bit of a learning snob: I'm happy to learn stuff for the sake of it, but I am more motivated to learn when there is something at the end of it, like a Credly badge or a completion certificate that I can share on LinkedIn.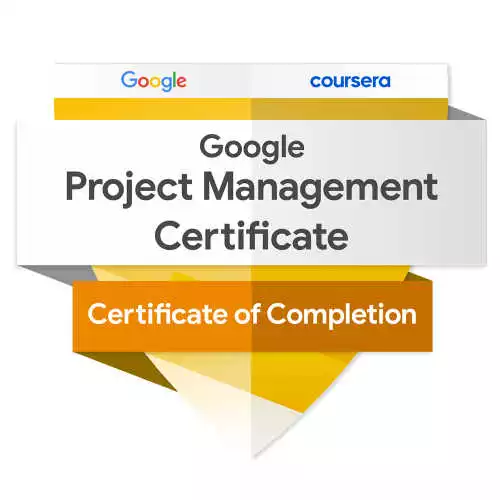 5. Respected by employers
Coursera is the platform that the training is hosted on. The training is delivered by world-class universities and training providers. For example, I did a course from IBM. I've also taken courses from Google.
Loads of universities have made their individual courses available on the platform, so if you are asking yourself if Coursera is respected by employers, I would say yes. You can probably find some courses on there from establishments that don't carry the same kudos as a prestigious university, but employers will trust the development you've gained from leading educational establishments.
6. High quality content
The quality of the video learning materials does depend on the provider, but the courses I have taken have been well-put together and taught by experts.
These are professionally-shot videos and professor-level instructors. It's a high-quality learning experience, so you can guarantee that you are getting expert tuition.
7. Totally worth it!
I can say that personally, I've gained confidence in Agile methods through the learning I have done on the platform. While I don't work with a Scrum team on a daily basis, I do interact with Scrum Masters and Product Owners regularly, and it helps to know more about their world.
Is Coursera Plus worth it? 87% of learners on Coursera report career benefits, so yes, it is. As long as you use it.
Pros of Coursera Plus
Lovely user interface that keeps you motivated to complete the training. The design is good, it's easy to use, and key dates are highlighted so you remember what you are supposed to be doing next. It steps you through the training, making it difficult to fail to complete the course.
Offline option. You can download the videos and transcripts to watch them when you are offline.
Easy to understand pricing. The pricing for Coursera in general is confusing. I couldn't find out how much a course was until I'd enrolled in the free trial, and they do make it hard to know how much it will cost to take a whole certificate as the price is often based on monthly subscriptions (for professional certificates and Coursera specializations, for example). But the Plus pricing is easy to understand: it's one price per month for everything.
14-day money back guarantee. If you pay for the premium subscription plan and get the annual option, you have 14 days to check it out. Do use this time, as if the subscription service isn't for you, this is your moment to cancel it.
Forums. One thing I have enjoyed about the courses I've taken is the option to participate in forums. There are thousands of students online (and plenty of social proof about what it means for their careers), and the majority are willing to chat in the forum. That makes learning a social experience, even though you are at home.
Tip
Networking in the Coursera Forums can be very helpful to share experiences, networking, and get advice from other project managers.
Cons of Coursera Plus
Many beginner courses. Most of the courses I looked at were aimed at beginners. You'll have to dig to find content aimed at career professionals with more experience. There's nothing wrong with going over the basics, but if you have been doing a job for a while, try to seek out the modules that will help you the most to save time.
Time commitment. You'll get the most out of Coursera Plus if you do two courses in a year, or some learning every month. That is a commitment. Go for a monthly subscription if you aren't sure you can keep that level of learning up for a whole year.
Might have additional costs. Check what Coursera courses are included in the Plus subscription before you sign up, as if the one you want to do is no, you might incur additional costs.
Other considerations before you sign up
There are a few other niggles I had with it. For example, they constantly talk about earning a 'shareable certificate'. All that means is you can directly share the image of your certificate to LinkedIn, and it includes a link back to verify your achievement on their platform if an employer wanted to check out that you had actually earned it.
All certificates are 'shareable' – I could photocopy a certificate and send it to you. It feels a bit 'social media' but I get the sentiment, and these days when you could mock up something in Canva it is good to have the validation of a link back for evidence.
Know your goals
Finally, it's really important to have some idea of your career goals before you sign up. Is it worth your time to learn about data analytics? Should you focus on Excel for Business? What about social sciences, leadership, financial accounting…?
You could go down the Coursera rabbit hole and end up studying a wide range of topics that will have no impact on your career prospects at all, so go in with a game plan!
My top 10 recommended courses on Coursera will give you a good starting point.
Are you ready to check it out yourself? Sign up for a free 7-day trial and have a look around. I'll see you there!
Coursera Plus
Unlimited access to 7,000+ world-class courses, hands-on projects, and job-ready certificate programs in a monthly subscription program.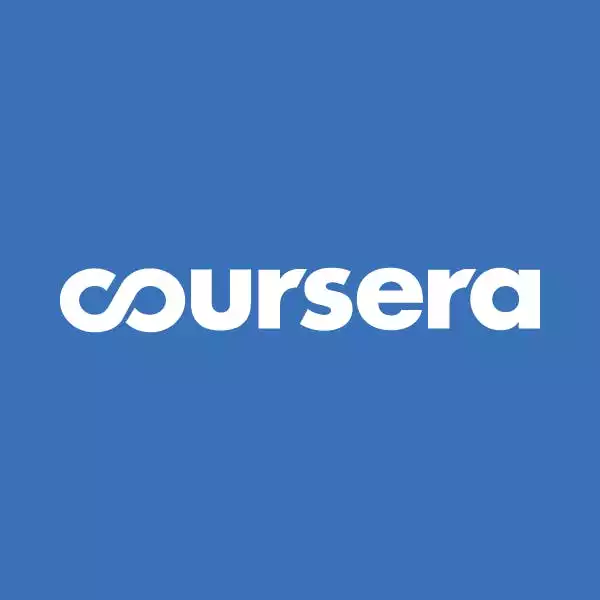 We earn a commission if you click this link and make a purchase, at no additional cost to you #ad
Pin for later reading