IBM Project Manager Certificate: My Student Review
This blog is reader-supported. When you purchase something through an affiliate link on this site, I may earn some coffee money. Thanks! Learn more.
Read our review guidelines.
Let me guess. You're here because you're interested in finding out whether the IBM Project Manager Professional Certificate is right for you?
You're in the right place.
Summary review
The IBM Project Manager Professional Certificate is a good CAPM® alternative or course to use towards your CAPM prep. It's great for beginners but still has some formatting errors in the content as it's still new at the time of writing. If you are planning on a career in tech, do the IBM IT Project Manager Certificate instead.
I've done a lot of project management training in my 20+ years as a project manager (including this course which I'll tell you all about below), and those training experiences helped me understand the soft and hard skills necessary for successfully leading projects.
However… it's really important to choose a good course. If you are going to spend time and money on a professional certificate, you need to be confident that it's worth your time.
In this IBM Project Manager Professional Certificate review for beginners, I'll share my experiences as a student on the course including:
Why the IBM Project Management certificate doesn't require pre-requisites (and what you do need to pass)
Why it's good for early career project managers, especially if you think that the CAPM or PMP exams are in your future
How long you'll need to spend going through the course materials before you pass, and what that process looks like.
This course is new (it launched in June 2023). I thought it was really good and it could turn out to be in the top bunch of popular online project management certifications for beginners on the market.
Before we begin: there's also an IT version of this course
IBM has two project management professional certificates: the other one is the IBM IT Project Management training.
It's longer and includes technical content (as you'd expect) so if you are considering a job in tech, why not check out that one too?
IBM IT Project Management Certificate
This beginner's IT project management certificate from IBM gives you everything you need to get hands-on experience and break into leading technical projects.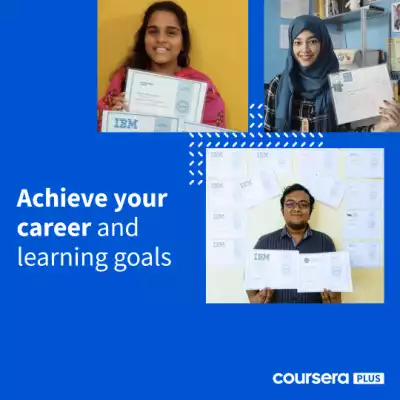 We earn a commission if you click this link and make a purchase, at no additional cost to you #ad
How I did this review
I enrolled as a student of the course on Coursera and worked through the course materials. I did the peer assignments, graded quizzes and watched the video training (although not all of it – more on that later).

I spent a lot of hours reviewing the materials and studying the individual courses, and I hope that time helps you make a choice about whether the course is a good fit for your career needs.  
Who is the IBM Project Management Certificate for?
The Coursera IBM Project Management Certificate is aimed at complete beginners.
You don't need any prior knowledge or pre-requisite study, or any particular education requirements in order to take the certificate.
However, the courses get deep quite quickly. If you are comparing to the Google Project Management Certificate, I'd say this course is more. More detail, more PMI-aligned, just more.
I loved the Google course, but the Coursera IBM project management training is more aligned to the Project Management Body of Knowledge (PMBOK 7).
You don't need to know anything before you get started. If you do know that particular topic, you can skip through the videos on fast speed or move directly to the quizzes. That's what I did to get through the content more quickly.
This course is great for:
People who have had no project management training and want to demonstrate they understand project management so they can land an analyst or junior PM job.
People who are leading projects for their company but have had no formal training and would like to learn what they should be doing!
Project managers who are yet to take a professional certificate but don't meet the requirements for the course they are looking at, for example, not meeting the eligibility criteria for the Project Management Professional (PMP)® exam.
As I worked through the material, I realized the course is not really for experienced project managers because:
It covers pretty much everything you need to know to be ready for an entry-level project management job, but it's light on tailoring and the 'difficult' stuff that tends to come with complex projects.
There's very little in it about working with project teams (admittedly, difficult in a video training).
It's aimed at the Certified Associate in Project Management (CAPM)® level student and mentions that frequently. If you've got some experience, you could probably go straight for the PMP® exam.
If you are considering a career in project management, this is a low cost, low-barrier-to-entry course to check out what the job is really like.
About the course and structure
The certificate is made up of 7 courses. These are:
Introduction to project management
Project management foundations, initiation and planning
Project lifecycle, information sharing and risk management
Project management communication, stakeholders and leadership
Introduction to Agile development and Scrum
Project management capstone
Prep exam for CAPM
This is a very similar list as the IBM IT Project Management Certificate, except that one also includes IT fundamentals for everyone, scrum master essentials, and an intro to software engineering.
If you are aiming for an IT job, you'd be better off taking that course.
Plus you won't have to do the CAPM practice exam!
The modules do feel slightly disjointed as if they have been put together from other courses.
I didn't take the courses in order. I studied several of the courses in parallel, waiting for peer reviewed assignment results to come in or doing the 'easy' quizzes on my phone while using my laptop for the modules I found harder.
Once you have passed all the courses, you'll earn the certificate and a Credly badge.
Set up of the course
Each of the IBM project management courses is made up of several modules that cover a range of topics. The modules are broken down by weeks so the course is structured so you pace yourself throughout. You don't have to stick to that, I didn't.
I really love the Coursera platform. It's so good for learning on. The notes feature is great, the transcripts are easy to navigate, and it holds you accountable with reminders.
Coursera Plus
Unlimited access to 7,000+ world-class courses, hands-on projects, and job-ready certificate programs in a monthly subscription program.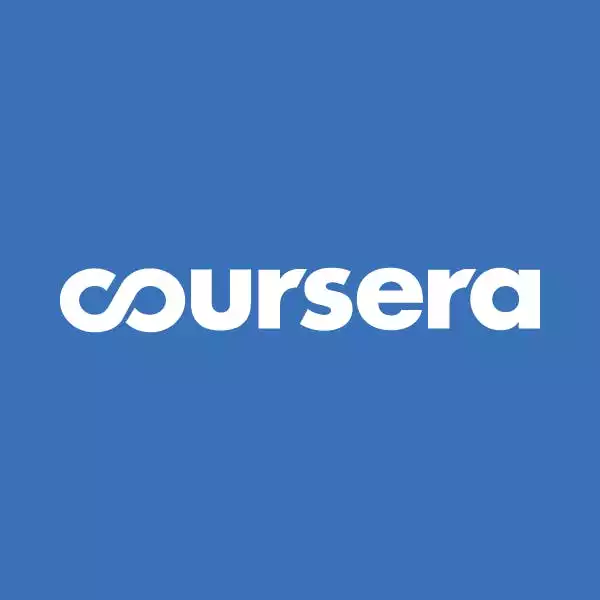 We earn a commission if you click this link and make a purchase, at no additional cost to you #ad
This course did not have very many downloadable resources, although I did get some document templates. I think they might add more downloads in the future.
The materials include:
Training videos – you can control the playback speed, hurrah!
'What it's like to work in project management' videos – these are Q&A conversations with IBMers talking about their role and career journey.
Transcripts – these sit under the videos and the relevant text is highlighted as the speaker talks
Discussion forums – if you want to take part in the discussion forums and connect with other students, you can.
How long does the IBM Project Management Certificate take?
The recommendation is 10 hours of study per week for 2-3 months.
There is no way I spent that much time on it, but I am an experienced project manager. I didn't watch all the videos.
You could also do it much faster if you ignore the weekly module breakdown and simply plough through the content.
The learning side is relatively straightforward (watch the videos at 1.5x speed to save time), but you can't save time on the peer assignments or the Capstone.
Doing the CAPM mock exam is also a time suck, especially if you have no intention of actually taking the exam in the future. I don't feel the course adequately trains you to pass the final module, and you need 70% or greater in the 150-question test to get through that module.
The specific amount of time you'll have to spend on the IBM project manager certification is going to depend on how much time you can dedicate to studying and how quickly you pick up the concepts.
How the assessment works
Quizzes
Each module ends with a timed, graded quiz or final exam. Coursera is clear that it has to be your own work, so there are pop ups that require you to commit to the honor code and promise that it's all your own work.
There are also practice quizzes so you can get used to how quizzes are structured before you attempt the graded quiz for each module.
If you fail a quiz, just take it again. You can review your answers, and there are notes that point you to the video to watch again, where you'll find the solution.
Peer-graded assessments
The foundation course, the lifecycle course, the comms course, and the Capstone all have peer-graded assessments.
This is where you read a case study, complete a document template, upload it, and one of the other students assesses it. It's hands-on experience of doing the legwork of managing projects.
You have to assess a couple of submissions from your peers in order to earn your grade too.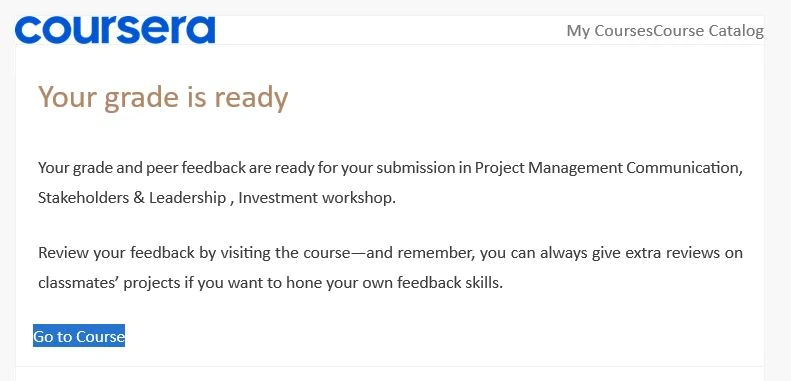 You get a marking scheme, and it is easy to follow – grading someone else's work didn't take me that long. However, the marking schemes for some assignments are really prescriptive. If you don't give your project the exact name that they specify, technically, you shouldn't get a mark.
I don't think they truly meant to be that specific, especially as there is nowhere in the case study where you get given the exact name in the marking scheme, so how would you even know it?
Some exercises across the courses are the same e.g., create a RACI matrix, but the templates are different – that's weird.
I also found a few formatting errors; for example, as you can see in the image below, Sarah is in this resource list twice. The second name should be Sandra. It doesn't stop you from doing the case study assignment, but there are a few teething problems in the course like this – probably because it's still new.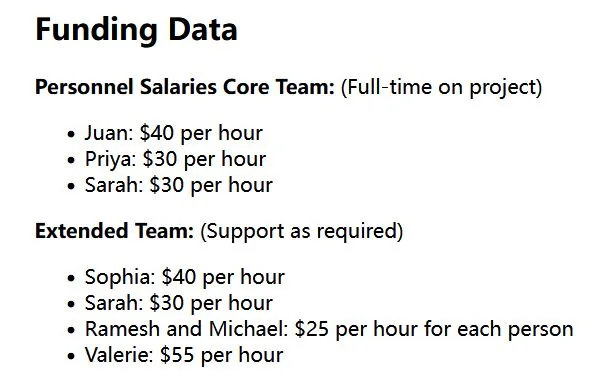 Final exam
The final course is a CAPM prep course. It doesn't actually teach you anything — it just references PMI learning materials. Then you have a 3-hour, 150 question mock exam. It's the same format as a quiz and you might not need the whole 3 hours to do it.
I focused on the questions I knew I could answer, the questions that I could work out easily, and then did make some educated guesses for the questions that were very PMI-specialized.
If you fail, you can take it again up to 3 times a day.
What you need to pass the course
Ultimately, to get the IBM project management badge, you just need the time and focus to plod through the materials.
Make a plan of how much time you have to study and stick to it. As it's all online, self-directed learning, you have to be really strict about following through, as no one is going to come after you if you let it drift another month or so.
Maybe knowing that you get 7 days free is motivating!
What certificate do you get?
When you pass each of the IBM project management training courses, you get a downloadable PDF certificate. When you complete all the courses, a shareable LinkedIn badge via Credly.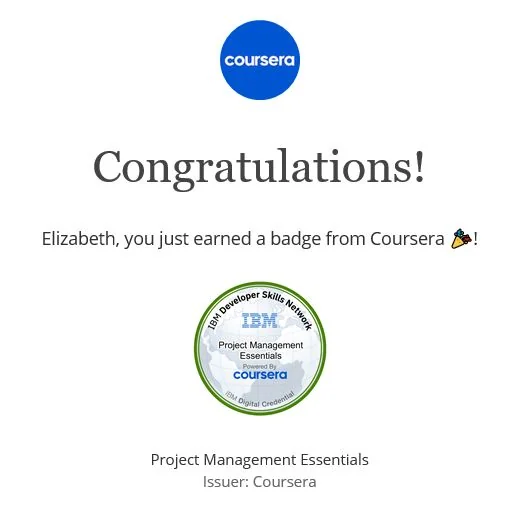 I was surprised that I got another Credly badge (which, personally, I think is far more valuable than a PDF from Coursera) for the fundamentals module.
What's the honors content?
There is optional Honors content in the course. For example, in the Intro to Agile Development and Scrum course. That means your certificate for that course has 'with Honors' written on it, and it means you took the time to do the optional Honors project, which in this case is creating an Agile plan with ZenHub.
It is useful to do the Honors content if you are serious about learning practical skills to talk about in an interview, but you don't have to do them to pass.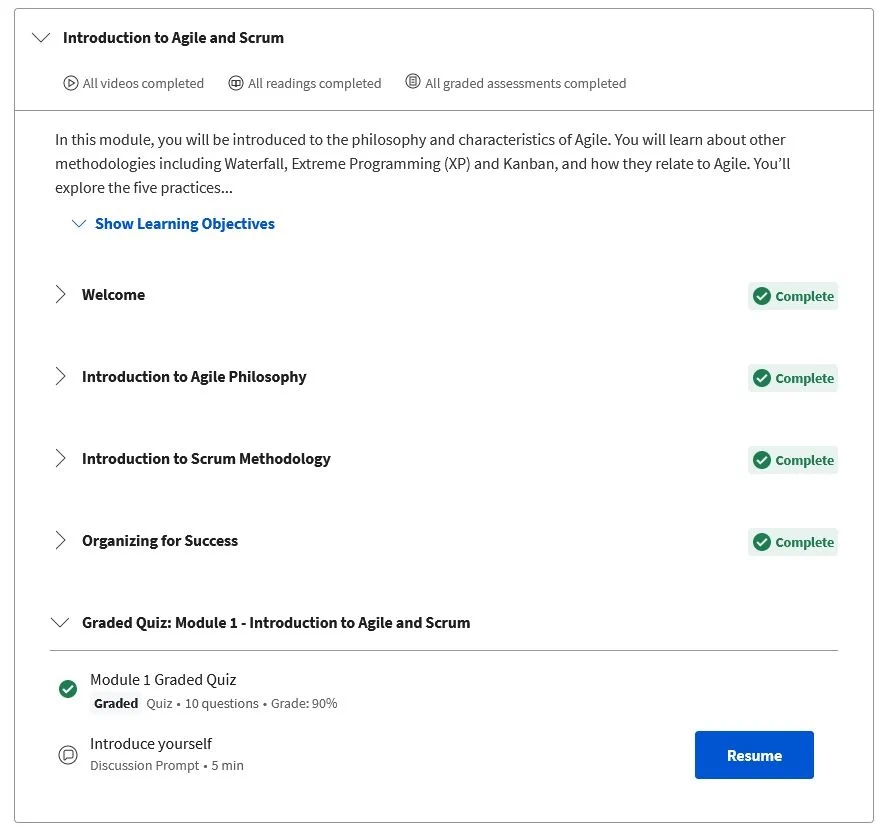 What I liked about it
The advantages of the IBM Project Management certificate are:
It's from IBM, a brand that employers will value.
There are real-life interviews with IBMers, giving you an insight into the job, along with career support resources.
It takes you from knowing nothing to having a decent understanding of what it means to lead a project, covering a wide range of content in depth.
It's cost-effective if you work through the course quickly. The cost racks up if you spend months on it but dedicate yourself to getting on with it, and it works out cheaply.
Finally, and this is a big bonus, you work through examples, demos, and case studies in the course, including in the Capstone, so you get to put your skills into practice (helpful for when they ask you at an interview if you have ever done XYZ).
To earn the certificate and get the competitive edge, all you have to do is complete all the work! Don't underestimate how much time it will take, though.
There is a lot of excellent material in the course, and while the graded quizzes are straightforward, the peer assignments are not.
The final exam is not really pressured as you can take it again, but there is the Capstone to work through. If you are nervous about taking invigilated exams, that's another reason to take this course over one that makes you sit a stressful exam!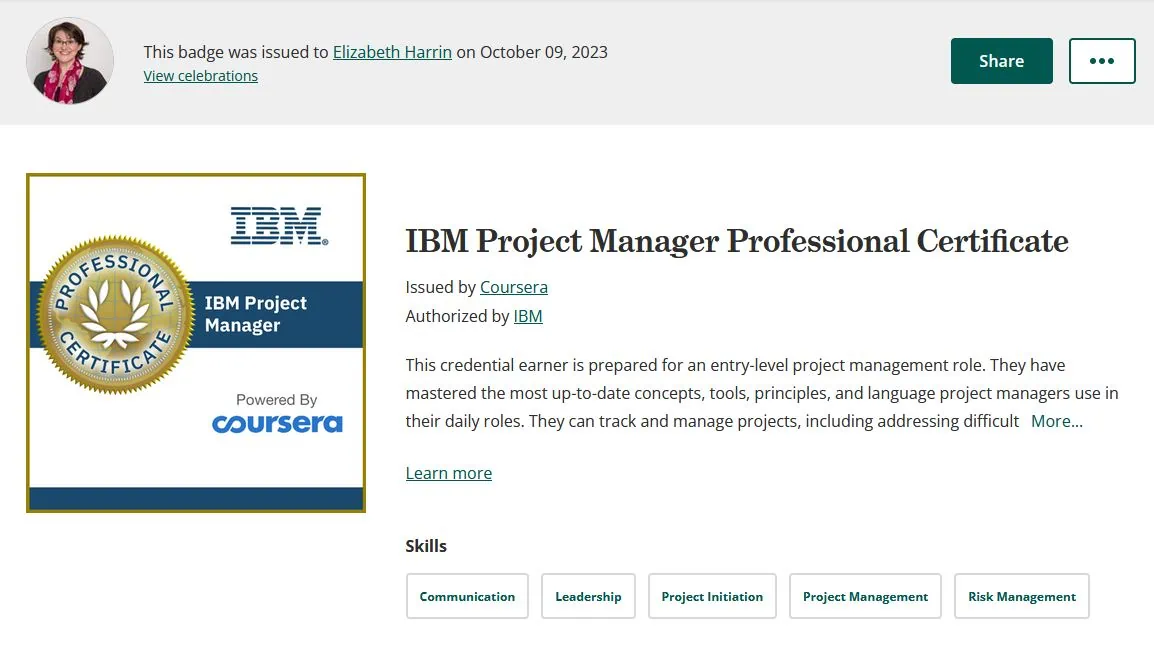 What I didn't like about it
The disadvantages that I found are as follows.
Some of the exercises were the same, for example, creating a RACI or a RBS, but they had different templates. One assignment asked me to fill in a field on the template, but the template didn't have that field – it felt a bit like a sneaky test: can you complete the exercise even though we haven't made it easy for you to get all the marks?
The comms plan assignment asked me to create a document that needed a work breakdown structure, but I didn't have a WBS.
One assignment required two documents to be uploaded. The marking rubric required both documents to have the title of the project at the top, and the rubric read like you have to use the exact project name to get the mark, but they were two different names!
On one course, it asks you to review the PDF, but there is no requirement to upload the content as a PDF (other courses specifically ask you to save your content as a PDF – as far as I can see, it makes zero difference to being able to access the content to mark it).
The modules feel disjointed, like they've come from other courses and have been put together for this certificate, which they have.
These are all tiny gripes about formatting and content, and they don't really take away from the credibility of the certificate. I'm sure they will be resolved over time as students point them out and they are fixed.
My bigger gripe is that the course is very PMI-focused. In the comms course, the quiz specifically says these are the kind of questions you'd get in a CAPM exam.
I found the quiz questions very process driven in places: "What process are you performing when you do X?" or "What document do you fill in during this stage but before this is done?"
This is not real life. It will help you pass the CAPM exam if that's what you want, but it won't help you show up and be a fabulous project manager because in real life, people don't care that you're doing the Manage Quality process today or whatever. These are not the project management concepts that stakeholders lose sleep over.
Then there's the fact that you have to sit and pass a CAPM mock exam to get your final certification and complete the specialism. I put off doing that for a couple of months because I have no intention of taking the real CAPM exam, so why put myself through that?
In the end, I did it so I could tick the training off my list.
Finally, the course is not very agile. Agile concepts are covered, along with iterative development, adaptive planning, and other techniques, but they don't show up throughout the material. This is a problem given how many of the CAPM practice questions referred to agile techniques.
Recommendation: Should you buy this course?
If you are seriously considering a career in project management and want a certificate to put on your job applications from a training provider that people will recognize, then this is a fantastic entry-level certificate.
Sign up for the free trial, check out the course, and work through the content to earn the badge.
I should let you know that I am impressed with the course and that I'm now an affiliate for the Coursera platform so I can recommend it, but I only recommend products I have tested out and am confident in.
Alternative to CAPM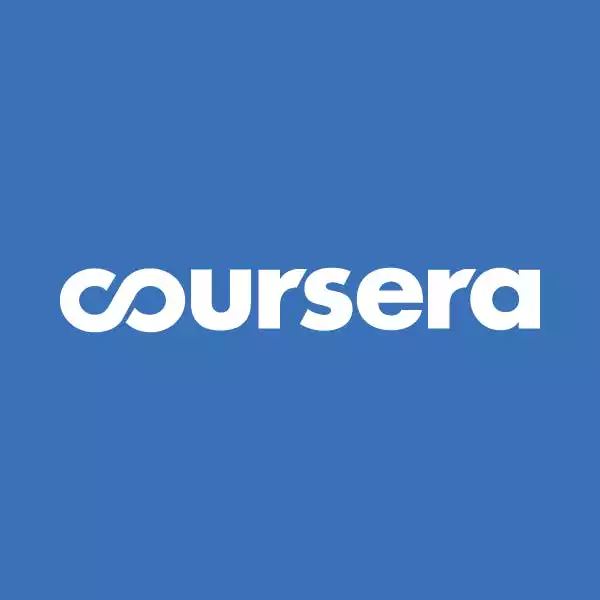 We earn a commission if you click this link and make a purchase, at no additional cost to you #ad
FAQ
Is the IBM Project Management Certificate worth it?
I think the certificate is worth it for entry-level and beginner project managers, and those who are considering moving into project management from another domain. The course is great quality, in-depth and focuses on in-demand skills.
Is the Coursera IBM Project Management Certificate free?
No, it's not free, but you can audit the course for free. That means you can study the course content, but you can't take the graded quizzes or be eligible to earn the certificate. If you want to learn about project management but don't need the certificate, you can study for free. There is also a free trial.
Is the IBM Project Management Certification equivalent to a PMP?
No, it's not. The IBM Project Management certificate is not equivalent to a PMP because the Project Management Professional® certification has the pre-requisite of 36 months of experience working as a professional project manager. The IBM PM certification is closer to a prep course for the CAPM.
Does the IBM PM certificate count towards PDUs or PMP training hours?
Yes, you can use the training course as hours towards your PMP 35-hours of project management education eligibility criteria. However, it's not a PMP training course so I would recommend if you are going for PMP, you need another course as well. It will also help you study for the CAPM exam.
The IBM project management courses on Coursera also count towards Professional Development Units (PDUs).
How much does the IBM IT Project Management Certification cost?
The certificate is made up of 7 courses available on a subscription basis which is £39 a month, or the equivalent in your country. You will need a subscription to take the graded quizzes and to earn the certificate. The faster you work through the materials, the fewer months of training subscription you have to pay for.