10 Best Coursera Courses for Project Managers
This blog is reader-supported. When you purchase something through an affiliate link on this site, I may earn some coffee money. Thanks! Learn more.
Read our review guidelines.
Are you considering taking a course on Coursera? I've done a few, some were better than others!
Professional learning is so important and there are some fantastic courses available on Coursera, which is a really good online learning platform. The interface makes learning very easy as a student… you just have to make sure that you are investing time in the right courses that will help you develop professionally as a project manager.
One of the great things about Coursera is that your monthly Plus subscription includes loads of courses so you don't have to pay a fee per class. That makes it possible to test out a lot of courses and see which one is going to meet your learning objectives – even if that is simply to earn PDUs!
When I searched, there were over 2,300 'project management' courses on the platform. That's a lot to work through! Here is my roundup of the best courses available for project professionals.
Top 5 Courses for Project Managers on Coursera
| Product Name | Provider | Best For | Rating | Included With Coursera Plus? / Learn More |
| --- | --- | --- | --- | --- |
| | | Early career professionals | | |
| | | Project managers wanting to improve planning and control | | |
| | | People considering or in a Scrum Master role | | |
| | | Beginners who don't have the time to commit to the Google course | | |
| | University of California, Irvine | Early career professionals wanting rounded business skills | | |
The Full Top 10
The table above summarizes my recommendations for the top 5 courses for project managers. Below, you'll find lots more detail about what courses I have taken and what might be a good fit for you.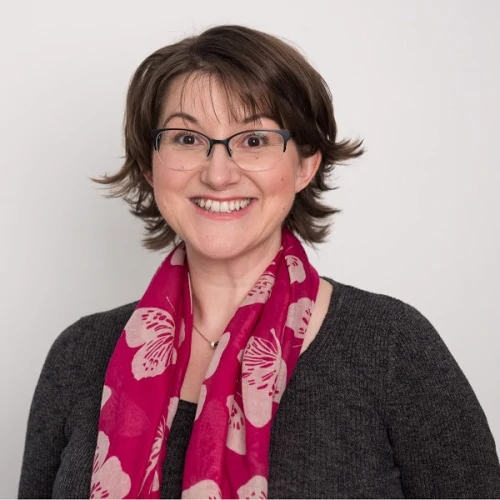 How I made these recommendations
In order to review and recommend the training courses, I did some of them completely (Google and LearnQuest), audited others (taking the training but not the assessments so I could do them for free) and did a desk review of others, looking at their content, relevance to project managers, student reviews and more.
1. The Google Project Management Certificate
This is the reason I went on to Coursera in the first place. There is so much hype around this course and I wanted to see if it was worth it.
Spoiler: I think it is, for new entrants to the profession, people who want to make a sideways move into project management and students looking for an extra certificate to go along side their university studies. If you already have 3+ years of experience as a project manager, you probably won't learn much new.
Best for: People who want to become project managers. People who love earning Credly badges to show off on their profile!
Recommended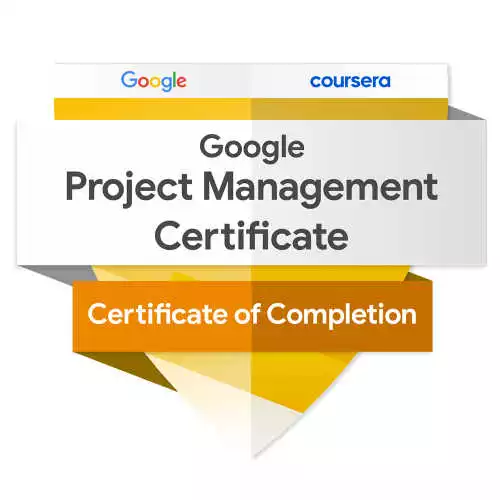 Google Project Management Certificate
A solid, professional, well-recognized project management course from a great training provider. Perfect for beginners and people interested in learning more about project management as a career.
Learn more
Read my review
We earn a commission if you click this link and make a purchase, at no additional cost to you #ad
2. UVA Darden's Fundamentals of Project Management
This was a short course that I worked through by auditing the materials. I did not pay to take the final assessment exam, but I did watch the videos.
I thought the content was in-depth (at least as far as it could be in a course designed to be done in a day) and relevant for people working in a predictive environment.
This one is quick, from a well-respected provider and a great way to upskill especially around creating project schedules.
Do in a day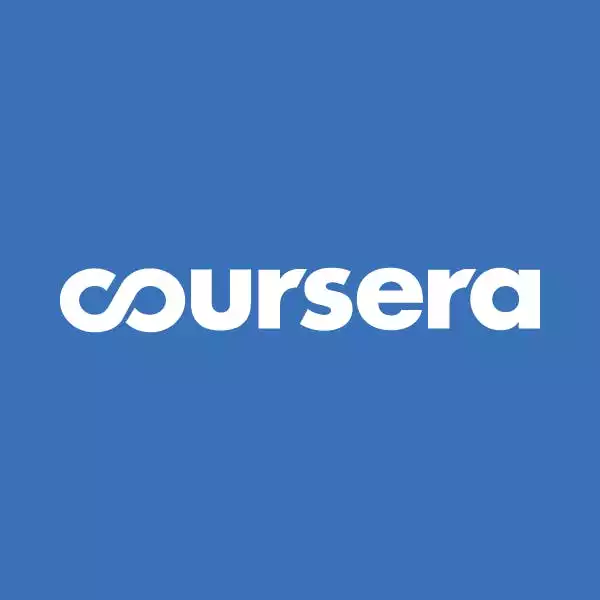 3. University of California, Irvine's Career Success Specialization
The first course in this 10-course Career Success Specialization is on project management. The other courses cover equally important topics for people wanting to excel in a project leadership role:
Personal productivity
Finance for non-finance professionals
Communication
Business writing
Negotiation
Management fundamentals
Problem-solving and decision-making
Entrepreneurship
And it ends with a career success project class which has peer-reviewed assignment. In turn, you have to review the assignments of 3 other students.
These courses are best for people working in a business environment already. The career project Capstone looks like it requires you to talk about your own organization so if you don't have one that could be a problem.
Plus, one of the trainers is Margaret Meloni, long-time friend of this site and expert in work breakdown structures amongst other things.
No time for 10 courses?
There is a shorter UCI course called Project Management and Other Tools for Career Development. This seems to be a shorter version of the full Career Success course.
4. University of Colorado's Project Management Specialization
This is a 3-course Project Management Specialization that is part of the MEng degree so you get academic credit for it.
The courses cover foundations and initiation, planning and execution and the final one is on agile.
This is aimed at beginners, so give it a miss if you already have some experience.
5. LearnQuest's Scrum Master Specialization
I thought from the title, the LearnQuest Scrum Master Specialization course would end up with me being a Scrum Master, but having completed this course, you can't walk away from it saying that.
Once you are in the specialization, the trainer, Jim Sullivan, explains how it fits with the other two courses required to prepare you for the exam. Then you have to take the exam, which is not offered through Coursera.
However, I did learn a lot about working as a Scrum Master and the skills involved. I do not have a background of Agile, so it was helpful to get a real deep dive into the different tools and techniques as well as Scrum ceremonies.
The training is aimed at beginners and covers the foundational knowledge required to operate in a Scrum environment. If you want to find out if being a Scrum Master is for you, this specialization will give you all the basics.
You have to pay for a monthly subscription to take it, or buy each course separately.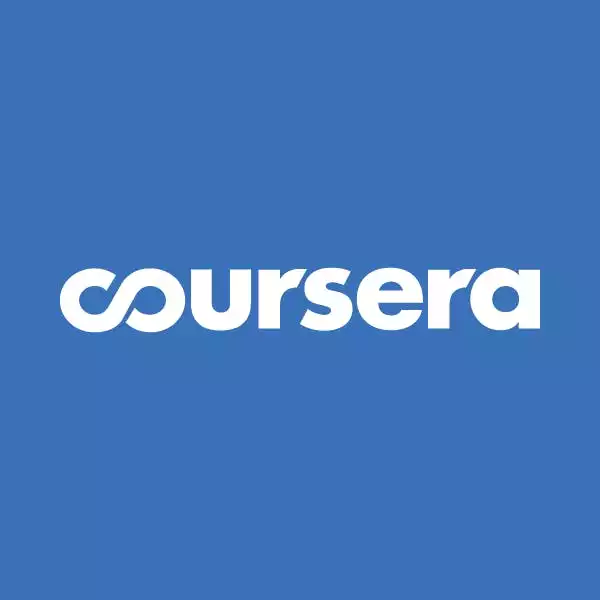 Scrum Master Specialization
The Learnquest Scrum Master Certificate is aimed at complete beginners who want to become proficient with Scrum and move on to become a Scrum Master.
Learn more
Read my review
We earn a commission if you click this link and make a purchase, at no additional cost to you #ad
6. IBM's People and Soft Skills Specialization
The reason I've ranked this one is because it's another one that gives you a Credly badge so you have something meaningful to show for your achievement.
The People and Soft Skills for Professional and Personal Success Specialization from IBM has good course content. I found the delivery style pretty boring in comparison to the Googlers and the UVA Darden tutor, all of who mastered their content and delivery, and had nice-looking slides.
The training materials sound like they are being read by AI software. You can't do the quizzes on the mobile app either, you have to do them on a proper computer.
But if you are new to the workplace, you'll pick up some useful tips on how to work effectively with other people and develop what PMI calls Power Skills, and what IBM calls Success Skills. And no one can argue that they aren't needed.
7. Agile with Atlassian Jira
I have lost count of the number of project managers I know using Jira for project management. This course has great reviews, with over 239,000 students already.
Agile with Atlassian Jira has 4 modules that cover agile basics and configuring Jira, as well as hands-on experience with Jira Software Cloud. The course includes instructions of how to access a free Jira Software Cloud site to complete the lab exercises, so you'll need a computer to do that, you can't use the Coursera app.
While this course is a complete, practical learning experience, it's also the basics for the Atlassian University credential, Jira Cloud Essentials with Agile Mindset Pro Skills Badge. Use this course as your learning and then apply to take the exam on the Atlassian website.
8. Excel Skills for Business by Macquarie University
I always want to learn more about Excel, probably because I quickly forget how to do the best formulas. I'm constantly looking up how to save time with Excel shortcuts.
For all that I support organizations migrating to enterprise project management tools, I know that many businesses, my own included, rely on Excel for a lot of data processing, stakeholder list-making and even reporting.
It's important to know how to get the best out of Excel as I can guarantee you'll be expected to use it as a project manager.
The Excel Skills for Business Specialization is 4 courses that will take you from essential skills to advanced level knowledge, where you're building professional dashboards in Excel.
9. Improve Your English Communication Skills
Over half a million people have already enrolled in the Improve Your English Communication Skills Specialization, so it's a popular choice for people wanting to write and speak more professionally in English.
The four courses cover:
Writing professional emails
Speaking professionally in person, online and on the phone
Building a professional 'ePortfolio' which is basically making sure you have a professional-looking social media presence and LinkedIn profile
Capstone project for next-level skills which covers cultural influences on communication and practical exercises to build your confidence and help you gain experience and feedback through peer assessments.
If English is not your first language, or if you are not confident in your business English levels, then this could be a good option for you.
I was offered a free trial of this course, and the price you'll pay after the 7-day trial is up will depend on where you are in the world. It was £40 per month for me. I would recommend trying it using the free trial to see if it is a good fit for your level of English and confidence.
10. Wharton's Business Foundations Specialization
I wasn't sure what to expect with the Wharton Business Foundations training, but it is a good overview of a lot of different business topics. It's a 6-course series, so be prepared to commit for the long term. If you only do a couple of hours a week you can get through it in around 7 months, but I would suggest dedicating a bit more time per week and getting through it faster if you can.
Faster = cheaper on a monthly subscription to Coursera Plus or the Specialization itself.
It's a course that is not specific to project management but includes a lot of general business knowledge that provides context and useful skills for engaging with your colleagues in other departments.
It covers marketing, financial accounting, managing people, corporate finance, operations management, and a Capstone project as the final course. The expectation is that you submit your project for peer review before you devote too much time to researching it, so this is a robust way to shape out your knowledge and put what you have learned into practice.
Best for: People who want to know how businesses work and how the commercials and financials work to support business development.
You made it all the way to the bottom? Which course will you sign up for next?
| Product Name | Provider | Best For | Rating | Included With Coursera Plus? / Learn More |
| --- | --- | --- | --- | --- |
| | | Early career professionals | | |
| | | Project managers wanting to improve planning and control | | |
| | | People considering or in a Scrum Master role | | |
| | | Beginners who don't have the time to commit to the Google course | | |
| | University of California, Irvine | Early career professionals wanting rounded business skills | | |
Pin for later reading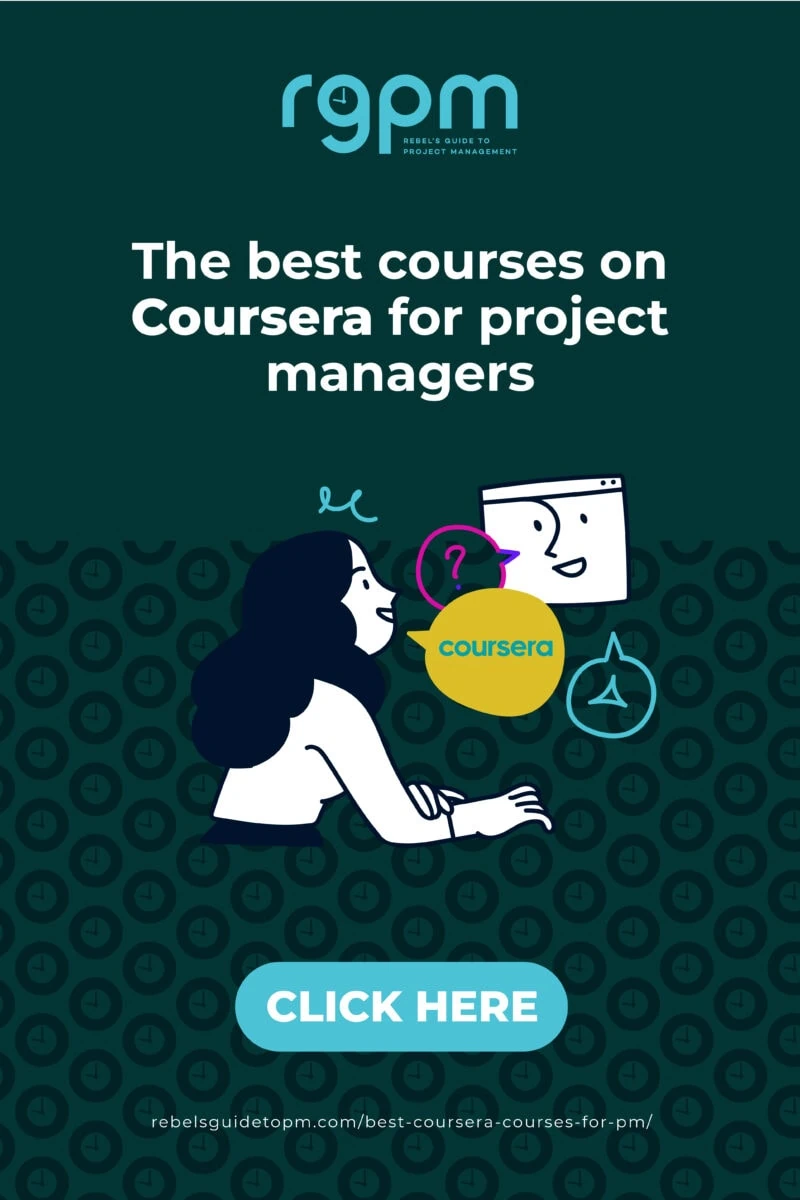 10 Best Coursera Courses for Project Managers
Are you considering taking a course on Coursera? I've done a few, some were better than others!
Course Provider: Organization
Course Provider Name: Coursera
Course Provider URL: https://rebelsguidetopm.com/coursera/