The Inexorable Rise of PRINCE2®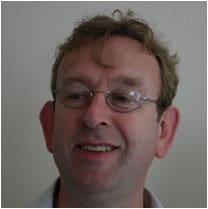 This is a guest post by Simon Buehring
The number of people gaining PRINCE2® qualifications just keeps on growing and growing. September 2012 saw the total number of PRINCE2 examinations being sat break through the one million mark. That's a pretty remarkable figure especially since this has been achieved in just 16 years since PRINCE2 was first launched. What is perhaps even more remarkable is that the number of people sitting exams just keeps on increasing every year.
I want to discuss in this article why PRINCE2 has become the professional project management qualification of choice in the UK, and why it is increasing in popularity in other parts of the world as well. But first, let's look at some of the statistics.
Look at the graphic below, and you will see that by the end of 2011 (the last year for which full figures are available at the time of writing), the number of Foundation exams being taken had risen to almost 600,000 whilst the number of Practitioner exams was slightly over half of that number. Roughly 1% of Re-registration exams were also taken.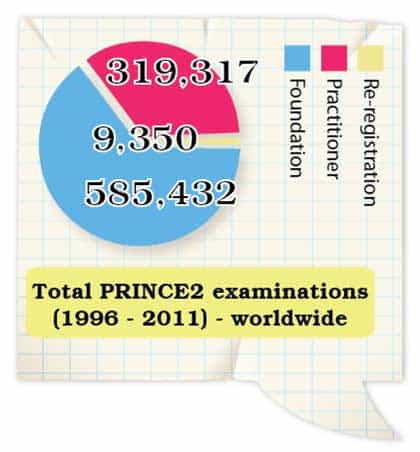 Since its lowly beginnings in 1996 when only 102 exams were sat, the number people sitting exams has grown every year (year-on-year) except during 2009 which of course was the year when the real economy went into freefall in the aftermath of the credit crunch (see graph below). Companies were cutting jobs and slashing training budgets which is probably why that year bucked the trend. The graph below shows this trend clearly and also highlights the fact that in 2011, more exams were taken than any other previous year. In actual fact on average, one exam was taken every 4 minutes during 2011.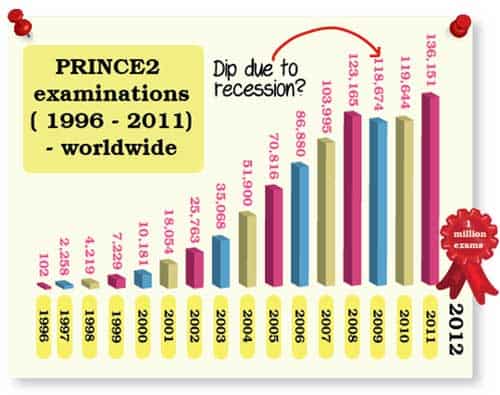 Growing international demand
Since PRINCE2 has its beginnings as a UK government method for managing IT projects, it comes as no surprise to learn that the majority of exams have been sat in the UK, as this next diagram shows. However, year-on-year growth of examinations during 2011 in the UK was only 2.6%, far behind Denmark with 112%, Poland with 65%, China with 54%, and Germany with 33% year-on-year increases. The growing demand for PRINCE2 in other countries is a clear sign that PRINCE2 has broken out of its home base and has now become a truly global project management qualification. In fact there are now PRINCE2 accredited training organizations in over 30 countries.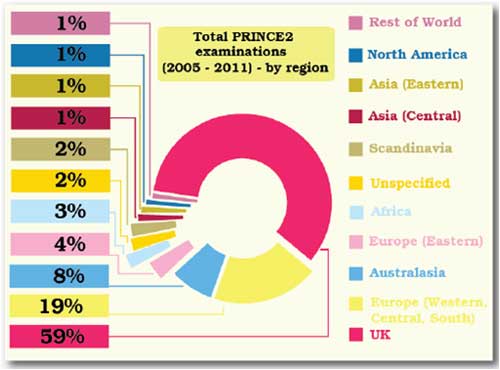 So why has PRINCE2 become so popular? Why do so many people spend up to 5 days in intensive study and spend large sums of money to become qualified in PRINCE2?
My PRINCE2 journey
I personally first became aware of PRINCE2 more than a decade ago. I was working at the time in a software outsourcing company in Asia and I was tasked with the job of helping the company improve its project management practices. When I first started reading about PRINCE2 it seemed interesting but perhaps a little heavyweight for the needs of our projects at the time. It was a few years later after returning to the UK when the question of becoming PRINCE2 certified was raised by a recruitment consultant who had kindly taken me out for lunch towards the end of a contract at the BBC. When discussing my next contract project manager role with him, he suggested that more and more companies were looking for PRINCE2 certified project managers. So, I bit the bullet, paid up and went on a 5 day course.
I was pleasantly surprised by the course. Although many of the concepts were not new to me, what impressed me most about PRINCE2 was its focus on systematically applying controls throughout the project, the business justification for the project and the product-based planning approach. The fact that people can learn what needs to be done on a project, by whom, and when, on a 5 day course is a huge factor in its growing popularity. It means that people with little or no previous experience of project management can quickly learn about best practices in a short period of time.
The labour market is increasing demand
I think the second, and perhaps more important reason why the qualification has grown so dramatically over the years is because of the demands of the labour market. The last 30 years has seen the pace of globalisation intensify, forcing companies to restructure their business operations and to develop new products on an ever-shortening timescale. Every one of these new product developments is managed as part of a project, so the demands for people with project management skills and qualifications is driving the demand for PRINCE2.
But it's not just private sector organisations which need ever greater numbers of people with project management skills, it's also the public sector. The prevalent consensus of all of the major political parties over the last 4 decades has been to privatise and to introduce more market conditions into the public sector. The result is that the public sector has undergone, and still undergoing, enormous structural changes in the way it provides services. Each of these changes require project management skills to manage them, so again, this is driving the demand for skilled and qualified personnel.
Some of the high profile organisations which have adopted PRINCE2 as their standard project management approach include the United Nations, NATO, Barclays Bank, DHL, Tesco, Rolls Royce, Visa and Vodafone. Rather than reinventing the wheel by developing their own project management approach, PRINCE2 offers these organisations a framework which they can embed into their existing business operations. An added benefit of using PRINCE2 is that it is free to use, so it can't get any better than that.
So, where does this leave the demand for PRINCE2 certification? Well, the trends I have highlighted in this article I am sure will continue, and the demand for more skilled staff with project management skills and professional qualifications is therefore likely to continue. It took 12 years before the number of PRINCE2 examination reached 500,000 but only a further 4 years for this to reach the 1 million mark. I wouldn't be surprised if the next million exams are taken before the end of this decade. So, if you haven't yet sat your PRINCE2 exam yet, perhaps it's time for you to start planning to do so.
If you're interested in doing the PRINCE2 course online have a look at our post here that discusses how to make sure you get the best fit for you!
PRINCE2® is a registered trade mark of the Cabinet Office.
Simon Buehring is based in the UK and is the founder and Managing Director of Knowledge Train which is a PRINCE2 accredited training company. Simon regularly delivers PRINCE2 and project management training courses within the UK and internationally.