Statement of Work Tracker Template


How do you track the various statements of work in your organization? Maybe you've got a list in One Note? Or a list of SOW numbers in your notebook? One of the biggest issues we've found is that it's tricky to keep track of what's in what statement of work and where each one is in the process.
So we created a statement of work tracker template.
Note: this isn't a template for a statement of work. It's for tracking the status of multiple statements of work.
What is a SOW tracker?
An SOW tracker tracks the project, source, dates, and responsibilities for each statement of work.
Why would I use a SOW tracker?
As a project manager it is worth having a way to track statements of work, especially if you have a number of projects on the go at the same time. When you are managing multiple projects, and you have a couple of external suppliers, you could easily end up with a dozen or so open SOWs.
You can use the SOW tracker internally within your company to manage statements of work within the company – if you are doing work for other departments or using the SOW format as part of your project management documentation.
For example, you can track what SOWs have been created or finalized, and the resources needed for that piece of work.
You can use it to track external SOWs which have been received from outside consultants or service providers. This could be more useful for the PMO or across the department, and that's really what this template has been designed for.
How do you use the SOW tracker?
Add each SOW to the tracker. Use it as a library of SOWs and a master reference list. All team members may have access to read the tracker, but I would suggest that only a couple of people have access to update it. That should help with version control issues.
What's in the SOW Tracker?
The SOW tracker includes the following sections:
Reference number (you can tie this back to the Master Service Agreement reference)
Project name
Location/business unit
Company/role
Whether the SOW is internal or external work
Internal manager responsible and contact details
Start and end dates
Billing rates
Major deadlines.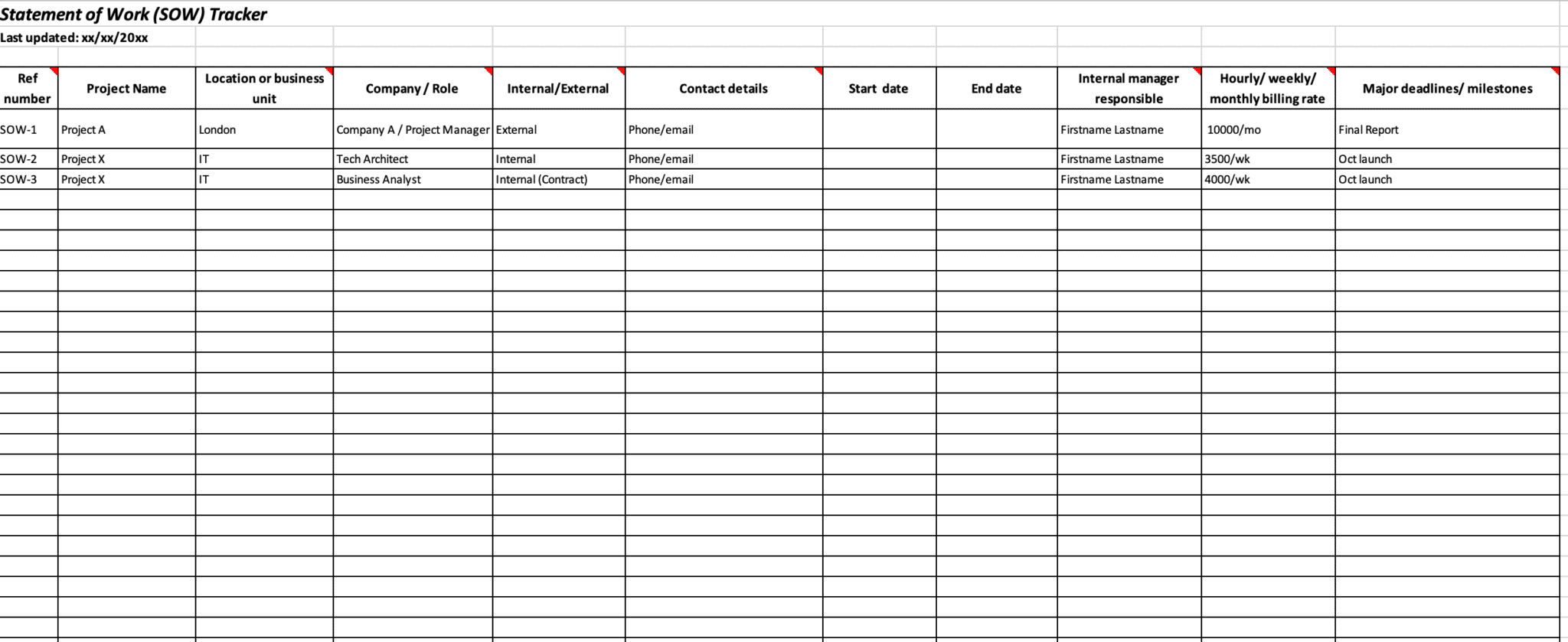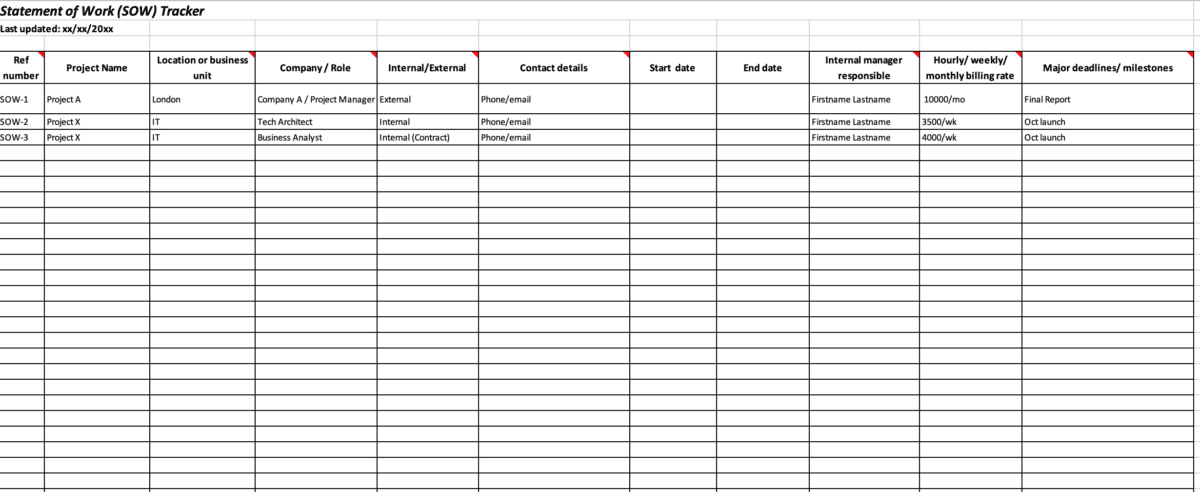 You can adapt the template as much as you like, if you want additional columns or tabs, just add them on! For example, I haven't included a column that covers the SOW title but if it helps you to have a short name for the SOW instead of a number, then by all means add it. Personally, we use a number system as the work that drives SOWs tend to have long names!
You could also add a couple of lines about the scope of work covered by the SOW if you'd like that detail but I wouldn't include a lot of detail. The template is supposed to be a high-level tracker for SOW management instead of a detailed copy of what's in the statement of works themselves.
How to access the template
The free SOW template is an Excel spreadsheet that you can access in our project management resource library.
Join the resource library here.
What is SOW tracking?
A statement of work (SOW) is a document that sets out the activities, deliverables and dates for a piece of project work. SOW tracking is a way of staying on top of the status of SOWs and keeping an eye on how they are progressing. This means no piece of work gets lost.