How to be a PMO Leader: Book Review of Leading Successful PMOs
This blog is reader-supported. When you purchase something through an affiliate link on this site, I may earn some coffee money. Thanks! Learn more.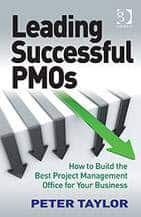 Project managers have to be project leaders as well, at least some of the time. But what happens when you want to take the next step and lead a PMO?
Peter Taylor's book, Leading Successful PMOs, explains. He discusses the PMO that he led at Siemens. It was a three year journey. They began with a focus on 5 Ps:
People
Process
Performance
Promotion
Project Management Information System (PMIS)
He started with People and Performance and then added the others as the PMO became more mature. It's interesting to see the year by year advancement that this PMO had, and Taylor also includes other stories of PMO leaders and their experiences. He shares some top tips including:
Act like a business leader not a project manager.
Develop the new processes and tools with the people who will use them.
Know your customer and provide excellent customer service.
Don't underestimate the effort required and organizational change needed to get PMO set up.
Leadership challenges for the PMO
The book includes the results from Taylor's own survey, including the fact that 78% of respondents had a project management team before a PMO came along. It seems as if PMOs are adopted after the principles of project management are recognized as valuable by the company.
This may add to the reason why PMOs are sometimes seem as an administrative function, and can make it even harder for the PMO leader: they are not starting from scratch. Instead, their role is often to bring together what was already there but make it perform better.
Chris Walters says in the foreword, "Although the visible part of the PMO is often operational in nature, the real value of a PMO is when it becomes transformational. This is where leadership becomes much more important than management."
Taylor summarizes this as shown in the picture below.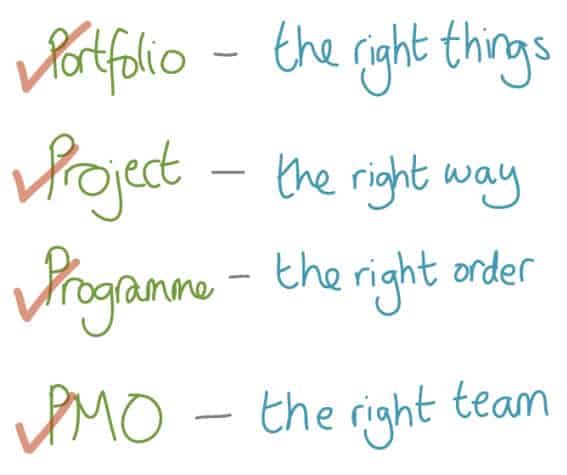 This is the underlying principle of the book, doing the right things, in the right order, in the right way with the right people. However, there is more to successful PMOs than just having the right people doing the right thing.
"Being part of a PMO team is all about supporting 'the right stuff' delivery by best practice and professionalism," he says.
Characteristics of a successful PMO leader
"Be passionate about projects and project management but act like a business leader," Taylor says. He lists other characteristics of successful PMO leaders. They are:
Decisive
Excellent at communicating
Great with people
Able to understand projects
Able to influence key stakeholders
Pragmatic
Able to understand the big picture and communicate the end goal
Not enforce process for process' sake.
This final point came through strongly in his research. It highlighted the fact that project managers want the PMO to be flexible enough to adapt to needs of all projects and not adopt a one-size-fits-all approach. This is key to getting the unit set up and respected, and, of course, delivering value to the customers.
The right experience for PMO leaders
So while understanding projects was flagged as an important characteristic, Taylor's research flagged that project management experience is actually way at the bottom of the list for recruiting PMO leaders. Only 12% of job adverts asked for project management experience and none of the sample of he studied asked for program or portfolio management experience.
Are the skills really that different?
Taylor assumes that project management experience was implied in the adverts that he looked at. I would say that if you have to ask for something like good communication skills (which is a prerequisite for most jobs) then you should spell out the need for project management experience as well.
There is a lot of common sense in this book, but it is there because many PMOs are staffed by people who haven't had lots of PMO experience or need the confidence to be able to sell the ideas of a PMO into their senior executive team.
Comments like, "Do things for the right reason," may seem simple taken out of context but in the construct of the whole book they serve to build strong foundations towards creating a leader out of the reader.
A leader needs something to lead
Chapter 4 covers creating a PMO, because after all what is a leader without something to lead? A PMO is more than just a department or function. It is also a culture and way of working.
I heard the term "corporate honesty" recently, as in "I think we should ask so-and-so for some corporate honesty about this project." Honesty is one of my 4 pillars of leadership and Taylor also talks about the value of honesty in creating a PMO that is respected, valued and adds something to the project managers and the organization. He writes:
The one thing that you need from the PMO members, the project managers, is honesty. If they can honestly share the state of play in their projects with you then you can establish yourself as being on their side. And, just as importantly if you know the true state of things then it also means that the PMO can offer the right level of help; conversely, if you don't know the truth, they you're in no position to provide help before matters get too critical.
Well said.