Software Review: Clarizen
Clarizen is an online, 'software as a service' project management tool that has integration with other desktop applications. It's aimed at small and medium sized companies that can't justify the investment in all-singing-all-dancing project management software, which costs a lot to implement in hardware, licences and training. Clarizen has no hosting costs. Licences start at $21.95 per month, if you sign up in advance for two years. I haven't really got my head around SaaS. Surely if you are using it for the long term eventually it works out cheaper to buy and host yourself? You can't buy on line either, you have to print out a .pdf document and fax it to them. So, would you want to buy it?
The user interface is very easy to use, with logical keyboard shortcuts. If you've read my reviews of Easy Projects .NET and Viewpath you'll know that I'm interested in the ability to schedule tasks of less than one day and I'm pleased to say that Clarizen lets you do that. The downside is that you can only link two tasks at a time, so can't do 'chain' dependencies.
The Highlights feature is good, as it provides a complete audit trail of who changed what when, and because it is web-based you can click an item to see it in situ in the project itself. It also handily tells you if tasks were completed ahead of time, but no comment on whether that shifts your critical path. The tool is not aimed at people who do project management for a living, so maybe critical path analysis is a less important feature to them.
Management by email is a good feature though. It means users never have to look at the Clarizen interface. You can prompt the system to send out an email asking for a progress update. The recipient has three options:
My progress is according to plan (with the plan at the end of the email so you can see what you promised to do
Manually update my progress
Log in to my account
The risk is that users will just click the first option every time, but that's no different from asking someone and them saying the activity is 80% complete. You can personalise the emails with your own logo to make it feel like it is really a corporate system and not a web page. The same goes for much of the interface: the admin options are extensive, and I could change the dates to display dd/mm/yy! You can choose how long Highlights are kept in the system and whether to include them on email notifications, so the ability to tweak to make it suit you is good. Although you'd need someone in the administrator role who understands how the system is in use in your organisation to make the most intelligent choices.

There is a good selection of pre-formatted reports. As an individual I can also view all my 'work tasks'. Wherever you are there is a multitude of filtering options and this page is no different. It is particularly helpful to be able to filter by 'tasks in the works' which includes current, upcoming, on hold and draft tasks.
Draft tasks are a good feature for a package that relies heavily on email communication. You wouldn't want hundreds of emails bouncing around while you are trying to sort out exactly which order things go in. I didn't use the email feature much in my test, as I only had one resource in my plan. You can get deeper email integration with the Outlook add-in, which is downloadable from the Clarizen website.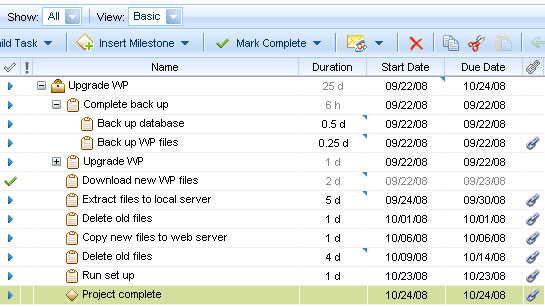 I did like how this software looks on the screen. The response times were excellent, it didn't open any additional, pointless windows, and it was easy to navigate. I do think that the more time you spend with it the better your experience of it would be. There are plenty of features here that only activate as time progresses so in my test I didn't get to use those. This is a more feature-rich product with more customisation options than the others I have looked at so far this month, and that is reflected in the price.
I also interviewed Clarizen CEO and co-founder Avinaom Nowogrodski, which will appear here on Tuesday 30 September.
*Update, 22/10/09*
You can now buy Clarizen online, which makes it easier to get hold of.
See all project management software reviews.