Viewpath 2.0 is web-based project management tool. Earlier this month the company announced at the Office 2.0 Conference in San Francisco that it was making Viewpath Express free and available to anyone. They can do this because there are adverts all down the right hand side of the page. They also have another version, Viewpath Standard, which currently costs $10.95 per month per user. I tried out the Express version.
Getting started is easy: it's just registering for an account. All your team will need to login to have access. When your team is set up, it's straightforward to create a project.
Viewpath defaults to the typical Gantt chart view that MS Project users will be familiar with. You can drag and drop to move columns and double-clicking allows you to edit the tasks in line without having to open a dialogue box. You can have fractions of a day, which Easy Projects .NET doesn't do. There are some great keyboard shortcuts in Viewpath too – t for example will create a new task and tab will indent sub-tasks. You can also attach documents to tasks and (although I didn't test it) these can be made available only to selected users. Auto-scroll means when you select a task the Gantt pane shuffles along too so you always have a graphical view of when that task fits with everything else.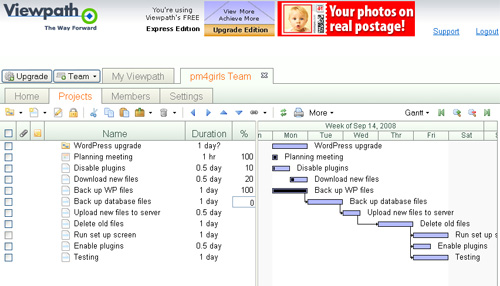 The video tutorial I watched showed tasks being created with automatic work breakdown structure numbering, but when I created a project this wasn't the case. Maybe this feature is only available in the paid-for version. WBS is not something I use in MS Project anyway, so I could live without it.
Once my tasks were in, I tried to create some dependencies. I got a strange error message when I tried to link 8 tasks in a row, maybe because one of them didn't have a name. When I refreshed the screen I had lost all my dependencies, even ones I created after the error message. This is a concern, because the error message did not stop me doing anything, but my data after that point had not been saved. It all went a bit skewy and in the end I started a new project from scratch, and made sure that I didn't try to work on tasks that didn't have names.
You also have to manage your own start-to-start and finish-to-finish dependencies. The options on the dependency menu are 'link top to bottom' or 'link bottom to top'. It's just a different way of thinking about them, but I couldn't work out how to get two consecutive tasks to start at the same time: I created a summary task and then hung all the start-to-start dependencies off the end of it. When I unlinked tasks they didn't move back to their pre-linked position. The dependency was gone but the date of the task didn't change.
Viewpath also has a 'My Viewpath' view which defaults to your to do list for that day across all projects. You cannot search the online help so it took a while to find out that a 'blocked' task on my personal to do list is one that is dependent on another and not anything to worry about. It also shows tasks on my list even if I marked them complete, but you can change the view to show 'none' of the completed actions. Click an action on the to do list and it will take you to the project. This function is designed to consolidate activity across multiple projects and help manage multiple priorities – which is good, as people rarely have just one thing that they are working on at any one time. Personally, my to do list is on paper, and that works just fine for me.
I do like the idea of being able to schedule events as distinct form tasks, so you could put in all your steering group meetings for example. Task and event information can be sent to people by email, notifying them that they have been invited or allocated to do work. Event information does not synchronise with Outlook, although this is apparently coming.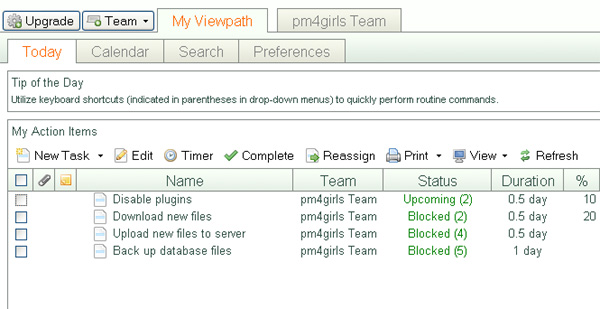 Viewpath is OK, but it's nothing special. The good thing about it is that the Express edition is free. Teams just starting out with project management, or people wanting to learn more about scheduling without investing in something more expensive. Viewpath gives the example in one of their press releases that it works for brides wanting to share information with their catering company: this would be a great use for it. Web-based software has the advantage of being able to easily include people in different companies. It's a good tool for small companies or teams but I think that large organisations and project and programme managers leading significant initiatives would need an enterprise solution with more flexibility and functionality – and Viewpath agree.
I also interviewed Viewpath CEO Dean Carlson, and the interview will appear here on 18 September: check back to see what he has to say about the future of project management technology and how Viewpath positions itself with regards to Microsoft.