Project Management Training to Help You Achieve Certification This Year
This blog is reader-supported. When you purchase something through an affiliate link on this site, I may earn some coffee money. Thanks! Learn more.
Read our review guidelines.
APM Salary and Market Survey 2021 says that 29% of those surveyed put the issue of leadership, training, skills, and development as the top challenge the project managers will face during the upcoming years.
If your goal this year is to put yourself ahead of the curve and get studying for a certification, then I'm here to help!
There is a dizzying array of courses out there to help you achieve project management qualifications, both for PMI® courses, PRINCE2® courses and more . Here are the ones I think are worth taking a look at.
BrainBOK
Product: BrainBOK
Certification: CAPM®, PMP®
BrainBOK is a PMP® online training tool that majors on helping you understand the ITTOs in the PMBOK® Guide.
It's also got built-in quizzes to help you brush up on your terms, flashcards and the all-important practice exams to get you ready to face the test for real.
I tried it and I've never seen anything like it. If you want to understand the ITTOs then this is a fully interactive tool that will definitely do the job. Perfect if you want to deep dive into the PMBOK® Guide.
Plus they have a free option with (very) limited features so that you can try before you buy. Check it out here.
Cost-effective training
BrainBOK PMP Training
Get BrainBOK's comprehensive suite of PMP® exam prep tools, including a full training program, ITTO pack, flashcards, practice exams and a formula guide.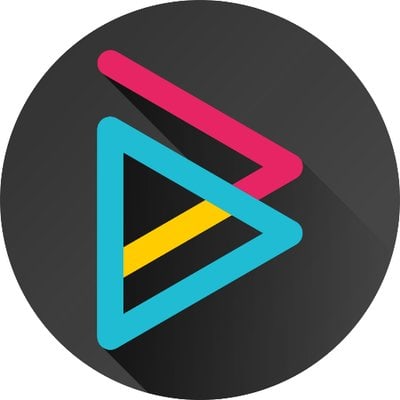 We are pleased to be an affiliate of BrainBOK #ad
Read my full review of BrainBOK here.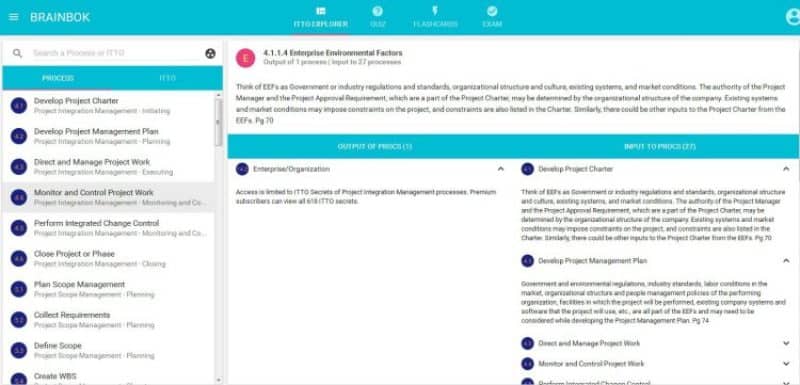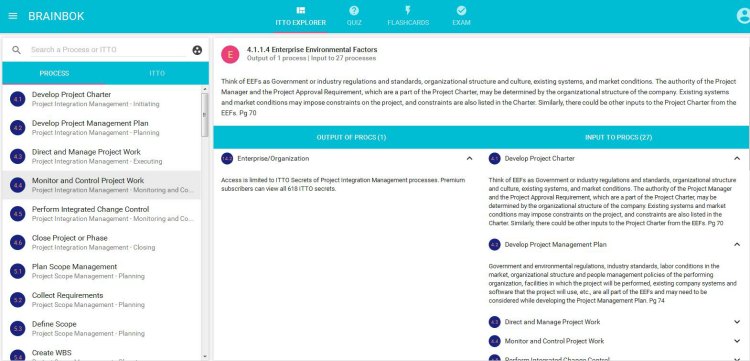 The PM PrepCast (and others)
Product: PM PrepCast, Agile PrepCast, Exam Simulators
Certification: PMP®, CAPM®, PMI-ACP®
No round up of training courses to help you get through the PMI exams would be complete without a nod to Cornelius Fichtner. Creator of the PM PrepCast, which has helped thousands of students get through the PMP® exam, he and the team have expanded their affordable training range to include study materials to help you prepare for other PMI credentials too.
The products I'd call out as the ones I personally enjoyed using the most are:
The PrepCast itself: a self-paced video course that covers everything (and I mean everything) on the course outline for PMP, even the topics that aren't covered in the PMBOK Guide itself like ethics and business acumen.
Recommended
The PMP PrepCast Elite PLUS
This complete self-directed PMP Exam course is our top pick. The Elite PLUS bundle includes the PMP training course, the PMP Exam Simulator, The Formula Guide, and The StudyCoach Guidebook, giving students a PMP Study Plan to follow.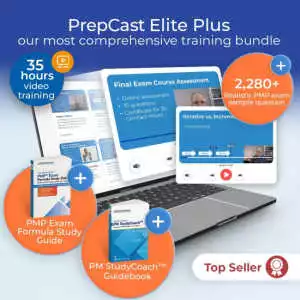 We're pleased to be affiliates for The Project Management PrepCast #ad
The PMP exam simulator. This is a hugely valuable tool for preparing for the exam because it mirrors the environment you'll see in a real exam. Given that you've now got about a minute to answer every question, you need to feel as confident and familiar with the online test-taking environment as you can. This will really help you prepare.
If you are shooting for the Agile credential this year, then take a look at the Agile PrepCast and associated tools like the exam simulator.
You can read my full review of the PM PrepCast here.
Brain Sensei
Product: Brain Sensei
Certification: PMP®
Brain Sensei is a PMP® Exam Prep Course, but it's unlike other courses I've seen or taken because it is based in feudal Japan. Plus, the main character is a female Samurai. When I went through the first Module I was drawn in from the beginning – who doesn't want to be the project manager who rallies the community to build a castle to protect our children and the village?

It's online video-based training and it's really well put together. It actually made me want to learn about process groups, which is a rare thing.
There's also a test, so you can assess your progress as you go.
If you learn well through video but need a good story to keep you engrossed in the material, this course will be perfect to help you prepare for the PMP® exam.
They also offer a PMP Exam Simulator so that you can practice what you have learned before you take the exam.
MPlaza PRINCE2® Training
This comprehensive Prince2® Training is led by Frank Turley and Nadar K. Rad, both considered experts in the field. It is accredited by PeopleCert/AXELOS, so you know that you can trust the training will help you pass the exam.
The course itself includes one year of access and the exam fee is included. It is fully aligned with the latest edition of PRINCE2 and it equivalent to a 7-day course (providing you with the 48 contact hours that you need to sit the exam).
They also offer the first 20 lessons for free, so you can try the training before you buy it. They offer a 30 day money back guarantee and their customer service is top-notch. I highly recommend them!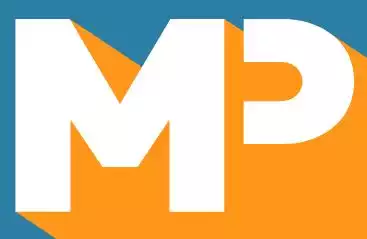 We earn a commission if you click this link and make a purchase, at no additional cost to you #ad
Finally, one last training resource, although this won't necessarily lead to a qualification.
OnlinePMCourses.com
Product: Project Manager's Immersion Program
Certification: None particularly
If the project you have been set is too important to get wrong, and too big or complex to bumble through, then it's time to get some structured training.
Yes, you can put together your own training course from free resources online (including mine) but sometimes you just need someone to hand everything to you on a plate.
Which is what Dr Mike Clayton does in this comprehensive course. It's equivalent to 4 days of live training and snags you 16 PMI PDUs as well. There is over 14 hours of video, over 50 templates, more than 80 worksheets and you really won't be left with questions at the end.
If you aren't looking for something so comprehensive, Mike also has courses starting at rock bottom prices (and some free ones) so check out OnlinePMCourses if you want something professional but not necessarily with the overhead of an exam.