Office Timeline Review: The Pro Timeline Maker [2022]
Read our review guidelines.
I was paid for my time to review the product but all opinions are my own #ad
Do you need a timeline maker for project communications or to create executive briefings?
In this review of Office Timeline Pro, I'll share the pros and cons of the PowerPoint plugin.
Summary
Product: Office Timeline
Pricing: A one-year licence for the Pro version costs $99. The Plus version is only $59.
Hosting model: The 'main' version is a Windows plugin, but there is a cloud version which lets you run Office Timeline for Mac systems in the browser.
Languages: The interface uses whatever language your PowerPoint installation is in. You can change the timeline language to show months/week names etc in any standard Office language.
Website: https://www.officetimeline.com
Summary review of Office Timeline: Office Timeline is a simple way of creating timelines for anything from inside PowerPoint or your browser. It's your answer to visually communicating key dates and project tasks in a format that feels familiar. A must-have app for managers wanting a fast way to make attractive timelines, Gantt charts, and swimlane diagrams.
What is Office Timeline?
Office Timeline is a tool for making visual timelines and Gantt charts within Microsoft PowerPoint or your browser.
Both the PowerPoint plugin and the browser versions let you easily create visuals of key dates, milestones, tasks and project schedules with lots of styling options to match your company's brand.
How does Office Timeline work?
Office Timeline works within PowerPoint so you never have to leave your slides. The plugin adds menu options to PowerPoint.

A timeline is a visual representation of the passing of time. Your timeband – which is the main line that marks the time intervals – can be expressed in terms of:
Years
Quarters
Months
Weeks
Days
Hours and Minutes (at first glance you might not see the value in a minute-by-minute timeline, but in some of the legal projects I've worked on I know it would help to be able to track an event as it unfolded in minutes – and also useful for IT go lives where we tracked tasks for the big 'switch on' overnight)
Tasks sit above or below the timeband.
Milestones sit closer to the timeband, both above or below it.
Basically, you can timeline anything, even Agile sprints and release schedules.
Update progress automatically
A feature I really like is that you have a 'Today' marker: when I've used Office Timeline this has been a really helpful.
Every time you open the PowerPoint slide you can reset the Today marker to the current date. And if you want to modify it to show what the situation was on a different date, you can do that manually. Sponsors love it!
How to make impressive PowerPoint timelines in just a few clicks
Office Timeline is really easy to use. I started with the free version and then upgraded to a paid version (which I no longer have for work but I was given access to the Pro version for the purposes of this review).
I used it to present a summary of project key dates on my project board reports. Here's how to use it.
Simply click on the New button to create a new timeline, or use one of the many templates to get you started.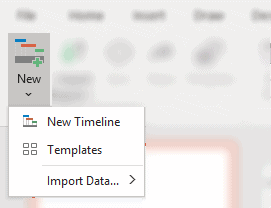 How do you get the data into the plugin?
You've got two options:
Create task information from scratch
Copy and paste or import data from Excel: you'll need to have description, start date and end date. If the start and end dates are the same, it will populate Office Timeline as a milestone.
If you've got loads of data in your Excel sheet you can select what to bring across. That's helpful because often timelines are really for exec presentations and high level communications, so you don't want everything on a slide – although you do want all the detailed plan somewhere in case they ask for it!
Sync your Excel data
Once you've imported data from Excel you've created a link between the slide and your Excel file. If your original spreadsheet changes, you'll be able to see the impact in Office Timeline.
Click on the Sync button and the app syncs so your timeline shows the same changes. This is so cool! And solves the problem of stakeholders seeing different documents showing different dates, which you want to avoid at all costs (don't ask me how I know).
The software compares the version you created to the new version, and tell you there is a difference. Then you can choose whether or not to update.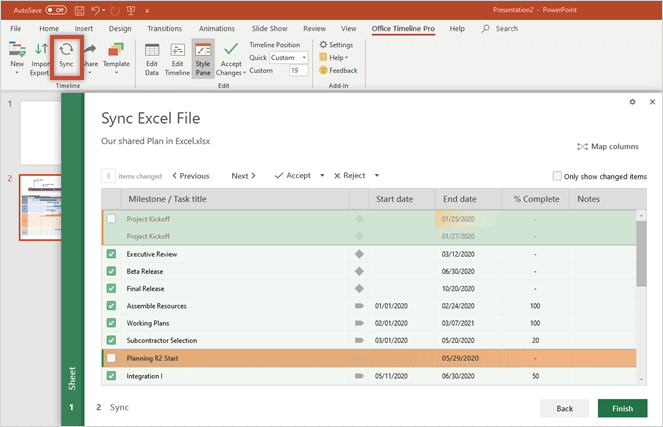 Timeline view
Once you've added your data in, switch to timeline view. Check how everything looks and move things around if you want. Sometimes I have to make milestone flags taller or shorter so text descriptions fit better – this is only a problem if I have lots of tasks on the timeline and the writing overlaps.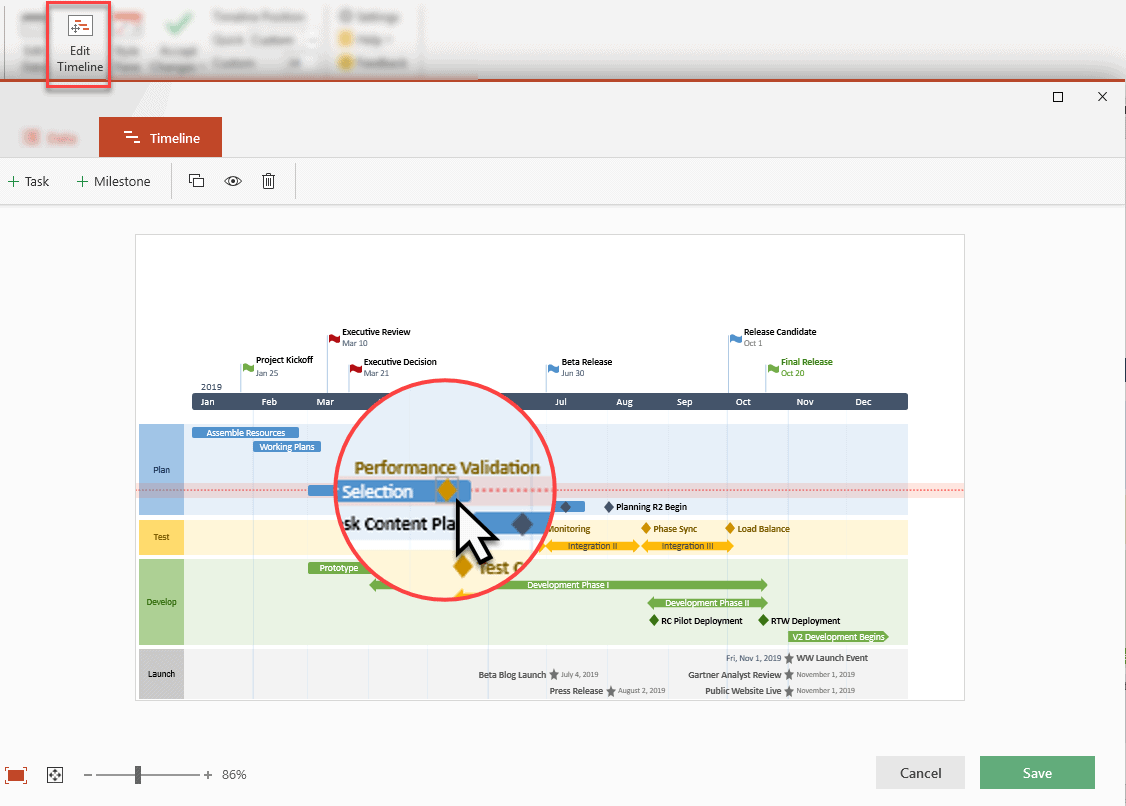 You can create new tasks and milestones from the timeline view as well, in case you realize you've forgotten to add something!
Tip: Use the timeline view to move your whole timeline about on the slide or squash it down to make more space for data tables, a key etc. Don't try and do it in the 'native' PowerPoint slide as you'll have to move each element and it's much harder.
Add swim lanes to your timeline
The Office Timeline Pro version lets you add swimlanes.
Swimlanes can be used for:
Project phases or releases
Departments
Roles/Workstream owners
Suppliers
Countries/Regions.
I think they add an extra dimension to your timeline and help convey additional information.
Swimlanes can contain milestones or tasks. They do need to be on the left of the timeline.
Add extra items with PowerPoint
The great thing about Office Timeline is that it sits within your 'normal' PowerPoint software so all the standard PowerPoint controls and options still work.
You can add tables, a legend, text lists, extra titles and so on simply by adding to the slide as you normally would.
Tip: Put the timeline on first, then put the additional info on the slide after.
Styling your timeline
Once you've created your basic framework with dates, milestones and tasks, the fun begins!
There are lots of pre-built options and with the Pro edition you've pretty much got unlimited options for customization. For example:
Change the colors to match your brand
Change the fonts
Toggle on and off showing dates for tasks and milestones
Change the shape and size of milestones
Change task shapes
Toggle on and off percent complete
Change the date formats to match where you are in the world
Toggle on and off the today marker and elapsed time.
Toggle on and off swimlane gridlines – the grey lines between time periods
Toggle on and off the fiscal year
Experiment with what looks good and how your stakeholders respond.
Tip: Save your edited timeline as a template. Then it shows in the template gallery and you can select it for next time – so you don't have to worry about setting all those styling options again.
Why use templates?
You might think that every project is unique, but I bet most of the work you do follows a common process or has a similar flow for decision-making.
Templates save you time when projects have common stages e.g kick off, exec review, go/no go decisions, specifications/requirements gathering, development, stabilization, launch, project close etc.
Then you don't have to start from scratch. There are dozens of pre-populated templates available, both inside the app (click on the Templates button) and in the template gallery on the Office Timeline website.
Pros
Practically no learning curve so you can start straight away
You'll save time making timelines automatically instead of spending hours moving shapes and objects inside PowerPoint
Improve communication with stakeholders who like to see things visually
Impress your audience with high-quality, professional visuals
Easy to update – the sync function is genius!
Cons
It's only native to PowerPoint. If you want to include your graphic in your Project Charter etc you have to save as an image and copy and paste, or save as a PDF.
You can't move things around on the slide and have the underlying data automatically update e.g. extending the length of a task bar. You have to remember to go into the plugin menu options itself to make substantive changes.
There is no option at the moment to add task dependencies or plan vs. actual, but the product is improving constantly and there are plans to include these in future releases.
Summary
Office Timeline is not an end-to end Gantt chart solution in that you can't use it for resource scheduling or critical path calculations. But if all you need is a visual representation of a Gantt chart – the graphical timeline – then it does that very well, very simply and in a format even the most tech-phobic stakeholder can feel comfortable with.
FAQ
Is Office Timeline a Microsoft product?
Office Timeline is not owned by Microsoft but is a fully compatible plugin for Microsoft PowerPoint.
What Microsoft Office program is best for timelines?
PowerPoint is the best Microsoft Office program for making timelines. You have ultimate control over the look and styling of your timeline because you can customize all the elements on the slide.
How do I make a timeline for free?
Use the Office Timeline PowerPoint plugin free edition to make a timeline in Microsoft Office for free. It works natively within PowerPoint to create a visual timeline on a slide showing dates, milestones and more.
This article first appeared in October 2020.
Pin for later reading: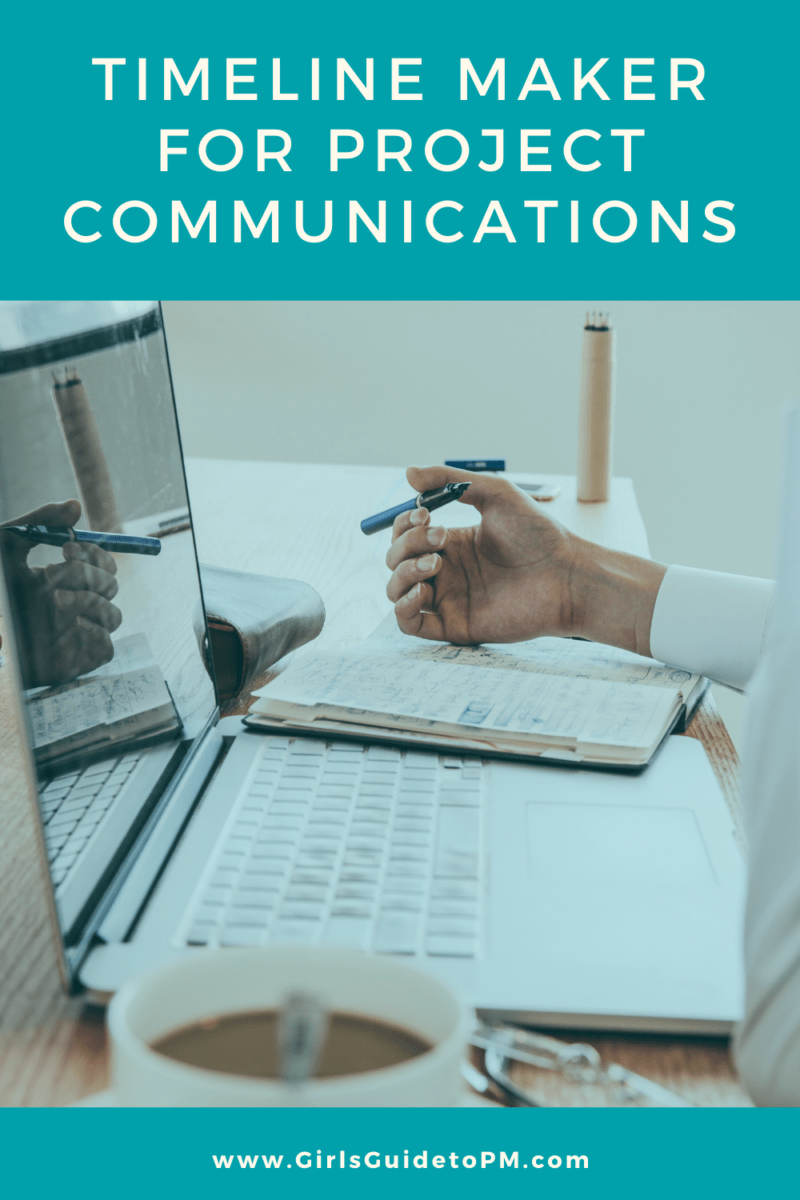 Office Timeline Review: The Pro Timeline Maker [2022]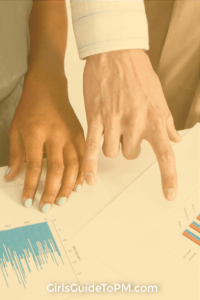 Do you need a timeline maker for project communications or to create executive briefings? In this review of Office Timeline Pro, I'll share the pros and cons of the PowerPoint plugin.
Operating System: Windows 10
Application Category: Productivity, Project Management