MPlaza PRINCE2® Practitioner Online Course Review (for 2023)
This blog is reader-supported. When you purchase something through an affiliate link on this site, I may earn some coffee money. Thanks! Learn more.
Read our review guidelines.
Welcome to my Mplaza PRINCE2® Practitioner review! I gained a lot of project management knowledge and confidence from doing my PRINCE2 course. It was a few years ago now, but the experience gave me the vocab, structure, and processes to confidently deliver projects.
BUT… it's hugely important to choose a good quality PRINCE2 course. If I remember rightly, the training firm I used when I took the course again when my certificate expired was nowhere near as good.
Fortunately, I was only there for a refresher, but if it's your first time taking PRINCE2 and you want to pass on the first attempt – then my recommendation for the best online PRINCE2 Practitioner training is the Mplaza course I'm about to tell you about.
In this MPlaza PRINCE2 Practitioner course review for project managers, I'll share:
Whether the course is worth it (spoiler: it is)
Why it's a good choice for project managers
How long you'll need to spend studying before you can expect to pass the exam.
I've spent many hours reviewing the materials and going through the lessons so you can save time making the decision about the best PRINCE2 certification course for you.
If you want to learn more about my thought process for validating online training, I have written before about how to choose a PRINCE2 course online, and that explains what I think is important for virtual training.
The Practitioner course is fully online, so you can study in your own time. Build your confidence for the exam with the practice materials. Many competing course packages give you less content or don't include the exam fee and don't come close to Mplaza's quality.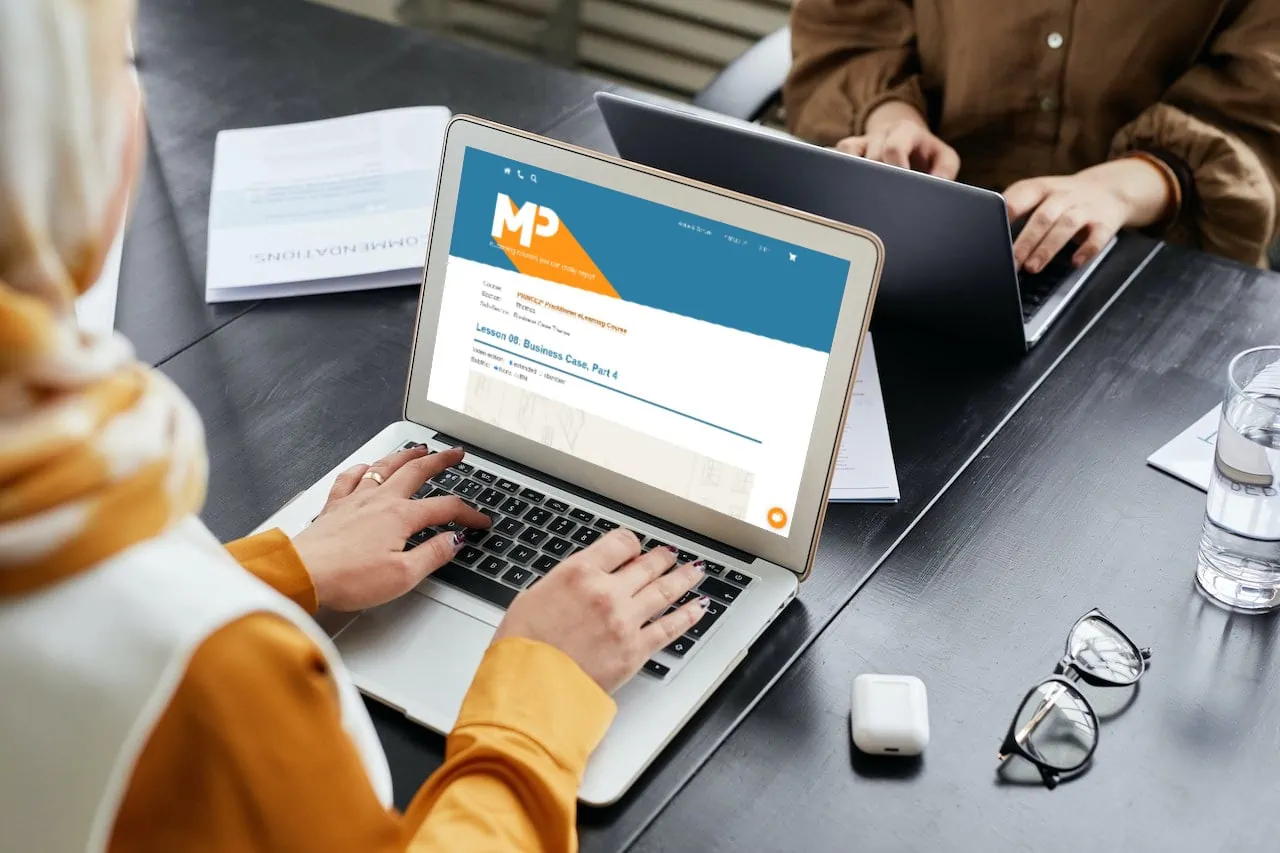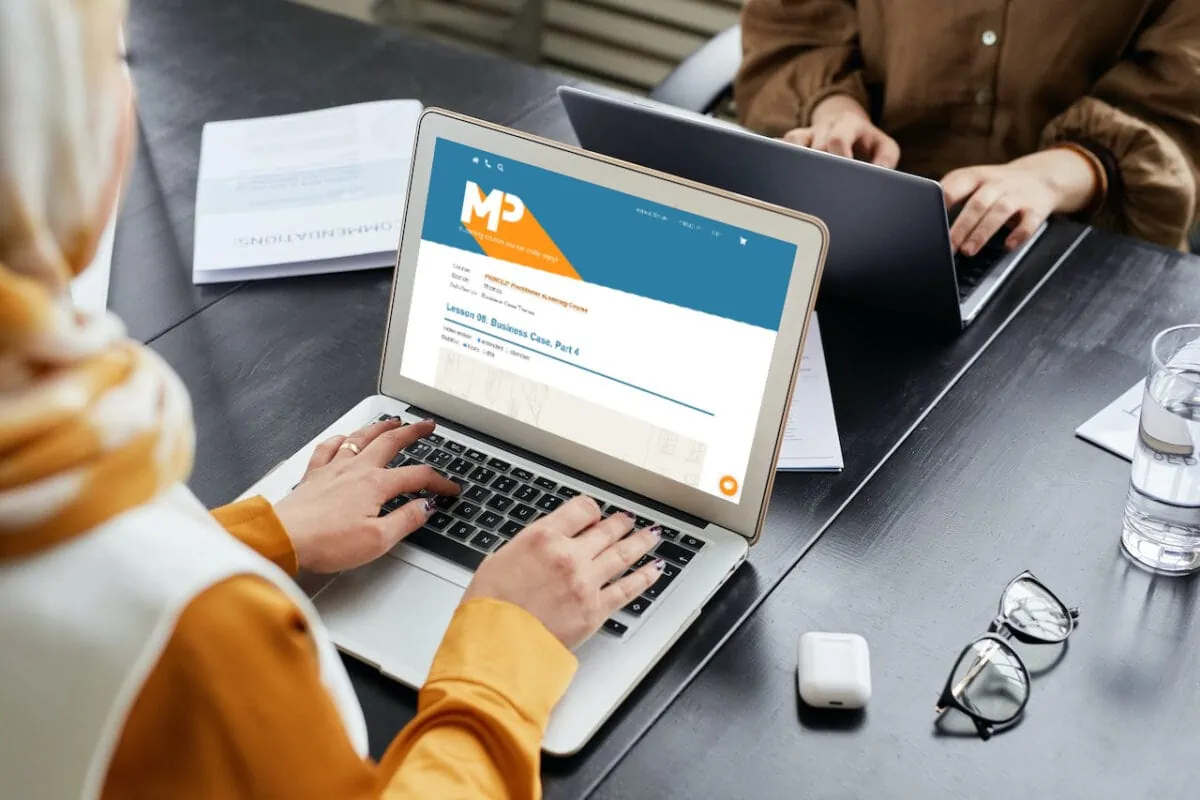 Who is PRINCE2 Practitioner for?
You need to have passed PRINCE2 Foundation before you can take the Practitioner exam or hold an alternative certification (PMP®, CAPM®, or an IPMA Level A, B, C, or D certificate).
You don't need to have any particular project management experience, so you can be working in another role with no relevant work experience.
However, I can say that the exam is easier, having worked in a project environment. The people in my class (I took my first Practitioner exam in a classroom) were a mixed group of people working as project managers and those who were yet to break into the job.
I believe the people who didn't work with projects every day found the experience of learning harder simply because there is a ton of stuff you have to pick up, the jargon can be obscure, and some of the processes don't feel intuitive unless you have worked through them already.
So, if you have some project experience, I would recommend PRINCE2 Practitioner. You can still do it without work experience, but expect to have to put in some more time to fully learn the concepts.
About the course and structure
This course offers everything you need to learn PRINCE2 and prepare for the PRINCE2 Practitioner exam.
It is equivalent to 48 contact hours of training. The lessons are 10-15 minutes, so you can fit them in during the day. Expect to spend about a week in total working through the materials.
You don't need any special tech as the lessons are available via the Mplaza website, and you can access them anywhere with a web browser.
Which PRINCE2 Practitioner training package is right for you?
Mplaza offers three options for people who want to study for and pass the Practitioner exam.
Description:

A comprehensive and accredited PRINCE2® Practitioner online course, including exam voucher and simulator access.

eLearning Course
Exam Simulator
Sample Projects
Official Exam (online)

Description:

A robust and realistic exam simulator for PRINCE2® Practitioner with 4 full exams.

Description:

Receive a voucher to take the exam online and receive access to the exam simulator.

Exam Simulator
Official Exam (online)
Best Option
Description:
A comprehensive and accredited PRINCE2® Practitioner online course, including exam voucher and simulator access.
eLearning Course
Exam Simulator
Sample Projects
Official Exam (online)
Description:
A robust and realistic exam simulator for PRINCE2® Practitioner with 4 full exams.
Description:
Receive a voucher to take the exam online and receive access to the exam simulator.
Exam Simulator
Official Exam (online)
Best all-round option: Online course package
This self-study package includes:
The eLearning course 66 (short) video lessons with English subtitles
2 sample projects so you can see how the method is applied
Printable process model handouts
The exam simulator, so you can test your knowledge
The official voucher you need to take the exam online
Pass guarantee.
This is the option that I would recommend for who have no prior experience and haven't yet done any PRINCE2 training online or in a classroom.
You get everything you need: excellent quality course content, access to practice exams to get confident for test day and the exam fee is included too.
Best for exam practice: Practitioner Exam Simulator
This option is just access to the best PRINCE2 exam simulator for Practitioner exams for one year.
This is the option that is right for you if you are studying with a provider that does not offer a tool for mock exams. I found it really helpful to do a lot of practice questions for PRINCE2 because the exam is not straightforward. You need to be able to interpret the options and make smart choices – and some of that is about knowing how questions are phrased.
Understanding the style and format of questions is very useful, and the exam simulator helps with that.
It includes the equivalent of 4 exam papers, but as the questions are dynamic, you'll find you can take more than that and see different question/answer combinations.
Best for exam takers: Exam Pack
This option only includes the elements you need if you are ready to take the exam.
Have you already taken a training course with another provider?
Have done some self-study?
Have already failed the exam once and need to re-sit?
This is the package for you. It includes:
Access to the Infinite Exam SimulatorTM for a year
320 question variations in the same structure as the real exam
The official voucher you need to book and take the exam online.
If you are confident that you already understand the content but just need some exam practice, then this is perfect for you.
Pros
The advantages of the MPlaza PRINCE2 Foundation course are:
It's amazing value. You get a lot of content for the price (and no filler stuff either)
There is an active Facebook group which is helpful in case you get stuck or have questions. It's also motivating to hear other students' stories!
There is no homework! Other courses rely on homework to get through the syllabus in time, but this course covers the content in other ways.
The videos are great with nice visuals. The trainers are engaging and the conversational presentation style is easy to follow.
There is a pass guarantee. You probably won't need it. The course is so good and has excellent pass rates.
Frank and Nader come across as genuine experts in the subject matter. The customer service and responsiveness is great. You get access to their team of tutors too, so there is always someone around to offer help if you get stuck.
The course is fantastic value for money. The exam simulator is brilliant, and really cements what you need to know for the test.
Wondering if you really need the exam simulator? You do. Read more about it in my PRINCE2 exam simulator review for Practitioner.
Cons
The biggest disadvantage is that it does not come with any PRINCE2 books or the official PRINCE2 manual. You have to buy that separately. It's available on Amazon or from the publisher and other bookshops. It costs over £80 so it's quite an investment.
You don't actually need the manual to do the course but it is referenced in some of the lessons. I found it helpful to have a print version of the book to make my notes in.
I recommend that you buy the printed manual for the exam because the exam is open book. You can use your manual during the exam – that's an advantage you don't want to miss out on!
PRINCE2® 7 Managing Successful Projects
This is the current PRINCE2 manual that is required for the exam. It's surprisingly readable and it's worth getting a paper copy as you can take it in to the Practitioner exam for reference.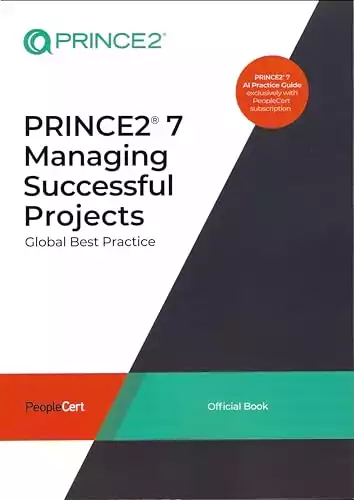 We earn a commission if you click this link and make a purchase, at no additional cost to you #ad
Other disadvantages:
Students who learn better in a classroom environment should choose an in-person course instead of this. It's good, but it's not the same as learning with a group of your peers.
There are no end-of-lesson quizzes. Each lesson ends with a summary but you can't really test yourself unless you use the simulator.
Recommendation: Should you buy this course?
You should buy this PRINCE2 Practitioner online self-study course and exam simulator.
I think it is well-put together, confidently delivered, and the student feedback is overwhelmingly positive. The team behind it are willing to help and committed to your success.
I recommend the training, which is exactly what you need if you want to show up for your test feeling confident and ready.
I should let you know that I am so impressed with Frank that I'm an affiliate for the Mplaza products, but I only recommend products I have tested out and am confident in.
More PRINCE2® Resources
Pin for later reading