MPlaza PRINCE2® Foundation Exam Simulator Review
(This post contains affiliate links. Read my full disclosure.)
Are you considering buying the Mplaza PRINCE2® Foundation exam simulator? Don't spend any money until you've read my review!
I've spent several hours reviewing the exam simulator from Management Plaza (MPlaza) and I can confidently say that it's worth the investment.
In this PRINCE2 Foundation Mplaza exam simulator review, I'll share:
Whether the tool is worth the investment (spoiler: yes, even if you are taking Practitioner as well)
Why it's a good choice for test takers
What scores to aim for in practice exams so you can be confident in your real test.
There really aren't that many sources of PRINCE2 sample questions, and you do have to be careful about the quality. The Foundation exam questions are straightforward, with short answers. The test is multiple choice.
It seems simple, but under pressure, you can easily make mistakes if you aren't prepared.
Exam practice was the thing that helped me pass my exam, and I recommend you spend some of your study time going through mock exams and past question papers to get a feel for how the questions are written and how the answer mechanism works.
Who is the PRINCE2 Foundation exam simulator for?
This simulator is for project management students working towards the PRINCE2 Foundation exam. You may also be planning on taking the Practitioner exam in a similar timeframe.
EVEN IF you are planning on doing Practitioner, I would recommend the Foundation exam simulator. The question structure is completely different for both tests. You will feel more confident on your Foundation test if you know what to expect.
Note: If you are planning on taking the Practitioner version, I recommend that you buy the PRINCE2 Practitioner Exam Simulator as well. The objective testing style and case study approach is totally different to the Foundation exam, and you will need to practice that style of questioning.
I know people who have failed the Practitioner exam because they couldn't get on with the questions, even though they knew the material really well and were excellent project managers.
The simulator is a good choice for people who have the time and discipline to self-study.
How the simulator works
The questions are designed to test your knowledge of PRINCE2 terminology, processes, themes, and principles. They are simple multiple-choice questions. You select the answer and move on to the next one.
You have the option to mark a question for review if you are not sure. Then you can go back to it later.
There are no marks deducted for incorrect answers, so you may as well guess if you don't know.
The software includes:
865 root questions
Infinite Exam SimulatorTM formats those into 419,000 variations, so you have to pay attention to the detail as each time you see a question, it could be slightly different!
Explanations for each question so you can learn from what you got wrong
Access to a trainer via email if you have any questions.
You get access to the simulator for 12 months. In my experience, that will be more than long enough, and it's comparable with other project management exam simulators. The deadline helps focus the mind… otherwise you might never get round to taking the test!
All the questions are aligned to the 6th edition so are fully up-to-date.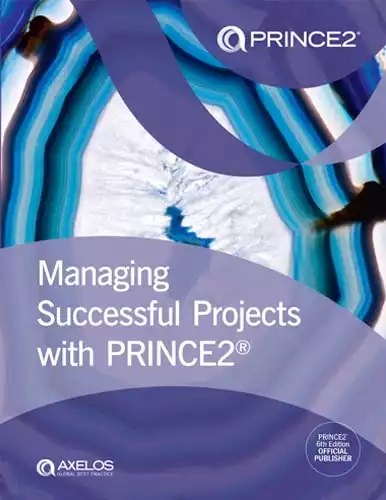 We earn a commission if you click this link and make a purchase, at no additional cost to you #ad
Features
| Feature | Demo version | Full version |
| --- | --- | --- |
| Number of questions | 12 | 865 root questions, 419,000 variations |
| Duration | 12 minutes | 1 hour |
| Results saved | No | Yes |
| Flag for review | Yes | Yes |
| Timer | Yes, counts down | Yes, counts down |
| Explanations | Yes | Yes |
| Penalty for wrong answers | No | No |
| Coaching available | No | Yes |
| Pass mark | 55% | 55% |
How to use the PRINCE2 exam simulator for exam practice
I suggest you practice each section until you consistently get marks around 80-85%. You only need 55% to pass the test, but it's good to have a really solid grounding in the topic. This is the best approach for learning the course content and testing yourself.
When you are ready, move on to taking full exams, again aiming for 80%+ as a pass mark.
Use the PRINCE2 exam simulator in the weeks leading up to your test. Expect to do at least 4, preferably 6 full exams.
The PRINCE2 exam has 60 multiple-choice questions. You have an hour to complete the test. There is only one correct answer for each question.
If you do 6 full exams, that's 6 hours of exam practice. I don't think that sounds a lot, given that you need Foundation to move on to Practitioner. Practitioner is the certificate that employers value more for project managers. I would say that Foundation is more for people in project support or allied roles, but it's not enough to evidence you can manage a project.
If you have bought the test questions, you might as well do as many of them as possible! If you start hitting results in the 90%+ range, then I think you could confidently stop taking mock exams 🙂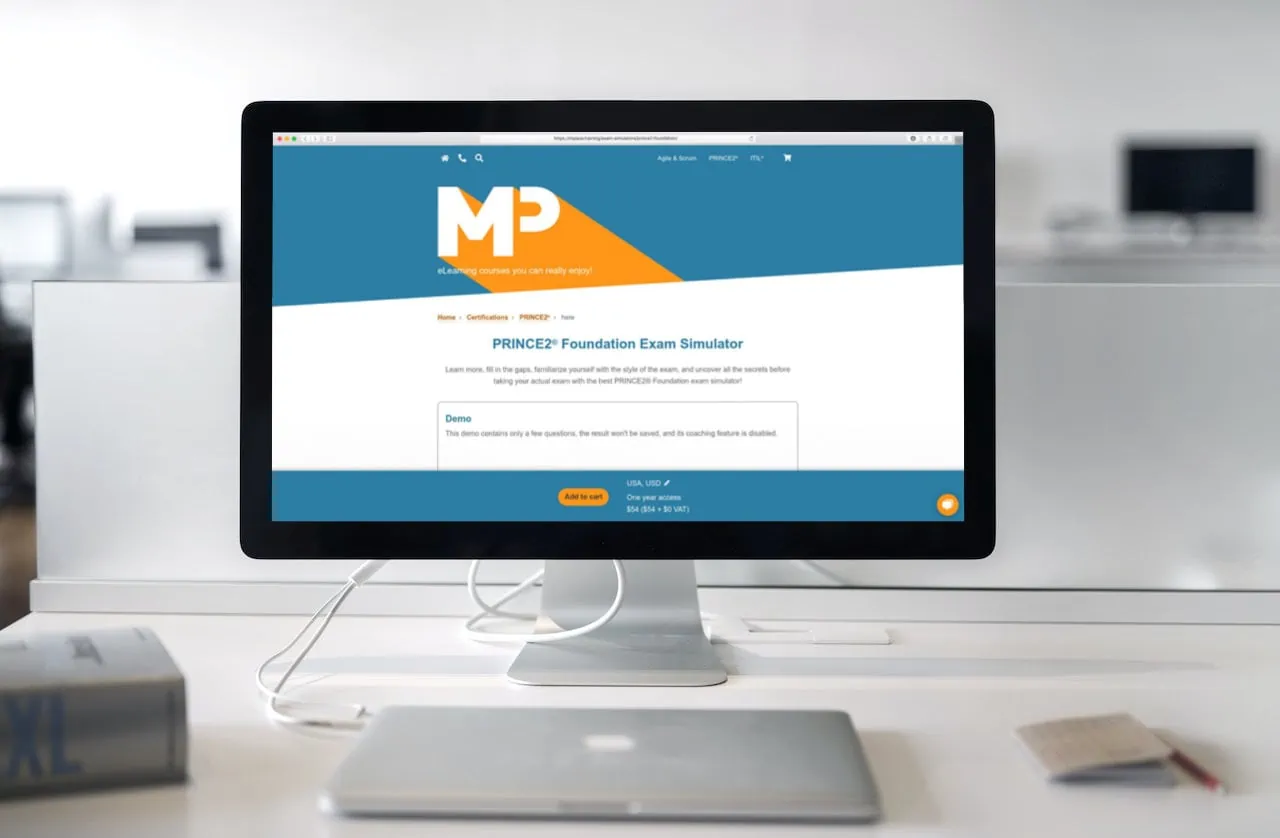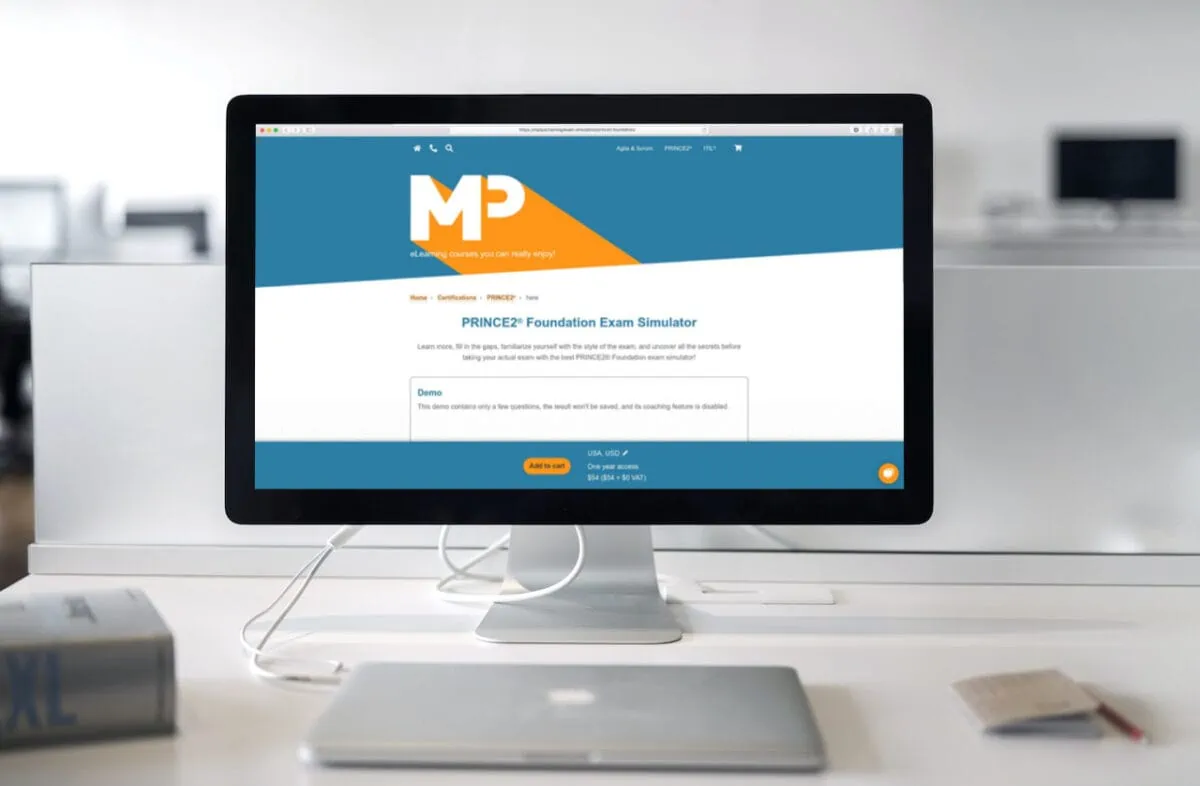 Free exam simulator trial: test before you buy
It's important to feel that what you are buying is a good fit for you.
The Foundation simulator is not a standalone software tool. It's accessed via the Mplaza website. Many other simulators are 'separate' software that you log into and use, but that isn't the case here.
The benefit of that is being able to use it anywhere. The downside is that you should expect the interface to look different on your real test.
On the Mplaza website, you can take a free trial of the simulator to see what you are getting before you buy.
It only has 12 questions, but it's enough to give you a feel for what the product is like and whether it will be suitable for your needs.
Pros
The main advantage of prepping for your exam with this particular set of test questions is that you get a detailed explanation of the answer. The straightforward language gives you exactly what you need to understand why the response you chose was wrong (or right, if you just guessed!).
Some other simulators just give you a page reference to their training material or the PRINCE2 manual, which is not as helpful. Even knowing the reference doesn't mean you'll get why you were wrong. Explanations take the mock exams to the next level.
You do also get the reference to the lesson to review and the relevant section of the manual.
The other advantages of the MPlaza PRINCE2 Foundation exam simulator are:
Access from anywhere. The browser access means you can do a few questions in the queue at the café or wherever you happen to be.
Understand the areas where you need to revise more.
Access to a real trainer via email if you have questions.
There are a lot of concepts, vocabulary, themes, and processes to learn with PRINCE2, so the simulator is perfect for getting going and structuring your self-paced study time.
Cons
I don't think you can pass the exam with the simulator alone. You also need a PRINCE2 Foundation training course (I recommend this training, also from MPlaza).
You'll need to make time to get the best out of it. If you are the kind of person who doesn't believe in study plans, then you won't get around to using it. You know if you don't have the discipline to self-study and would be better off in a classroom course with the accountability that brings.
Recommendation: Should you buy this simulator?
I recommend this PRINCE2 Foundation exam simulator.
Of all the PRINCE2 simulators I have looked at, it is by far the most robust. It's backed by a great time of experts, gets you access to real humans for help if you need it and it's hard to find a negative review.
Students love it, and I do too. Let me know how you get on!
I should let you know that I am so impressed with Frank that I'm an affiliate for the Mplaza products, but I only recommend products I have tested out and am confident in.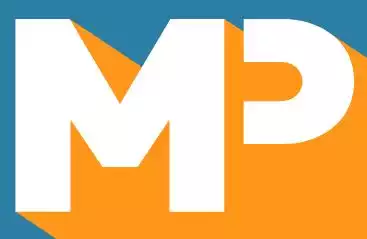 We earn a commission if you click this link and make a purchase, at no additional cost to you #ad
Pin for later reading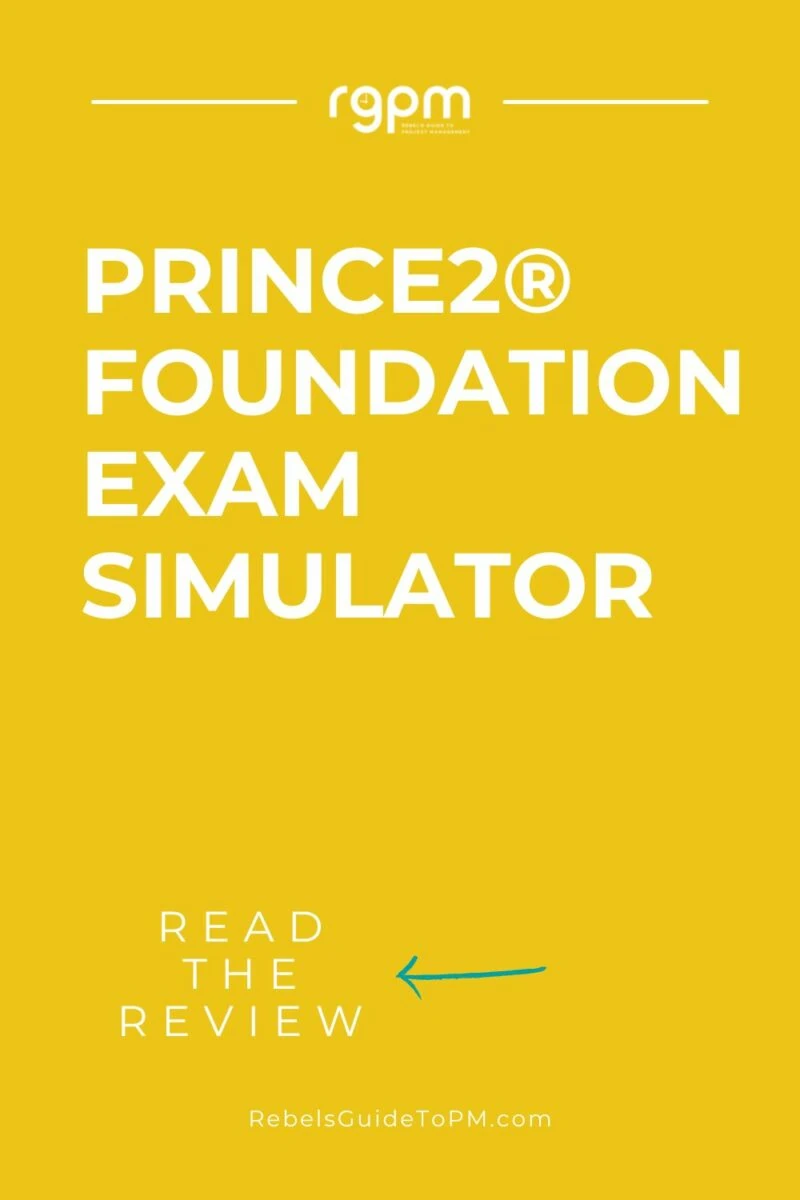 More PRINCE2® Resources