Who does what in Project Initiation in PRINCE2®
Initiating a project is where it all starts in PRINCE2®.
This is the phase where you start working out who is going to do what. You also put in place all the required elements to make sure the project goes smoothly.
The Initiating a Project process is designed to "establish solid foundations" according to the manual.
Essentially, this is the part where you make sure that everyone knows what they need to do and that there is a common agreement on the project objectives and the rationale for undertaking the work.
There are a lot of items to set up in the Initiating a Project process, although if you have managed a project with PRINCE2® before you'll just need to get out the versions you did for those projects and tweak them to suit this new one. There is no sense in reinventing the wheel.
In my opinion, the four most important parts of this process are putting in place the approach to deal with issues and changes as they arise. That means having:
For each of these you need to work out who is going to:
approve the strategy (A)
review the strategy (R); and
produce the strategy (P).
The responsibilities for each member of the project team are shown in the table below. Remember that the Config Management Strategy is where your issues register sits.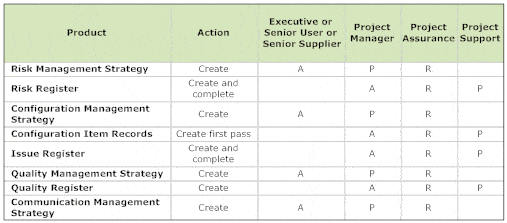 A RACI matrix is another way to display information relevant – and it's useful in this phase of the project.
So what else do you do during project initiation? Read my guide to how to kick off a project for your next steps.