RACI/RASCI Charts: A Complete Guide
This blog is reader-supported. When you purchase something through an affiliate link on this site, I may earn some coffee money. Thanks! Learn more.
[ad] I'd like to thank the team at Genius Project for sponsoring this article. Genius Project is a fully-featured project management software tool that includes everything you need to support your entire work breakdown structure and resource allocation process.
Working out who does what on your project can be a challenge. A RACI chart is a project management tool that helps you do exactly that.
In this article I'll give you everything you need to know about producing a RACI chart for your project.
Does your team call it a RASCI chart? We'll cover that extra 'S' as well. There's a lot going on in this article so here are some quick links to help you navigate through it.


What Is A RACI Chart?
RACI (say: racy) is a way of categorizing stakeholders to define their roles and level of responsibility on a project. The acronym RACI stands for:
Responsible: These people have responsibility for certain tasks. They are the 'creator' of the deliverable.
Accountable: This is the person accountable for the job in hand who will give approval and act as the decision-maker.
Consulted: These people would like to know about the task and we would seek their opinions before a decision or action.
Informed: This group get one-way communication to keep them up-to-date with progress and other messages after a decision or action.
Remember that people can fall into several categories. Here's an example of where individuals can have several roles across the project (although it's less likely they'll have several roles on the same task).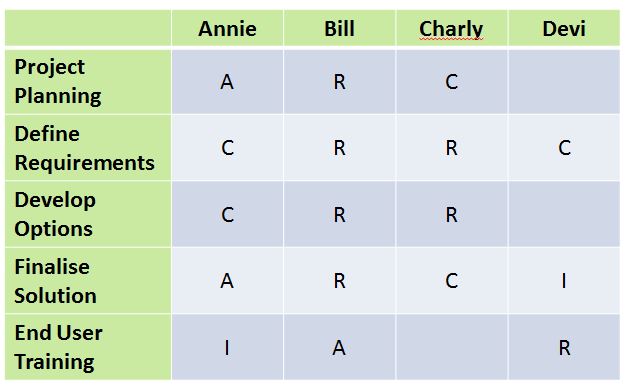 Knowing what people do and the influence they have is an important of part of how to manage a project.
Pro Tip: Remember that people's roles change over time. You may need to add specific individuals (or group roles) to new activities later in the project as they take on a new role.
What Is Different About The RASCI Model?
Not much, actually. RASCI includes an extra option to mark people as 'Supportive' (that's the S). This is someone who can provide resources, information or will generally support you in getting the work done.
That makes the RASCI roles:
Responsible
Accountable
Supportive
Consulted
Informed.
What is a RASCI chart?
It's the same as the RACI table, except with the extra letter S scattered throughout to show people who are supporting the project.
The video below summarizes RACI charts in under a minute.
What the RACI Matrix Is Used For
Predominantly, RACI and RASCI are used as a roles and responsibilities matrix. They clarify the relationships between tasks and people on projects.
Why bother? Well, people don't always know what they are supposed to do. A chart that sets it out clearly explains what you are expecting of them on the project and makes sure everyone has clear expectations so the right people take responsibility for the right work.
Include it in your roles and responsibilities documentation for the project.
It is also useful for communications plans because it can give you ideas about which stakeholders need which type of communications at what points. It can flag which decisions are going to be made by consensus which is also helpful to identify early.
Another use for it is for process mapping. If you are going to change a process as part of your project you can use RACI to step through the process and record who is going to be affected by any process change.
However, your chart isn't much help unless you keep it up-to-date as people do change roles and move into different positions of responsibility during a project.
The Problems of Not Having RACI Charts
When you don't document who is responsible for what, you risk:
Decisions taking longer because no one is clear who will be having the final say.
Blame when things go wrong.
An overworked team because you haven't balanced the work appropriately.
Inactivity: when people aren't sure if they should do something they typically do nothing.
If these are issues you're having, read my ultimate guide to getting people to take responsibility for their work. It's got some good suggestions for getting people to do what they need to do.
It's good practice to create a RACI table, especially for big projects. It can really help with ensuring successful completion of the tasks.
How To Produce A RACI Chart
The most common way to see RACI or RASCI used is in tabular form – with the individuals (or groups) across the top and the list of tasks down the side.
The Praxis Framework explains that you create it by:
"…combining two breakdown structures: the work breakdown structure with the organizational breakdown structure. If required, the work breakdown structure could be replaced with a product breakdown structure."
Pro Tip: This is how RACI links to your WBS, in case you were wondering what the difference was.
A tabular format is fine for documenting the roles and responsibilities of your stakeholders and it's quite easy to knock up a RACI template to use time and time again.
So, we do this:
Identify the work (use your work breakdown structure if you have one, for speed).
Identify the people including suppliers and customers. It's traditional to use roles instead of names on the chart but personally I would go for using actual names where it is only one person.
Populate your RACI template with the task list on the vertical axis (the first column in your table).
Add the names or roles of individuals across the horizontal axis (the top row of the next columns in your table – the picture above shows you how to do this).
Add the RACI codes (R, A, C, I and S if you are using it) into the columns of the table. Where the names/roles align with a task, add the corresponding letter. Mark the people who have the Responsible role for each task first as this helps you establish the part other people play.
Now add the Accountables.
Now add the Consulted, Informed and Supportive (if using). Do this as a team if necessary but it's easier to start with a draft than a blank table.
Distribute the RACI chart: remember, this should be a tool for two-way communication, so it is not you as the project manager dictating who should do what.
Make changes based on feedback.
Sign it off as complete.
Don't forget to review it every now and then to check that nothing has changed.
Pro Tip: Use version control to make sure everyone is looking at the latest version of the chart if you update it.
What tasks to include in the RACI matrix
You've probably got a lot of project tasks on your schedule, so it's going to be a lot of work to create a giant chart with everything included, and the RASCI roles for that would probably be more effort than it's worth.
Instead, think critically about the tasks you include on the chart. Bundle them together – use your work packages (if you have them) or chunk the work up so the chart isn't gigantic. You'll need to use your professional judgement. It's always easier (in my experience) to add more lines and tasks later than to try to be 100% comprehensive on your first go.
Using project outcomes is a good way to consider what to go on the chart. For example, the task list down the side of your table could include the key things that the project is going to deliver. Check the critical success factors that you've set for the project as a way to identify some of the big things that need to be included.
It's OK to have different tasks at different levels. For example, it's OK to have a specific task on the matrix, and bundle up some others. In fact, that makes perfect sense when one person is in charge of a workstream or group of tasks.
It's OK to NOT put some tasks on the RACI as well. For example, I wouldn't include project management activity like creating reports on the matrix, because it's pretty obvious to everyone that would be my job. Look at the whole project and make some sensible choices about what to include in the table.
What roles to include in a RACI chart
Use whatever roles you have on your project team. Some examples might include:
Application developer
Technical architect
Business analyst
Other subject matter experts.
Take the roles from the resource profile or business case created for the project and use your judgement about what to include.
When to create a RACI matrix
Create your matrix at the beginning of the project.
You can use the project kick off meeting to explain the RACI definitions to the rest of the team, and show them the simple process you'll be using to create the matrix.
Having said that, it's a working document, so update it throughout the project as you see fit.
An Alternative Way of Thinking About RACI
If you have difficulty trying to remember how many you have in each group, think of RACI as a triangle.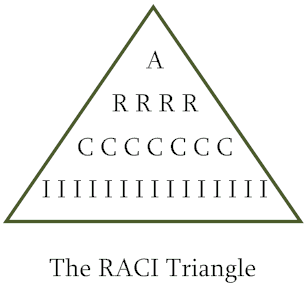 There is only one person accountable for the task or project, and they are at the top. You then have several people responsible for various elements. A larger group is consulted and provides input.
An even larger group gets regular communications but are not active in any other way.
RACI and Project Management Software
Can you put your matrix into your project management software? Of course! If you have a PMIS (project management information system) that allows you to enter RACI data, then do it.
However, in my experience, most project managers end up creating the matrix in a spreadsheet or on a slide. Don't worry too much about how you create the chart – the most important thing is that you have one and that people can see it. If that's a document you upload to your software, great. If it's somewhere else, that's fine too.
Checking Your RACI Matrix
Once your responsibility assignment matrix is complete it pays to spend a few minutes sense-checking what you've done. That can help you confirm that the right people are assigned to the right tasks in the right role with the right level of responsibility.
Look for:
People with no empty spaces: they have too much work allocated to them.
People with a lot of 'A's: can you push their authority further down the organization? It's not appropriate for the project sponsor to be the only A on the list because they have other tasks to do.
People with too many 'R's: they are responsible for a lot of deliverables. Check their work balance.
Also check the tasks.
Tasks that have lots of 'R's: are there too many people involved in this to get the work done on time?
Tasks that have lots of 'C's: too many people being consulted is going to slow the work down.
Tasks that have lots of 'I's: can you create a rule that says people are only informed by exception i.e. when they need to know that something deviates from plan? This will save you time communicating when everything is going as expected.
Finally check for blank spaces. Every task should have a Responsible and an Accountable person. You don't necessarily need to have people being Supportive, Consulted and Informed for every task but if you have a lot of gaps here then it could be a sign that you've missed some stakeholders and that the role assignment needs a bit more thought.
---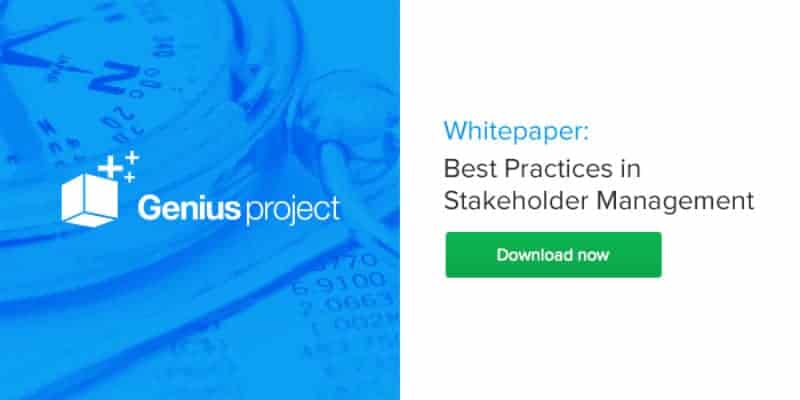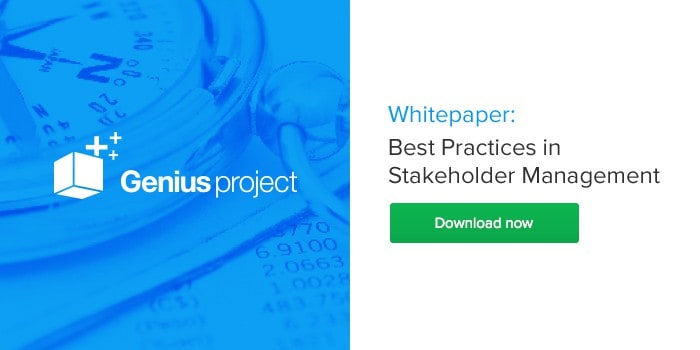 ---
RACI and PRINCE2®
PRINCE2® doesn't have RACI/RASCI in exactly the same way as described above. The method has three levels of responsibility:
Producer (this is the equivalent of Responsible)
Reviewer (like a QA role)
Approver (the same as the Accountable)
You document these roles for each work package. It works fine like this too but it is limited in use for communications because it really only defines the responsibilities of the project manager, team manager, project assurance and project support roles.
You can allocate responsibilities to the sponsor and senior supplier too, but I think overall RACI is a better, more complete choice and a more effective way of managing expectations of people.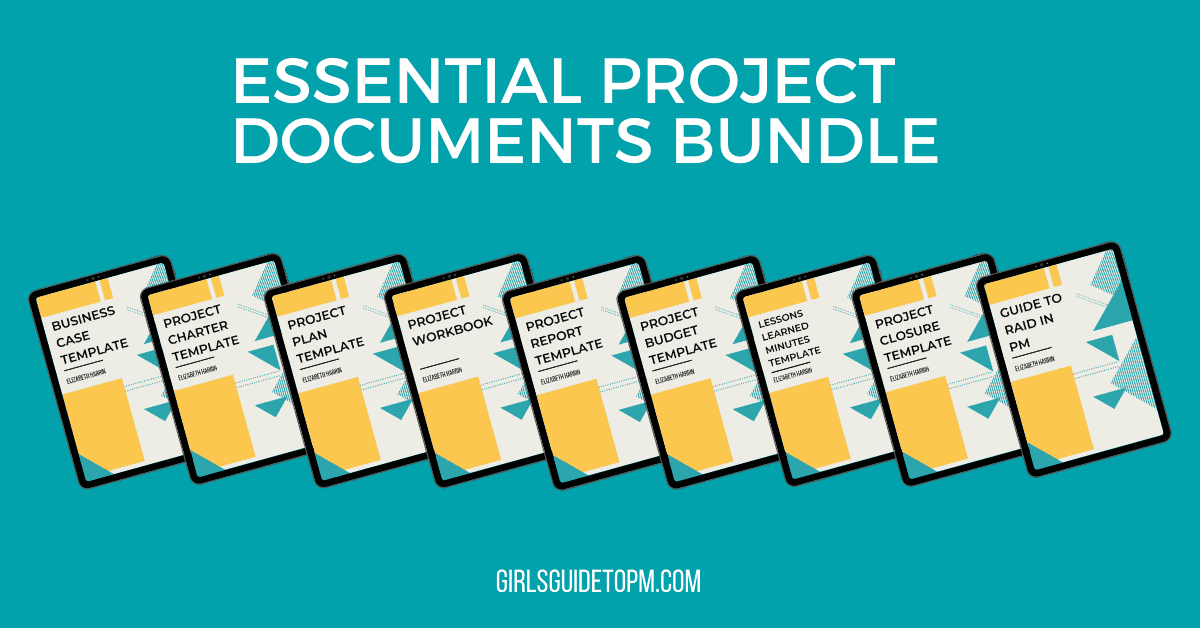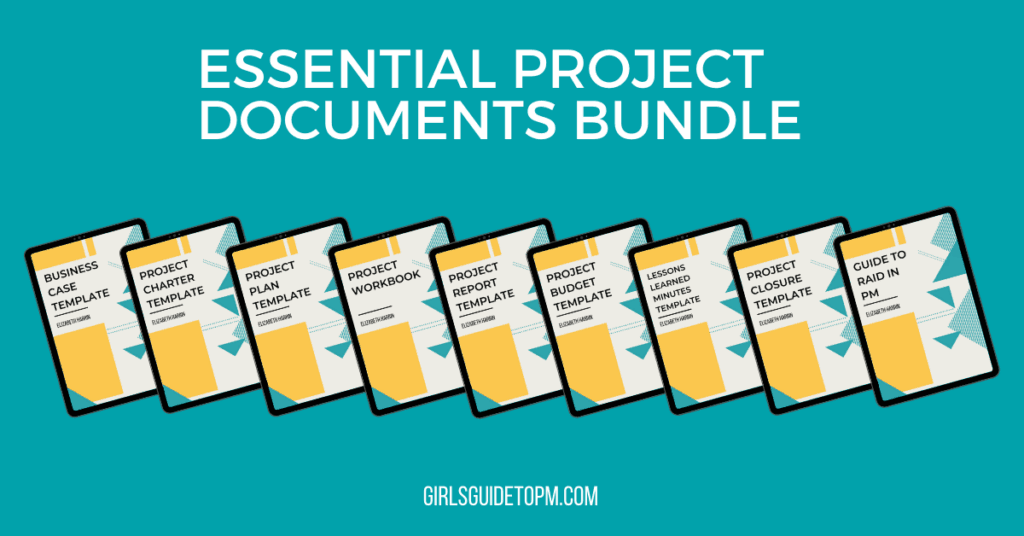 RACI and The PMBOK Guide – Seventh Edition
RACI (not RASCI) forms part of section 4.6 of the PMBOK® Guide – Seventh Edition, which is the section about commonly used artifacts.
The Sixth edition of the book made the point that you can produce multiple responsibility assignment matrices at different levels. the Seventh edition doesn't but it does talk about the matrix as a common way of visually communicating information to stakeholders about who is doing what.
Tips and Tricks For Fantastic RACI Charts
Finally, let me give you some tips and tricks for how to make your RACI and RASCI charts as useful as possible.
Accountable and Responsible responsibilities should sit as low in the hierarchy as possible.
Only have one person Accountable for any activity.
The Accountable person must have the authority to actually be accountable.
Have as few people as possible Consulted or Informed.
Get your RACI chart agreed by the team.
The Responsibility Assignment Matrix – RACI/RASCI – is a useful project management tool which highlights the type of input each stakeholder or group of stakeholders is going to have.
But alone it isn't enough. You have to engage stakeholders beyond the grid for the project to be a success.
However, RACI gives you a starting point in identifying and categorization stakeholders, so you can then properly engage and work with them.
Further Reading
Here are some books that will help you take this further.
Pin for later reading: