How to manage project assurance (with PRINCE2 guide)
This blog is reader-supported. When you purchase something through an affiliate link on this site, I may earn some coffee money. Thanks! Learn more.
You've probably heard project managers talk about project assurance, but what exactly is it? And how do you make it work to your advantage, without it taking up all your time or being very bureaucratic? (Because it sounds onerous and bureaucratic, right?)
I've worked on project teams for over 20 years and project assurance is just part of the job. It's certainly nothing to be worried about – and it doesn't have to be heavy.
Let me share some tips on what it is, who is responsible for project assurance, and how it works in real life.
What is project assurance?
Project assurance is an ongoing check and balance to ensure that the project is being run right.
It's what the project board does to reassure itself that the project team is operating as it should.
Project assurance is different to quality assurance. Quality assurance practices are to check that the project can create deliverables that are fit for purpose. Project assurance is much broader.
What does the project assurance role do?
If you are asked to be the project assurance role, or to set up project assurance for your project, what does that actually mean you'll be doing?
The project assurance role typically does 3 things.
1. Provide advice to the project manager
The assurance function will advise on who should be part of the project team. You might think that's pretty obvious, but from a customer or supplier position, they might want to get one of their experts on to the team for very good reasons.
They might also advise the project manager on how best to do particular project management techniques like communication management, risk management, quality management and change management. They would help and advise around internal policies to ensure the project is compliant.
They can also help the project manager tailor the approach, methods or controls used to make sure it is fit for purpose. You should expect them to report back to the steering group to share any proposed changes to the standard methods for your organization!
The assurance role can be quite hands-on. For example, they can review product descriptions to check they are written appropriately, they can review risk responses to ensure they will adequately address the risks – and of course, provide feedback to the team so they can take appropriate action if something isn't right.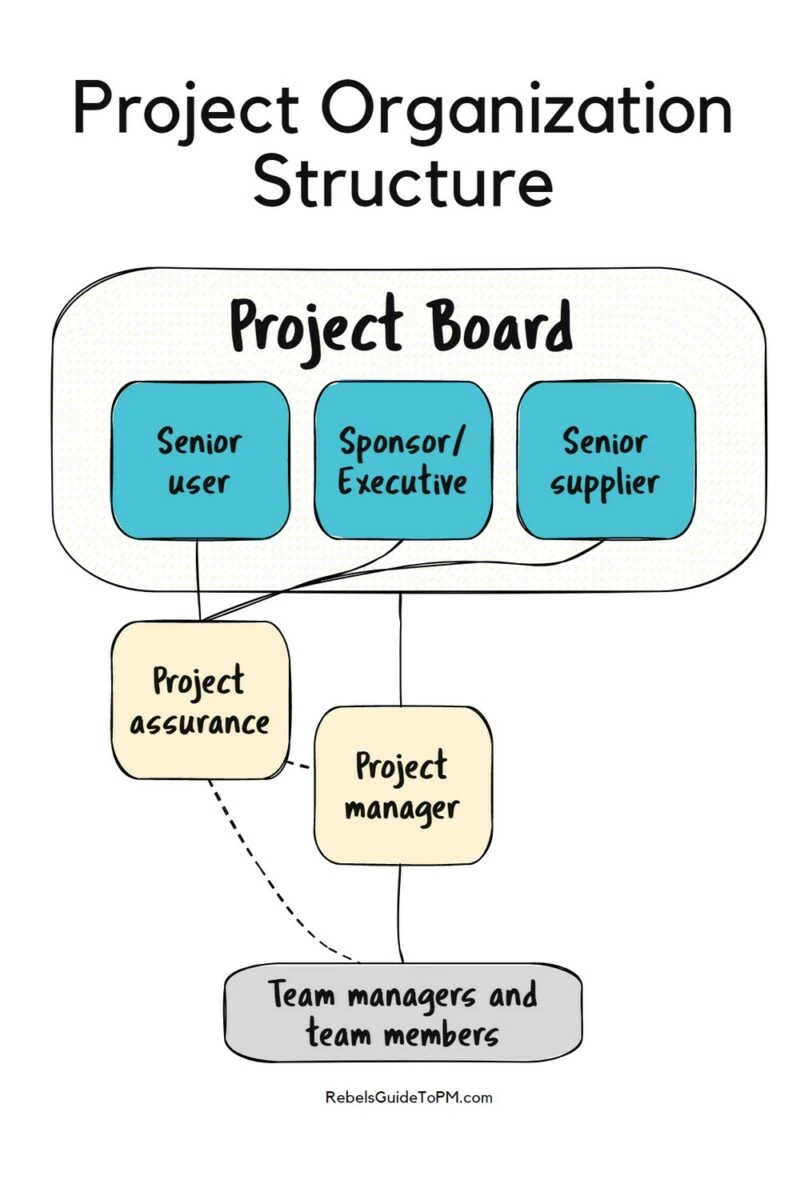 2. Provide independent confirmation to the project board
The assurance function is the independent, confidence-boosting role that will confirm to the project board that the project is going to be compliant because the approaches selected to run it will work.
At each stage of the project, the assurance function will review the plan and targets, check tolerances have been set, review proposed quality activities, and make sure the proposed approach is realistic. They could use benchmarking from other projects, compliance to policies and procedures and lessons learned from other projects to inform their assessment.
They report back to the project board to provide that confidence level, or to flag up where the team is letting things slip.
The project board can also ask a relevant expert to provide assurance. For example, if an issue has happened and the board don't really understand the recommendation report, they could ask the project assurance function to suggest an expert for them to talk to so they can make the right decisions.
3. Reassure the project board that project delivery is happening as it should
Once the project is running, the assurance function continues to check in and make sure the project is running in the right way, compliant with any policies and processes. If it isn't, they could suggest corrective actions or propose that a detailed project audit is carried out to dig deeper.
If the project can no longer meet its goals, the function could even recommend that the project is closed.
The project manager will be reporting to the board, and hopefully what the project manager says and what the assurance function says will be the same!
Who is responsible for project assurance?
The short answer is that everyone on the project team is responsible for assuring their work.
In PRINCE2 environments, it is specifically called out that project board members are accountable for assuring their particular areas. In PRINCE2, the project board is made up of a senior business rep (project executive or sponsor), a senior user and a supplier, whether that is an internal or external supplier.
The project sponsor provides business assurance i.e. that the project is performing to meet the business needs.
The senior user provides user assurance i.e. that the project is meeting the user's requirements.
The senior supplier provides supplier assurance i.e. carrying out any checks to reassure the vendor that the project is going to be successful.
The project board is also responsible for:
Establishing how assurance will be done
Ensuring people doing assurance-related tasks know what their roles and responsibilities are
Determining how people with assurance responsibilities will work together.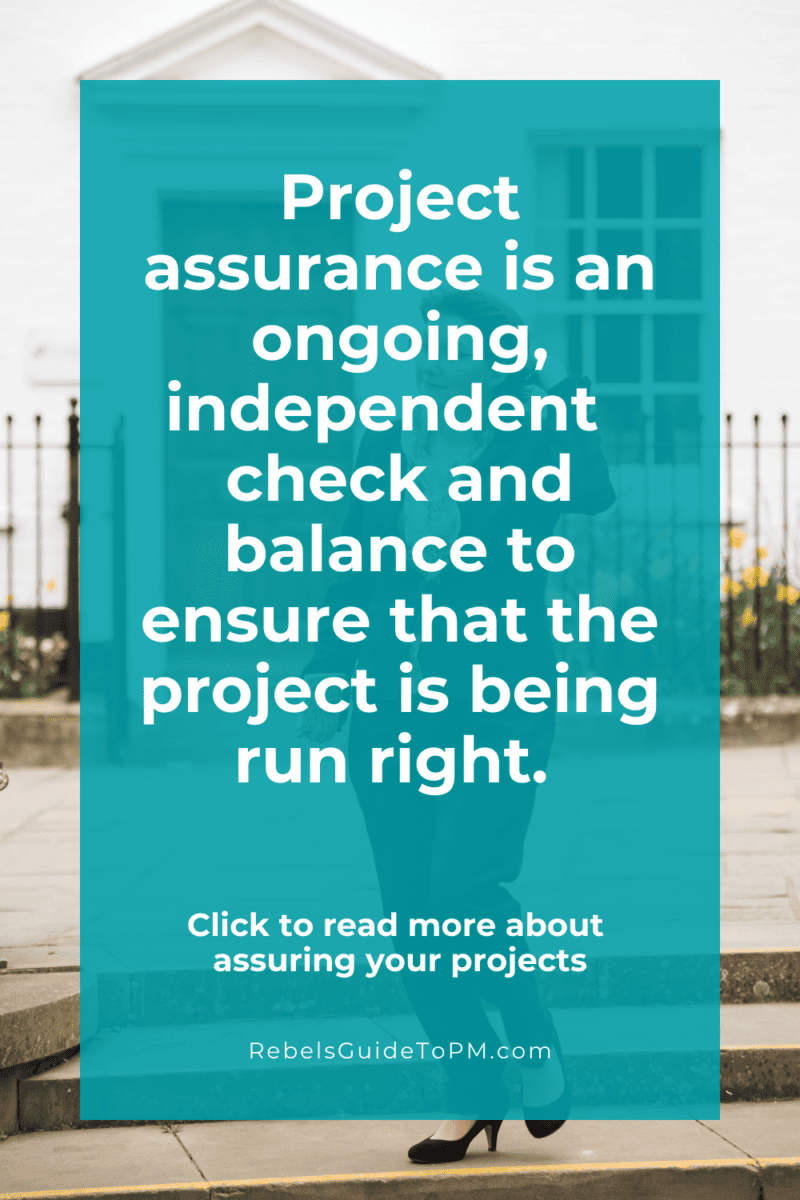 This situation could the project board end up marking their own homework, because they could do the assurance work themselves. I think it's best if they delegate because we know from experience that senior managers rarely have the time to do extra tasks themselves, and they will probably be done more thoroughly if a subject matter expert is asked to do them.
The PRINCE2 manual says that project assurance roles cannot be assigned to the project manager, the project team members or the project support function – that is precisely to stop individuals in those roles marking their own homework. Assurance should be as independent as possible so stakeholders can have confidence in the project status the team is reporting.
In my experience, assurance is carried out by the PMO or another project manager whom I have invited to do a peer review.
When does assurance happen?
In my experience, assurance happens during project board meetings. Project reports can be reviewed as a group, and the project manager (that's you and me) get challenged about performance.
To be honest, most of my projects have had pretty reasonable and friendly steering groups. One or two of them have had project boards where the members take it on themselves to make sure they are getting an objective assessment of progress and really challenge to make sure we're doing things right.
They are allowed to do that: the executive's role is to make sure they get what they want from the project and they need to be able to trust that the project manager is capable and telling the truth.
Assurance can also happen at other times, for example, when moving from one project lifecycle stage to another (like during a gate review) or when the project plan is significantly changed.
Do you need an assurance committee?
For big projects and programs, you might find it useful to have a risk and assurance committee, or some kind of separate PMO-led project assurance function.

In my 20+ years of leading projects, I have only come across this once. It was a helpful 'check and challenge' to the way the project was being run and kept us focused on making progress. It provides 'delivery confidence' in a way that me saying, "Yes, everything is fine," doesn't!

I would suggest that you don't need a separate assurance committee for the average small-to-medium sized project.
Assurance at project closure
When the end of the project rolls round, the board might call on the assurance function to provide some final checks to make sure that everything that should be done has been done. For example, during the project closure stage they might ask for a peer review, or for someone from the PMO to review the closure report to check that it covers all the key points.
In summary…
Project assurance is crucial to provide governance and credibility to your project. There are a lot of ways it can be done, but the key thing is that it's independent from the project manager and team so the project board get an independent assessment of how the work is progressing and whether it is being managed appropriately.