How To Close A Project In PRINCE2
This blog is reader-supported. When you purchase something through an affiliate link on this site, I may earn some coffee money. Thanks! Learn more.
If you aren't using PRINCE2®, or if you want some general guidance as well about project closure documents and so on, read this next:
How to close a project.
This article has been updated to be fully aligned to PRINCE2 7 (2023 edition).
A project has a start, a middle and an end, so closing a project is an important part of the project management lifecycle.
Closing a project successfully means a good, clean transition for the project team. This involves transferring ownership of the products to the operational team, and makes it clear that the project team are no longer responsible for them.
The project manager and the team will be able to move on to their next assignment.
A clear end to the project also provides an opportunity to ensure that any goals that were not achieved during the project can be addressed in the future.
How does PRINCE2® handle closing a project?
Closing a project in PRINCE2® uses a variant of the Managing a Stage Boundary process, as this closure activity happens at the end of the last stage. The work required to close the project should be planned as part of this final stage. You also use this process if the project closes prematurely.
The Closing a Project process tackles the end of the current stage in a slightly different way to the other stages: instead of gaining approval to move to the next stage, this process gains approval to close the project and handover to operations instead.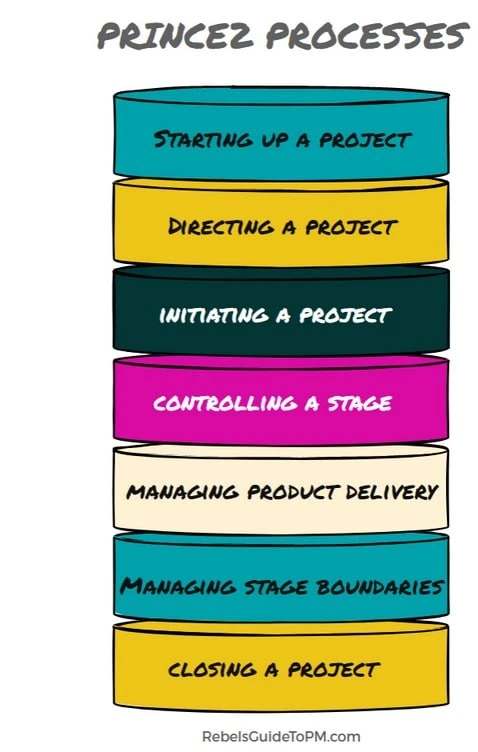 What are the objectives of the Closing a Project process?
The objectives of the Closing a Project process are:
To verify that there is user acceptance of the project's products
To ensure that the operational team is able to support the products when the project is closed
To review project performance against the baselines that were set
To assess any benefits that have already been realized, update the forecast for the remaining benefits and plan a review of those benefits at some point in the future
To ensure that provision has been made to address all the open issues and risks, with follow-on actions or recommendations.
And of course to ensure the project is closed down in a structured and professional way, and not dropped like a hot potato while everyone runs on to the next shiny thing.
How do I close down a project?
There are four areas to cover when closing a project. Let's take a look at those, and you'll see that they are pretty much common sense.
1. Prepare the closure
Whether your project is facing a premature close or as part of the natural plan for the work, you have to prepare the closing stage.
If necessary, present a closure recommendation to the board, although the likelihood is they will already know that closure is on the cards.
Still, you have to tell people the project is closing, draft a closure notification for the project board to review, archive anything that needs arching and tidy up your records in your project management tool. Close out anything outstanding in the risk register as well.
2. Confirm project acceptance
Next, the project's products must be handed over to the operational team. This could be done in one go, or it might have happened as part of a phased delivery.
If anything is not yet completed, prepare a follow-on action list or recommendations for the operational team to pick up, including scheduling a review of benefits at a later date.
Handovers don't have to be one-and-done. You could have handed over deliverables at the end of every stage, so if that's the case, just tie up any loose ends at this point.
Check that the benefits management approach is updated and that there is a plan to measure and track any benefits that will be delivered after project close.
3. Evaluate the project
This provides the opportunity to review the project's original intent as agreed back in the initiation stage, against what was actually accomplished. Look at the objectives, key success criteria, goals, acceptance criteria, KPIs and anything else that was determined at the beginning, and do a comparison to see how close you were to achieving those.
The evaluation can be presented as an End Project Report, which covers how the project performed against targets, tolerances and the baseline schedule. The evaluation can also include a Lessons Learned Report, so that future projects can learn from what went well and what didn't go so well on this project.
A comprehensive and accredited PRINCE2® Practitioner online course, including exam voucher and simulator access.

Buy Now

We earn a commission if you click this link and make a purchase, at no additional cost to you #ad

A confidence-boosting set of mock exam questions to prepare you for the PRINCE2® Foundation exam in realistic test conditions

Buy Now

We earn a commission if you click this link and make a purchase, at no additional cost to you #ad

A robust and realistic exam simulator for PRINCE2® Practitioner with 4 full exams.

Buy Now

We earn a commission if you click this link and make a purchase, at no additional cost to you #ad
What if the project is closing before it completes?
Planned closure isn't the only way that projects end.
Projects sometimes need to be stopped before they are planned to finish. There are many reasons for this, including that the business environment or strategy may have changed, negating the need for the project. Maybe the project isn't viable any longer. Maybe the key stakeholder pushing for the project has left and everyone is relieved they can finally drop it.
Regardless of the situation, the project can still be closed in a controlled manner. Following a structure and not simply abandoning the project lets the project manager salvage anything of value and check that senior management is aware of any gaps left by cancelling the project.
When a project is closed prematurely, there may be some products that have been completed. These can be handed over to the operational team if appropriate.
It is also useful to notify the management teams that the project team will be released early and the team members will be available to take on other assignments.
When a project is stopped early, it is really important to make sure that there is adequate communication to the business and the project team.
People don't like to be associated with failed projects, so try to communicate the positive aspects of what the project managed to achieve before it was stopped, and clearly explain the business rationale for stopping the project at this time.
Where can I get more guidance?
Chapter 19 is the PRINCE2® 7 manual reference that you need. If you did a training course, you can also refer back to your notes there.
Your next steps
Read more on how to close a project.
Get a project closure template from your PMO and start looking at what is required to fill it in.
Talk to your team about the products that need handing over and make plans to do that as the first step to shutting down the project.