Brain Sensei PMP Review [for 2023 exam]
This blog is reader-supported. When you purchase something through an affiliate link on this site, I may earn some coffee money. Thanks! Learn more.
Read our review guidelines.
Are you looking for a creative way to motivate yourself to study for the Project Management Professional (PMP)® exam? I get it: finding the time to sit in front of your screen is tough but there are so many benefits to getting certified that you can't put it off any longer.
In this Brain Sensei review, I'll share who Brain Sensei training is most appropriate for, what to expect, the cost, the pros and cons and all the features you get included.
I've been working as a project manager for over 20 years (gulp) and I've spent a lot of time researching and using PMP training courses. I've tried all the most popular courses and had conversations with the course providers and trainers so I can help you make the right choice for you.
So could Brain Sensei be the perfect course for you. Let's find out!
Interactive and engaging
Brain Sensei PMP Exam Prep
An interactive and engaging online, self-paced PMP exam prep course. Save 10% when you use our exclusive code RGPM10 at checkout.

We earn a commission if you click this link and make a purchase, at no additional cost to you #ad
Brain Sensei is a PMP Exam Prep Course, but it's unlike other courses I've seen or taken because it is based in feudal Japan. Plus, the main character is a female Samurai.
When I went through the first Module I was drawn in from the beginning — who doesn't want to be the project manager who rallies the community to build a castle to protect our children and the village?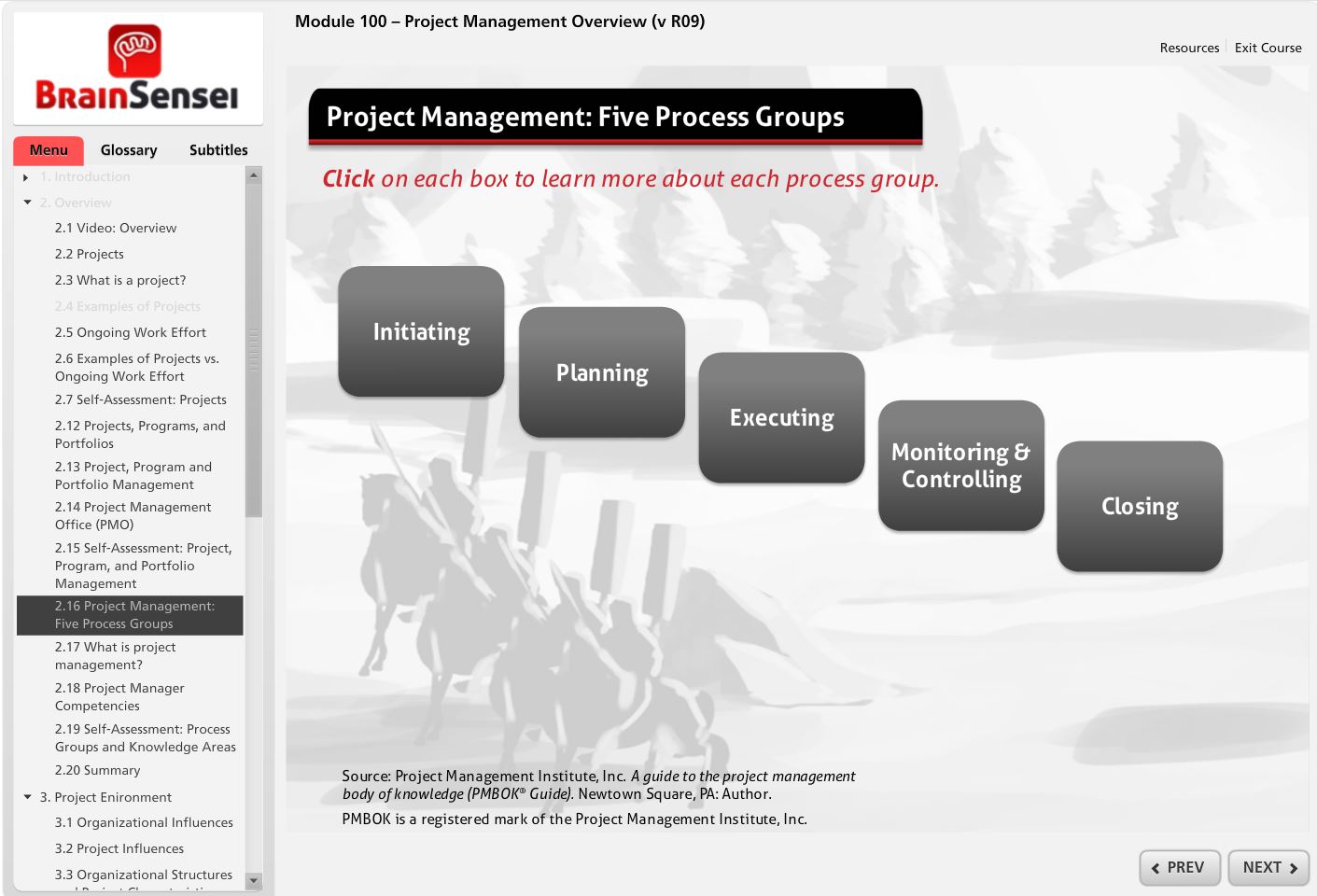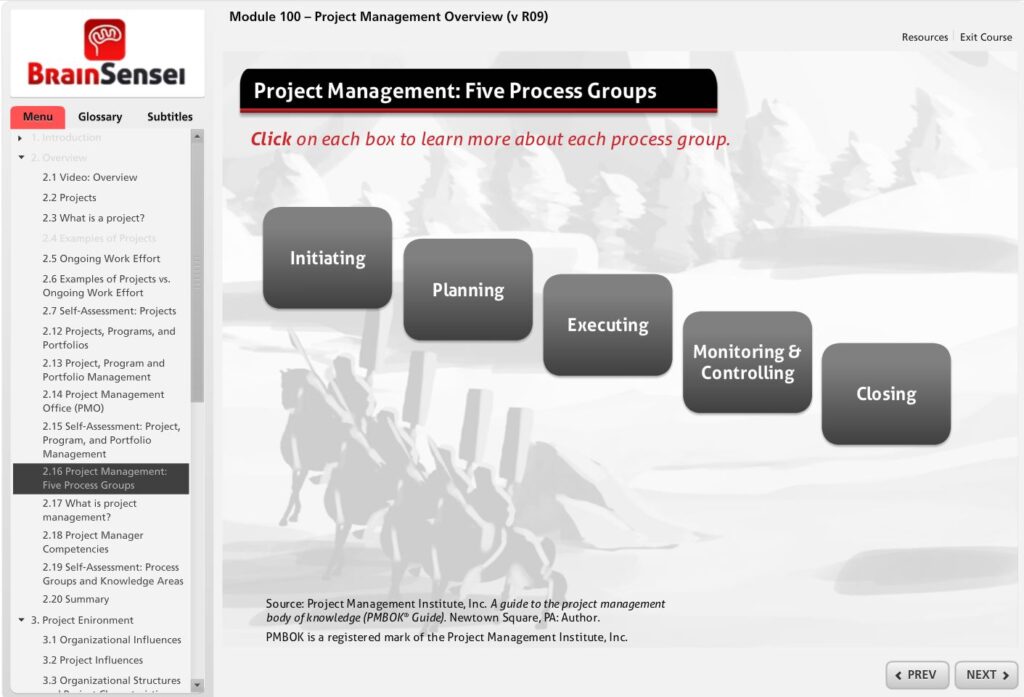 It's online video-based training and it's really well put together. It actually made me want to learn about processes, which is a rare thing. I can't resist a puzzle.
| | |
| --- | --- |
| Cost | $499.99 |
| Access | 1-year |
| Exam simulator included | Yes |
| Education (contact) hours | 35 contact hours |
| Practice exam questions | 1,500+ |
| Guarantee | 30-day refund guarantee and 100% "pass satisfaction" (terms apply) |
| Support | Facebook group, email sequence, and a full Brain Sensei FAQ section on their website. I didn't have a reason to use the use the support, but other reviews say they provide awesome service. |
Summary of Brain Sensei's key features
Features overview
Brain Sensei started out as a self-paced PMP exam prep course, but now they offer a range of study options for people taking PMI certifications. The self-paced PMP course is still a favorite and includes:
9 modules
A year of access to the content
Exam simulator
Knowledge assessments
Spaced repetition system (this is really helpful for testing yourself and improving retention)
Complete PMP content
There are 9 modules, and it's a full PMP® training course that covers everything right from the beginning. The lessons are short, which is helpful if you want to fit in study during your lunch break or on your commute.
It covers all the key project management terminology (agile and waterfall/predictive), plus the project management principles and key concepts.
You don't have to take the modules in the order they are presented, but I would recommend it, as the content builds on what is covered in the previous modules.
It's also fully aligned to the latest exam content outline including an appropriate blend of predictive, agile and hybrid topics and questions to reflect what you'll be tested on. That includes the 7th edition content too; it's all wrapped in.
Brain Sensei resources
The course comes with resources that you can download in a .zip file. It includes a bunch of templates and other things, including links to further reading such as guidance on conducting focus group interviews.
There are also Microsoft Project files included to help with understanding dependencies between the process groups (from PMBOK 6, which is still a recognized text for the actual exam – which I think is weird, but let's not go there in this review).
You don't need MS Project to take the course, but the extra resources are there is you want them. I would not buy MS Project just for studying with Brain Sensei, but if you have a licence at work, then those template files are useful bonuses.
As well as the resources provided, you'll also need a copy of the PMBOK Guide (6th and 7th editions), which you can get for free as a PMI member.
So far, this is all pretty standard for PMP exam prep courses. The Brain Sensei difference is in how the materials are presented. Let's look at those now.
Pros
Highly interactive
There is a lot of content to read on screen but it's built on the Articulate platform and it's highly interactive.
If you aren't sure what that means, it means you get to touch the screen, select options, do self-assessment quizzes, drag and drop and all those kind of things.
Interactivity means you are more likely to remember what you're learning, which should increase your chances of passing the exam. Having to engage with the materials means you improve your recall, because, you know, science.
Working through the key knowledge areas doesn't feel like a chore.
Story-based
There is a story. It's fun, it's different, it's kind of cool.
OK, it's not a movie. It's convoluted in places (I feel) because it's teaching you project management concepts. But it's a differentiator in a world of boring PowerPoint slide-based presentations.
Exam simulator and practice questions
There are also built-in self-assessments, so you can assess your progress as you go. I don't know about you, but I always like to know how I am doing.
There are also full practice exams (over 1,500 realistic exam questions). The questions are dynamically generated every time you take an exam, and they call this 'unlimited'. It means you can work through loads of mock PMP exam questions and then use your results to help target your training even further.
It's so important to know what it feels like to sit in a chair for the length of a full test and manage your time on exam day, so I highly recommend using an exam simulator – and Brain Sensei's training package includes access out of the box with no additional charge.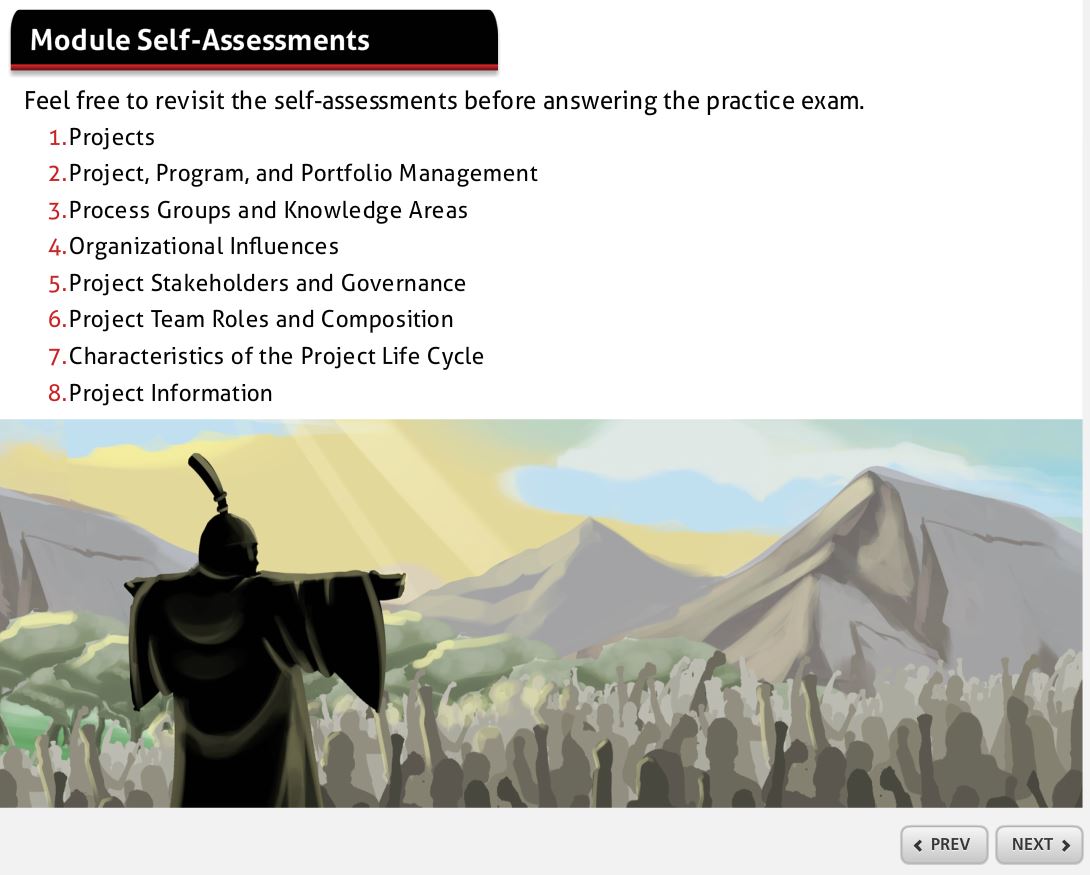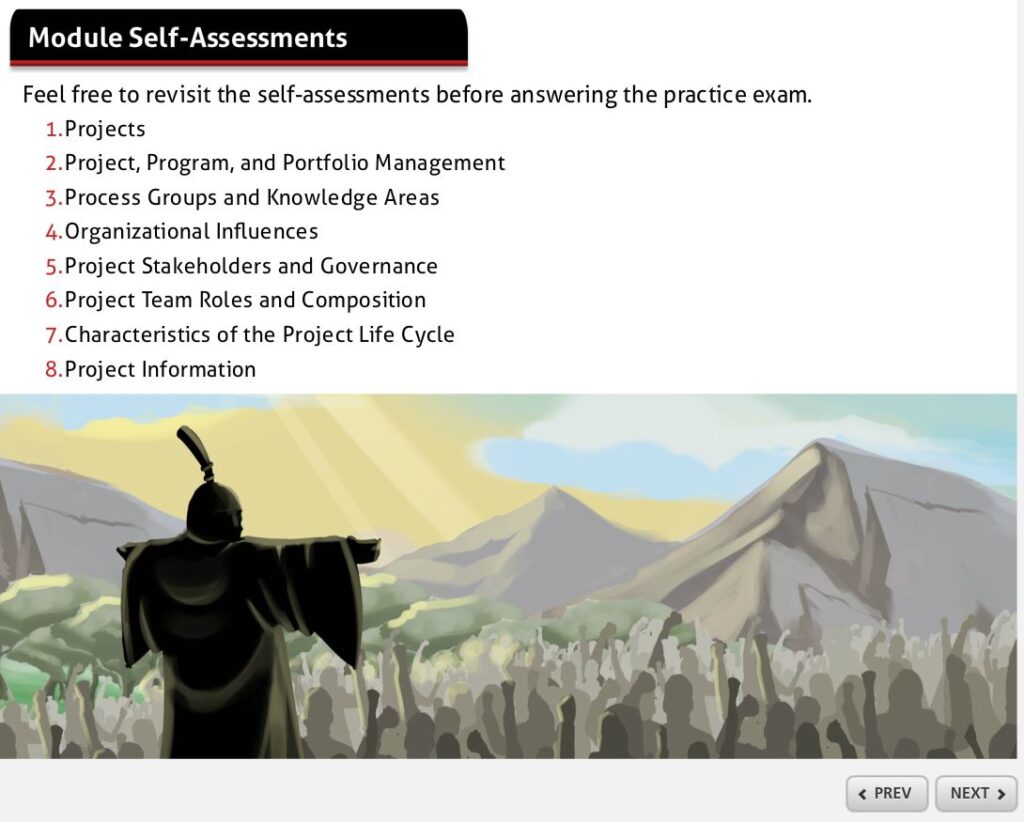 Guarantee
They offer a 100% pass guarantee and will extend your access to the course if you don't pass the exam. With a 99.6% pass rate, it seems unlikely that you will have to take advantage of it, but it is nice to know it is available. Plus they have a 30-day refund policy if you decide it isn't the course for you after you purchase.
Offline Mode
If you are an Apple Podcast user, you can watch a video walkthrough of the learning modules when you are offline. Both Android and Apple users can stream via the Spotify and Apple Podcast apps.
Cons
Slow page load times
Some of the pages took a while to load, and some wouldn't load at all on Firefox. It worked fine in Chrome though.
This probably says more about my internet connection on the shocking wifi in our house than the product, but do make sure you've got a decent connection before you start a study session — as you would with any online training course.
12 months access
You only get access to the course materials for 12 months. Is that long enough? It should be.
Actually, this is an advantage, because if you can't motivate yourself to study and sit the exam in a year, then PMP probably isn't for you.
If you do want access to the materials for longer, I expect you could reach out to the provider for an extension (and there may be a fee for this). However, you really should be aiming to study and take the exam within a fixed time period. The deadline on access to the training helps focus the mind.
No app
There is no Brain Sensei app, so if you were keen to learn on the go from your phone, that's a no.
However, you can access the website wherever you have an internet connection, and if you are an Apple user, you can get the modules as a video playback (i.e. no interactive features, just the video training).
Personally I think that's enough. I have plenty of apps on my phone, I don't need another one. Just stick a shortcut to the Brain Sensei login page on your home screen and you're good.
Very click-heavy
Because it's so interactive, there are lots of places to click. If you use a lot of keyboard shortcuts like me, then you'll have to turn to the mouse.
Having said that, I now have a touch-screen laptop so that makes this level of interactivity more manageable as I can just touch the screen instead of having to use the mouse, and that's easier on my hands than constant clicking.
Reddit reviews
OK, let's address the elephant in the room. Brain Sensei is a bit like Marmite: you either love it or you hate it. You'll find plenty of Reddit reviews where people have hated it and ended up going on to pass their exam with the support of another training program.
You'll see people who have written about spotting spelling mistakes, and I spotted some the first time I reviewed the product, which was a few years ago now. Since then, the errors I saw have been fixed.
Yes, I am an affiliate for Brain Sensei, so it does make sense that I'd try to convince you it's the right product for you.
But I do think it's a reasonable product with a brilliant team behind it. It's not going to be right for everyone: no product ever is. So do your research and make your choice based on what you think, not what I say or what anyone else says, because this is your exam and your future career.
How long does it take to complete Brain Sensei?
The content will take you 35 hours for the PMP course. But how you fit that into your actual life is a different question.
The course online help section says most people complete the material in 1-2 months which is perfect if you are trying to squash your PMP studies into a short time frame. However, you've got access to the materials for a year, so it doesn't matter if you take longer.
I should also point out that there is a monthly subscription option, so if you just wanted to buy it by the month for 2 months and cram all the content (for example, if you are currently out of work and using the time to get a project management certification), then you can do that too and it works out cheaper than buying the annual option.
The fact that you can access the materials on your tablet or phone makes it easy to fit your study into your busy life.
Is Brain Sensei approved by PMI?
Brain Sensei was approved by PMI under the Registered Education Provider (REP) scheme, and that's how I first found out about them. The new accreditation scheme is the Authorized Training Provider program and let's just say that hasn't been as popular with trainers from what I have heard.
Brain Sensei is no longer part of the PMI accreditation program… but you don't need to take a course from an accredited provider. You can take any PMP training course (or none) and as long as you hit 35 contact hours you meet the eligibility criteria.
Who is Brain Sensei's PMP course best for?
Brain Sensei is best for people who know they have the self-motivation to want to study, and know they need exercises and interactivity to keep them engaged.
If you just want to play videos and listen to the materials without interacting, then there are other courses (PM PrepCast is my top alternative to Brain Sensei) that will give you that.
It's also perfect for people who don't have a photographic memory! The whole learning approach is based around the science of remembering. The teaching philosophy is great and I really enjoyed working through the course materials.
If you are concerned that you won't be able to memorize the content required for the exam, then don't be. Brain Sensei's advantage is that it is built from the ground up to help you recall and understand instead of just learning by rote.
Best for:
Self-motivated project managers
Project managers who are concerned about being able to memorize everything for the test!
Avoid if:
Video learning is not for you
The cartoon and story-based learning is too cutesy for you (although do the free trial and make that call based on your actual reaction, not how you think you might react to the content)
Your employer will only pay for an accredited course.
You might find their instructor-led course a better option, which is still delivered virtually but with a 'real' trainer.
Brain Sensei free trial
You can sign up for a free trial and click around inside the course to see what it's like. I highly recommend you do that, because it will either give you the confidence to take the course or make you realize that it isn't a good fit for your learning style. If you're about to embark on your PMP exam prep then you should check it out on the Brain Sensei website.
The trial will give you a sense of what the full course material is going to be like. You'll get a taste of the full PMP prep course, and be in a better position to make an informed decision about whether this is the course for you.
I say it's definitely worth checking out!

Instructor-led Virtual Course Option
They also offer an instructor-led course that offers a few different options including a 5-day bootcamp style class, a weekend course, and a twice a week course spread over 5 weeks. This style of class gives you the opportunity to interact with other project managers and the instructor. It also comes with the self-study course.
Live Course

We earn a commission if you click this link and make a purchase, at no additional cost to you #ad
Brain Sensei vs PM PrepCast
I've long used products from Cornelius Fichtner of The Project Management PrepCast fame for my own professional development. So how does Brain Sensei compare to the PM PrepCast?
The main difference is that Brain Sensei is story-based learning and the PM PrepCast is a more traditional presentation-based course. They are both self-paced.
They both meet the education requirement of 35 formal project management training hours and both will prepare you enough to take the exam.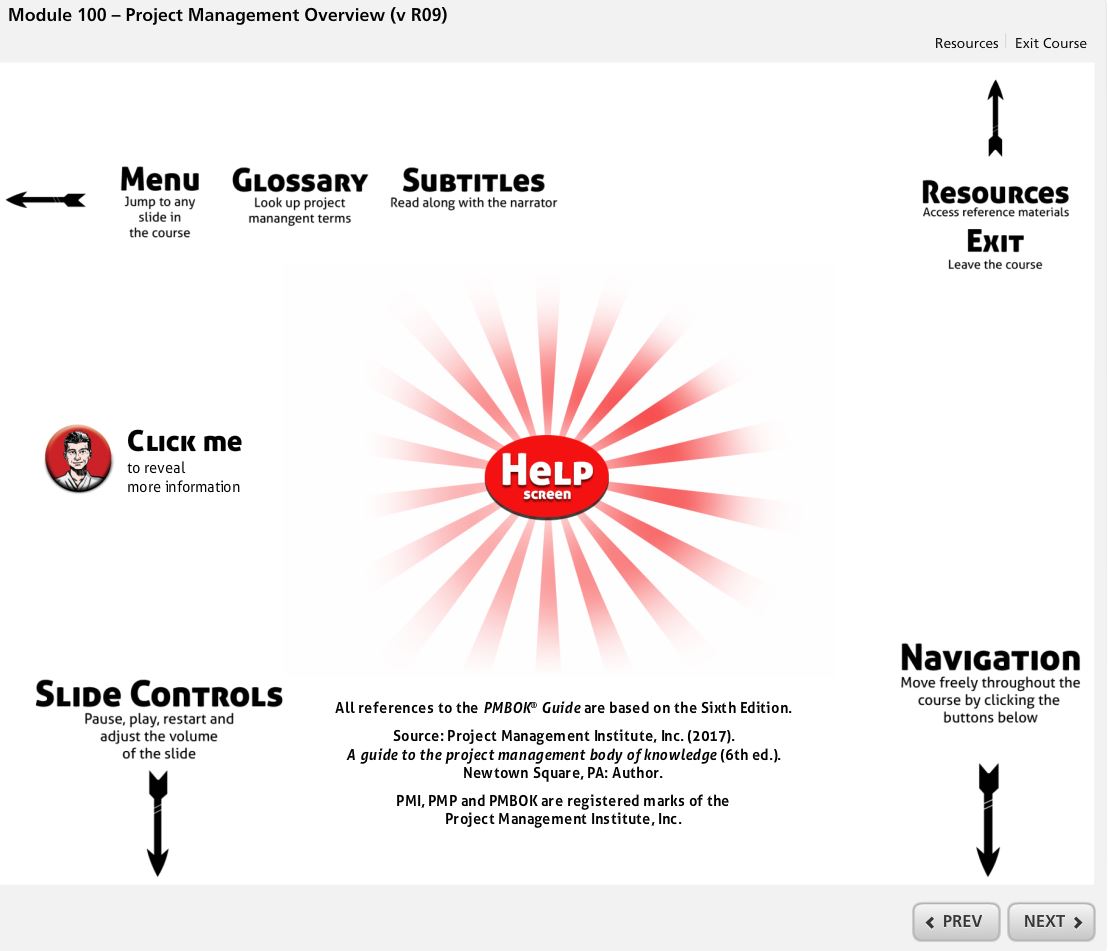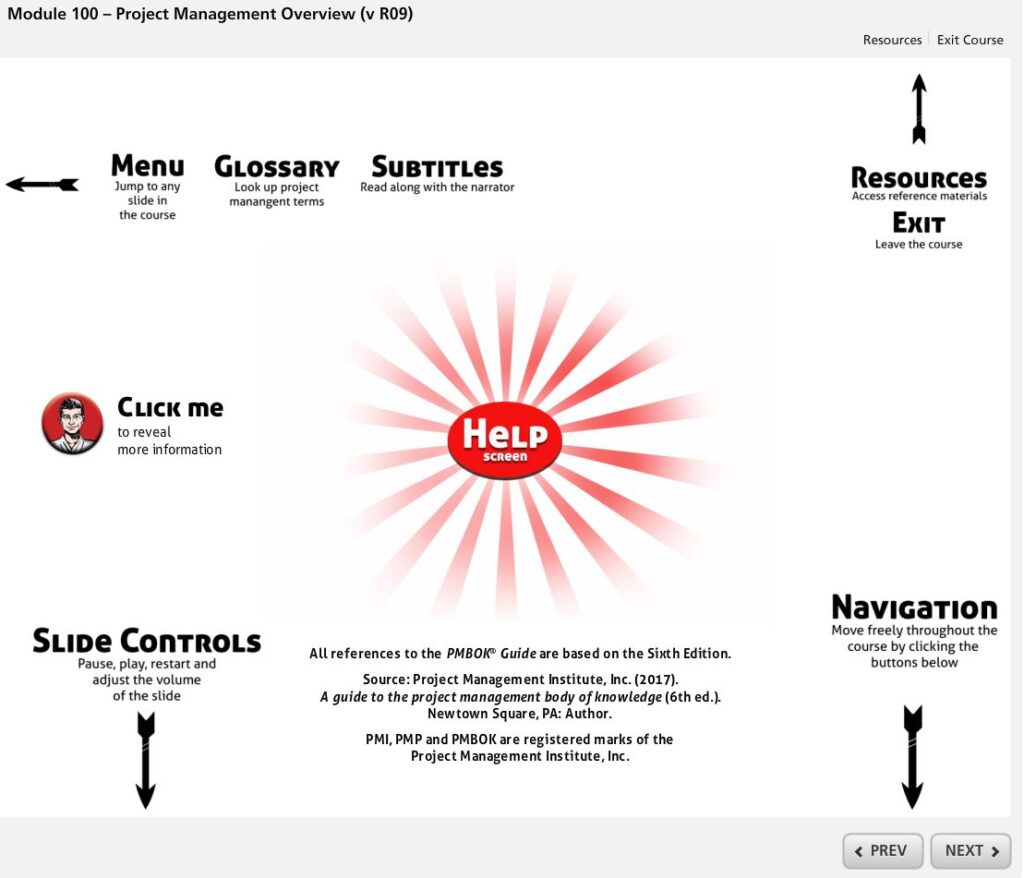 Both provide 35 contact hours.
Both cover the full range of things you need to know for the exam.
Both offer a huge amount of study material and practice questions.
It's a personal preference. I don't want to tell you which one to buy as everyone is different, but know that they are both top quality courses and whichever one you go for, you'll end up prepared for the exam if you put in the work.
Brain Sensei Coupon
I'm grateful to be able to bring you a Brain Sensei discount coupon. You can get 10% off the course price with my referral link. Simply use the code RGPM10 at the checkout to claim the discount.
Interactive and engaging
Brain Sensei PMP Exam Prep
An interactive and engaging online, self-paced PMP exam prep course. Save 10% when you use our exclusive code RGPM10 at checkout.

We earn a commission if you click this link and make a purchase, at no additional cost to you #ad
Summary: Is Brain Sensei PMP Training Good?
I've never seen a PMP training course with so much interactivity and engagement built into the course materials. Studying feels easy. The storyline is great. I was worried the cartoon-y-ness would feel infantilizing but I didn't get that sense from it at all.
It's a cost-effective course, especially now PMI Authorized Training Partners are selling live classroom courses (virtual or in-person) as they obviously have the overhead of a real trainer and small group class sizes.
If you learn well through video but need a good story to keep you engrossed in the material, this course will be perfect to help you prepare for the PMP® exam.
Get Brain Sensei now
---
Recommended CAPM and PMP Prep Books
---
Pin for later reading: