5 Tips for Working With the IT Helpdesk
(This post contains affiliate links. Read my full disclosure.)
IT departments can be great places to get experience as a project manager. Much business change involves an element of technology and that's why I've written in the past about there being no such thing as an IT project.
Projects with an IT element are wide-ranging. Any kind of software refresh, upgrade, app development, new functionality and so on involves a broad group of stakeholders. The group that often gets forgotten is the IT Helpdesk.
In this article we'll look at how project teams can better work with the IT team so that their group can be ready to 'receive' the project when the time comes to handover the work. We'll go through 5 tips for working effectively with the support teams while you are mid-project.
So who are we talking about? You might know them as the Service Desk, the Technical Support Centre, Tech Services, IT Support or something else but they are the people who are responsible for dealing with user queries when something isn't working with your computers.
They log your problem and fix it if they can, passing it off to another specialist team if they can't do it themselves.
They are the people who will be fielding calls from the users of any IT application or system that you are putting in. They need to know the basics of your project so they can better respond to queries. Ideally, they need to know everything possible about it so they aren't just logging calls, they are solving the problem there and then, on the call.
Even business change projects are worth letting them know about — even if you think there is no IT impact, there is a chance that the project will result in calls to the service desk. I know that our service desk used to get all kinds of random calls about things that were different, even if the system itself hadn't actually changed.
Plus many projects do change the tech — even in only very small ways. People get used to working in a certain way and when it looks different in the morning when they log in, they pick up the phone. Business leadership for IT projects is a critical skill.
The support desk's goal is to answer as many queries as possible in the shortest possible time, and ideally to have fewer queries. That's why many IT projects look to put in self-service and contextual help so users can be self-sufficient. That leaves the IT team free to support users on more complicated queries.
Why you need the IT helpdesk on your project
You might have done a fantastic job as the project manager during the project, involving everyone, setting up training, using your communications plan to inform and educate your stakeholders and end users. That effort stops when you leave the project.
For projects with an IT element, the IT bits will be picked up by an operational team. You should be involving them in the project life cycle, from solution design to delivery and all the bits in between, but they won't be the first line support for your end users.
If you want your project to be a success longer term, you need the IT Helpdesk on side. If you want users to embrace the IT changes and get the most out of the system you poured months of your life into delivering, you need the IT Helpdesk.
You need them to understand, be sympathetic, fix problems and maintain credibility in the system by helping users to get back up and running again as quickly as possible when they hit an issue.
Here are 5 tips for working effectively with the IT Helpdesk on your project.
1. Involve them early
Don't wait until you are at the point of handover to operations during the Closure phase of your project to involve the IT helpdesk.
Start talking to them as early as you can so that you are building up their knowledge and awareness of what is coming their way. Scale up their involvement over time. Ideally, by the end of the project they should be able to lead on many of the productionizing elements, or at least be very directive about the best way to approach the handover.
The graph below shows how this can work in practice.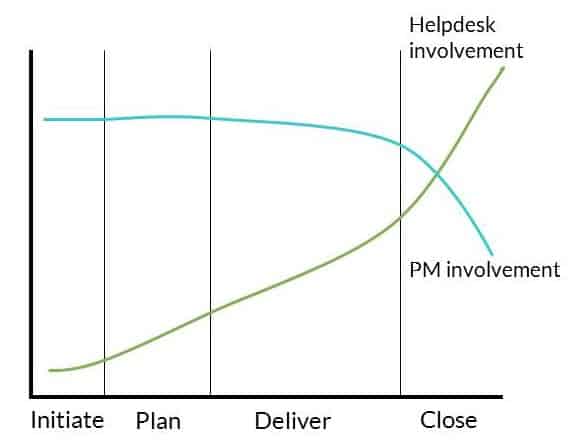 2. Get a single point of contact
This doesn't need to be the helpdesk manager. You could work with a helpdesk analyst as the single point of contact. This person is the workstream lead for introducing the project's deliverables to the support environment.
Having one person to go to makes sense as you don't know exactly what is going to be involved. It's a good opportunity for IT helpdesk staff members to see how projects work and for them to get a taste of what goes into making a new service ready for launch.
This person doesn't have to be on your team full-time. As you can see from the graph below, most project teams led by project managers who consider themselves to have "some" experience have 6-10 people in. Your helpdesk rep can be one of those.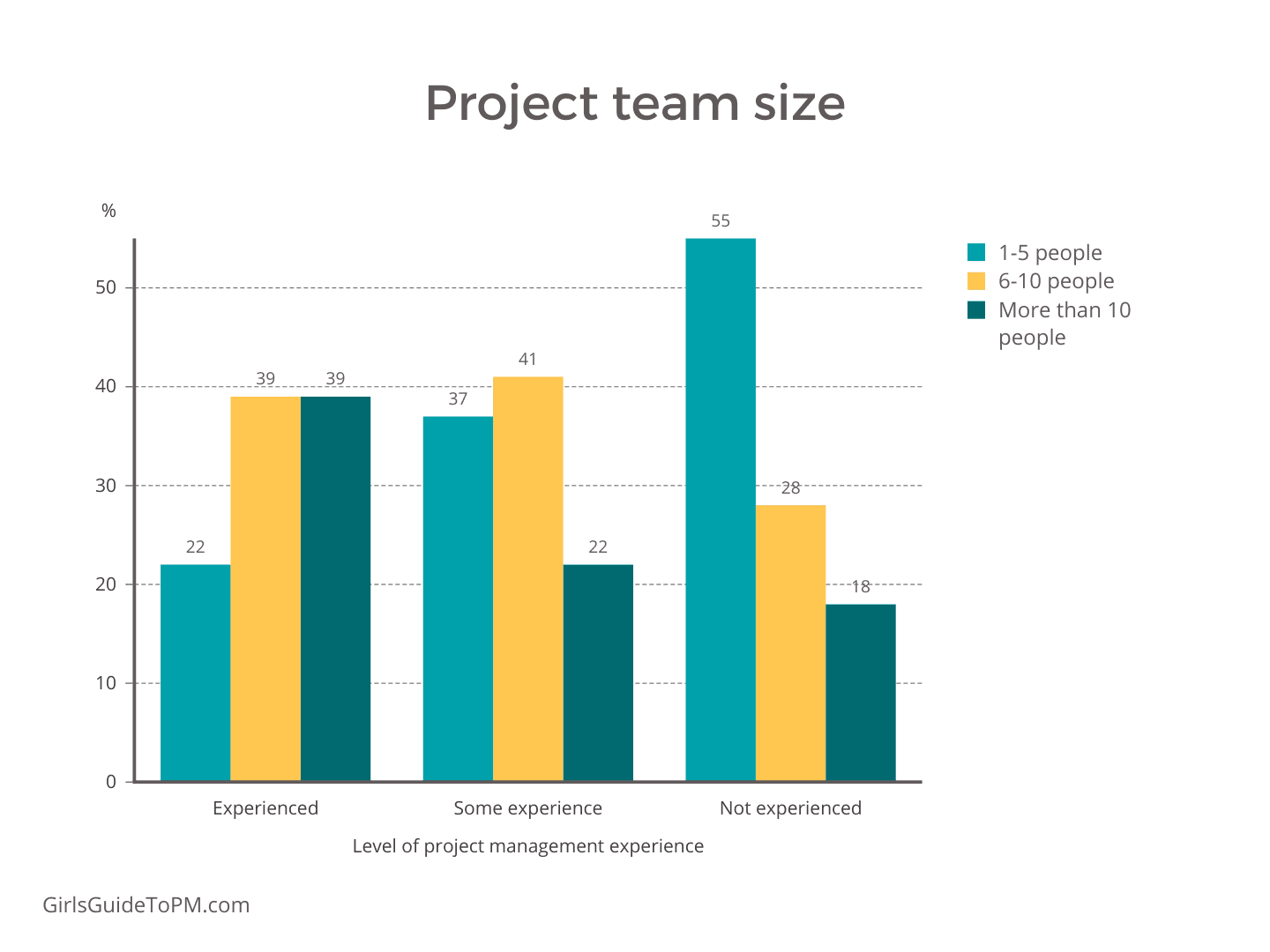 3. Delegate planning
Once you have identified (or the helpdesk manager has identified) the right person to lead their involvement in the project, you can delegate the planning of their tasks and engagement to that person.
This is the same as you would do for any other workstream leader. Your workstream leader should establish the IT helpdesk responsibilities as they relate to the project. They can plan this out with their colleagues and, of course, you can be there to help as you would with other team members.
Read next: How to Delegate Tasks with More Confidence and Less Stress
4. Plan the go live
Plan the launch of your new IT solution together. There are two aspects to this: the go live of the actual deliverable, which is likely to be supported by the project team from Day 1, and the go live of the IT helpdesk process whereby users are asked to stop calling the project team and to route queries to the helpdesk instead.
You might have it set up smoothly enough to have both those happening on the same day, but often you'll want to transition into support gradually, for example if you have a pilot period running. The support offered from the helpdesk during the pilot could look different to the role you expect them to play longer term.
Either way, make sure that you are involving your helpdesk colleagues in the go live planning. At the very least, the helpdesk needs to know your go live milestones in case any calls come through to them that are about your project.
Even if users aren't supposed to be ringing them yet, you can guarantee that someone won't have got the memo. Don't make your helpdesk team look stupid by not giving them information they need to respond to the basic queries.
A business process template can help you uncover where there are IT touchpoints that are important for the handover.
Free
Business Process Template
Find out what your users really want -- this process template will help you uncover and document business processes for analysis and improvement.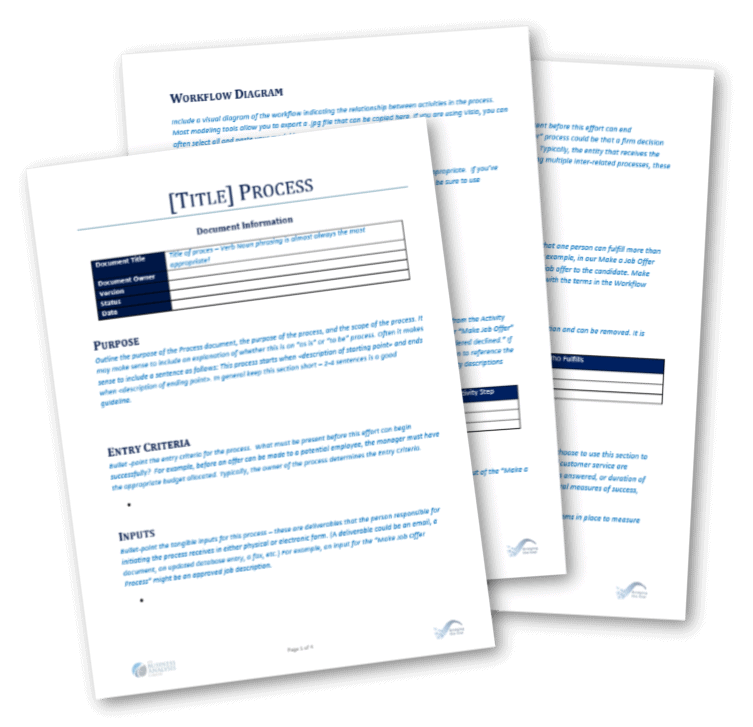 We earn a commission if you click this link and make a purchase, at no additional cost to you #ad
5. Don't walk away too soon
Now that you've invested so much time into making your handover so smooth it's tempting to bail out of the project as soon as you can. Your aim should be to walk away, but not before you are confident that everything is working as expected and that the operational team can manage without your involvement. So don't walk away the day after go live.
This takes some planning because your manager or the PMO team might be keen to pull you off that piece of work as soon as the last milestone is hit and onto a new project.
Make sure that you've put 'transition into live service' or something similar in your project plan and it is baked into your schedule. You might not need all the time you've allocated if the IT helpdesk transition is smooth (which is should be, if you've invested time and effort into making it successful up to this point). In that case, you can step away earlier.
Those 5 steps will help you manage the transition to live for your IT project in the smoothest possible way. And, probably more importantly, maintain a good working relationship with your colleagues on the tech teams.
As my old manager used to say, IT is the last bullet point on the last slide. Don't let your colleagues feel like that, or like they've just had to catch something that has been thrown over the wall. Treat them as valued stakeholders and you'll find your tech projects go more smoothly and with better business results. After all, that's what everyone wants: successful project outcomes.
Your next steps
If you don't have anyone on your project team who is representing the interests of the IT service desk, then ask for someone who can act as a point of contact.
Plan how you are going to get them involved.
The IT team normally take over the operational running of any systems you have implemented, and they need to know about business change that affects users and technology. Read how to close a project so you can be prepared for that phase of the project by engaging the right people early.
Pin for later reading: