What is customer-centric project management?
This blog is reader-supported. When you purchase something through an affiliate link on this site, I may earn some coffee money. Thanks! Learn more.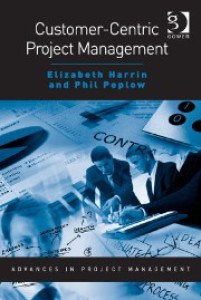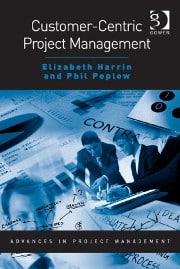 This is an edited extract from my book Customer-Centric Project Management, co-authored with Phil Peplow (Routledge, 2012).
Let's get some basics established. Projects must deliver value. Projects must involve stakeholders, even if that stakeholder population is made up of only one person.
These two things are the premise for customer-centric project management. The third premise is that stakeholders are the ones who get to decide what 'value' actually means.
The traditional approach to project management is that successful project delivery is predicated on managing by the triple constraint of time, cost and quality.
Project managers assess a project as successful if it delivers on time, within budget and to the required quality criteria set for project scope. However, times are changing. Project management academics and practitioners are moving towards defining project success as the delivery of organizational value in the form of business results.
Academics and practitioners discuss the value of project management as a discipline and how to calculate the organizational value of project deliverables, in other words, whether projects achieve gains for organizational strategy or corporate objectives.
Despite all these conversations about value, there still remains a disconnect between the way projects are managed and the people they are being delivered for. And no one can really agree on what 'value' is.
Rethinking stakeholder management
Project management traditionally talks about stakeholders: people who have a stake in the outcome of the project. Sometimes, the term 'stakeholder' is used as a euphemism for 'most important or senior person' or 'individual who is paying for the project'.
The people whom project teams care most about are defined by the deliverables that are created for them, not the way in which they are delivered.
We believe that it's time to rethink value, and rethink stakeholder management. Those people are not only stakeholders; they are customers of the project management process, and they get to decide what's valuable. Project teams deliver a service, and should provide excellent customer service along with the deliverables that the project is producing.
Project customers can be individuals or teams at all levels, colleagues or third party providers, and they should all get similar treatment. The person who holds the purse strings is not the only one who gets to decide if the project team is doing a good job. These days, everyone matters – more than they ever have before. Working together is the only (and best) way to deliver projects successfully.
The disconnect between the 'stakeholder' approach and the 'customer' approach is evident in the fact that traditional project management methods only ask stakeholders for their feedback on the project process at the post-implementation review.
In restaurants, good customer service generally means interrupting your conversation with fellow diners to ask if your meal is OK. As annoying as this can be, restaurants have created the opportunity to check customer satisfaction at several points throughout their interaction with the customer.
The post-implementation review process is the opposite of this: the equivalent of a waiter leaving drinks, all three courses and a pot of coffee on the table and then disappearing until the end of the night when he materializes with the bill.
The move towards customer-centricity
Of course, project management isn't quite like that. Stakeholders are involved in the elicitation of requirements and should be involved in testing.
In fact, there are numerous ways to involve stakeholders during the life of a project. But project teams don't tend to ask them how they are feeling about the project management processes, or assess the project management processes themselves until the project is over.
We know this is changing. We know project managers who love talking to project customers about how they feel things are going. It's an opportunity to find out what is working and what is troubling the customer. It's a chance to put things right before they go too wrong.
And customers love having someone to listen. They are happy to talk about what they value and how they feel, if we ask them in a timely manner and are prepared to listen to and act on what they say. You can listen to customers more effectively, and engage them in discussions about project value and success, without having to wait until the end of the project to do so.
Customer-centric project management is about continuously engaging stakeholders, and forgetting the post-implementation review process as the only way to review success. An immediate and simple feedback mechanism enables project teams to identify dissatisfaction in the project management process early and thus resolve it.
Putting the customer at the heart of how we do projects and using a process to tangibly record levels of engagement means that we can improve the chances of project success through continual and specifically relevant stakeholder dialogue.
Being customer-centric is a journey. Project managers don't suddenly change their entire outlook overnight, and talking about the customer is different from actually listening to them and acting in their best interests.
Using tools and processes to guide customer-centric thinking helps project managers see the results of engagement and demonstrate how things can improve, even on difficult projects.
Regardless of what we call the people who have an interest in the project, the approach of waiting until the end does not fit with the way in which work is carried out today and the way in which stakeholders (customers) wish to be involved in projects.