Is the Classic Triple Constraint in Project Management Still Relevant?
This is a guest post by Michelle Symonds.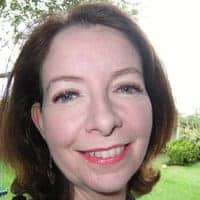 Projects always have certain constraints – there may be an urgency to complete a project because of external market factors, for example; or there may have to be tightly controlled costs because of a fixed or limited budget.
The project will also be expected to deliver on certain expectations including quality levels.
What is the Triple Constraint?
The most commonly used planning constraint method in project management was historically the "triple constraint" – time, cost and scope – sometimes known as the project management triangle or the "iron triangle" because it's often shown as a triangle with the constraints at each vertex.
You get a glimpse of Martin Barnes, inventor of the Iron Triangle, in this video on the history of project management.
Alternatively, you may see it represented as 3 inter-locking circles with Quality at the center.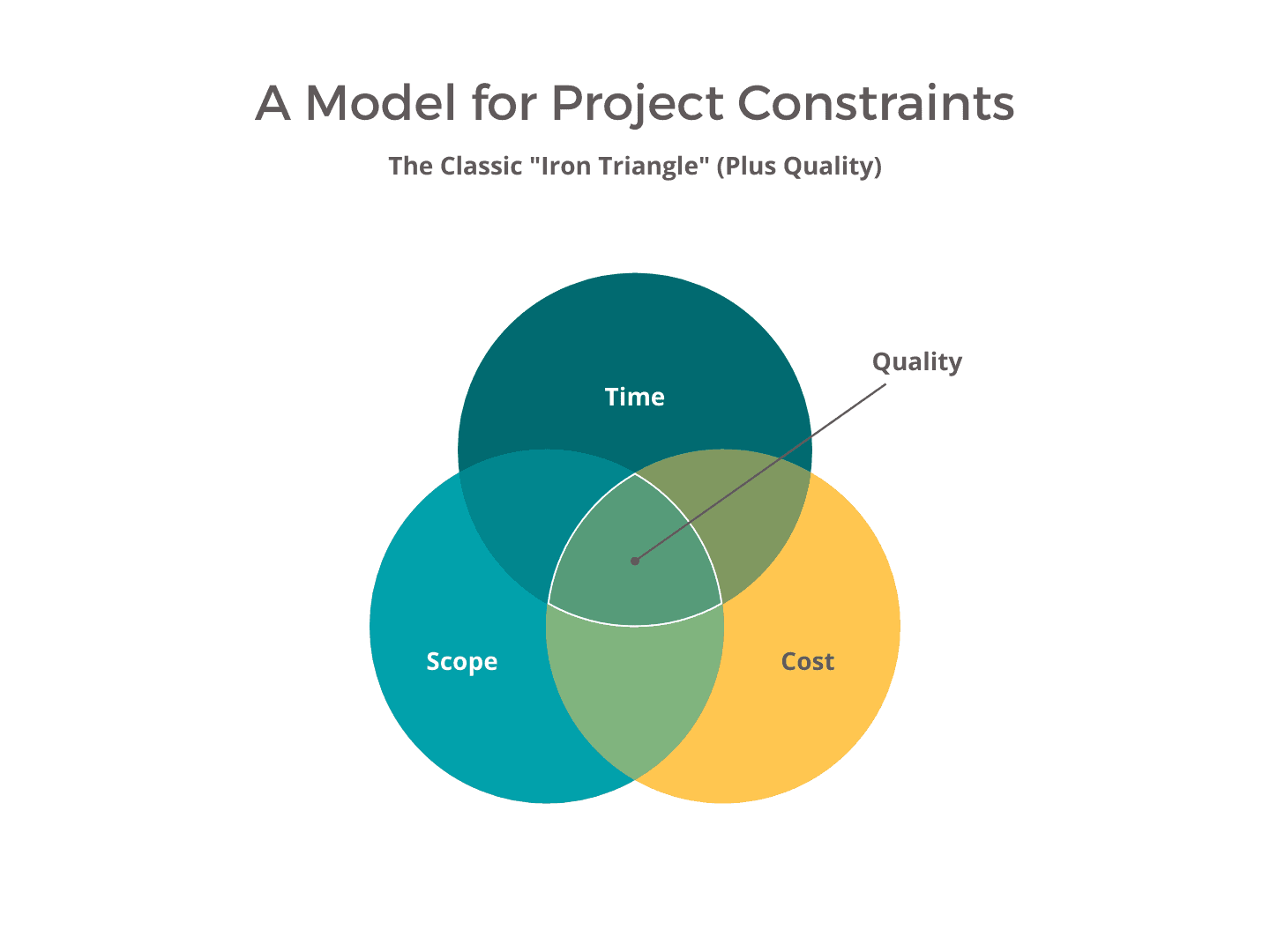 But even including quality as one of the triple constraints in project management omits other constraints that have proved to be equally important.
Factors such as risks, resources (human and otherwise), expectations or even R&D or technology issues for ground-breaking tech projects can be considered as constraints.
Since managing project constraints is such a major part of effective project management, many practitioners have expanded the constraints model to a diamond shape to include Quality as a key constraint.
It has been increasingly recognized that even this does not go far enough and a 6-pointed (or more) star is proving to be a more realistic constraint model for today's projects.
Why are project constraints important?
Whatever shaped constraint model you choose to use and whatever constraints are deemed most important for any particular project what is always true is that if one constraint is adjusted it will undeniably have an effect on the others.
So if you have taken the simplistic approach that there are only three constraints – Time, Cost and Scope – and you increase the scope of the project then it is fairly obvious that this will impact the amount of time taken to complete the project and/or the cost of the project.
Equally, once you introduce Risks, Resources and Quality to the mix then changing just the scope again impacts quality, potentially introduces more risk and can also impact on resources.
It is balancing all of the constraints that is important to delivering a successful project – it's not rocket science but continues to be a challenge on many projects.
Read next: 5 Steps for Identifying Project Constraints and Dependencies
The problem with the traditional triple constraint in project management
It may still be possible to manage a project and deliver it successfully using the three simple constraints of time, cost and scope. Possible maybe on a simple project of a type in which the project manager and project team have previous experience, in which the costs are well understood and the scope is clear-cut.
However, once you introduce an element of the unknown or a new team or project manager even simple projects can face difficulties with this model.
Introduce some complexity and then risks, resources, quality and expectations all become major influences over the success of the project and the triple constraint model can prove to be lacking.
As with so many other elements of project management, the models and methodologies provide a sound base from which to develop a more tailored approach for a particular project and its circumstances.
Different constraints for different projects
Although most PM practitioners broadly agree on the important constraints in any given project, the details of the constraints will naturally vary from project to project as will their importance to the stakeholders.
Some customers or stakeholders might be prepared to be flexible with the budget if they ultimately get what they want, whereas other customers may be prepared to compromise on the deliverables in order to stay within budget.
There is rarely a project where some form of compromise is not acceptable and many businesses with long experience of projects will know to expect compromises along the way.
An old boss of mine used to say that if the client was 100% satisfied then we had spent too much money, time and effort on the project (but I won't tell you who that was…).
For a project manager, then, it is important to understand the finer details of each constraint on each project and to manage accordingly.
Customer expectation is perhaps one of the most difficult constraints to get right not just because expectations vary from customer to customer but because they might also vary between individual stakeholders – and can be hard to measure and clearly define.
Read next: 10 Quick Tips for Being More Customer-Centric on Your Projects
The impact of changing constraints
Managing constraints on any project is about balancing each of them to deliver a successful outcome. Any changes will impact other areas of the project and this should be made clear to all stakeholders at the outset – the big question is really how and by how much will change impact the end result.
Changes cannot be overcome by throwing people and money at a project, even if you have the resources and the money – beware of thinking they can. Extra cash and resources can simply put pressure on other areas such as dependencies, not to mention the additional management time required.
The classic project management triangle with the three core constraints of time, cost and scope is still relevant but perhaps limited in its approach. It is certainly still a useful tool to focus priorities when making high-level decisions about how to best balance these constraints for a successful outcome.
About the author: Michelle Symonds is the Search Marketing Consultant for Parallel Project Training and writes about a range of project management and general business topics. She is the founder of Ditto Digital and also Editor of the PM news site Project Accelerator.