The 5-Step Expert Guide To Choosing Project Management Software
(This post contains affiliate links. Read my full disclosure.)
Since my book Collaboration Tools for Project Managers came out, one of the things I'm asked frequently is 'how do I choose the right collaboration tool for my team?'
I'm delighted to be partnering with Genius Project today to bring you The 5 Step Expert Guide To Choosing Project Management Collaboration Tools.
It's everything you ever wanted to know about how to pick a project management tool for your team! I hope you find it useful.
Step 1: Start With The Problem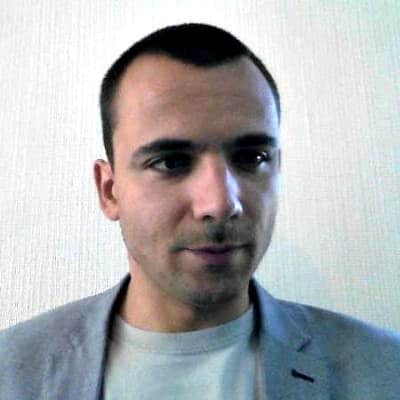 "The most important factor is the business pain that needs to be solved with the tool," says Maxime Villeger, Solutions Specialist and Regional Director at Genius Project. "Chances are, your company has several pain points. It's important to prioritize them in order to match your needs with the vendor's strengths."
Andrea Fryrear, Agile marketing trainer at AgileSherpas, agrees. "It's critical to step back and consider your team as a unit before you even start investigating tools," she says.
"Do they already work really well together, or should this purchase also be an opportunity to shake up your processes? If things are running smoothly then you'll want to find a tool that matches your current dynamic and workflow. If, on the other hand, there's room for improvement, then look for a tool that gets you closer to the kind of work you'd like to see your team doing together."
Step 2: Involve Users In Defining Requirements
OK, you can't involve every user in the selection process but you do need to take users into account. If you were managing this as a project for a client, you'd expect user involvement, wouldn't you? So choosing a tool for your PM community shouldn't be any different.
First you need to work out who is going to be using the tool. "Define the users based on what data you want in your tool," says Maxime. "Let's say for example, that time tracking isn't important to your organization. You may not need team members to use time tracking features so that isn't a critical requirement for the tool you use."
Think about the business problem you defined in Step 1 and the data you need to manage it. Then think about who is going to provide that data for you.
Now that you know who your users will be, you can start talking to them.
"It's important to get buy-in from the people who will be using the tool," says Maxime, who has 6 years of experience in project management and 10 years in the service and software industry. "This helps avoid complaints later on and it also sets the deployment process in place, since you already know what the needs are; what's left is to configure the tool to match your requirements."
"By far the quickest and easiest way is with a survey," says Andrea. "Grab a free online tool and ask each team member a few key questions. Then you'll have a bird's eye view into any patterns or commonalities among the team members' answers."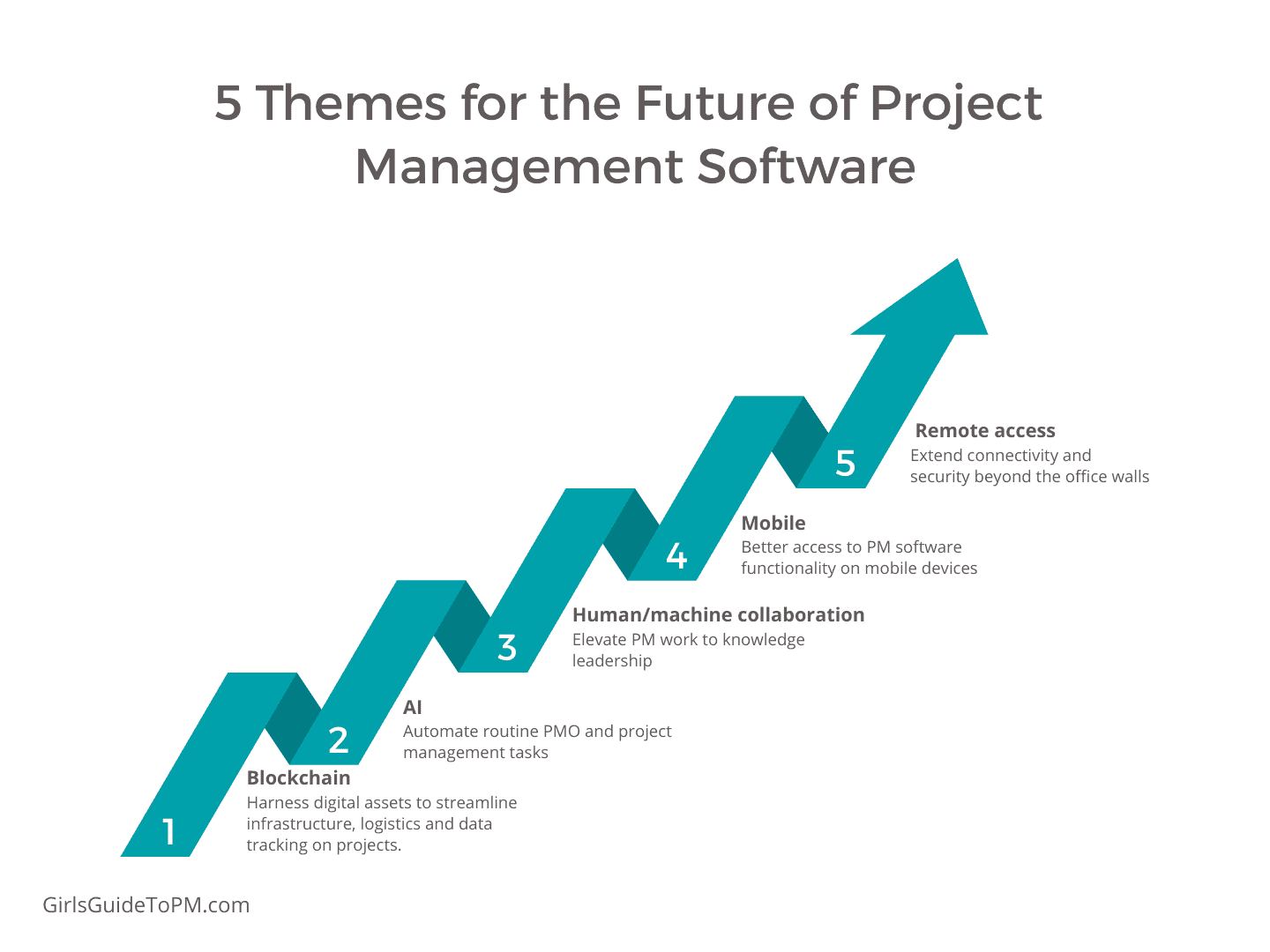 "Often, organizations will hire external companies to conduct interviews and surveys with the end-users," Maxime adds. "Another way is for the organization itself to hand-out standardized questionnaires to get feedback from their users on what their greatest pains and needs are."
Another requirement to factor in is how much the product will help you track and measure stakeholder engagement. "Too often, project planning models take support for granted or give lip service to it," says Rick Maurer, author of Beyond the Wall of Resistance (which I thought I had reviewed on this blog but I can't find it. I have definitely read it – a good book on working with stakeholders and leading change when it's hard).
"Not only do project managers need to try to build support, they need to be able to tell if they actually have gained the type of support they need," Rick adds.
Then you need to align practices and requirements internally by taking into account their input. It's good practice to document all requirements, assessment criteria and use cases. Because you'd do that for other implementation projects, wouldn't you?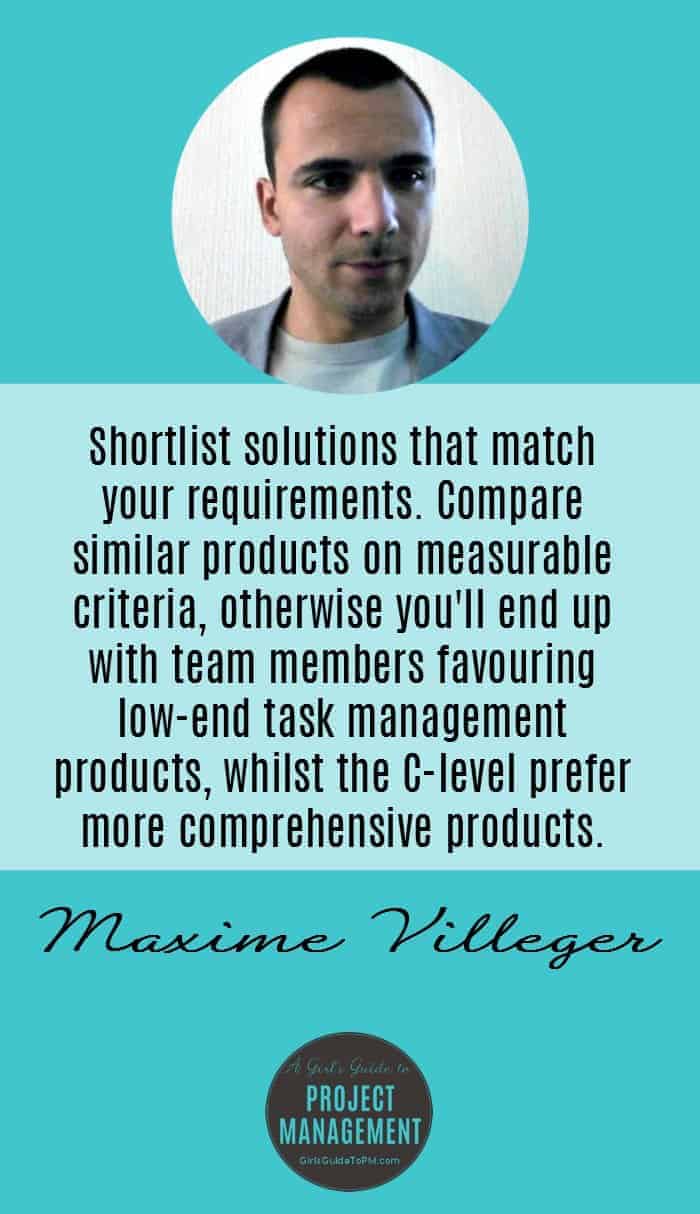 Step 3: Evaluate Collaboration Tools
At this point you know what your users need and it's time to start looking at what products are out there that could meet your requirements.
The hardest part is trying to compare solutions when 80% of the functionality is the same (I guarantee project management collaboration tools will have document sharing and task management features). The other 20% might differ wildly – from fancy scheduling algorithms to advanced collaboration features for virtual teams.
"You have to shortlist solutions that match your requirements only and compare similar products on measurable criteria," advises Maxime. "Otherwise you'll always end up with team members favoring low-end and easy-to-use task management products, while C-level will always prefer the more comprehensive products."
It all comes back to how the team works, or wants to work. "The increasingly real-time nature of projects means that more and more teams are shifting to an agile approach, but not everybody has made the full transition," says Andrea. "It's vital to choose a tool that both works for your team now, and can adapt to its coming evolution. This gives teams time to iterate on their processes without pressure."
Maxime also offers some additional factors to help you create a shortlist from what can be a daunting marketplace. You can also consider:
Vendor response time and service during the evaluation period
Delivery options i.e. buying vs. leasing and SaaS vs. on-premise
Industry expertise
The type of support offered.
Step 4: Consider Software Integration
At this point you are closer to your shortlist of tools and you've got a good idea of what products are out there that meet your needs. It's time to think about your existing software estate and how your new collaboration tool will fit with it.
That could mean integrating it to your ERP system, a client-management CRM system or an invoicing tool.
"Integrations really only matter if they will facilitate more efficient workflows for the team," says Andrea. "Simple tools that rely on dozens of integrations to extend their functionality may be a cost-effective option, but integrations can degrade after updates or be abandoned altogether."
"Think about where double entries will be required," says Maxime. "You can speed up workflows if you can avoid manually copying and pasting the data."
Andrea advises staying away from a reliance on fairly obscure integrations to keep your projects running. "It may be worth paying more for software that includes more of the functionality that you're after," she says. "While the up-front cost may be higher, there's no risk of your vital integration being unexpectedly deprecated."
Step 5: Measure The Change Impact
Finally, think about the change impact that your new tool will have on the team and plan for it.
"It's important to measure the change management impact when defining the first rollout objectives," says Maxime. "Address priorities only, so that users feel the solution makes their lives easier, rather than seeing the tool as another system to use, without understanding the output."
Slapping new tech in the team to help 'collaboration' isn't an excuse to do no change management. "Teams shouldn't confuse ease of sending messages with real collaboration," says Rick. New functionality is great, but it still needs to be supported by clear messages about how you are expecting them to use it and how they can get the best out of it.
One of the best ways to manage the change overhead is to find a tool that offers out-of-the-box implementation with the option to configure bits later. "That gives you the benefits of both standard software and custom options, and a system that's up and running within just a few days," says Maxime.
Making The Decision
This 5 step process should be all you need to come to the right decision about what collaboration tool will best support the work of your team.
If you need some help with the actual 'make the decision' part, check out this guide to decision-making on projects.
The hard part – the choosing – is done. Now you can put together whatever business case or justification documentation you need for the internal decision-makers so that you can secure the investment for your tool of choice.
Tired of researching software products?
Get fast & free advice from the experts at Crozdesk.com. Crozdesk's small team of dedicated Project Management software enthusiasts will compare 360+ products for you. Tell them your requirements and they'll match you with the right expert who can help.
No Obligations
Free Service
Exclusive Discounts
Expert Advice
Minimal Time Commitment
Get a Custom Comparison Report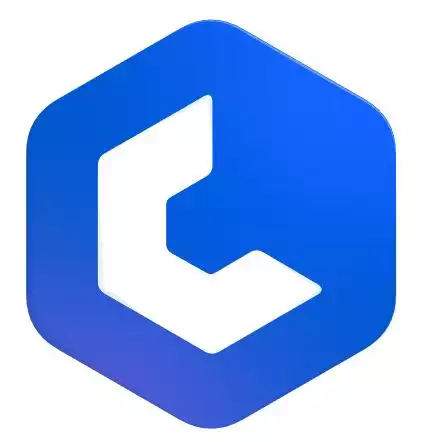 This service is free for you. I may receive a commission from the software company if you choose to purchase licences. #ad
Next steps
Get a business case template to put together your argument for investing in a tool.
Set up a meeting with the team to discuss what they want from collaboration tools and work management software.
Check out my archive of project management software reviews for some suggestions of top PM tools to consider.
I'd like to thank Genius Project for being all-round good sorts and for sponsoring this article today. A version of this article first appeared in 2016.