Teamdeck: Software Review [2018]
General information
Name: Teamdeck
Vendor: Teamdeck
Hosting options: Web only. It doesn't look like there is an app available.
Languages: English
Cost: Free 14-day trial, then the Startup plan is free but limited to 6 members without basic resources (which are people who don't need software access but you do want to be able to allocate them on resource calendars). Paid plans from a very reasonable $3.99 per user per month. Add those basic resources for another $1 per month. The paid plan also includes extra integrations and more support.
This article was sponsored by Teamdeck but all opinions are my own.
First Impressions
I'm not a great one for user guides or walkthroughs, so the first thing I did with Teamdeck was to click the handy 'sample data' button and generate a new example organisation with the data in. I think it's always easier to see how the tool should be used when there are resources, projects and so on there for you to look at. You get a lot of flexibility with sample data, so you can create a test organisation that looks similar to your own. Your test organisation and sample data will be deleted after 24 hours so you don't have to worry about it clogging up your user interface.
Let's get one thing straight: Teamdeck is a resource management tool. It doesn't do task management. If you need that, you can integrate with something that does do task management but I can think of loads of situations where you trust your team well enough to do their work and don't need to measure their productivity down to the last hour on a particular task. For example:
Agencies working on client projects
Teams working on campaigns
Teams working on one product, with each 'project' being the name of the current development iteration or feature being worked on
Software houses delivering products or customising products for a client
In other words, if you need to track where people are and what they are working on at any point, but don't need to monitor the tasks they do daily, then Teamdeck will provide the solution.
Creating a Project in Teamdeck
To create a new project, select the green plus symbol from the view of all projects. You can add custom fields to the project. These let you add extra information about the people you need to allocate, so you could use:
Software experience
Job title
Seniority
Billing range
Or anything that helps you better identify the kind of resources required for the project.
You don't have to add custom fields. Once you've added the project name that's about it: now people can book themselves to it.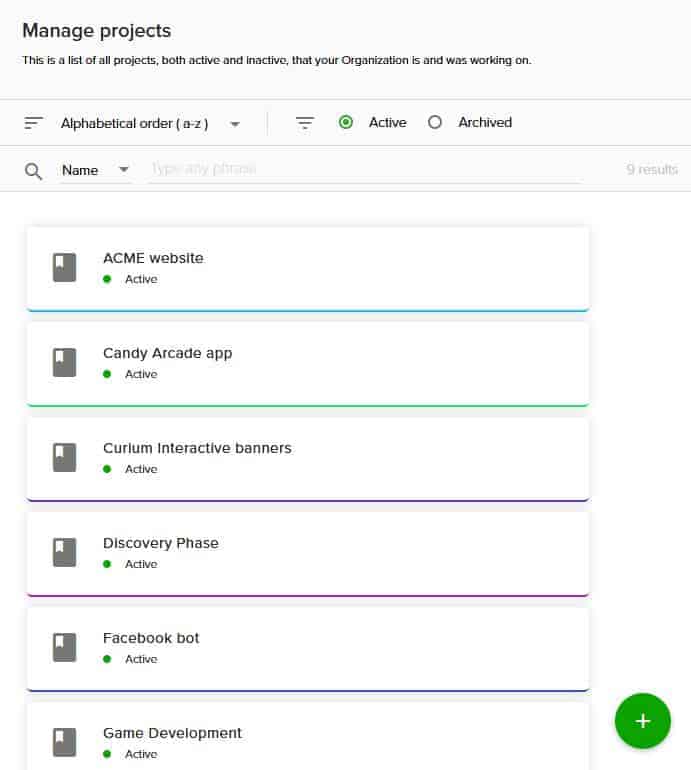 Scheduling
The team schedule is very visual. From this pane you can choose an activity and split it (the scissors icon) or highlight a day to add work or vacation time (the selection icon).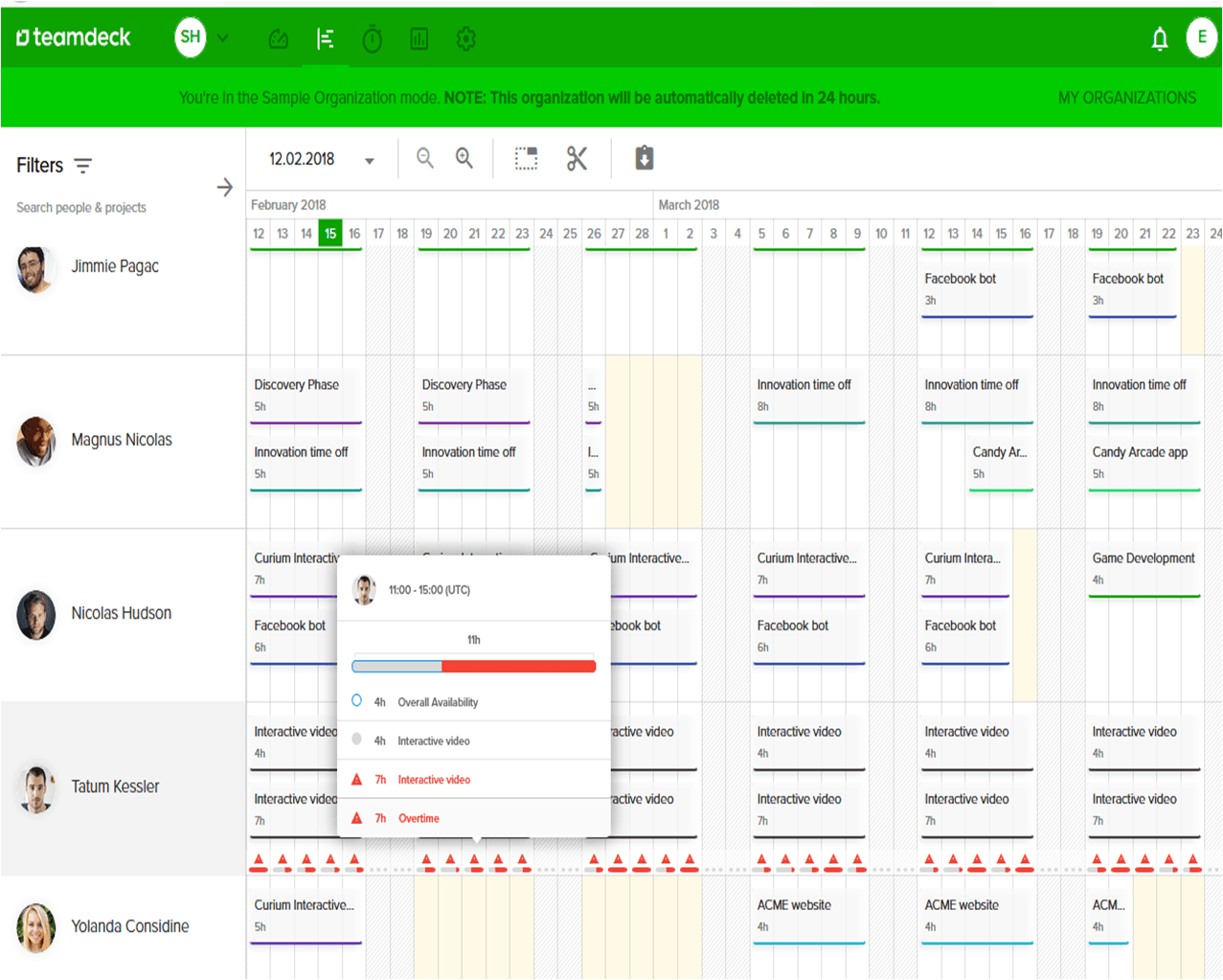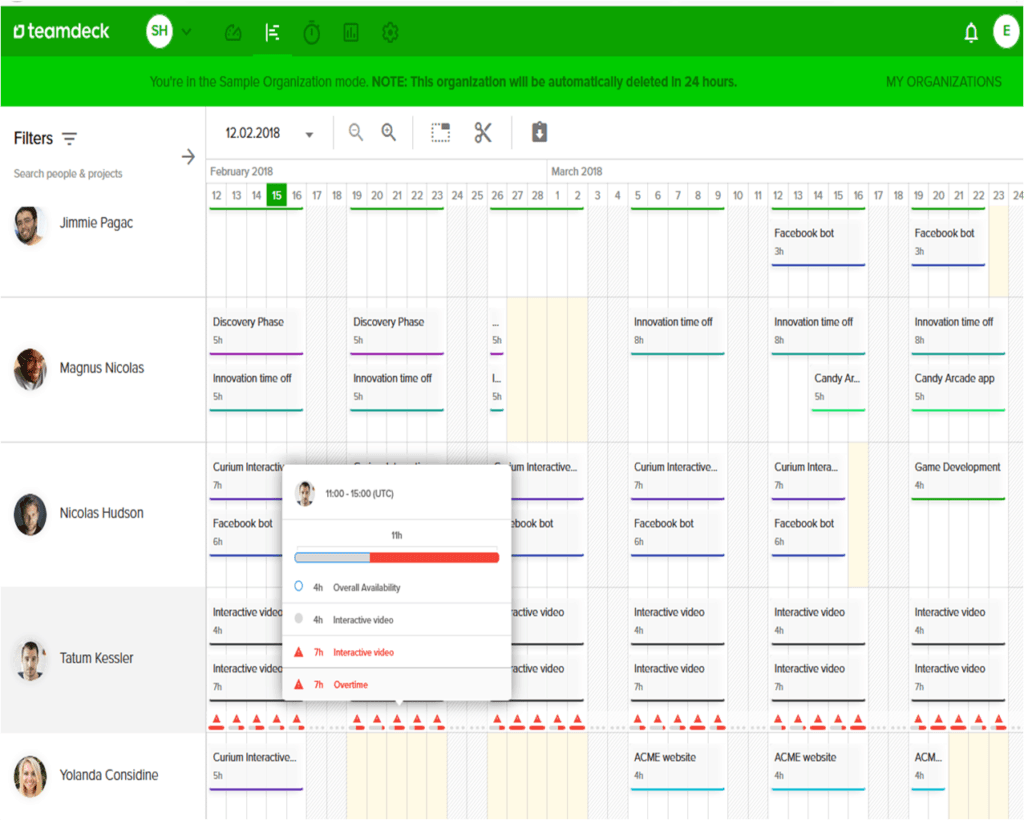 And you can export to csv! I don't know why I would have the need to do this, but I like the fact that it's there – it feels like a level of interoperability and transparency that would be useful one day!
Tracking Time
You can download a time tracking widget (Mac or Windows) to allow you to manage time within the tool in an accurate way. Or you can add time entries manually.
Click the activity, and then enter the time you worked in the pop up box.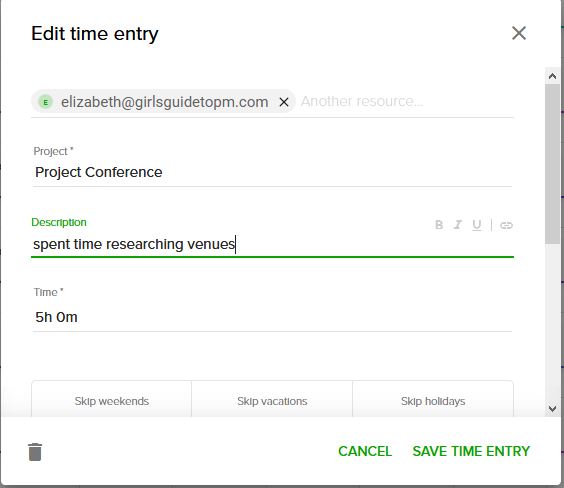 What I really liked about this is that if you enter the name of a project that doesn't exist in the system yet, it lets you add it right from the time entry box. This is a great timesaver if you have just picked up something new and perhaps the admin hasn't managed to add the project name yet.
Managing Time Off
I've not seen a vacation request workflow that is so straightforward: team members can apply for vacation time, and as the manager, you get a notification. You can accept it (or not) and the employee gets the confirmation.
You can also set up availability rules. For example, you can set a limit that says your team can only book 8 hours a day. You can also set working days and times. I like that it defaults to weekends being time off and you have to actively switch them on as working time if that's how your business works.
Once these parameters are configured, they flow through to scheduling and booking time.
Reporting
There's a lot of data in project management tools and I don't like having to dig for it. We're busy people, right?
That's why I love this resource utilisation chart that's part of the dashboard. Logging in as a manager, you can see the activities of your team and whether they are overloaded. Having this displayed so visually makes it easy for me to do my job of reorganising their workload for the following week so no one burns out.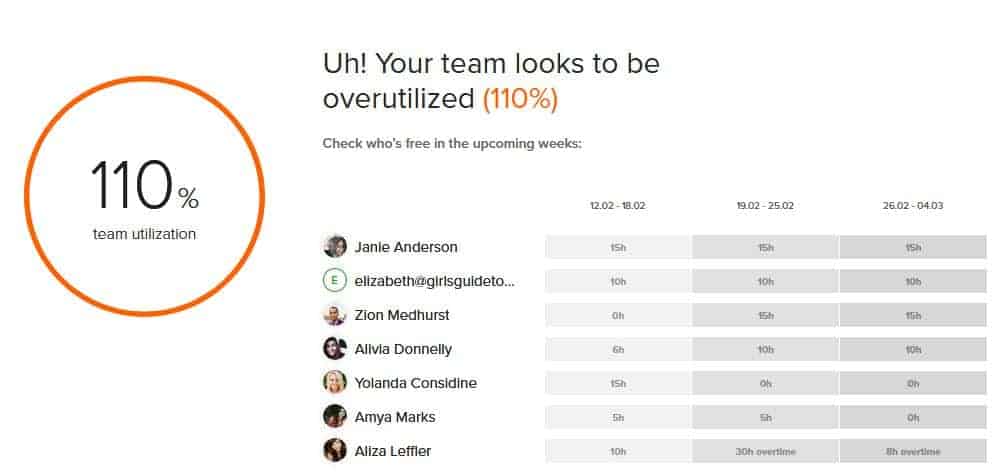 As well as resource utilisation, you can also get reports on time tracked per project and time tracked by month.You can track business KPIs of your choice, like ROI or employee cost, creating a custom report or using one of predefined templates.
Your reports can be shared with other people within your organization or sent over to the client.

In summary…
I normally review project management tools with more PM functionality, but resource management is a huge issue for lots of project managers. We discuss it from time to time in my Facebook group because it is such a headache.
I like Teamdeck. It's easy to use, has a very simple objective and gives you a clear understanding of who is doing what and when. As timesheet tools go, it's slick, modern and gives you the functionality required without being too onerous.
I think it's actually an advantage that it doesn't offer task level tracking. With today's knowledge economy, it's often hard to pin down knowledge workers to say they are going to do a particular task between 11am and 1pm on Thursday. We need some flexibility to trust our people to do their work the way they need to do it.
And, of course, if they need project schedules to manage at task level, this tool is compatible. In fact, I can see it being a perfect match in teams that don't use enterprise-grade project management tools for task management.
When you manage your schedule in Excel (don't gasp, people do, and we're all about the real world here!), a simple, professional, time tracking tool gives you everything you need.
Teamdeck has a free ebook on resource management best practices for project managers. You can get a copy here.