Your Strategy Planning Meeting Agenda (with Template)
Have you been asked to pull together a strategy planning meeting agenda? And you're wondering what other people do in their strategic planning sessions… I've been there!
In this article, I'll explain what a strategic planning meeting can cover and share a sample agenda you can customize for your strategy sessions.
Strategy planning doesn't just happen. You can't put people in a room and expect there to be a 3-year plan at the end of it. The conversations need a structure to help keep the pace and ensure the meeting runs smoothly. And that's where the agenda comes in, as part of your pre-meeting prep.
What should a strategic planning meeting include?
A strategic planning meeting should include:
A review of organizational objectives
An assessment of how you are doing against those objectives
Decisions around what needs to be sped up, slowed down, started or stopped in order to better align activity with the objectives.
If you think about the point of having a strategy discussion, it's really to either define the strategy or to decide if you are on track with delivering the strategy. What you need to include in the meeting has to tie back to those points.
In other words, what do you want to get out of your strategic planning process? Is it a new strategic plan? An update to the last one because something drastic has changed? A review with some 'light editing' to ensure decisions are being taken that keep you on track to meet your goals?
What goes into your meeting (and therefore, your agenda) will very much depend on where you are in the strategy planning cycle.
When do strategic meetings happen?
There's no fixed cadence for strategy conversations. Some businesses use quarterly meetings. Some might do a lot of planning during the existing structure of board meetings. As long as sufficient time is put aside for strategic thinking, you can set whatever frequency of meeting you like.
I would recommend quarterly review sessions, with a longer goal-setting session once a year, but do whatever works for you. If you are putting together your first strategy or doing a complete overhaul, you'll need to spend a lot more time on it to get the strategic process set up and the relevant data collected.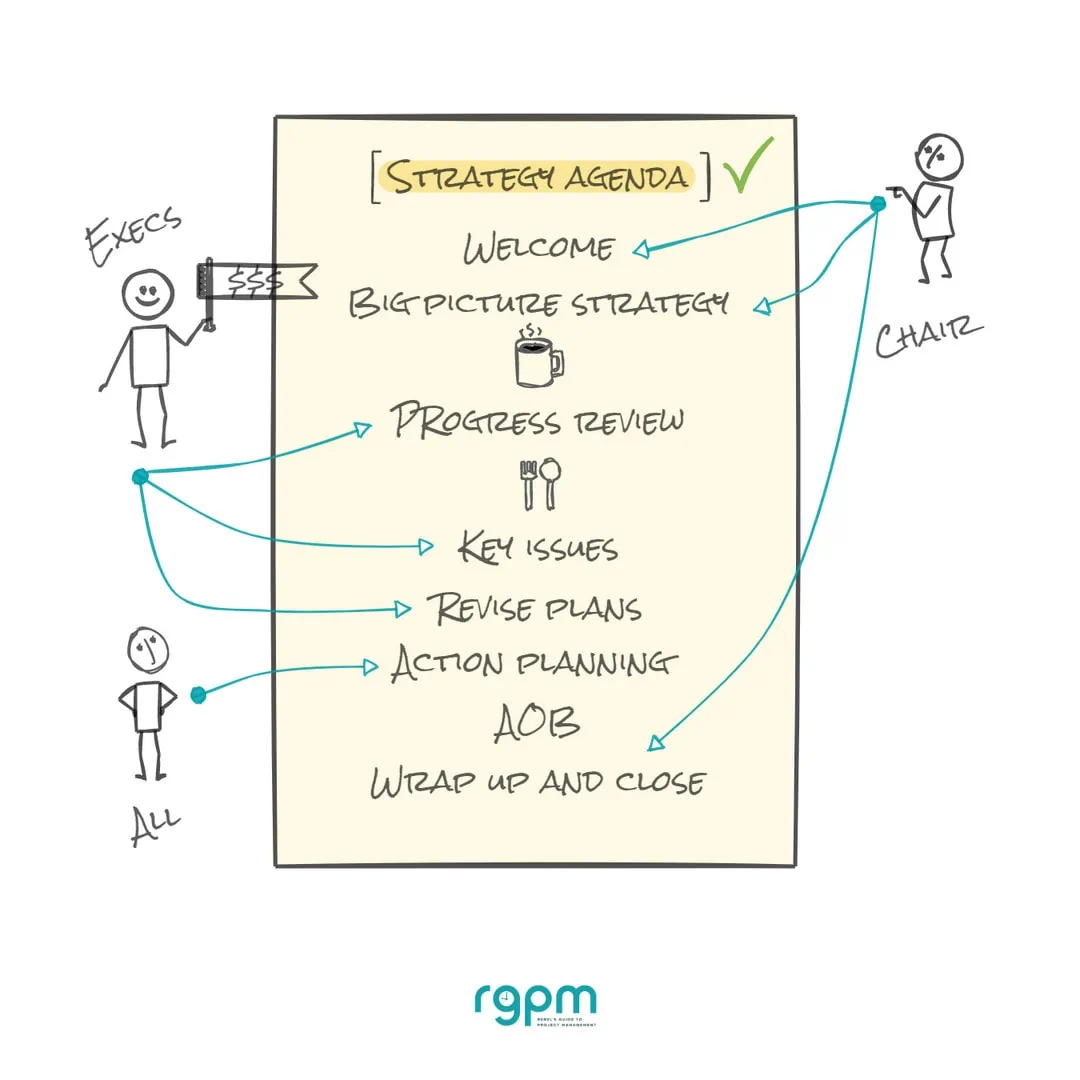 Sample strategy planning meeting agenda template
Strategy meetings tend to be quite long. You might put a full day or even two aside for your planning. For that reason, it's often better to do them in-person instead of remote, but these days do what works best for you and the team.
If you have to hold the workshop remotely, with people dialling in, make sure you schedule enough screen breaks.
Every effective meeting needs an agenda, and the great thing about strategic sessions is that you can tailor the agenda to cover the topics that would be the most valuable to wherever you are in the planning cycle. The strategic planning agenda below assumes you are meeting in-person, and is suitable for a strategic review session.
9.30am: Welcome
Use this time for introductions. Do an ice breaker exercise if your attendees won't think it is cheesy (mine would). Share the meeting objectives and make it clear this is a strategic meeting so people don't get carried away with the detail. Discuss ways of working e.g. no using mobile phones.
In my experience, the people attending strategy meetings are switched-on leaders who will carry themselves in a professional manner, so I wouldn't worry too much about setting ground rules, but if you think they would value having some guardrails for acceptable behavior during the conversations, then by all means add that in.
10am: Big picture strategy
Present the overall roadmap, for example, a timeline for the 5 year plan. Make sure everyone is clear on where the organization is going and what big chunks make that up. For example, perhaps you have a couple of different portfolios that support the strategy.
You can use this time to talk about the current situation, the company's strategy and how your department fits into that. This section should answer the question: where are we now?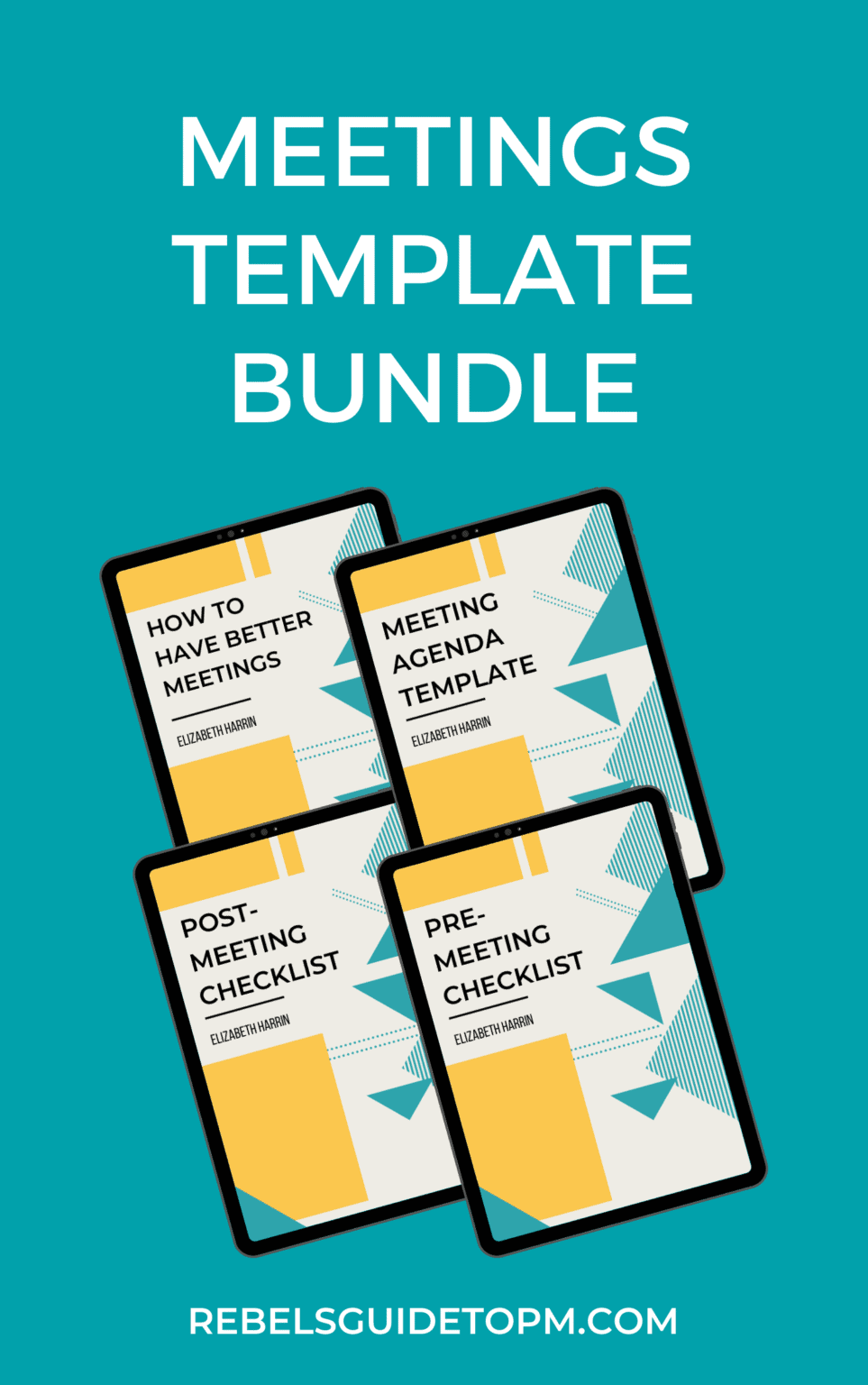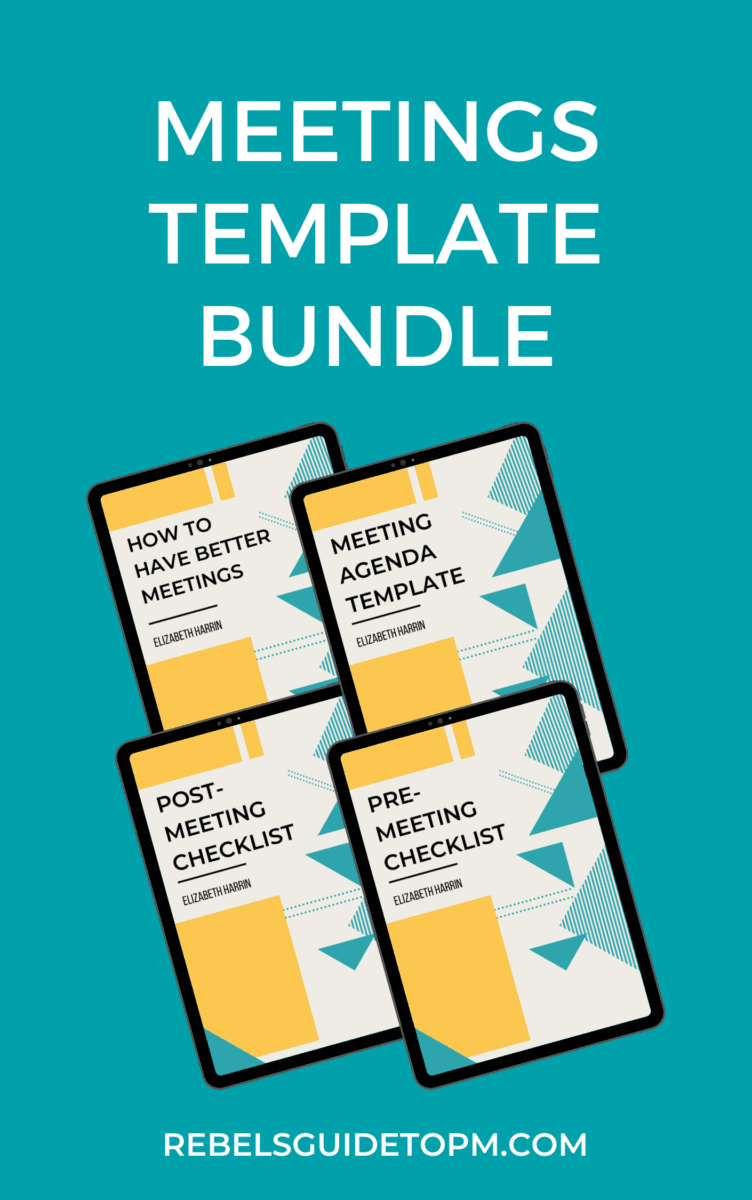 10.30am: Coffee break
Give people time for a bathroom break and to get something to drink.
10.45am: Progress review
Have each executive or leader in the room share their area's progress against their area of the strategic plan. They can bring in team members to present specific topics if that would help, and if their expertise is needed as part of the debate.
These presentations don't necessarily need to be formal, but they should cover what objectives the department is working to, how they link to the big picture strategy and whether they are on track. Talk about whether milestones are on track to be hit. Present the budget figures related to the area and the confidence levels around meeting those.
This section of the agenda might be long, depending on how many leaders you have to get round, so adjust the rest of the agenda to fit your timings. I'd suggest everyone gets 30 minutes but it depends on what you think they have to share and how much discussion there will be about each area. If possible, timebox the updates so you keep the meeting moving.
Alternative session: Where do we want to be?
If you haven't got strategic progress to report, use this time to:
Brainstorm where you want to be
Agree where you are going
Create a vision for the next 3 years
Document the vision and mission.
12.45pm: Lunch break
Schedule in some time to eat and return calls.
1.30pm: Key issues
It's worth parking the discussion of any major issues that affect multiple areas until after everyone has had a chance to present their updates, because then it's easier to see the bigger picture and what might be affected.
Use this time to review anything that dropped out of the morning's conversations. There might be new opportunities, challenges, resource constraints, market changes and more.
This section of your day should answer the question: what might stop us from getting where we want to go? Think about the values, skills, culture and risks that might block your progress.
2.30pm: Revise plans
After you've discussed the challenges or opportunities that present themselves, go back to the plans and see how that information affects what you are committing to do for the next period.
Agree changes as required. This part of your agenda answers the question: what do we need to do? If you do need to do anything differently in order to get back on track or head off in the right direction, this is where you should be discussing and agreeing.
3.30pm: Action planning
I like action planning! Strategy meetings should be all about decision-making, so you should ring-fence some time to talk about how to turn those decisions into action items. List out what needs to be done and allocate owners and timescales to each.
One thing that should definitely be on the action list is how you are going to communicate the decisions made today to everyone else in the team. Add them to the decision log. Make sure someone is responsible for creating and circulating meeting minutes.
This is an important part of the strategy meeting and it answers the question: how will we do it?
4.30pm: Any Other Business
Use this time for the 'one last thing' that people want to bring up.
5pm: Wrap up and close
Finally, wrap up the meeting, draw it to a close and if you are going to meet again, put the date in the diary. Then go down the pub!
Tailoring the strategy agenda
As you've probably realized, there is no one-size-fits-all strategy meeting agenda that will suit every need. If you are starting from scratch and are using the time to write your strategy, you'll need to put time aside for brainstorming new ideas, a presentation of market research analysis or feedback from customer focus groups.
If you are reviewing the projects that make up the strategy, you might bring each project manager in to present their project, before discussing as a team what initiatives need to be brought into the portfolio to ensure the strategic goals can be met.
The important thing is to always go back to the why: why are you meeting and what do you want to get out of the time? You can't go wrong if you start there.
5 Considerations for a strategy planning workshop
So you're ready to draw up that meeting agenda. Here's what to consider before you get going.
1. Set the objective
I like to write the objective for any meeting at the top of the agenda. It helps focus people's minds and keeps the conversation on track. Think about what you are meeting for and what the leadership teams are expecting to get out of it. Here are some examples:
To define the 5-year growth plan for the organization
To establish the projects we want to focus on to meet our strategic goals for the next 12 months
To review the new products we intend to bring to market in the next 3 years
To set the IT agenda for the next 24 months
You can hold strategic planning workshops for departments, teams or for the business overall. You can plan for the long term or adopt a rolling wave planning approach to plan ongoing. So which is it for you?
2. Let people know what is going to happen
Set expectations for the meeting. Let people know what contributions are expected from them. What do they need to prep in advance? Ask them for their agenda items – you might not include them as 'real' agenda items but it would help to know what talking points they intend to bring up.
Share any papers, timelines, business cases, strategy documents etc that make useful background reading. The more ready people are to contribute, the more you will get done during the meeting.
3. Prepare for conflict
As the meeting facilitator, you'll have a good idea of the topics that will come up. And the potential flashpoints. For example, there are always conversations about budget. Doing anything strategic seems to cost a lot, and investing in one area means another area doesn't get the investment.
Try to spot any sources of potential disputes in advance so you have pre-meeting conversations to manage expectations and ensure everyone comes to the session with an open mind (and the data to support their case). Healthy debates are to be encouraged!
Think about how to resolve conflict as a team if you can't get to consensus. There are several group decision-making techniques you could try. In my experience, it's often the most senior person in the room who makes the final call – strategy is not always a team game. It might not feel fair, but there are often political, economic, commercial and environmental reasons for decisions that might not always be clear to everyone in the room.
Whatever you think the outcome might be, have a few phrases to help facilitate the debate if it seems attendees are getting stuck. For example:
"Ultimately, it's Fiona's decision. Fiona, what do you want us to do?"

"Let's continue this conversation for another 10 minutes and if we aren't able to reach a decision at that point, I suggest that Henry and Priya book some time to review and come back to us with a recommendation next week."

"IT are the guardians of that process. Do you agree to that approach?"
4. Prepare to go off script
I've been in strat planning meetings where we started with an agenda and then went totally off script… and the output was all the better for it. It's great to have an agenda, and the template above gives you a starting point, but if it feels like the right thing to do is to delve into a particular area, then do it.
Strategy is too important to shortcut. If it feels like the meeting is taking longer, just say: "This feels like an important topic. Is everyone OK with staying with it for a little longer?" or "That isn't something we were going to cover today but it sounds like it's important that we get into it. Does everyone agree?"
Talk about what needs to be talked about. Strategy work takes time. The agenda is there as a guide but sometimes you just need to get it all out on the table.
5. Define success
What would a successful meeting look like? Sometimes it's going to be OK to just talk and debate until you get to the heart of your strategy. Other times you might want to go all in on a brainstorming session and success will look like 20 new ideas.
It might be that you want to gain agreement on three new projects or prepare an update to go to the next board meeting. Think about what would constitute a successful outcome and try to guide people towards that.
Your next steps
Agree the goals of your strategy meeting
Write the agenda
Socialize some of the ideas
Adequately prepare for the session so you feel ready to facilitate it
In this article you learned what to include in your strategy planning meeting agenda and what considerations go into planning a successful strategy workshop. Don't forget to grab a free action log template to record all the good stuff that comes out of your meeting. I hope it goes really well for you!
Pin for later reading