Software Review: ProjectManager.com [2016]
General information
I last reviewed ProjectManager.com in 2013. Time to revisit the software and see what has changed.
Name: ProjectManager.com
Vendor: ProjectManager.com
Hosting options: Online
Costs and plans: The Team plan for up to 10 users is $20 per user per month (this is actually cheaper than the equivalent plan a few years ago, which was $25 for up to 5 users). The next pricing tier is $15 per user per month and you can access enterprise support and premium training on the Group plan when you hit over 50 users. Free 30-day trial.
Languages: English
Currency: The timezone you select gives you the date and currency format for your account.
Basic Features: Building Projects
It's easy to create a new project. Click on Create a new Project and enter the project details – including the rate for resources and the project budget. It will then take you to the enter task screen.
You can then enter tasks directly on to the project schedule, populating the Gantt chart on the right hand side as you do so (woo! A proper Gantt chart). You can also add dependencies and milestones.
You can upload documents to tasks from the schedule, and add documents to the main project itself from the homepage. This means you can store your Project Charter at a higher level to task-related documents like requirements specifications.
You can't have multiple projects open at the same time but you can see all your projects from the dashboard.
Other Features: Timesheets and Budgets
ProjectManager.com has timesheets, which is nice especially if you are billing clients for work. Previously I noted that team members could only complete them for tasks that are on the project plan. That's not the case now, so you can also record admin time like holidays, team meetings and the handy bucket task 'Misc'.
There is the functionality to add budget information and project expenses. In fact, it's really easy to add expenses. You don't have to assign an expense to a task but you can if you want to. You can also set it as a recurring expense (like payment to a contractor, or a monthly subscription) and forget about it.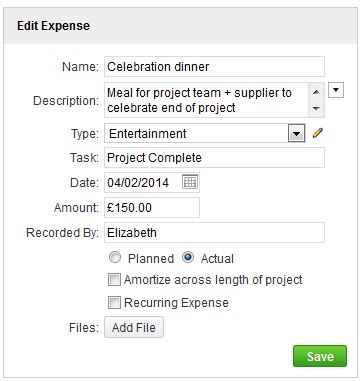 You can add financial rates for the project and also at user (resource level). I had to look at the help screens to work out how to do this but it's really not difficult. What it did make me realise is that it would be fantastic if the help pop up stayed open when you navigate away. If it only opened in another window it would make researching unfamiliar functionality so much easier.
Reports and Dashboards
I remain impressed with the reporting functionality. There are lots of out-of-the-box reports and a release last month introduced even more reporting features such as custom columns and useful tweaks to the workload reports. The dashboards give you a snapshot of the project in real time and are ideal for showing a summary of progress, risks and effort on one page – good for project sponsors and other stakeholders who aren't that good at reading status reports. Reports have the option of exporting data as PDF or Excel, or you can view it online.
There are also cost reports on time, expenses and the project budget that can be exported to Excel if you want to do more data manipulation. A particularly good thing is the Roadmap view, which gives you the high-level phases for each open project in the portfolio, allowing you to drill down if you would like to.

Collaboration Features
ProjectManager.com stress their collaboration features. There is discussion functionality, instant messaging and the ability to comment on tasks. You can subscribe to responses and it keeps a record of the conversation, which is useful for audit purposes.
There's also a neat feature where you can record up to 5 minutes of audio direct into the tool and share the resulting file with your team. I'm seeing this more and more now in other places where coaches and team leaders record short audio or screensharing clips to help direct the work of their colleagues or to provide feedback on a task. Let's face it, most of us can talk faster than we can type.

The company have also made huge improvements with software integration and as well as being compatible with the Microsoft suite and Google Apps they have also introduced integrations via Zapier. That makes it easy for you to link your project management software to your accounting tools, contact management system or helpdesk software.
There isn't any integration with social media tools but there is an iPhone app for team members who need access from their mobile devices. There are also Android and iOS apps.
In Summary…
ProjectManager.com is easy to use, especially if you have used MS Project and other more traditional platforms. It looks familiar and it is simpler to use than MS Project, which minimises the training overhead for new users. The basic user interface hasn't changed in look and feel since I last looked at the tool in 2013 and back then I said I thought it looked dated. It still does, perhaps even more so now web design ideas have moved on even further. For example, you have to save every item before navigating away – in many of the apps and websites I use today the saving is automatic. Still, it does prompt you to save so it's unlikely that you will lose any work.
However, if looks don't matter to you, and you think MS Project is overkill but you still want a Gantt chart, this is a really good option. While the suite of reports is impressive, it would be good to have more flexibility designing your own and perhaps an API to link with online accounting tools instead of limiting you to exporting financial data only to Excel. But overall, this is a good solid tool which does everything most project managers will need.