Software review: MyProjects Lite
General information
Name: MyProjects Lite
Vendor: Avellana Software
Hosting options: Web hosted
Cost: Lite version for iPhone/iPad is free. The free version only allows you to create 10 tasks, which is very limiting. The full version of this app is £2.49. I couldn't find an option to upgrade from free to paid, which means you will have to enter all your project information again in the paid version if you want to upgrde.
Languages: English
Currency: US Dollar. I couldn't change the currency, although apparently you can via the Preferences. Having said that, I couldn't even find the Preferences option. Maybe this is only available in the paid version.
Basic features: building projects
It is easy to add a new project. From the Projects tab, click the + symbol. Add a project name, summary description and allocate it to a category. The cost and time estimates are built up from the data you enter for each task.
It is also easy to add tasks. Demo tasks are included so you can see what you are trying to do. However, you can't add milestones. You can link tasks but it doesn't seem to achieve anything except to add a hyperlink to the tasks so that you can easily click between them. It does look like this is resolved in the paid version. You cannot reorder tasks and it is possible to schedule a task before a parent task. Not smart.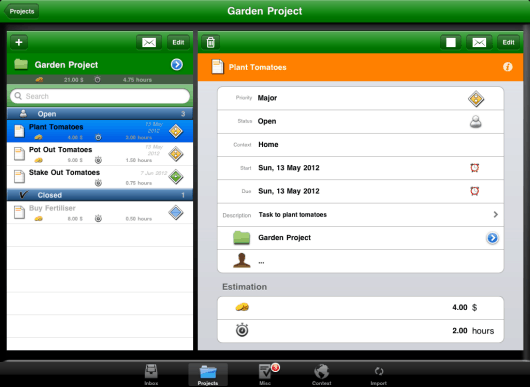 It is very easy to add resources. It takes the list of project resources from your iPhone or iPad contacts list, so you have to make sure the person you want to add is created there first. When their details have been imported into MyProjects Lite, you can then add a photo of them and some other details, although you don't have to.
You can't add an hourly rate to the resource and there is no time tracking option. If you want to cost out a task, you have to manually type in the estimate.
The biggest downside for this application is the way tasks display. The calendar view is poor. It does not show a calendar – it shows your tasks in calendar order on a list. I would have liked to see the tasks on a 'real' calendar, especially as there is no Gantt chart view or any other way to view tasks graphically.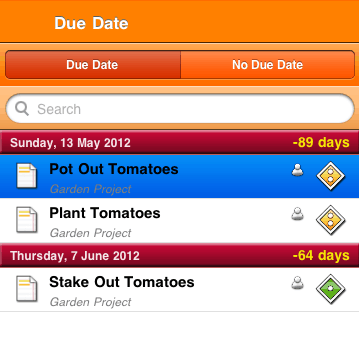 Other features: reports and more
This will be a short section. There are no reports. There's no version control, baselines and you can't have multiple projects open at the same time. It's a solid task management application, and it looks great. The interface is intuitive (mostly) and easy to use. I think other team members would like it, but it is really designed to be used by an individual.

The feature I liked the best was the easy integration with email. You can email task or project details from nearly every screen, to anyone. It won't automatically update you when something is overdue, but you can ask it to notify you and the app icon changes to reflect how many notifications you have.
You can set contexts for tasks and I think this is a good idea. It means you can view and group projects and tasks together, so all your work projects are shown together, all your personal projects are shown together and so on. I wasn't sure why it would be necessary to set a context per task? It makes more sense to me to set this per project, but contexts are not compulsory so you don't have to use them at all.
The in-line help is effective and context sensitive, but it would be nice for it to link to the features it recommends. For example, when I was looking for how to change the currency, the help screen directed me to the preferences settings, but without a link or direction on how to find this, I was stuck.
In summary…
MyProjects Lite, and it's paid version, are good for home and personal projects. There is not enough functionality for complex work projects or for it to be used effectively by teams.
If you are looking for a mobile task management app that is better than a to do list, then this would be fine. If you think in visual terms and like Gantt charts and calendars, you may be better off with something else, as this is a very linear product with few display options.