Software Review: ConceptDraw Office 4
ConceptDraw Review
Name: ConceptDraw Office 4. This is the suite of products that encompasses Pro 11 (diagramming), Mindmap 9 (mindmaps) and Project 8 (project management).
Vendor: CS Odessa
Hosting options: It's desktop software that you download, and there are versions for Mac and Windows.
Cost and plans: $499. Individual elements are priced separately as well.
Languages: English
Overall Impressions of ConceptDraw Office 4
There's a lot in this package.
What do you need all this for? Well, project managers – business managers of all types really – have to churn out materials to make themselves and their projects understood. From a Gantt chart so you can track what's going on, to the ability to draw out the project organisation chart, ConceptDraw can do it.
It's all designed to be comprehensive for whatever management task you are working on. And the data flows through all three apps, which is handy.
Its strengths are in the diagramming suite. Whether you are process mapping or mindmapping, the tool is easy to use once you get used to the interface.
There are an impressive number of ways to export data, pretty much everything you'd want to do in an office. You can export to PDF, Word, PowerPoint, Excel, Visio and more.
There are an impressive number of ways to export data, pretty much everything you'd want to do in an office. You can export to PDF, Word, PowerPoint, Excel, Visio and more.
Getting Started with ConceptDraw
It was super easy to install everything and get started. I was actually expecting it to take more time and be more complicated, given that these days most of the tools I use are cloud based. But it was a straightforward process.
The software has cloud-based activation for the licences, genius! Once you've gone through the purchase it's all activated behind the scenes so there wasn't any copying and pasting of licence keys.
Diagramming in ConceptDraw Pro
ConceptDraw Pro is the diagramming and drawing tool included in the package. You can either start from scratch or use one of the hundreds of templates. I also liked that it includes samples of the templates, so you can see what they should look like filled out, and how you can adapt them for your own use.
There are thousands of icons, connectors and drawing elements. Overall, I found it easier to use than Visio for creating flowcharts. You can import to and export from Visio so if you do need to share in that format with others in the team, you can.
Mindmapping in ConceptDraw MindMap
ConceptDraw Mindmap 9 has all the features that you'd expect from a mindmapping tool. You can add graphics to the mindmap, and they are nice, modern-looking graphics too. There's a selection of themes too.
I used to think that themes in a software were a good thing, but lately I've been of the view that you ought to stick to corporate branding, and it's unlikely that any free theme that comes with your software is going to align perfectly to your brand. So just watch for that.
You can hyperlink any topic, but it's really more than that. The hypernote feature lets you add text to explain more about the topic and several hyperlinks off to data sources or the web.
As you can also add attachments into the mindmap, you can create one that turns into a kind of virtual filing cabinet. I can see uses for this on a project where you just need somewhere to dump your files and ideas on a project before they get formalised into an 'official' document.
What I loved about it was the brainstorming feature. It's a blank screen with a countdown clock. It defaults to 10 minutes and you just type in ideas as they come to you. OK, I can brainstorm with my team, or by myself, but the addition of the clock is fantastic. It helps you focus your mind on what you are supposed to be thinking about, and it's fun.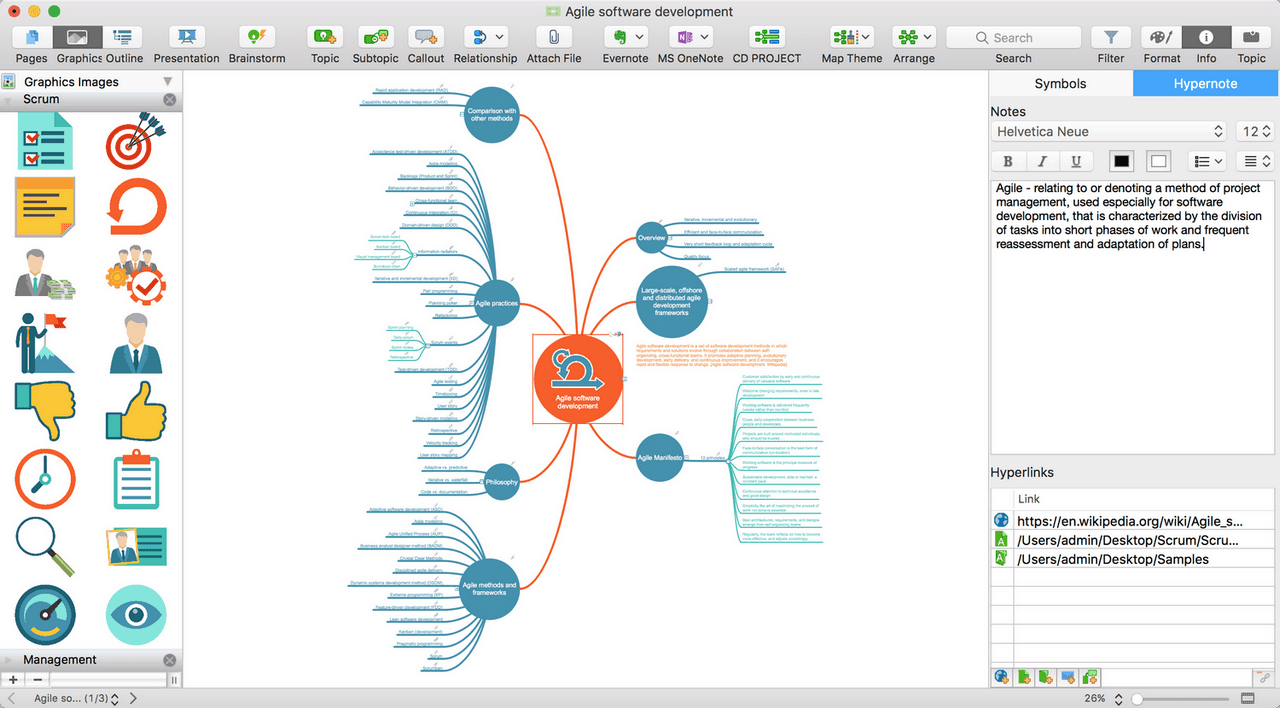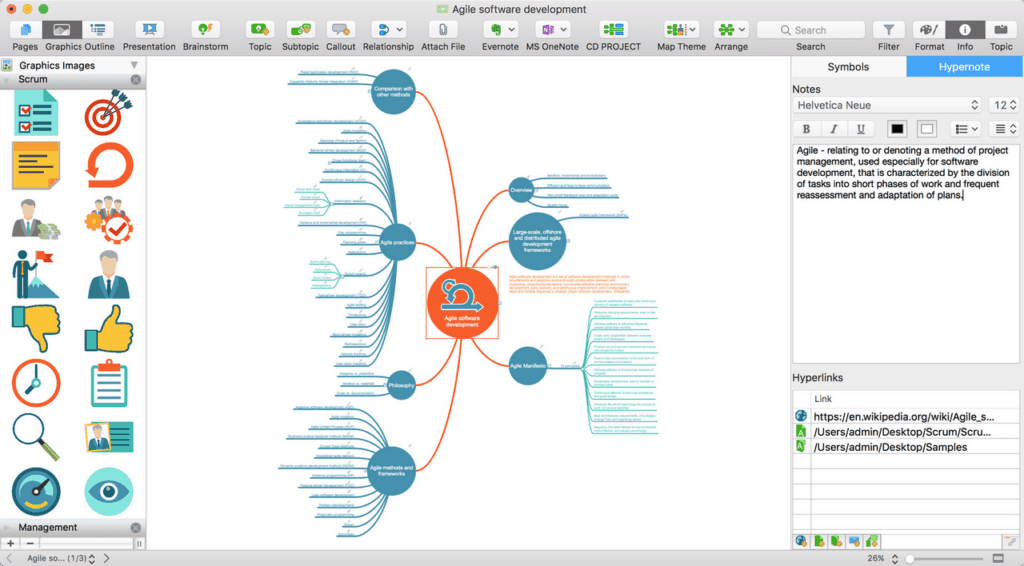 Managing Projects in ConceptDraw Project
Need a Gantt chart solution? Yep, that's included too.
It's a fully-featured project management solution, with a lot of the features you'd expect from MS Project. Resource assignments and management with a single resource pool, a dashboard that shows you all your projects, it's all there.
I liked it. As Gantt chart software goes, it's intuitive and I loved how easy it was to make the Gantt chart look meaningful. You can add colour to the bars and you can add stars to mark the priority of a task. Then you can sort by priority.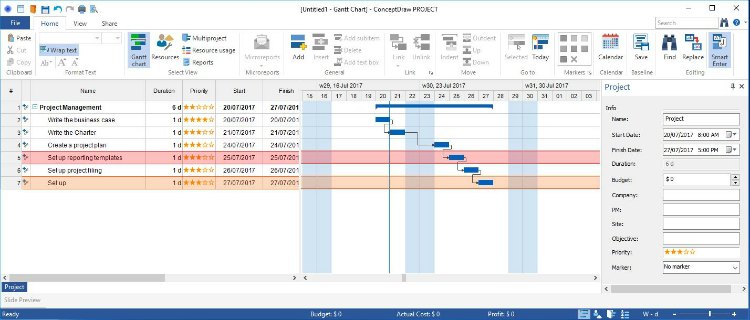 You can even email 'microreports' to someone – choose from the list of Today's Tasks, Milestones, Objectives, Assigned Tasks and others as a little prompt that they ought to be getting on with the project.
I think this is one of the best Gantt chart packages I've seen, and I've reviewed plenty (you can read my project management software reviews here). It's miles better than some of the online SaaS software tools, although I know a lot of what you prefer to use is down to personal choice.
In my opinion it's worth the money, if you don't want to go down the route of MS Project for your team.
Extending ConceptDraw
The products standalone, but you can go down the route of buying Solution Park options which let you extend them. Some of the options are free packages of graphics that let you do more with the products you have, such as the graphical elements you need for fire and emergency plans for buildings.
It's worth checking out the add ons because there are plenty offered at free and low cost and they could save you a lot of effort.
There's more advanced functionality too. I didn't test this, but I understand that the Solution Park options are how you get dashboards created in Pro to pull through live data from other systems.
My Summary Review of ConceptDraw
All the tools in the ConceptDraw suite are designed to be timesaving for people in management roles. Whether you need to whip up a quick presentation or share info with the team, these are enterprise-grade tools that are capable of doing the job.
I probably won't use the mindmapping tool that often, or at all, because I'm not a visual thinker and I prefer other ways of recording my thoughts. I'll use the diagramming tool from time to time, as and when my job demands. It's not something that I would have a core use for. These are robust tools if you have the need yourself.
However, the Gantt chart is great! I'd recommend that as a solid, professional solution giving you a comprehensive scheduling tool which is suitable for all sizes of project.
I wasn't paid for this review but I did receive a software licence so I could try it out.