Software review: Comindware Project [2014]
General information
Name: Comindware Project
Vendor: Comindware
Hosting options: Web hosted and locally hosted
Cost:Cloud service starts at $29.99 per user per month for up to 9 users. On-premise service starts at $450 per user (a lot, but that's a one-off fee). Fees decrease the more users you have.
Languages:English
Currency: No currency options that I could see
Basic features: creating projects
Comindware was a finalist in the 2014 Hot Companies and Best Products Awards for Most Innovative IT Software of the Year, so I was prepared to be dazzled by the product. At first glance, it doesn't disappoint.
It's simple to get started: click the '+' against the Projects tab and you'll create a Project dashboard enabling you to see any associated project activity. The system assumes that the project starts on the day it is created but you can change it with the calendar function. You can also pick a deadline for the project – very useful for fixed date projects when you want a bit of help scheduling.
It's easy to add tasks too: import them from MS Project or just type them in. By default the task is unassigned and active. Other than task name you don't need to fill out any other details, just click 'close'. However when I closed the task, and tried to open it again it took a bit of working out how to do it. You have to wave your mouse next to the 'Not set' indicator and wait for a little 'i' to appear. This could be made clearer, but once you've cracked it then it's an easy job to change the task details once it is open. You can set a deadline date for tasks, and a 'delay until' date but I couldn't see how you add a start date. You wouldn't need it if you can use 'delay until' but the terminology of 'delay' might confuse some team members. You're not actually delaying the task, you're setting a start date in the future. You can view your tasks on a timeline but you can't use that to move tasks around.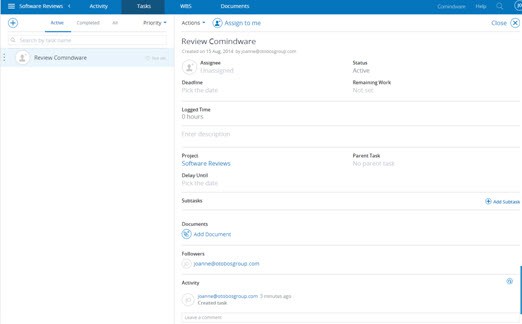 Comindware Project schedules projects using automated priority-based planning. The system schedules projects for you based on task priorities and resourcing. Tasks will be scheduled automatically based on their priority and assignee availability. Tasks with higher priority will be planned to finish earlier. When you make changes, the whole plan is rescheduled which saves time, but is a new way of planning for many people, and it relies on your task and resource data being up to date.
It's easy to set dependencies between tasks to help with that priority scheduling. From within an open task you can select an existing task for it to depend on. You can also drag tasks up and down in the task list to reset or set priorities. If you have a complicated project you can see the hierarchy from the WBS chart. Given that I can create dependencies, sub-tasks and baselines it seems strange that I can't set milestones. Maybe that's a priority based planning 'thing' but not something I have come across before.
The Gantt chart view is basic and you can't drag and drop tasks. But as Comindware does automatically reschedule work (shifting undone work to the future) it should always be up to date showing the real status of the project.

Reporting and timekeeping
There is a timesheets tab but I couldn't actually work out how to log time. Maybe I need to activate an individual's settings? Maybe it's not part of the trial version? I expect with a bit more patience I could have worked this out. Once you've got timesheets operational you can run reports for projects, choosing whether you want to see projects, people or tasks. Set it up as a template and you can clone it for other projects or parameters. If you want to use it for invoicing or billing you'll have to use the 'Export to Excel' feature.
Having said that, you can't set or track budgets or expenses, so you'll only be able to invoice for your time.
Overall, the reports are basic. For a project the reporting will show you all projects and can group by: active/inactive, sort by manager/start date/deadline/expected end and progress. You can export the information to Excel.
Sharing with your team
The product looks nice, and whilst there are some usability quirks it's easy to learn. A team member would check the 'My Work' tab to check on recent activity for their projects, tasks within them, timesheets and documents.
The concept for companywide collaboration is there. You can create a 'Room' which you can name whatever you want and you've the choice of setting the status to private or public. There doesn't look to be a limit on how many rooms you can create, and there isn't anything stopping you creating a duplicate room. If you do have a duplicate room I'm not sure how you'd merge the two together, but that's me speculating: I'm sure their customer services team could come up with a way. As the Rooms don't have to be associated to a project who'd be responsible for cleaning up redundant rooms? Not a problem of the software – more an operational thing to think about if you decide to implement it.
There are some other collaboration features too. At a project level you can also start discussions for that project. At a task level I don't think you can start a discussion but you can leave a comment. Both of these are then shown in team members activity feeds under 'My Work'. There are also email alerts.
I like the look and feel, it's easy to navigate. However if it's a big and busy project, or you are working on lots of projects, then your discussion feed list is going to grow long quickly. You can sort it by 'All' or 'Unread' but it would be nice to be able to sort by project or task as well. The search feature will help you find something in comments or in documents but that's assuming you know what you're looking for already.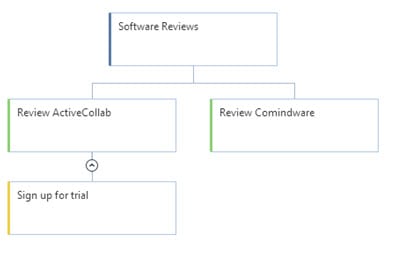 In summary…
The getting started guide takes you through the areas of getting started, managing a project, collaborating with colleagues and managing resources in a step-by-step way. That's great if you want to work through in that way, but if like many users you already know the basics and just want to know how to do a particular step then it's not very helpful as you can't skip through. You can click on Help though to take you to the website.
I'd say that Comindware is good for small to medium projects. There are limitations but I like the look and feel and it's easy to navigate around. The most complicated bit was understanding how it uses automated priority-based planning and how that impacts your scheduling overall – especially if you are used to using bigger/more complex/older software tools then this may be new to you. That automated priority scheduling is a real innovation, and if you are constantly finding yourself struggling to get people working on the right thing at the right time then it could be a major advantage for you.