I create a lot of slide decks, for work, for training materials and just because I like making graphics in PowerPoint.
I love a good template. It can make creating decks so much easier, and we all know how much senior execs like a good presentation. So will SlideKit's Google Slides templates make it easier for you to create impactful presentations more quickly? I spent some time investigating the product from all angles so I can confidently tell you what you need to know. (I tested with Chrome.)
Summary review of SlideKit: If you find it hard to know how to best present your content on slides, then check out SlideKit. It's a fast way of adding professionally-designed slide templates to your Google Slides presentations with just a few clicks.
What is SlideKit?
SlideKit is a huge set of more than 4,500 presentation templates created with Google Slides in mind.
While you can browse the SlideKit website to see what is on offer, you can't use the slides unless you are in Google Slides, with the add-on installed.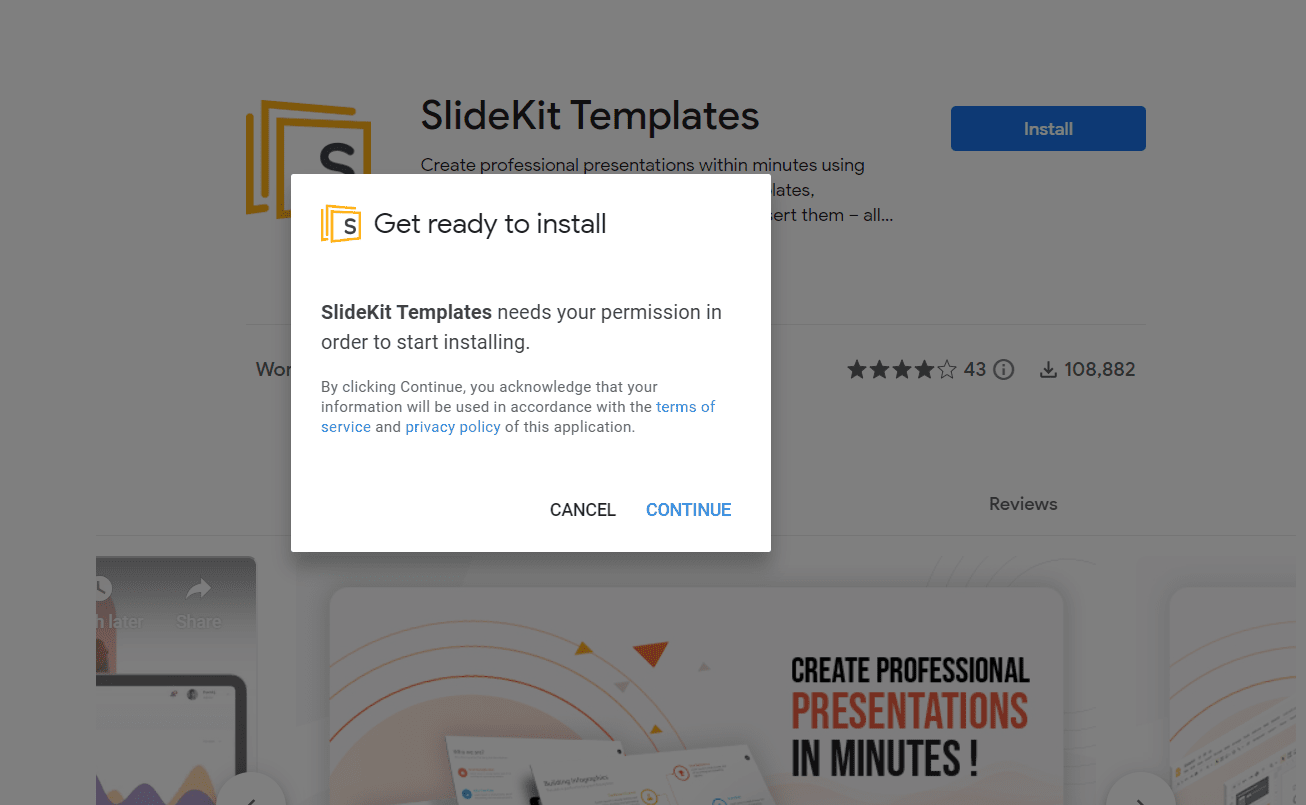 Slide quality and design
The first thing that is important to me is the quality of the slides. If I am using them for work purposes, they need to be non-cheesy. In other words, nicely designed.
My first search, for 'project plan' turned up only 3 slides. They were all fine, but not ones I would want to use. When I searched for 'timeline' I found a good selection of timelines including roadmaps, horizontal and vertical Gantt-style timelines, milestone charts and some others more like infographics.
Using the keyword 'Risk' gave me infographics on RAID, a risk breakdown structure, some risk assessment matrices and a few poka yoke diagrams which were cool.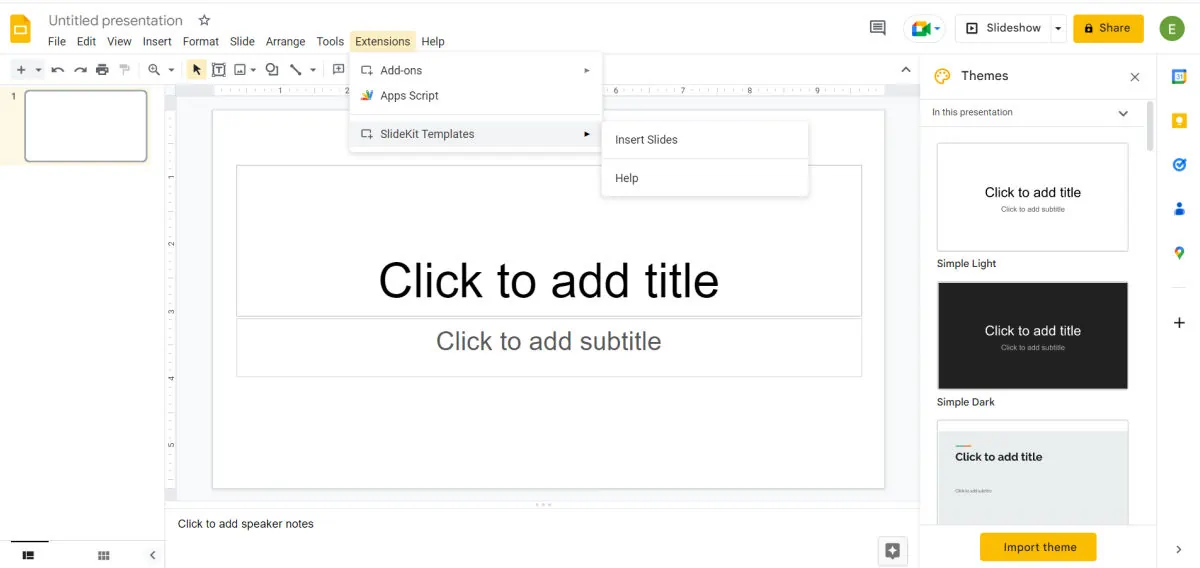 I also found plenty of general business templates like nice displays for meeting agendas. To save having a mismatch of slide designs, it would be good if you could find slides that were from the same 'family' so your conclusion slide was designed in a cohesive way to match your agenda slide. There probably are matching slides out there, but because of the way it is presented, it is tricky to find them.
I found some that I wouldn't use for work for me (like 'Happy Thanksgiving!' and cheesy turkey picture), but that would be OK in other settings, like an early years classroom.
Pricing
The essential yearly plan is a reasonable price, and if you build presentations for work, it will save you the effort of designing nice-looking infographic style elements for your decks.
There are over 100 free templates, which are fine – reasonable designs that you can edit to match your organization's colors.
Free users are expected to add attribution to SlideKit in the presentation, which is not something appropriate for corporate presentations but might be fine for other settings. Becoming a paid member removes the need for attribution.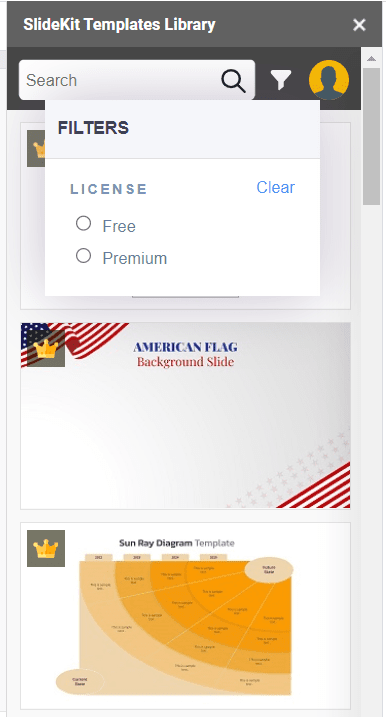 Ease of use
When logged into Google account, you can just click 'Use Template' and it opens up a new Google Slides document with the template loaded.
That worked fine from the website, but from within Google Slides itself, using the add on, you have to log in again so it recognizes you as a premium user.
Then, just search and choose what you want from the template sidebar, and click to insert the complete slide in your presentation. It's really very easy.
I read some of the other online reviews for the product, and found that people have difficulty logging in when they have multiple Google accounts. You need to only be logged into the account registered with SlideKit in order for the add-on to work. Otherwise Google Slides gets confused – this is an issue in the way Google Slides works and as far as I know, every add-on has the same challenge, but it's just something to be aware of. This wasn't an issue for me, as I was using a 'clean' browser window in Chrome and managed to log in fine.
Editing slides
It was easy enough to edit the slides I downloaded into my presentation. The design elements were grouped for ease, but once they were ungrouped I could change the colours etc and format the slide to fit the rest of my design.
Some of the elements cannot be recolored, for example detailed pictures and graphics that come 'as one' but the infographic elements can be changed to whatever color best fits your presentation theme or brand.
I found it a challenge to find similar style slides, and I would have liked an option to browse by theme or something like that. Then I could more easily select slides with a common look and feel, similar-style icons and so on, for a more cohesive presentation.
Advantages of SlideKit
Here are the main advantages of using SlideKit as I see them:
There are plenty of templates.
There's virtually no learning curve. It's really easy to use.
It integrates seamlessly with Google Slides, so it's good for time-saving.
There's really not much more to say. It does what it says on the tin.
Disadvantages of SlideKit
As with all tools, there are some things I wanted to work a bit better. Here are the limitations of SlideKit:
I found it easier to browse the website for the design I wanted and then go over to the Slides presentation, use the add-on and search for the exact design by keyword. You can see more slides on the website page than you can in the Google Slides sidebar.
There is no way to save your favorites so you can easily find them again. You can do this yourself by just making your own presentation of favorite designs, but it would be cool to have a favorite option to save you searching.
Ready to give it a go? Download the add-on for Google Slides for free, and check it out.  
I was paid for my time to review this product, but all opinions are my own.
SlideKit: Google Slides Add-on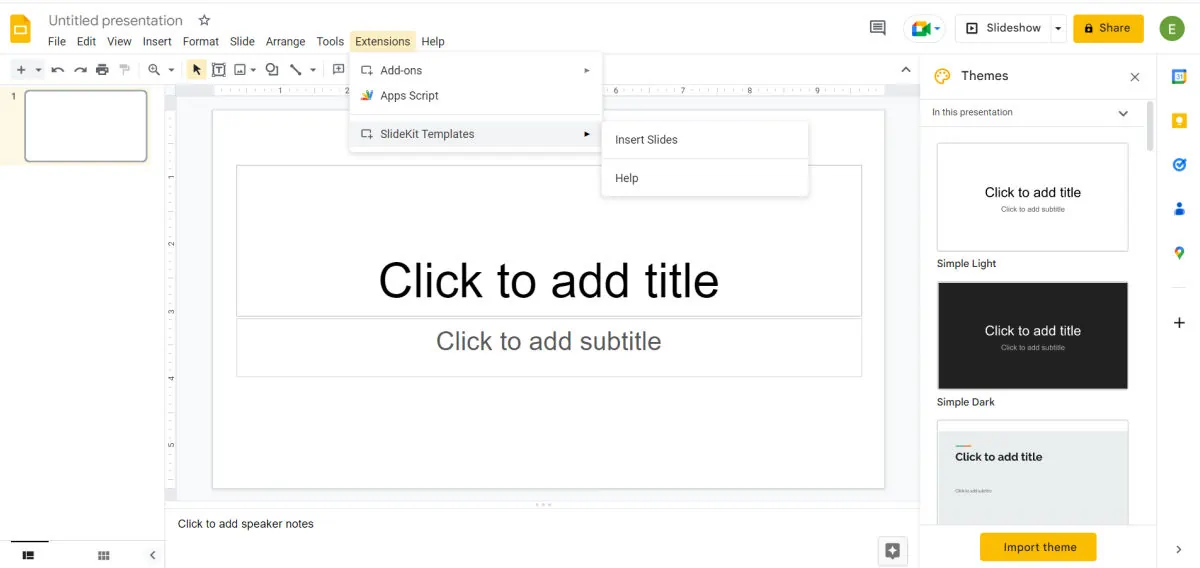 SlideKit is a fast way of adding professionally-designed slide templates to your Google Slides presentations with just a few clicks.
Price: Freemium
Operating System: Chrome
Application Category: Slides, Productivity