Sciforma Review [2022]
Read our review guidelines.
I was paid for my time to review the product but all opinions are my own #ad
Are you looking for a robust, scalable PPM solution that can manage the whole project life cycle and show you what's being worked on at any one time?
In this review of Sciforma, I'll share the pros and cons of this enterprise-centric project and portfolio management tool.
Summary
Product: Sciforma
Pricing: Licenced per user, per month. Pricing is on application.
Hosting model: On-premise installations or cloud. Web based.
Languages: English, Spanish, German, French, Hebrew, Japa, Polish, Portugeuse, Arabic
Website: https://www.sciforma.com/
Summary review of Sciforma: Sciforma is a
PPM tool
that has powerful portfolio management features and will
level up your PMO
. Fully configurable and perfect for hybrid projects, it has a lot of flexibility making it a great choice for departments running multiple projects.
Sciforma Overview
Sciforma's strength is in being a portfolio management software. While it does have project management capabilities and your project delivery teams will find it easy to use, the power is in the fact you can do a lot of portfolio level planning and reporting with just a few clicks.
The benefits of Sciforma are:
It works out of the box with configurable options so you can get going straight away
It helps you plan current and pipeline work
You can forecast the impact of a new project with a couple of clicks
You can identify and prioritize the most strategic projects, taking emotion and office politics out of the equation
It offers resource planning so you can keep your staffing model operating at capacity
It provides centralized reporting across the whole portfolio.
Who is Sciforma for?
Sciforma is designed for organizations running more than one project at a time – it's for midsize and large companies and it operates in the enterprise space.
It's an alternative to tools like Planview, WorkFront, KeyedIn and Upland, providing a portfolio management and project management tool. So if you have a handful of projects you are running from Microsoft Teams, you probably don't need this.
On the other hand, if you have many projects you are running in Microsoft Teams, and everyone is getting annoyed with the limitations of Planer, and there is no consistent portfolio reporting, then it's time to level up with Sciforma.
Sciforma offers projects, portfolio, strategy execution, execution and resource management across the whole enterprise.
Portfolio Management
I thought the portfolio management features of Sciforma were excellent. It felt simple to use and something that a midsized company could get behind without it feeling complex.
It offers full life cycle project pipeline management, from ideas through to execution, which makes it ideal for organizations who have a lot of potential projects and want a central way to manage and prioritize those.
The Ideas Center is your starting point. Use the Ideas folders to organize your projects by internal or external impact or just look at the whole list.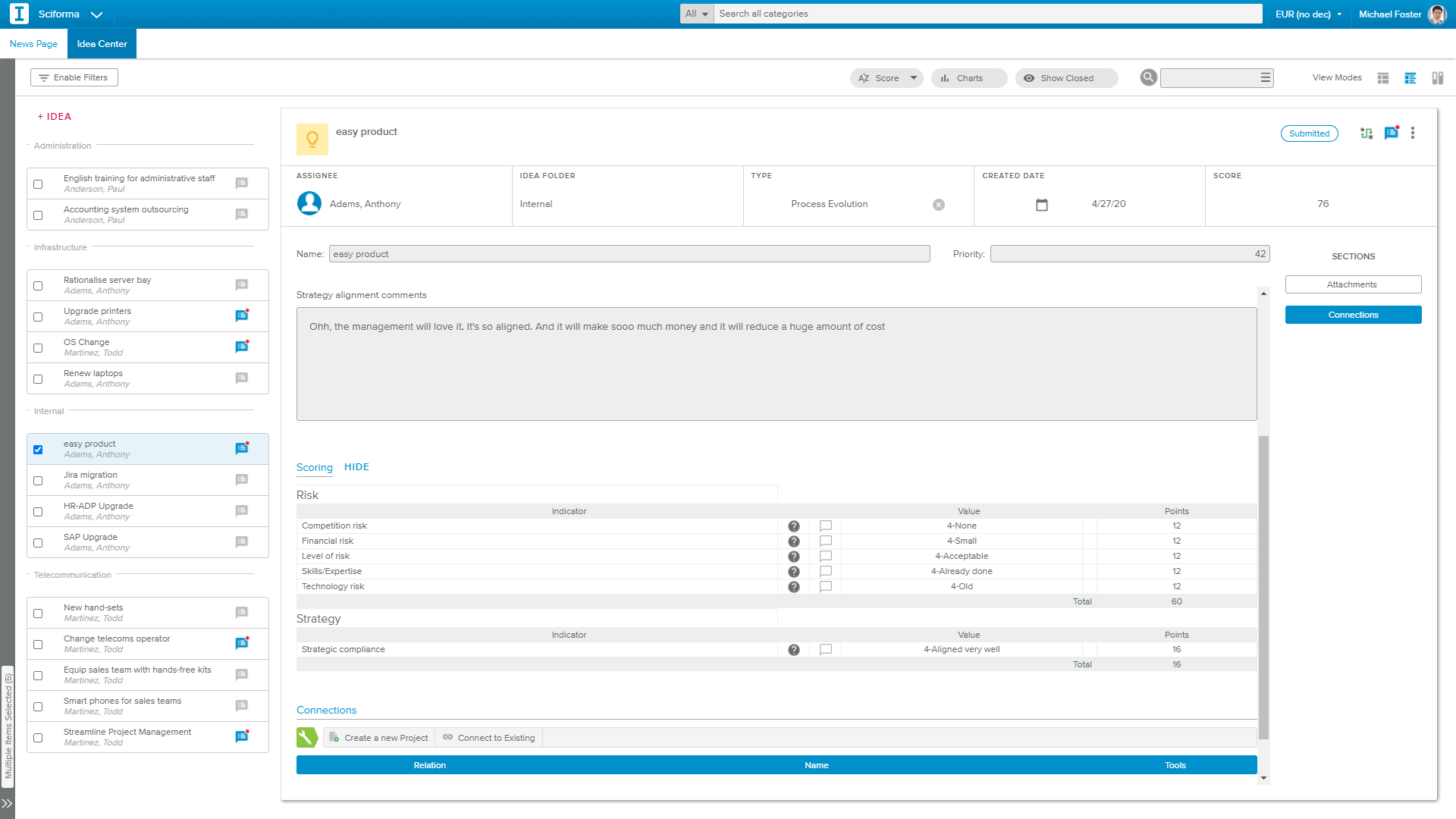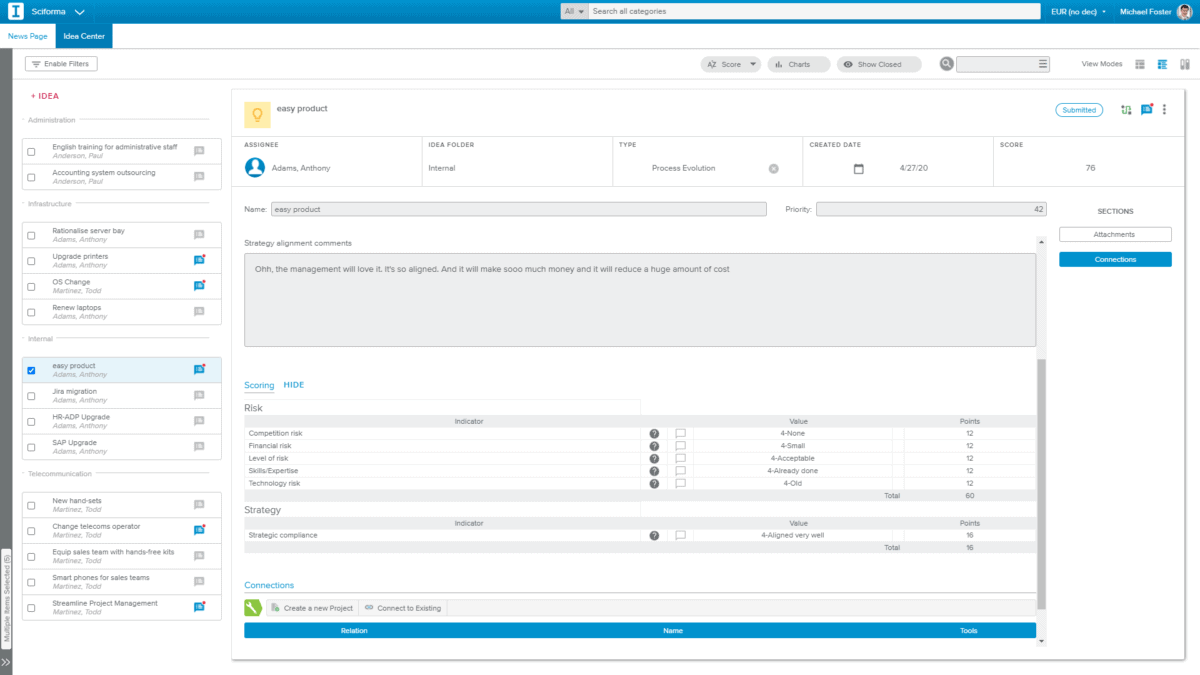 It takes about 15 minutes to create a project submission form that captures the data needed to record this potential project and log it in the system. There are templates you can use if you don't already have a project intake form you want to replicate in the system.
Bonus: As a portfolio office person you can overwrite what they have submitted – very handy if someone has sent a project request saying it's super urgent but you can tell from the details that in the grand scheme of things it really isn't.
Prioritizing Projects
The Ideas form data translates to a project score. You can use that, along with attaching projects to a strategic objective, to prioritize the work.
I love this feature. It's so important to draw that line between strategy and the purpose of doing the project so you can focus on the ideas that matter. The more aligned your ideas are, the higher the score, so it really matters.
Workflow Management
The good thing about configurable tools like Sciforma is that they allow you to tailor workflows to your existing processes. If you don't have an existing process, or your process is rubbish, you can use the suggested templates. But if you already have a process that fits your team, you can simply replicate it in the tool.
There's an audit trail so you can see how the project has moved through the workflow. It also sends out alerts and notifications so you can automatically alert people that need to know the project has changed status. Helpful if they need to take action to approve something or move the project on.
Run the software yourself
One of the biggest problems I have had with enterprise project management tools in the past is the issue of making changes.
I don't want to have to call the company every time I need a workflow tweaked or a form updated (and receive a hefty bill for the privilege).
Sciforma's goal is to empower customers to learn and configure it by themselves so they don't have to engage the Sciforma team to make changes.
This happens as part of the onboarding and set up of the product. The Customer Services Manager and consultants sit down with customers to encourage the change in adoption and make sure the team has what they need to be successful.
Tip: Make sure you have someone in the system admin role before this happens so you can make the most of those conversations.
Idea to Business Case
One of the templates I am asked for the most is a business case, and with Sciforma, it's all built into the system for you.
Once your project idea is logged, you can take it forward by making it into a business case (well, you don't have to, but that's the normal process). The business case covers all the things you would expect and is configurable so you can add additional fields and sections to add in any number of custom fields you might needs. It covers dates too, so you can prioritize projects by deadline.
The point of a business case is to help people come up with a timeline for the project and to help executives make the right decisions about finance. The business case includes financial projections and a timeline to do just that.
Let's start with the timeline.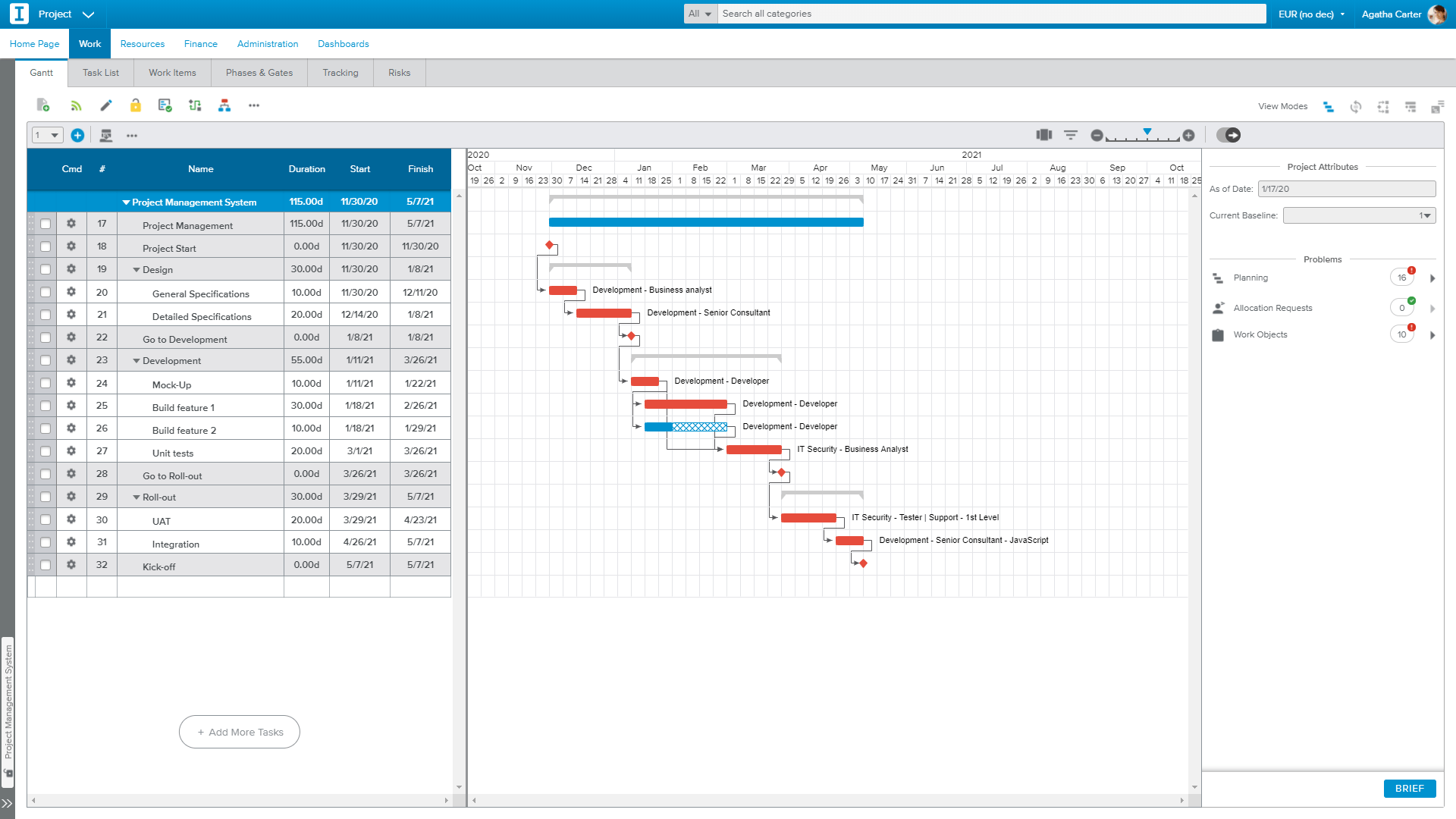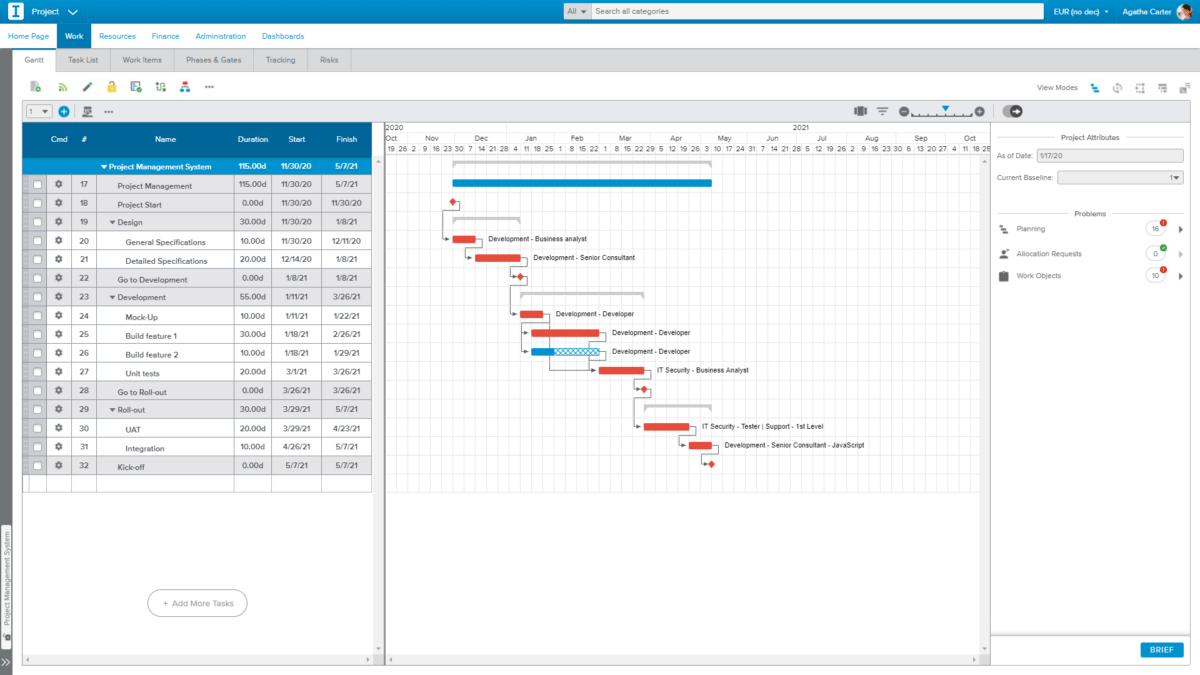 Managing project timelines in Sciforma
I thought you had to put in a full project schedule at business case stage, which seemed overkill to me, but you absolutely do not.
The Gantt chart view in the timeline section of the business case could be used for your full plan, but you only need to put in the top level. What's great about it is that this then becomes the outline plan for the project delivery team, so they are not starting from scratch.
In my experience, just the visual aspect of putting dates in a Gantt chart makes them more realistic than someone typing 'deliver by the end of the year' into a text box. You're encouraging teams to make reasonable and realistic date decisions by offering them timeline planning in this format.
You can do whatever level of planning you want here in order to make the decision. Build a high level or add in more detail depending on what you know.
It's super easy to create a Gantt chart. Like many modern Gantt chart tools, you can drag and drop tasks. The critical path is highlighted in red.
Assigning Roles
One of the major issues I see with business cases is that they assume people are just sitting around ready to work on the project as soon as it is approved (spoiler alert: that is never the case).
With Sciforma, you can manage realistic role assignments because all the capacity planning data is linked within the tool.
At this point, it's likely that you don't have the data about who exactly is going to do the tasks (or even what the detailed tasks are – remember, this is still the business case).
Instead, you can assign roles. You can use templates so you don't have to remember the details of what each team is capable of doing.
The soft assignment of resource role gives you the cost and effort for each task. Then that links to capacity planning so you can forecast when a team would be available to start the work.
Resource pool
I think you'd need the resource pool set up in order to get the best out of the tool. While you could us it without the resource pool for ideation and project management, you'd get the best out of it in terms of resource management if you had the pool created and ready to go.
Budget Management
You can build capex budgets. They then roll up for portfolio reporting to show the overall cost base. View the data bottom up or top down. Enter in any cost savings expected from the project. That will generate NPV, ROI, payback periods etc to help you make the choices about what projects to move forward.
Portfolio Ranking
OK. You've got your ideas. You've got business cases with timelines, resource forecasts and budgets – all of which are surprisingly easy to input and manage, as long as you have the data. Go simple or switch on all the features for more complexity. Next we have portfolio ranking.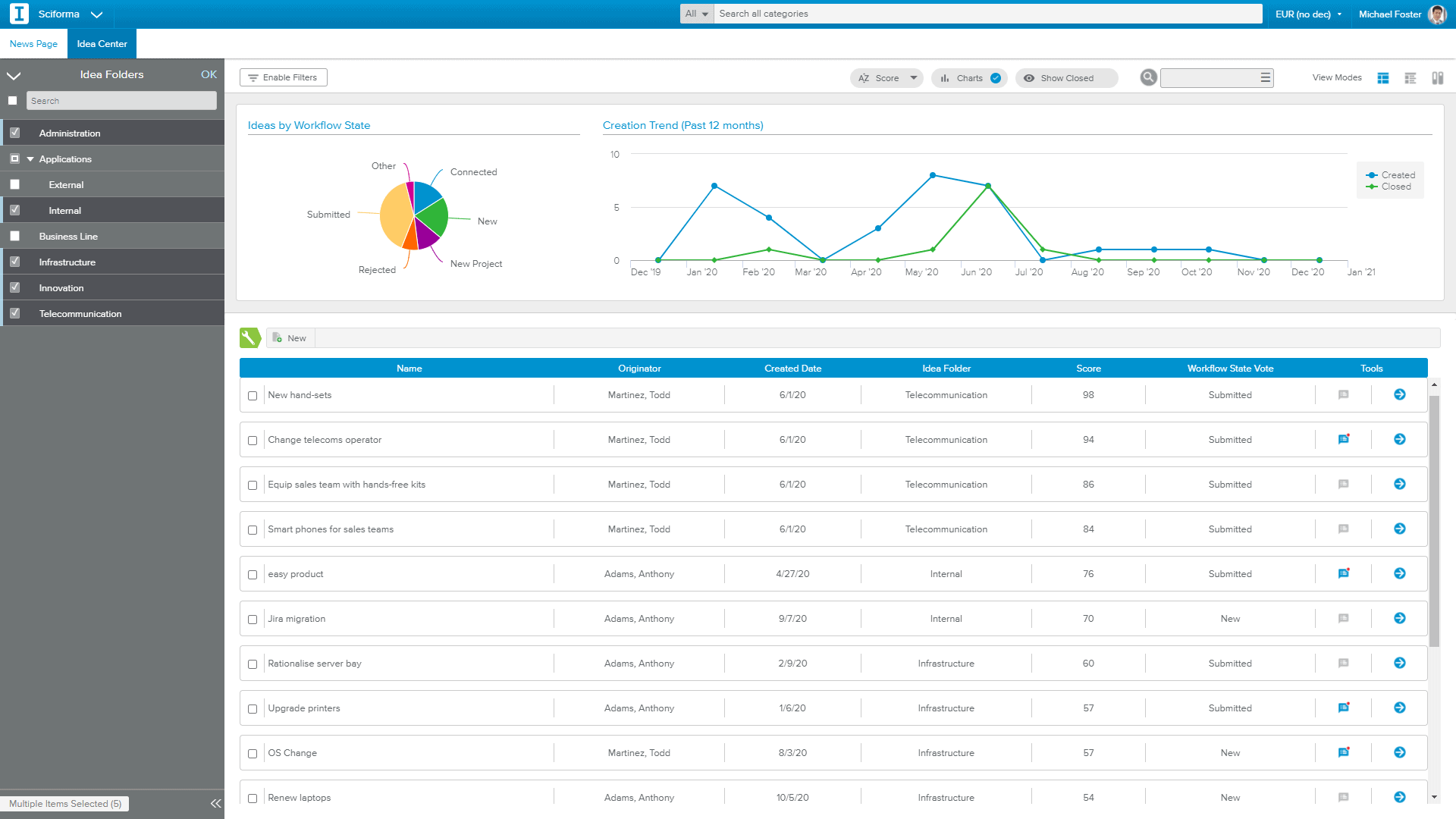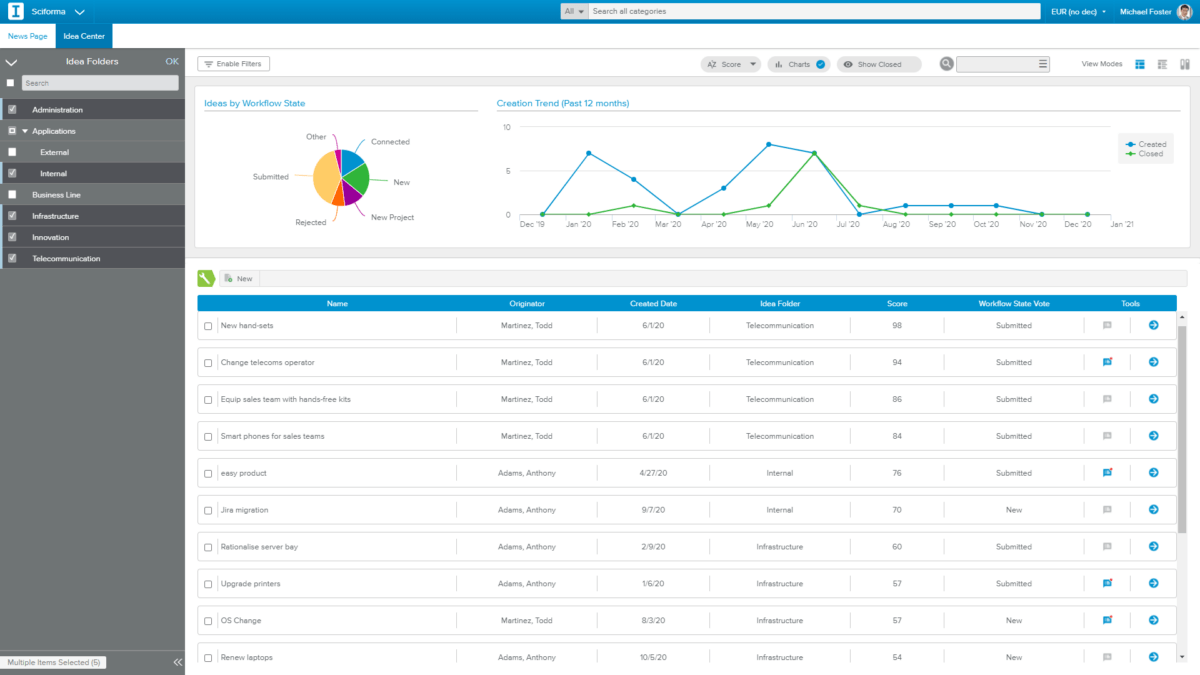 You can view the portfolio by quarter and by year, or set your own fiscal periods. You can then see available budget and that can help you make decisions about what projects can be done. As well as list view you can also see benefit view, priority and project scope.
The bubble chart makes it easier to see which projects come out top given your ranking factors.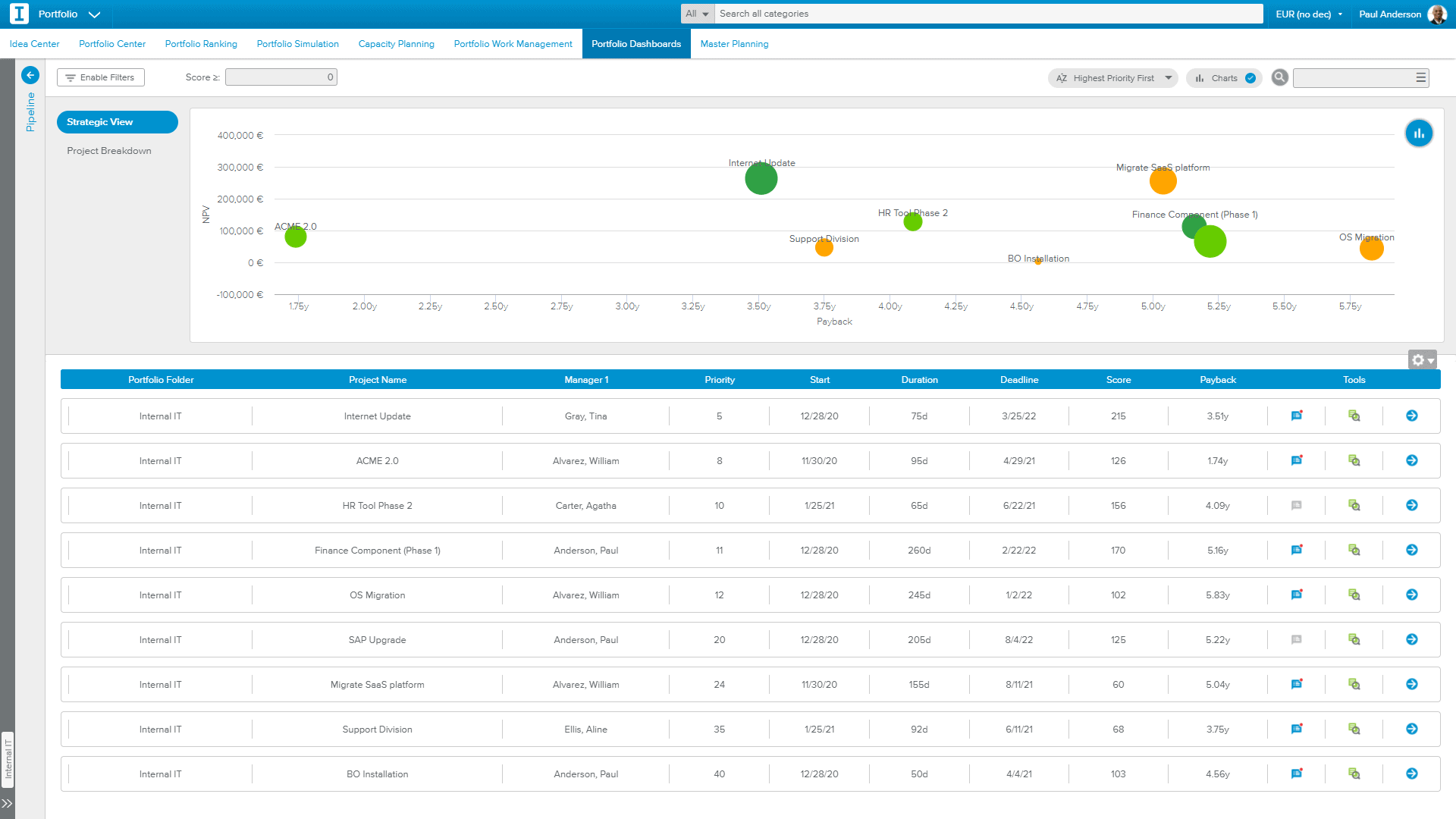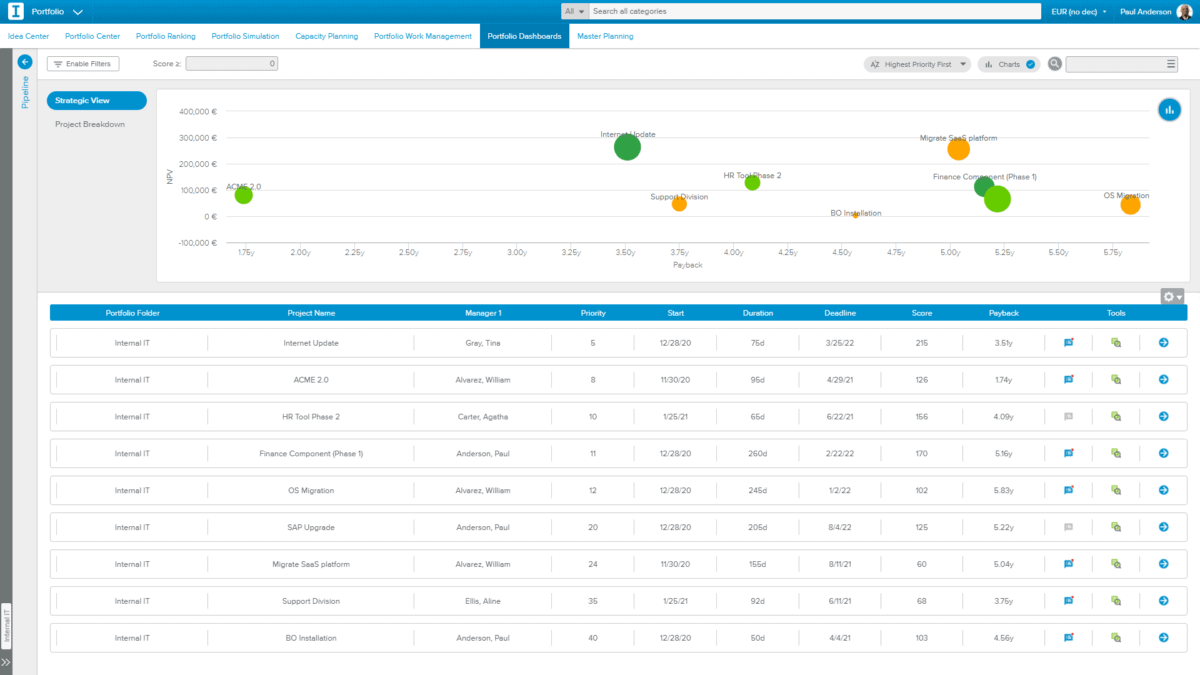 It covers 4 different metrics and you can adjust the axis to represent whatever is most important to you.
From the portfolio view, you can see the overall project brief to understand more about the project – you can see everything in report format or you can edit the project proposal or business case direct from the screen too if you have the permissions.
In other words, it's easy to drill down and see the source data.
Simulation
Portfolio simulation is a way of doing 'what if' analysis to allow you to see what would happen to the portfolio if you introduce other projects. This is a great feature. I can't stress this enough – it's the perfect way to show your execs the impact to resources, budgets and the timelines of other projects should they decide to authorize a new piece of work today.
What if analysis lets you answer these questions:
What would happen if I didn't do the project?
What would happen if I delay the project? (That updates the effort)
What would happen if I moved tasks in the project? (At a granular level you can move tasks around to see the impact)
This is where I can see customers getting excited because it helps them create a perfect portfolio mix. However, you aren't necessarily going to achieve this from Day 1 because you need decent estimates and that takes effort.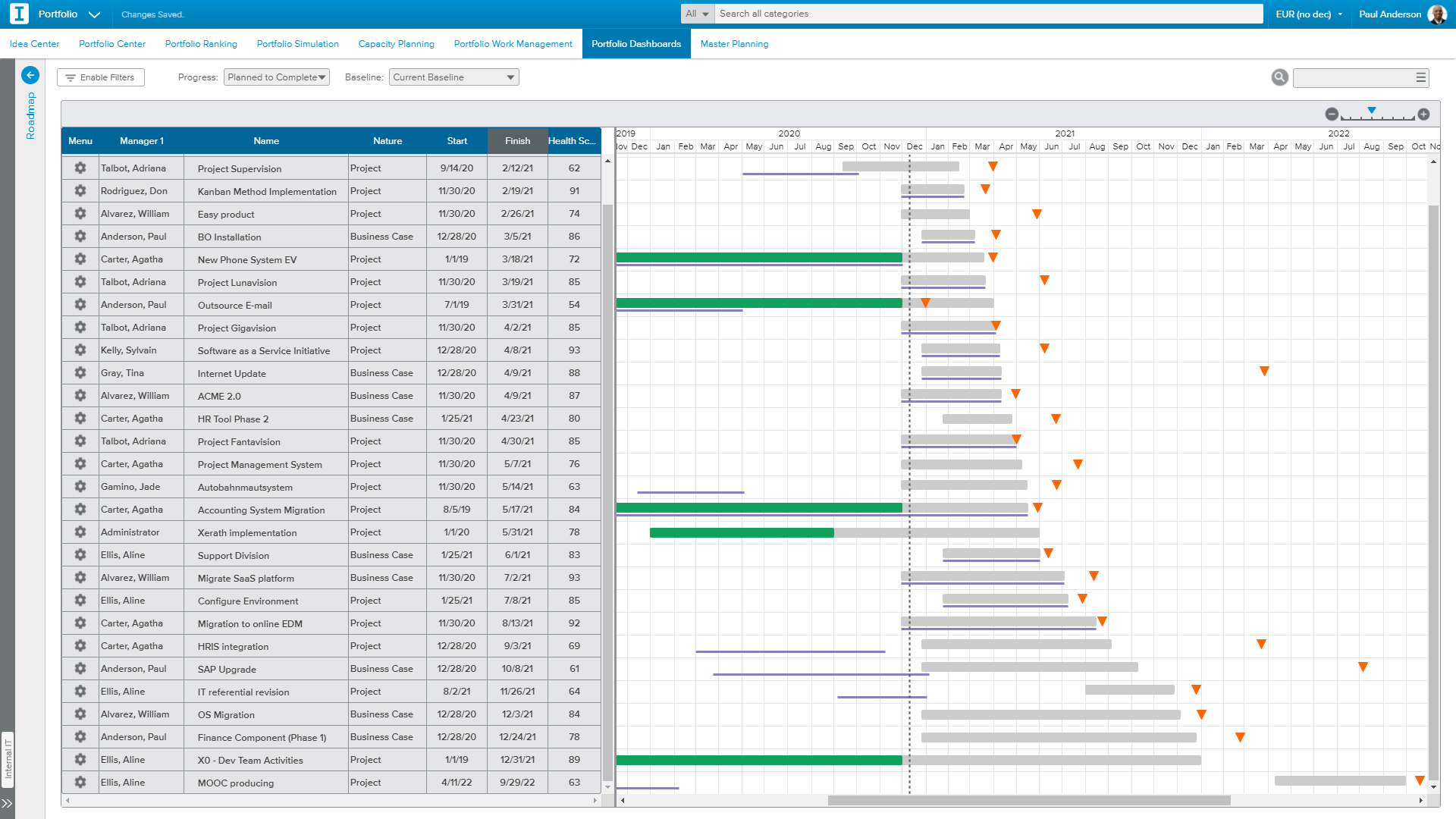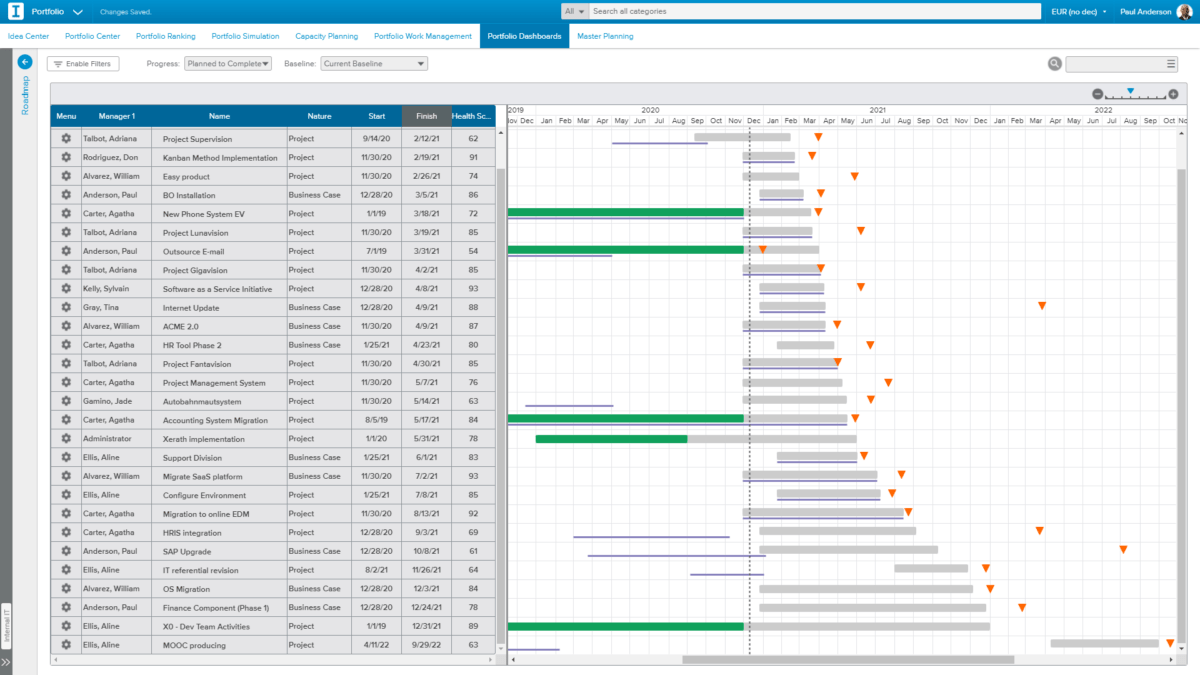 In the screenshot above, you can see the purple line that marks the baseline for the project. The triangle is the deadline agreed with the stakeholders. This view shows all the projects and business cases, ongoing and potential projects.
You can see the overall availability of resources and also the project resourcing based on the needs of the projects. You can then use the analytics feature to see what the profile of allocation is by teams. Filter and group by job classification to see whether there are any areas where they have too much to do.
You can also display it by project to see the project that has the biggest impact on resourcing – again, this is game changing because if you can understand the individual impact of projects on resourcing overall, you can make hiring decisions and plan other work around those. Or look at ways to lighten the load on the project that is sucking up all your people.
Timesheets
Timesheets are included so you can track time from within the tool.
Or, you can integrate with your existing timesheet package if you want.
Or, you don't have to use timesheets at all (hurrah!). It does work without timesheets.
Integrations
Open API so you can integrate with what you have eg. Active Directory for your resource pool, or Jira. You can use agile or dev ops tools that the team already use, or integrate with SAP for cost management and financials.
It's very flexible, if you put the effort in to get it looped up to all your other software.
Reporting
The standard these days is that you can customize reports, and Sciforma doesn't disappoint.
There is a visual dashboard and list view so you can see the data in the way you prefer. You can build the reports and then link Sciforma to Power BI for extra processing power.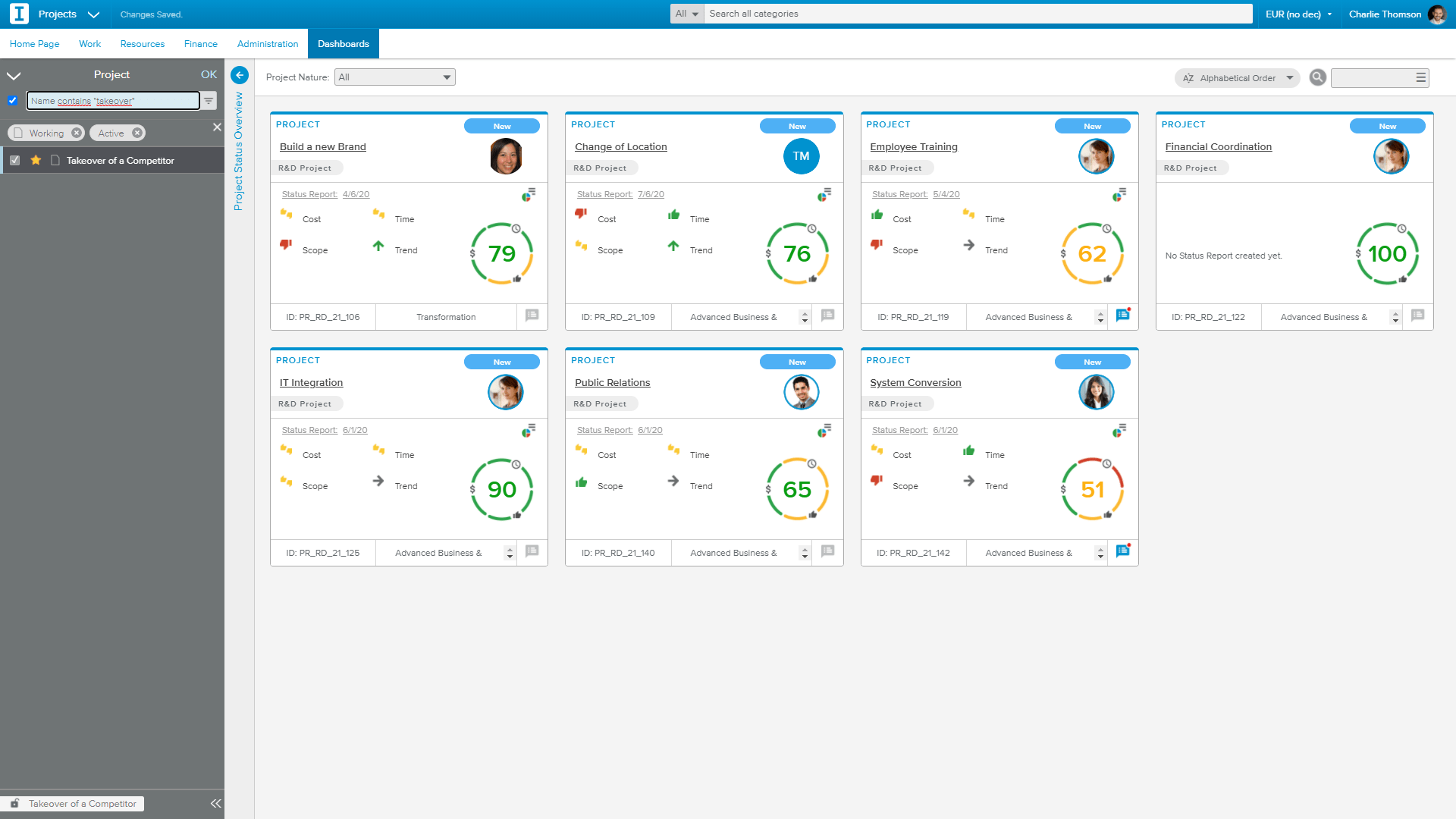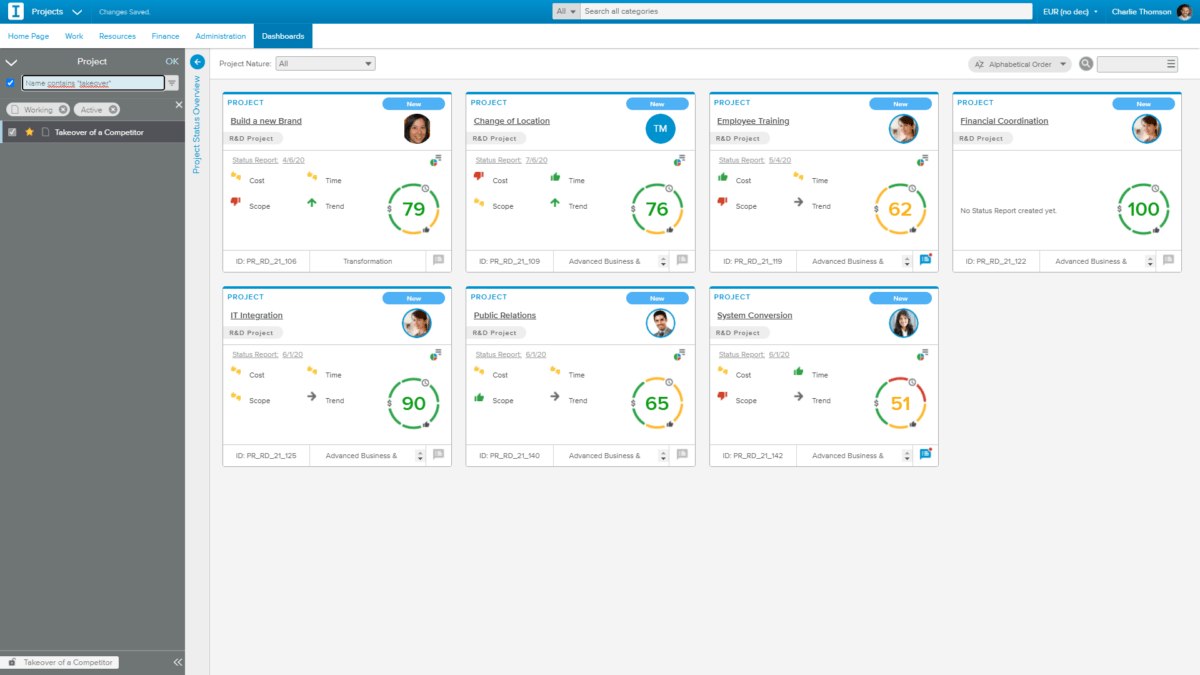 Project managers can submit regular status reports for each project. These are then shown on the dashboard as you can see in the screenshot above. Each project has a RAG status and trend icons (I love the trend icons!)
The status report gives project managers the option to submit comments and important events, although you can create as many sections as you like, and replicate whatever project report you currently have or design a totally new one. You can see the past reports so you can evidence how things have changed.
The numbers in the circle on the screenshot are automatically calculated to create a health score, based on the baseline information. That's handy to compare against the PM-generated notes and RAG status.
Project timeline
Following on from the business case schedule, the project manager will build out a full schedule for day-to-day management. Each schedule can have a baseline and that powers comparative data of start, finish, effort and cost against the baseline.
Then you can click in to see exactly where the increase came from at task or resource level.
Comparing project performance
At portfolio level, you can filter projects by 'most improved' or 'critical' or create a report to group them by project manager.
I think Sciforma has very powerful project performance management features, which would really help PMO teams.
Plus, there are a lot of reports.
All reports can be filtered. As someone making choices about project selection, for example, you would use the filter to pick out what has been submitted and then compare business cases against in-flight projects plus resource capacity to decide which new projects to approve.
It sounds a lot, but the reporting features make it simpler than you would expect.
Agile Features
Sciforma has something for agile teams too. If you are managing your projects with agile approaches, you can view the backlog and see activities by story points instead of hours.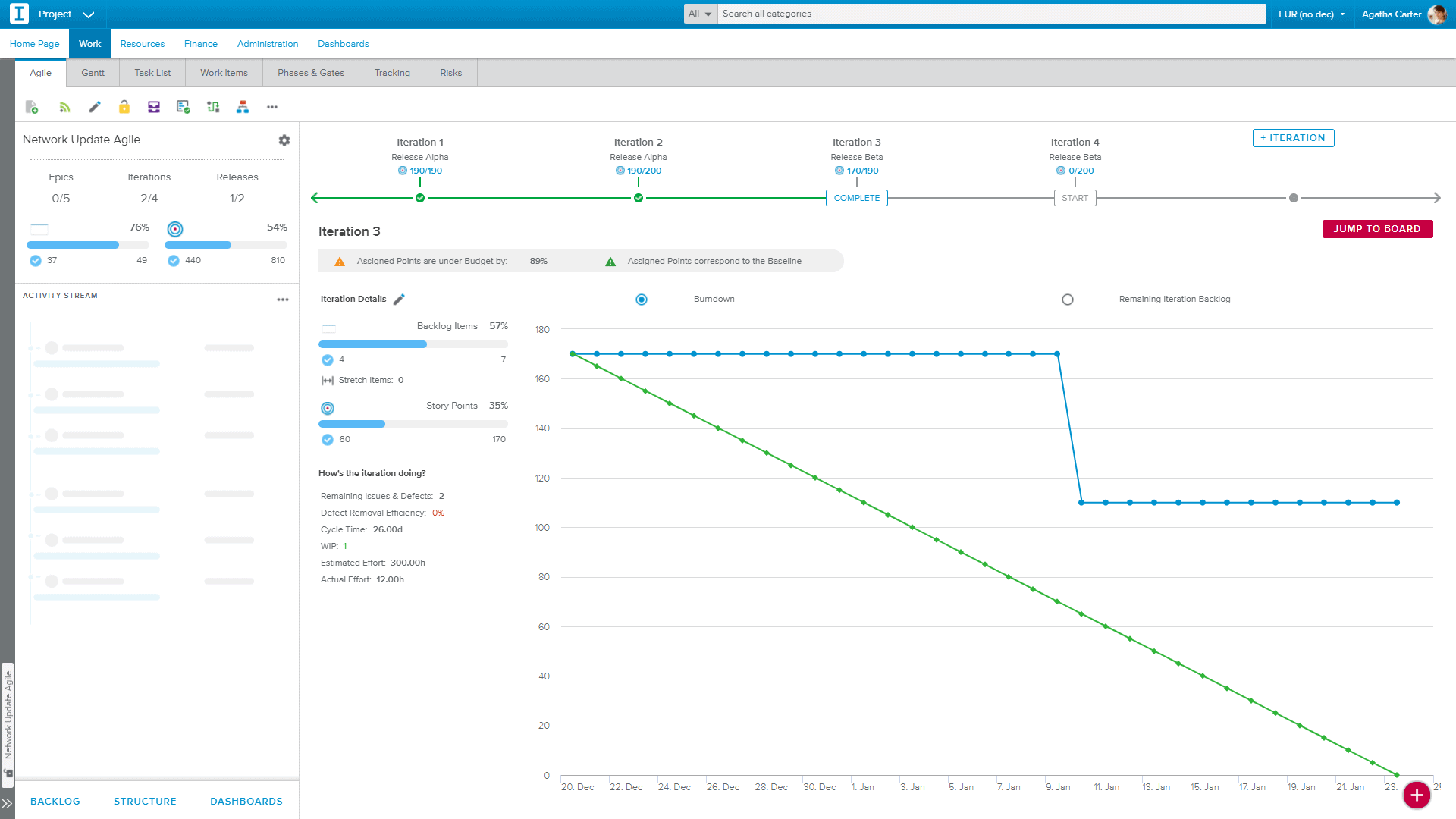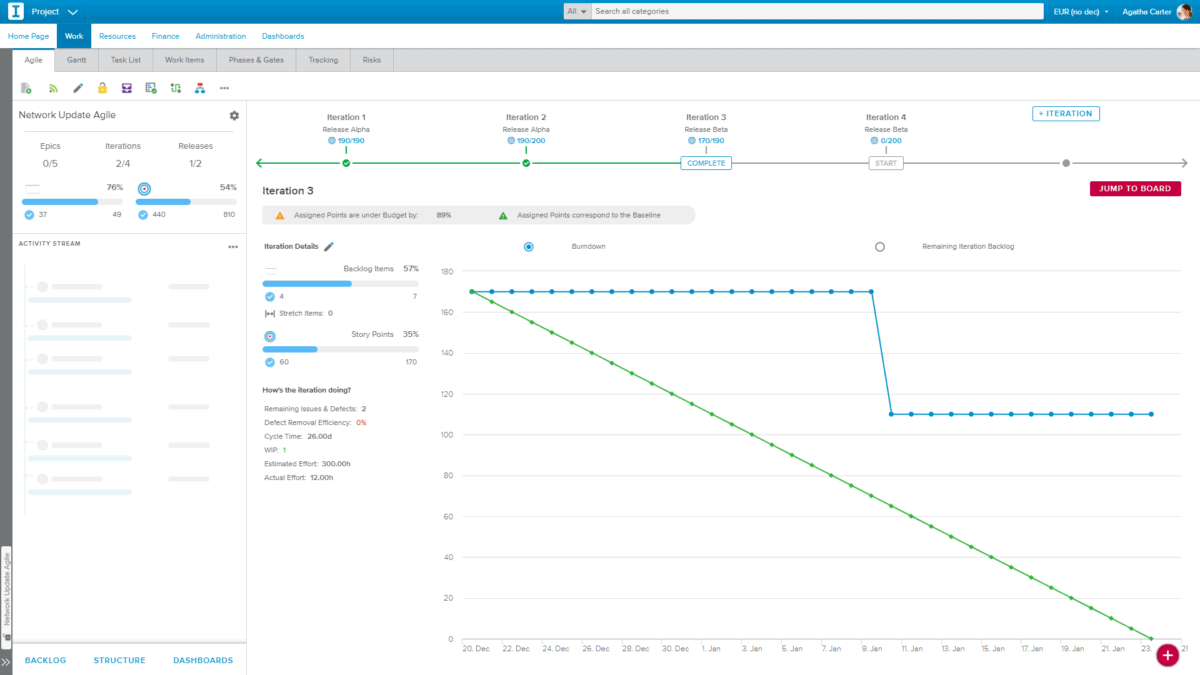 It's very versatile. If you prefer Kanban boards, you can use those instead.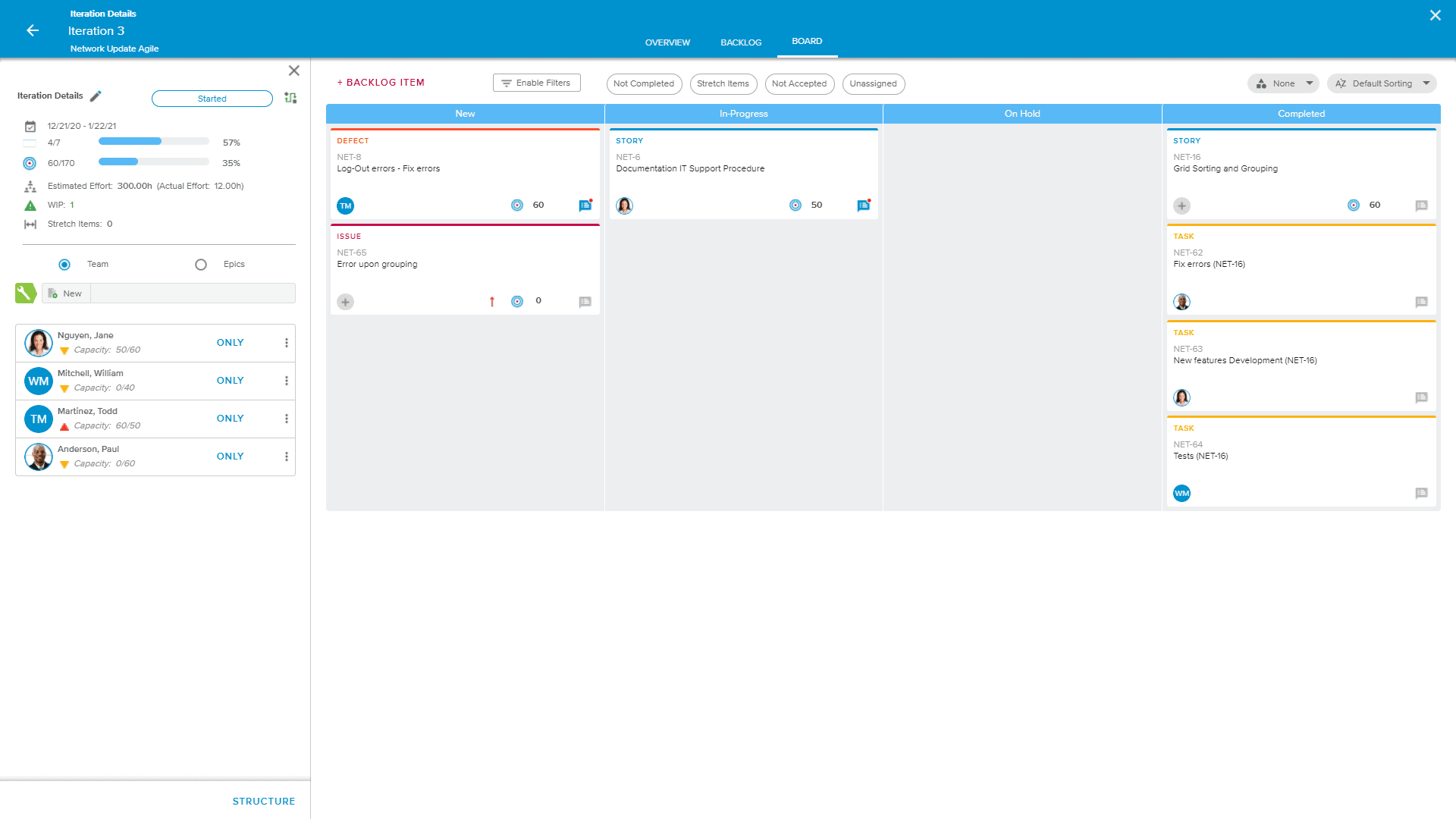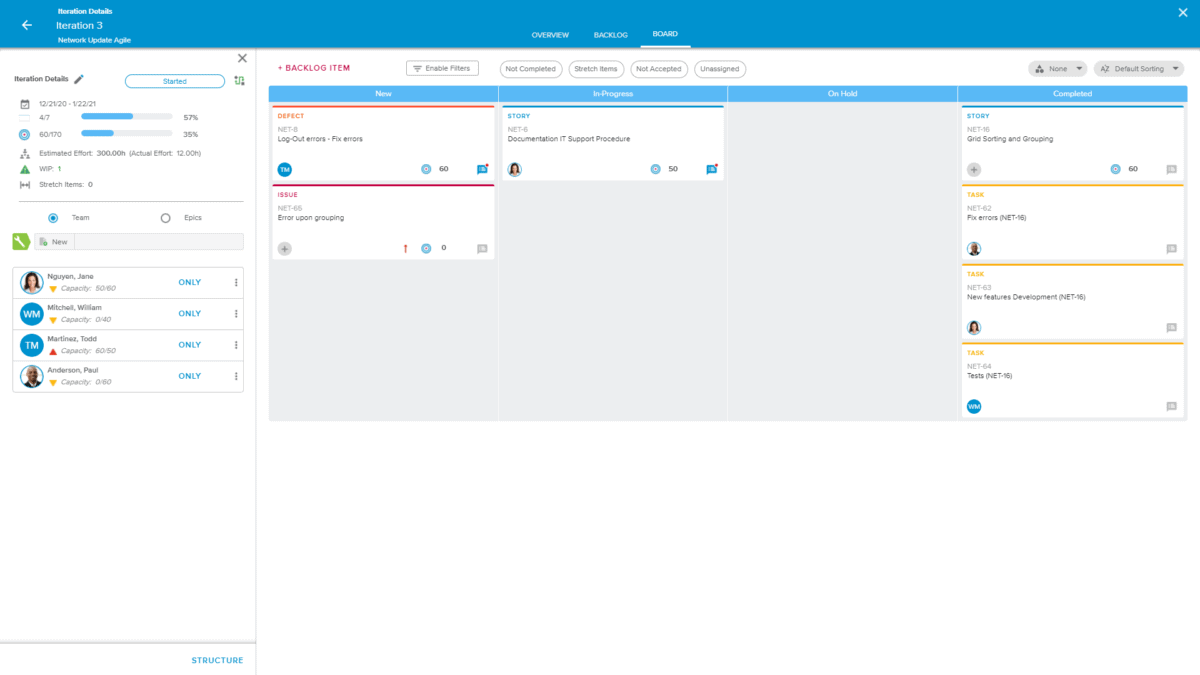 Awesome feature: You can take all of the Agile info and convert it over into a Gantt chart! Why would you want to do this, you ask? Because you might do the design phase using waterfall and then the development in Jira – in other words, because hybrid methods are here to stay and you need various ways of showcasing data that suits the audience.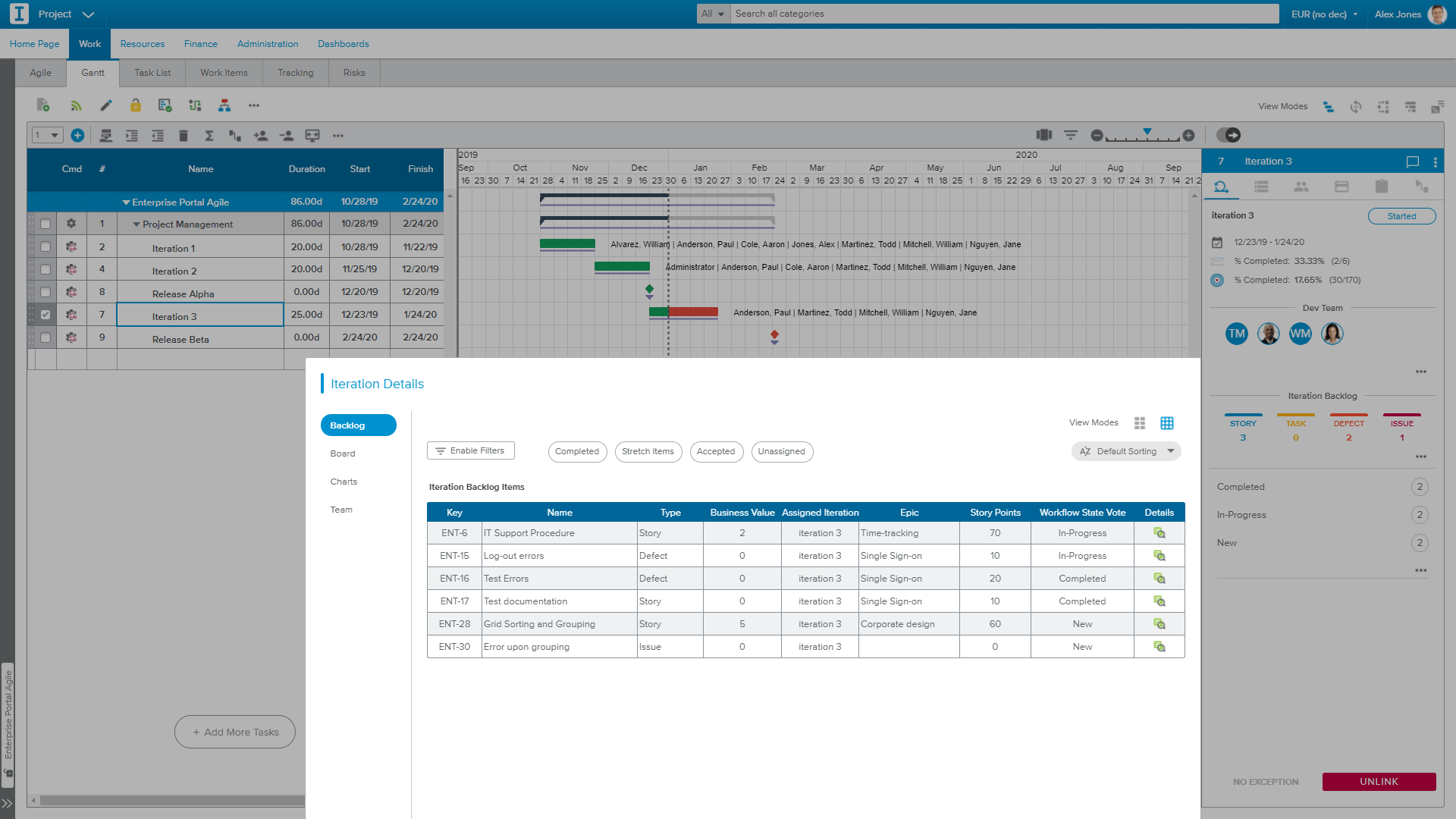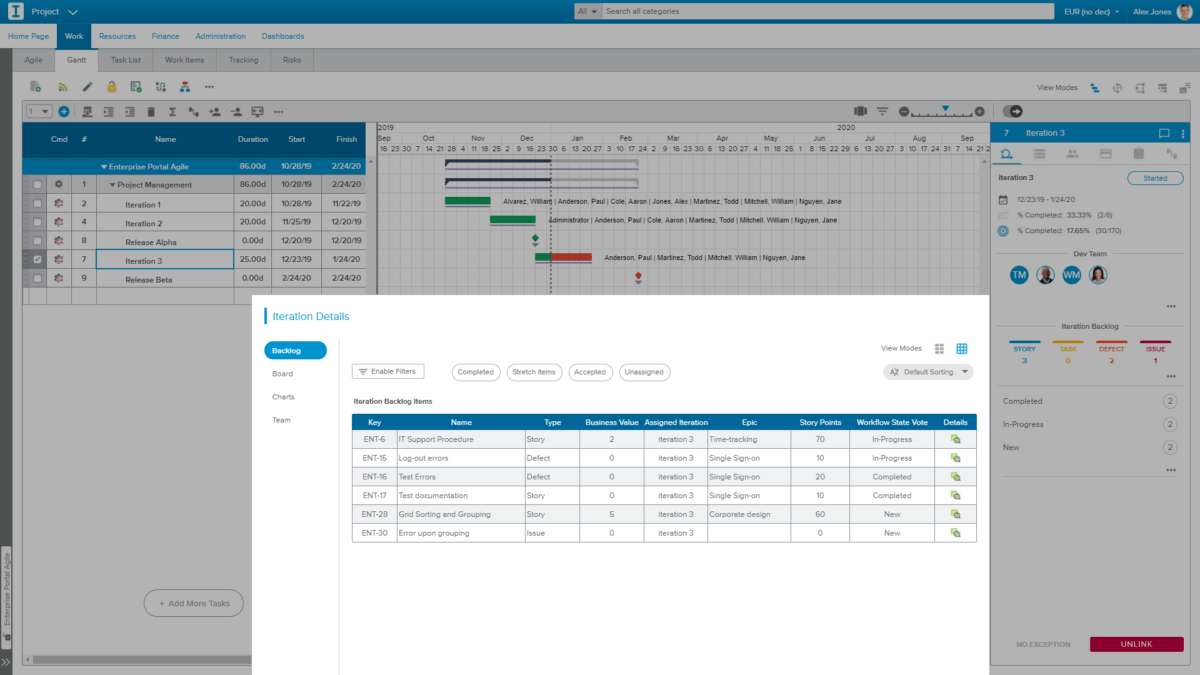 Sciforma is perfectly designed for hybrid projects. I love how you can automatically convert an agile iteration into a Gantt chart view. You can see the info for Agile like all the backlog items, plus burndown and/or burnup charts. So as a project manager leading a hybrid project you can keep the team in the same tool and view the data in the best way for you at the time.
Pros
After reviewing Sciforma, here are the advantages of the software as I see it:
Portfolio 'what if' analysis is a game changer for your PMO!
All the data is live all the time, and updated for everyone as you enter it. That's great for real-time reporting.
There are audit trails for workflows so you can see who moved work through the workflow and when that happened.
It's so configurable. You aren't tracking risk at the business case level? Turn it off. Simple. The whole system is like this. Just toggle on and off the things you want to use.
You can layer the features you want to use. If you just use Scifoma for ideas and pipeline management, you can do that easily.
For something this powerful, I was surprised at how simple the interface was. As a role-based system, you only see what you need and it's easy to navigate.
It's perfect for hybrid projects.
Cons
As with all tools, there are some disadvantages to investing in Sciforma:
It's not optimized for mobile. It's web based, so at a push you can access it from your phone, but it looks a lot better on desktop.
You will need a system admin to configure and manage the software going forward. Someone needs to take on this role to get the best out the system and to keep consultancy fees down.
The data has to be good for the portfolio data to be valuable. Garbage in, garbage out.
Ready to try Sciforma? Sign up for a free trial!
FAQ
Is Sciforma cloud based?
Sciforma has a cloud based option. It is also available as an on-premise solution.
How much does Sciforma cost?
Sciforma is priced per user, per month. There is no free tier, but you can test the product with a free trial. Pricing is on application so request a tailored quote on the website.
Does Sciforma have Jira integration?
Sciforma
Sciforma is enterprise PPM software aimed at streamlining the process of taking an idea through to business case stage and then into delivery. A robust and configurable portfolio management tool. I was impressed!
Price: on application
Price Currency: USD and others
Operating System: Cloud and on-premise
Application Category: Project management