5pm is web-based, on demand project management software. It looks lovely and the user interface is intuitive.
It's very easy to get going and the help feature is good if you get stuck (they have videos and a blog which covers new features and useful info like downtime).
The main downside I could see is the lack of complexity in the available features. This is not necessarily a bad thing, especially if you are managing small or medium projects, and only need the basic functionality. Too much complexity can confuse team members who are not used to the ways of projects as well.
5pm adds new tasks above the old tasks, which personally I don't like, especially when you set the start date to be later than the tasks below. Call me old fashioned, but my mind works down a to do list, not up. However, it is very easy to drag and drop the tasks into the right order — a brand new feature, recently released — and you can also drag and drop to make one task a sub-task of another, which is a tidy way to manage task linking.
Task linkages are not dynamic dependencies though — you can make a sub-task finish before the parent task is finished, which isn't really a dependency. You have to set start-to-finish, finish-to-start and other dependencies by fixing the dates.
This is what the resulting Gantt looks like. I don't know why Gather Requirements is at the bottom. It's at the top of the list in the task view, and on the Gantt I couldn't drag and drop it.
I expect this is a feature that I just haven't yet quite worked out how to use.

When you mark a task as done it changes to green, which is nice.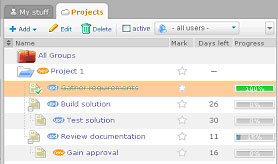 It flags new and updated tasks, which is a handy visual way to show what's changed since the last time — particularly useful for other team members or to monitor how things are progressing.
When your users aren't all in the same room they can find it difficult to keep up to date, which is something the 5pm development team know all about. On their blog they say:
As a team split between two continents, separated by time zones and speaking a total of four different languages, we are striving to get the most out of our work time. So do teams all across the world, every work day. This blog is about sharing this experience.
Email notification is a good feature, and I like the fact that you can upload files and make the 5pm interface a single point of reference for your project team.
You can create tasks from emails, by adding a 5pm email address in copy when you send it. It also integrates with Outlook so you can export calendar items. The interface gives you the ability to manage multiple projects, and you can hide the ones that are done.
I didn't use the time tracker widget but I like the idea of it, and given that timesheets are such an onerous task this could make unwilling trackers much more likely to record their time. You can see a time report as well, although as with anything the accuracy depends on the data input.
You can sign up for a free 14 day trial if you want to find out if it's for you.
This review was first published in 2010.