Reader Survey: What You Told Me
Let's talk about you…
Recently some of you completed my reader survey (thanks, by the way). The results give us a great view of who you are and what you want to hear about from this blog.
Interested in what your peers said? Here we go…
There's no such thing as an average blog reader
The project management experience of readers is pretty mixed. I'd say it's broadly a third with 4 years or less managing projects, a third with 5-10 years' experience and then the final third saying you have over 10 years of experience managing projects.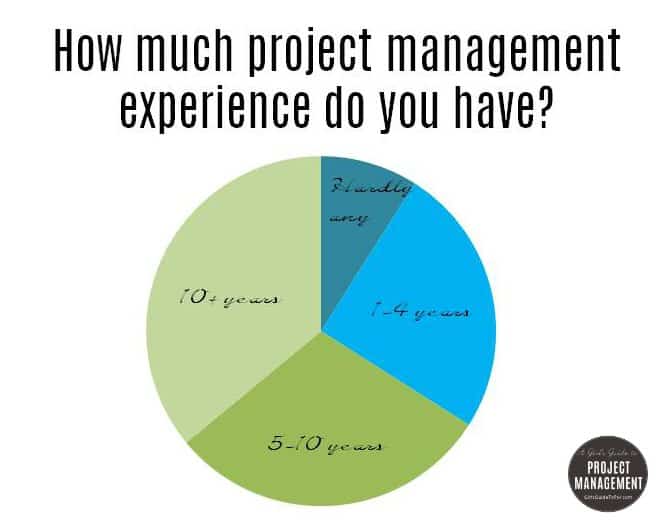 I've dug into Google Analytics for a greater insight into readers and here are some interesting figures:
60% of readers are men.
35% are aged 25-34 and 29% fall into the same age bracket as me: 35-44.
40% of readers come from the United States.
About 17k people pop by the blog each month, generating around 35k page views. You're in good company!
You love How To Guides
Over half of you (63%) said that you most liked reading practical How To guides for getting the job done.
I'm glad that 12% said that they liked reading the book reviews, as they are amongst my favorite posts to write.
My rambling opinions came in with 11% of the vote, so I might scale back on those a bit, and I'm happy to report that a good chunk of people had no preference at all, so hopefully that's a reflection of doing something right.
And here's what you don't like reading
Interestingly, the biggest response to this question was 'No Preference' so thanks for that! Over 65% said they didn't mind and couldn't pinpoint a particular thing that they didn't like reading.
Software reviews were the next least favorite, being the response for nearly one in five of you. I can see why, because unless you are in the market for a new software tool then you'll have a lot less interest in what products are out there.
Interviews with other people came in at 2.6% and articles by other people hit 3.9%.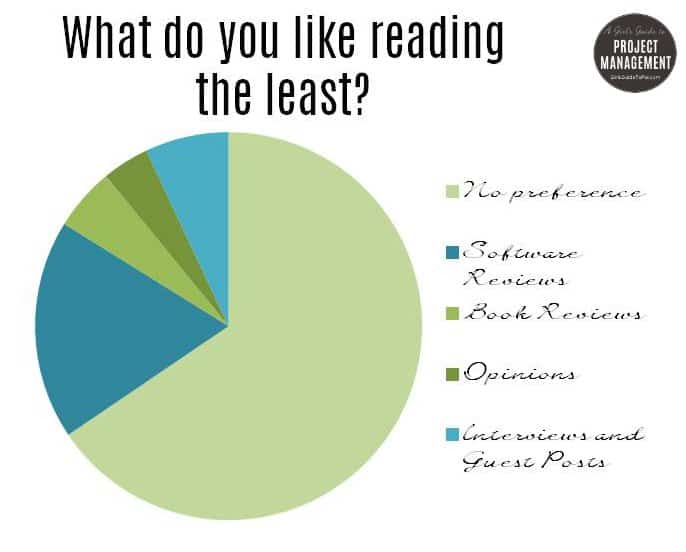 Your biggest struggle is managing stakeholders
By far the most challenging thing facing most of you right now is managing stakeholders. Nearly 40% of you reported that, with managing teams and collaborating being the answer for 1 in 4 of you.
Professional development came in higher than I expected, with 18%, leaving scheduling at a low 7.9%. All of these figures show that the really difficult bits of project management aren't the technical elements of risk management or quality planning – it's how you manage other people that cause you to toss and turn in bed (or is that just me?).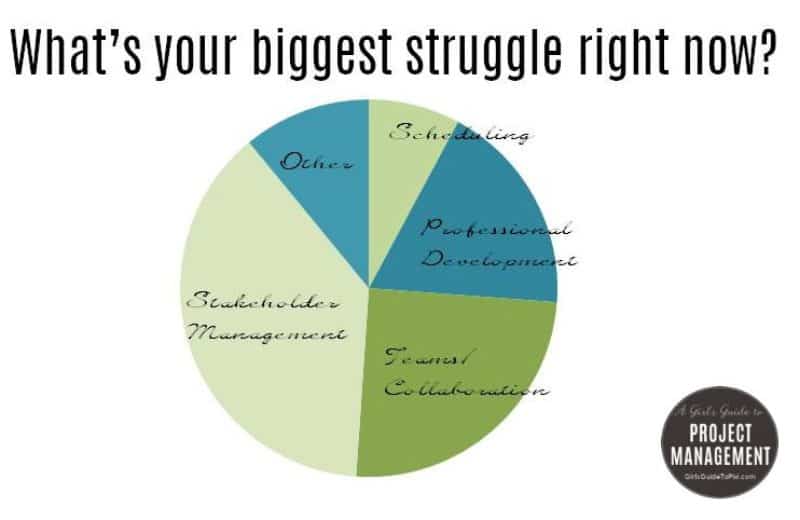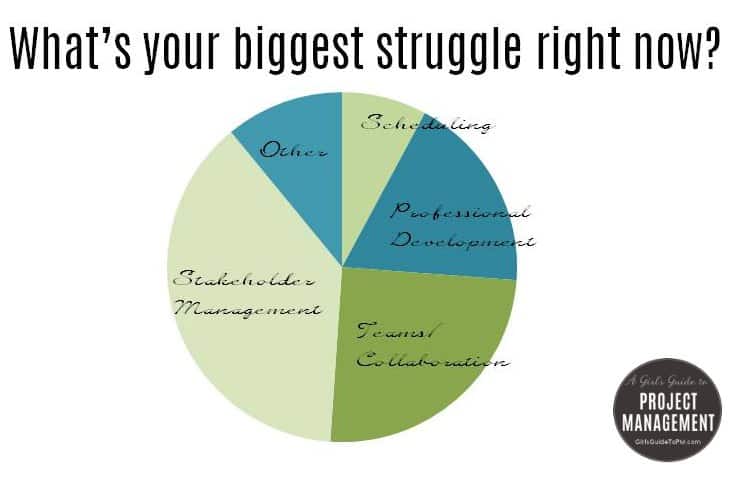 Other topics that came out as responses to this question included:
The role of the project sponsor (read more about how to handle the challenge of a project sponsor here, here, and here)
Resource capacity planning
Getting back into a PM job
Getting information and decisions from my boss (learn more about how to manage your boss)
The lack of a creative mindset (not sure if the respondent meant in themselves, or in others, but here are 5 ways to boost creativity in your team)
Lack of funding and resources
Managing third party suppliers (interesting – I hope to write more on that in the future)
Lack of staff
You're a chatty bunch!
Thanks very much for the lovely verbatim comments and additional questions you asked when I let you write whatever you wanted on the survey form.
There was a lot of interest in how I do it. "How do you manage your personal project to-do list? I assume you have multiple projects running at the same time. I struggle with how to manage my project related tasks, beyond dealing with the crisis of the day," wrote one person.
An Australian project manager wrote: "I have 2 children and do my best to juggle family life and work. Do you have any tips for working mothers trying to run projects part-time?"
I don't have magic powers, although I often wish I did (and I do work part-time on my projects). Here's more about my daily routine which might give you some insight into how I juggle it all, but that's something I'll try to talk more about next year.
Someone else raised this point:
"I like how your blog is 'real', in that it's relevant today for PM's in the field, actively managing and learning from their experiences; but am I alone in getting increasingly tired of the increase of that which is 'not real' (e.g. blogs/articles not written by PM's). Do we need to highlight this more and challenge/criticize and how do you/we continue to keep it 'real'?"
Here I am highlighting it but I haven't noticed a particular uptick in blogs and articles about project managers not written by project managers. I think there have always been professional writers and academics writing and talking about projects.
If journalists had to be a subject matter expert in every subject then the newspapers and magazines would cover a lot less ground. It doesn't mean the content is any worse, and I have met plenty of experienced project managers who can barely string a sentence together when you ask them to write 800 words for an article but who can turn out an articulate 15-page business case with no problems.
Finally…
I'll leave the final word to the person who wrote this:
"10 years! You must really like PM!"
Yes, I do!