Project Management Radar 2021 Sheds Light on What's Next
As project delivery professionals we are always on the lookout for new project management trends and practices, right? It's good to know what's coming and how we can best respond to that. Following the latest industry news can help build knowledge, confidence, and find new solutions to existing problems. There are a range of reports and surveys released each year which are useful for shedding light on what has been going on, and looking forward to what is to come.
One such report has just been released by Teamhood and is called the Project Management Radar 2021. In this report, the respondents were asked to rank the most important project management skills, practices, tools, and trends. The results are reported on the project management radar. Each category takes up a quarter of the PM radar grid, creating a 360-degree view of the current situation in the profession.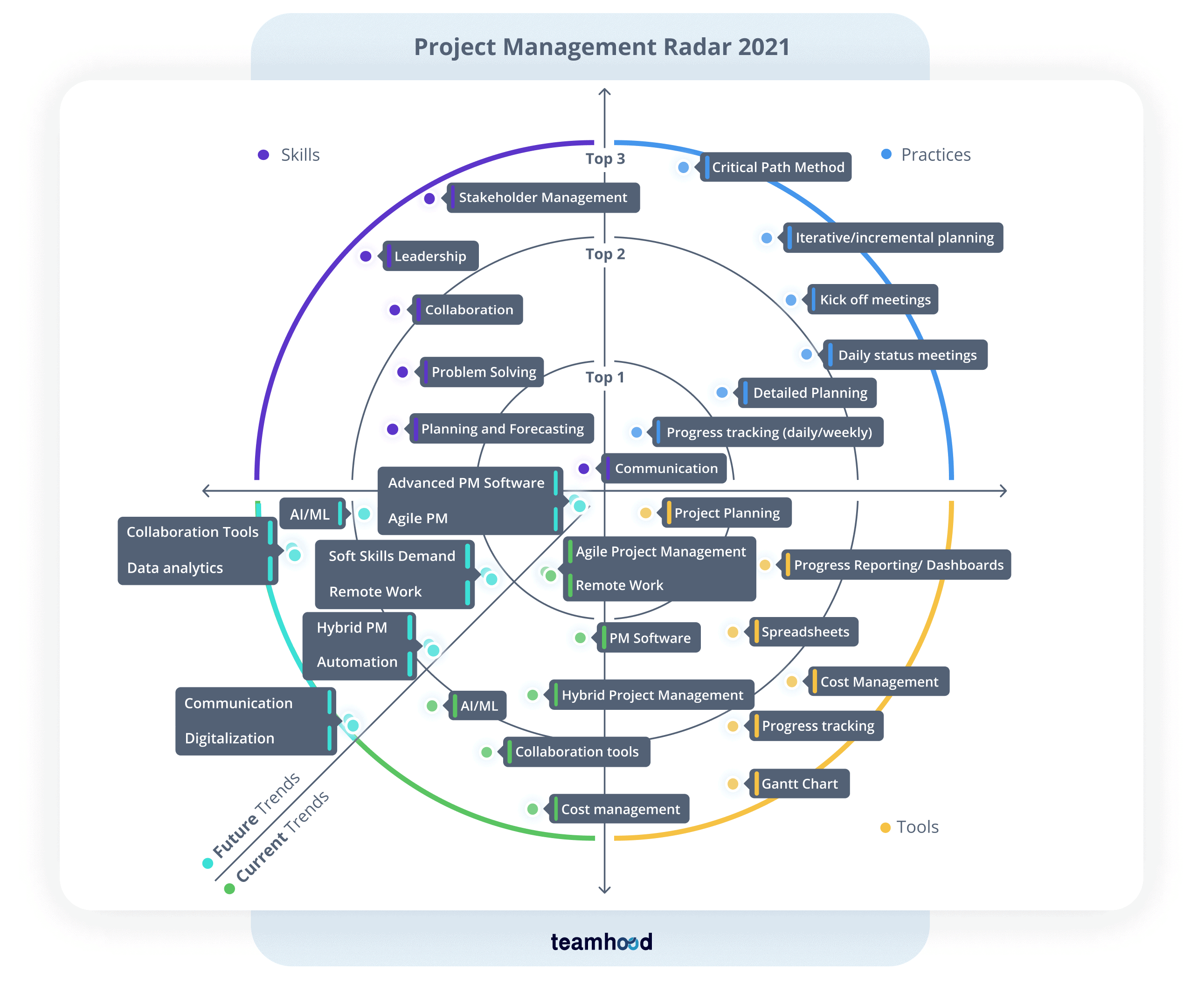 You can see from the top choices in each category that there is clearly common ground in things like the most valued skill, which remains project communication management. However, there are also changes that were pushed forward by the global pandemic and a need to better organize processes. These are mostly reflected in the current and future trends section.
Current trends
According to the PM Radar 2021, the top current trend spot is shared by two entries – Agile project management and remote work. That's not a surprise. The Agile trend has been around for a while, so much so that it's hardly a 'trend' any longer. It's not going anywhere either. Teams are looking for ways to make their processes more effective and adaptable to the current changing market, which is partly why agile is the solution companies are turning to.
In addition, we have the release of A Guide to the Project Management Body of Knowledge (PMBOK® Guide) — Seventh Edition, which focuses heavily on tailoring and the 3 performance domains, including business environment. And we all know how disturbed that was during the pandemic of 2020 and beyond.
While some of us have embraced remote work and virtual teams for some time, for others it's another recent change. Many teams found success working that way and chose to stick with it even after the restrictions were lifted. Who knew we liked having more time in our homes instead of having to spend hours commuting?
People who derive their energy from being around others found it tough, and hopefully hybrid ways of working will bridge the gap. Finding new sustainable project management practices that fit this new need to support all kinds of ways of working is a challenge most project professionals are already facing or will have to face soon.
Future trends
Looking forward, respondents to the PM Radar 2021 survey came up with a tie between advanced project management software and Agile project management as top trends for the future.
Once again, we see the strong belief that there is further for Agile project management to go. It's not enough any longer to say 'agile is a trend'. The feedback from the project management community has to be interpreted as more companies embracing agile, more teams choosing hybrid ways of working, more people taking agile certifications and far wider adoption of the principles the agile community know have worked for years. Expect an executive near you to be interested in learning about and finding effective ways of implementing Agile.
Advanced project management software is also up there at the top of the list of future trends. As more teams embrace Agile or adopt a hybrid project management approach, project management tools will have to follow. Many software tools today already include the option for managing predictive, iterative and hybrid projects from one platform, and we'll see more of that. We need advanced and capable solutions that allow teams to perform under all the circumstances they find themselves in.
Read the full report for more findings: Project Management Radar 2021.
Pin for later reading: