Project Initiation Checklist PDF [Free Download]


This free template is a project initiation checklist.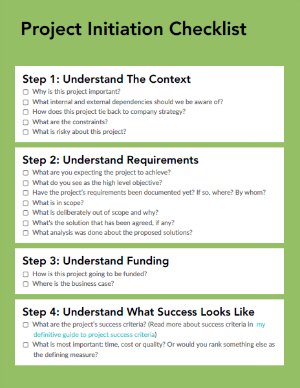 It's a quick way to speed up finding out what you need to know from your project sponsor when you meet for the first time.
Covering everything from what they think success looks like to who else needs to be involved, you can use it as a prompt to help you get your project off to a great start.
It's a PDF document so you can print it out and take it along to the meeting, then tick off the boxes as you ask the questions.
Or copy them into a document of your own so it makes it look like you've done all the thinking and prep before the meeting. I don't mind 🙂
Our Pick
Email Templates for Project Kick-off
Templates to help you set expectations, get information, request updates and manage issues. Aimed at Business Analysts but easily customizable for all project roles.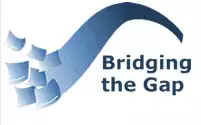 We earn a commission if you click this link and make a purchase, at no additional cost to you #ad
As with all my templates, you can use the checklist for your own personal work purposes but you can't copy and sell them on.
Access the Resource Library here and I'll message you back a link where you can download the templates. Plus you'll get access to my all of my free templates. Navigate to the section on kicking off a project and you'll find it there.
What do you do during project initiation?
Project initiation includes lots of steps, but one of them is to work out a ROM estimate: that's the rough order of magnitude assessment of how much the overall project costs will be.
You'll also want to:
Understand the business context
Understand the requirements
Understand the funding – always important, as you need to put together a project budget during this time
Understand what success looks like, which normally involves talking to the team about project success criteria and how the project will be judged by the customer.
And talk about anything else required to set up the project for success from the very beginning.
And by the end of asking all those questions you should have a pretty good idea of what this project is all about. The checklist covers all of those points.
How to use the checklist
The checklist covers topics to discuss during project initiation across a few areas. Once you've downloaded it, it's a prompt for things to make sure you understand, and the team understands, before you move into delivery.
It doesn't matter if you are working in an agile, hybrid or iterative environment, starting out your project is probably the most important time, so ask all the questions and really get to know what the expectations are from the team and customer. As the project manager, you'll probably think of other things you want to ask. Add them to your version for next time, so you continuously improve your project initiation process as you go.
There are more tips for what to do during project initiation in my complete guide to kicking off your project, which includes questions to ask and what to cover in your kick off meeting agenda.
Your next steps
Download the template (access the Resource Library here and I'll message you back a link where you can download the templates.)
Schedule your kick off meeting or project initiation meeting
Prepare an agenda and send it out to the people who need to be there
Read up on roles and responsibilities on a project as this is something you'll want to cover during the initiation phase as early as possible.
Pin to download later: