Next Generation Project Management Software
Digitalization and Collaboration
The project and portfolio management (PPM) software market is changing. It is changing so fast that it's hard for practitioners to keep up with the latest offerings.
This is an edited version of a white paper I wrote with some colleagues for the PMI EMEA Summit in Barcelona. In this article we look at emerging software in the PPM space and discuss how its selection and implementation needs to be done in line with an overarching digital strategy. The objective is to show how this holistic view delivers a greater chance of success and increases buy-in from end users.
First, let's look at the plethora of tools available to PPM practitioners.
Stick or Twist? Finding A Tool
"Big change driven by digitalisation is prompting PPM leaders to rethink their approaches to IT PPM, including the tools they use to support them," reports Gartner.
However, at the same time they conclude that many traditional on-premises PPM application vendors are now offering fixed-price and fixed-scope cloud-hosted deployment of their applications with relative success. In other words, the market is confusing: Stick with what you know but host it in the cloud, or move to a new digital offering?
Project management practitioners are looking for new lean and agile project management tools to support their day-to-day work and often seek them outside the tools that their organisations offer them.
In parallel, organisations demand greater project collaboration capabilities to deal with more challenging projects and improved portfolio analytics to better manage portfolio risk but cannot find an all-in-one tool to satisfy all their needs.
Gartner's analysts conclude that the PMO software marketplace is still emerging and they feel uncomfortable in showing the right way, pushing organisations towards the use of only one project management tool. They suggest practitioners should use tools on a project-by-project basis, avoiding standardisation for now.
But We Need Standard Tools
This clear message is at odds with the reality of working in a project environment and requiring a set of standard tools to do a job.
We observe that there is a persistent request coming directly from project management practitioners: they repeatedly look for alternative tools and ask for information on project management tools tagged as agile, open source, web-based, or cloud.
We wonder whether this desire to investigate and move to new technology comes from this new project management tools market configuration or it is its cause.
Researching What PPM Tools Can Do
Aiming to offer project managers direction and information on how to approach emerging project management tools and to explain what they can do with and expect from each of these tools, Maria Cristina Barbero and Niccolò Siani started a research project under a partnership between The University of Rome "La Sapienza" and the largest Italian IT services firm, Engineering Ingeneria Informatica Spa, which acted through its 100% controlled management-consulting firm, Nexen Business Consultants Spa.
It's easy to find technical information online about each project management tool, and they are often compared against each other on the basis of technical and contextual aspects.
Comparing Tools Against A Case Study
Instead of taking that approach, the research focused on proving the functionality of tools through the use of a real 7-page case study that required the use of the most relevant project management and team collaboration functionalities. It covered identifying requirements, interconnecting tasks, resources, planned values, actual values, baselines, performance measures, forecast techniques and timesheets.
From an online search and consulting with a group of Italian Project Management Professional (PMP)® credential holders (>400), the research team built a list of around 90 emerging project management and collaborative tools. They were able to try the case study on 48. The research assigned the software product a global rank based on the ability of the tool to support the chosen functionalities.
The image below shows a sample of the research results: Every "Yes" and "No" is the response to one of the 23 questions asked during the case study test and each star and half star is a qualitative weight related to one or more of those questions. You can't see it particularly well in this picture but I'm sharing it more to demonstrate that the research was thorough.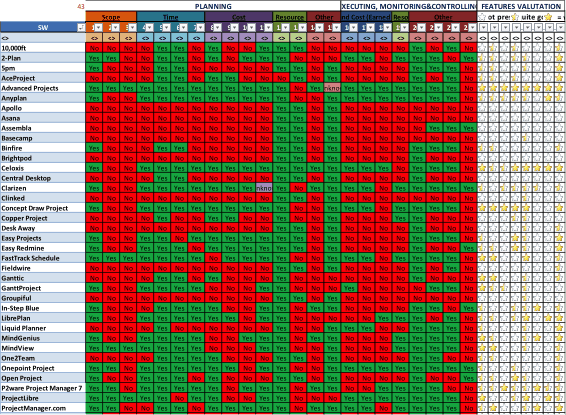 I hope that the paper is published somewhere soon so that I can link to it, but at present it is not available online.
The Future: Software Supporting Faster and Iterative Working
So what does that research tell us?
Aside from being an in-depth comparison of project management tools (and you can read my own software reviews here), it highlights the move to online and iterative ways of working.
The research discovered that monolithic IT systems are unfriendly and inflexible. To operate, compete and survive, businesses have "created" bottom-up systems combining several personal preferred, but not integrated, tools.
Apps, clouds, and the availability of free tools are pushing consumers and corporations in the direction of a free digital tools republic where it is no longer effective or appropriate to be chained to a "corporate system" that will never be able to be up-to-date with what happens around us.
Moving from traditional to contemporary approaches to project management activities, companies that adopt a linear, phase-by-phase, project management style will probably decline in favour of faster, more iterative and lighter approaches that are driven more by results than processes.
This also implies a change in the adoption of project management tools: worldwide, project managers will probably need to manage a diversity of software tools, with different deployment styles and maturity of use, because single-platform convergence will be difficult to achieve. Integrating traditional tools with emerging ones is going to be the norm.
Integrating It All Together
The key elements and requirements which drive the configuration of an integrated Project Management Information System are:
enterprise tools
a people culture
existing contracts and agreements
the desired level of monitoring and controlling.
As project managers championing new software we'll need to incorporate all of these if any new tool is going to be effective in the enterprise.
Challenges Of Working in a Digital Environment
We work in a digital environment, but we are not 'digital'.
That's why we need a strategy to implement technology and a holistic view, taking into account those points mentioned above. Because the way in which people choose to use the tools we offer them cannot be taken for granted.
The implementation strategy requires having a plan with the final objectives defined. It also means considering the change management activities to support our digitalisation project as communication, processes, and training are critical for success.
Implementation Issues
Sometimes this implementation strategy doesn't happen as planned (or isn't planned at all).
We add digitalised applications to the existing situation without a defined improvement path.
We are attracted to the latest cool application, with the potential to jeopardise the software environment.
This could be a reaction to old structured and inflexible systems but pushing an agenda of continuous innovation without a tangible, declared objective could be even worse.
A simple solution is a digitalisation strategy (simple to say, if not to actually get done in practice). Defining the final objectives and benefits expected allows companies to be flexible regarding what they want to achieve. Flexibility in a defined direction is important in the digital space because things are moving so quickly.
A strategic direction will also help the change management effort as after the definition of the direction and the benefits, you can shape the implementation path to take into account the existing environment.
Integrating Project Management Information Systems in an Existing Environment
So let's talk about the existing environment.
The existing environment includes the employees that must be involved in the process, but also refers to existing digital applications that must be integrated or terminated.
Old digital tools could be worth keeping in some form, so don't automatically assume that they are a problem.
We've seen that massive centralised PPM systems are not the trend of the future and so we should expect that as project managers we'll use many applications, hopefully wisely integrated.
For example, legacy applications that employees find user-friendly could be improved and used to minimise the organisational stress of a too wide digital-change.
Digital Does Not Mean Efficient
What we shouldn't forget is that business could be very digital but at the same time not efficient.
For example, if the accounting system is not integrated with the project management system, that demonstrates a disconnection from the model in use to select our initiatives through portfolio management processes that utilise metrics and data from both.
It's rework to rekey the data into both systems. That's not efficient, even if both systems are 'digital'.
In other words, without digitalisation it is very difficult to operate effectively in the economic market, but digitalisation doesn't automatically mean integration and unqualified success. That takes work and a proper understanding of how people and systems work together.
This continuous digital evolution inside and outside our organisations, is a digital storm that must be controlled with a flexible digital strategy managed by a digital strategic team that, in the coming years, will supervise the merging of new and old tools with the aim of creating a fully integrated and holistic PPM approach.
About the Authors:
Elizabeth Harrin (you know me) is the author of several project management books, including Collaboration Tools for Project Managers (PMI, 2016). She writes the blog GirlsGuidetoPM.com and regularly reviews emerging software tools online.
Luca Romano has more than 20 years of international experience in business consulting, project management, portfolio management, organization, operations management, and training. He is a senior manager in Nexen Business Consultants as part of the Engineering group. He is a professor of international project management and operations management at the European School of Economics, a professor of project management at MiNE Master–Cattolica/Berkeley Universities, and an assistant chair at the Engineering School of Roma Tre University in two courses: Organization and Project Management.
Maria Cristina Barbero, PMP, PMI-ACP, SMC® has been the Director of the BU Change and IT Strategy of Nexen Business Consultants, the consulting company of Engineering Group, since 2005. She graduated in Mathematics and with an MBA in Global Management. She started her career as a software developer and is now an experienced consultant in organizational project management, especially dealing with IT organizations and software projects. She teaches project management at University of Padova and has been a PMI volunteer since 2007. She is one of the six members worldwide of the PMI Standards Member Advisory Group.