LiquidPlanner: new version available!
I saw a demo of the latest version of LiquidPlanner, the project management scheduling and collaboration tool, on Tuesday. It's now been released – and it's still in the Beta testing phase so it's still free!
Bruce Henry took me, a life-long user of MS Project, through the main features. I have dabbled with ConceptDraw Project 3 and Niku as well, but LiquidPlanner outstrips anything I've ever used previously.
Our economy is becoming more project driven as companies outsource the straightforward stuff and leave the complex, one-off, non-repetitive tasks on home turf. While that's great news for project professionals, it also means that we are doing a lot more work that's never been done before. Throw some new technology into the mix and you get a project that is almost impossible to estimate with any degree of accuracy.
LiquidPlanner works with this uncertainty, rather than forcing you to commit to task durations. It creates task durations by employing ranged estimates rather than single point estimates. It also has a patent-pending scheduling engine that applies probability to each task in a schedule, so you can make more accurate guesstimates about when things will finish.
Updating progress is not done by the standard approach of percent complete either. You have to re-estimate how much longer the work will take you each time you update progress. That means that you get better predictions of when things will finish but also that you have to keep an eye on what your team are inputting. If they keep saying 'two more days, just two more days' but never actually get any closer to finishing then you have to catch the warning sign. I suppose you have to do that with percent complete too: I once worked with a guy who said everything was 80% complete, regardless of how much he had done and how much was still to do.
I loved the way the fuzzy durations appear on the LiquidPlanner Gantt chart: the task bars fade at the ends to signify that the tasks end during that period, but without fixing an unchanging milestone. The other great thing Bruce showed me was that you don't have to put in dependencies when working with resources. LiquidPlanner intuitively knows that Bob can't do six tasks on one day and schedules them to start one after the other. So it's duration based planning rather than effort-based planning but that's OK – after all, that's what most people do and how most stakeholders want their information. If you want to change the priority and have Bob work on a different task first, just drag and drop until the task is first on his to-do list.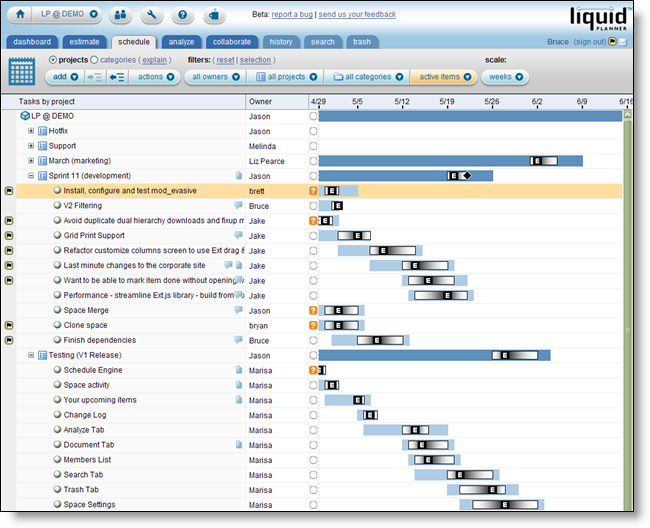 Whether or not your project sponsor will understand the concept of fuzzy durations and calculating time based on probability engines is another matter. It will help you if he or she consistently strips out the contingency you have so diligently planned and added in, as there is no need to negotiate a separate buffer – it's there, built in already. Of course, you can always add a contingency task if you are doing a really cutting-edge project and feel you need it.
LiquidPlanner also has MS Sharepoint-style collaboration, so it acts as a document repository too. The theory behind this is that projects are a social activity and getting people to work collaboratively is a challenge that pays off when it's done right. Social networking tools haven't leaked over into the project management tools world. I've written about project blogs before, but when I looked for a wiki I could use for my current project I've not had much success. LiquidPlanner is taking some of the Web 2.0 concepts and applying them to the old-fashioned project management world. Which is no bad thing. However, if your company already uses another document repository or collaboration tool you will be hard pressed to sit this one alongside it. You can enter links to documents held on other web-based systems but who wants to switch from one to the other? You'd be better off doing the whole thing in LiquidPlanner, but whereas Sharepoint has enterprise-wide appeal, LiquidPlanner will only work in your project management function.
Did I mention it's free? The product is due out of the Beta phase by July, so if you want to take advantage of it while it's still free then now is the time. Bruce said that once the Beta phase is over current subscribers will get preferential rates, so if you think you might want to use LiquidPlanner it is worth signing up now. Ten thousand people already have.
I don't think our corporate standards will be changing to LiquidPlanner in the short term but if you work in a small organisation then it is definitely worth a look. I'm sure that the product developers working on all the other project scheduling tools will be building these features into their own software before long. LiquidPlanner is a glimpse of the future of mainstream scheduling – and it has really got intelligent.