How Leadership Affects Projects (And How You Can Lead Yours)
This blog is reader-supported. When you purchase something through an affiliate link on this site, I may earn some coffee money. Thanks! Learn more.
Sarah Coleman is co-author of Project Leadership, a book in its third edition exploring how leadership and project management intertwine. The last edition came out 16 years ago – yes, people were talking about project leadership even then!
I caught up with Sarah to find out more about what effect a leader can have on a project.
Sarah, how does a leader impact the project?
There is a huge variety of ways in which the leader impacts the project. I think that for me the top three ways are:
Setting the culture, expected behaviors and environment for the project.
Managing upwards to the sponsor, governance committee and client, as well as looking at the performance of the project team.
Building the profile and support for the project by establishing strong relationships, understanding influence and power bases within the organization, and highlighting how the project supports the organizations own strategic direction.
Great list! How is that reflected in your book?
Within the book we focus on three main areas which make the difference:
Vision and the Big Picture: being commercially savvy and looking at the strategic picture for your organization, the client and their organization.
Building Key Relationships: developing organizational intelligence and networking in your own organization and that of the client.
Communication and Engagement: using these skills to market and promote the profile of the project and its credibility in order to build awareness, support and commitment for the project.
On the subject of lists with three things in, what are your three top tips for project managers wanting to take a more leadership role on their projects?
First, understand what "leadership" means for your organization: what are the behaviors and capabilities prized by your organization? And very much in line with this, how does the project leadership role differ from other functional leadership roles?
Second, find a coach/mentor/sponsor/role model to help you identify and start to demonstrate good leadership capabilities and behaviors.
Third, get out of your comfort zone and volunteer for the roles/experiences/secondments which will expose you to different ways of doing things and provide different insights.
These will help increase your self-awareness, identify your leadership strengths, understand how you impact others and develop your capabilities from a different perspective.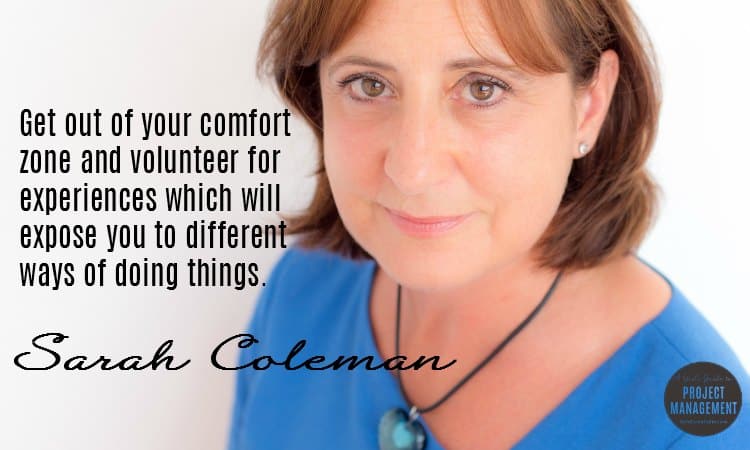 Thanks! More generally, what do you think business leaders should be doing differently with regards to project leadership?
Many of us as project managers have found that we do struggle with the concept and practice of leadership. The majority of us have often come up through the ranks as technical specialists by learning, using and becoming expert in project technical skills.
We are now being asked to move into project leader roles with little or no preparation of running a cross-organizational team and with little understanding of leadership and the spectrum of capabilities needed to do it justice.
Technical knowledge can never be neglected, but it is the people skills that hold the key to successfully leading projects in the context of the wider organization.
Further, the value of personnel within projects is no longer simply a function of the sum of their experience or knowledge; it is also in how well they work with a team, often across different geographies with people they may never meet, and with diverse stakeholders; also, how they problem-solve and share their know-how to the benefit of the project team and the organization.
What this all means is that effective leadership ability is now as much an important part of the project manager's toolkit as any of their technical abilities.
As such, I believe that business leaders should be looking at how they can best use P3M within their organizations given their ambitions and strategy for their organization.
And in looking to the future, business leaders also need to identify and develop project leadership talent within their project communities; not just at the top levels, but across all levels of the community.
We all talk about leadership but I think we should be doing more than that. What do you think?
Yes. We feel very strongly that the project community needs support to develop these new skills and competencies around leadership. We all know that when budgets are under pressure, training and development budgets are seen as discretionary and "nice to have" so are among the first to be cut.
Most organizations leave the individual to identify ways they can develop outside the typical formal training, so we talk in the book about how the individual can plan and deliver their own development in project leadership in many different ways; how the organization can develop project leadership capability and capacity.
Finally, business leaders need to recognize what a good development program for project leadership looks like for their organization. We offer a view on how an ideal project leadership development program might look for an organization in the book.
Thanks, Sarah!
About my interviewee: Sarah Coleman leads and supports the shaping, design and implementation of business critical projects in the UK and internationally, in order to help organizations deliver better outcomes and value. Over 25 years' practical experience of leading and supporting substantial strategic projects, programs and change has reinforced that people, culture and behavior are as relevant as the focus on technical skills.