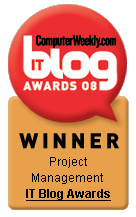 I was really excited to find out that I had won the Project Management category of the Computer Weekly IT Blog Awards the day before yesterday. I wanted to wait until I had the official confirmation and this little image, which I got today, before putting posting about winning… just in case it wasn't true! It took a while for it to sink in, believe me. You can see all the winners here.
So, a big thank you to the people who voted for me – it wouldn't have happened without you all! I'm really glad you enjoy what I write.
To celebrate, I'll have a giveaway for you, but it won't be for a couple of weeks as I'm just working out the details. Watch this space!