6 Tried-and-tested free project management certificate courses
This blog is reader-supported. When you purchase something through an affiliate link on this site, I may earn some coffee money. Thanks! Learn more.
Read our review guidelines.
Project management is a great career. But how do you know it's for you? And how do you show prospective employers that you are keen to commit to the job and you know enough about the role of a project manager for them to take a chance on you?
A certificate course helps you stand out from the crowd. I've taken plenty of project management certificates over the years – but mostly, they cost money.
However, there are some (good) free online project management courses with certificates out there.
If you are looking for training that will let you put your toes in the water of project management and give you something to show employers, then I have you covered. Below, I discuss the best options available for free online project management training that come with certificates so you can make the best decision for you situation.
I've focused on courses that are aimed at beginners because if you have some experience leading projects, you are probably beyond what most of the free courses can teach you (and hopefully you can have a chat to your manager about funding professional training for PMP, PRINCE2 or another qualification.
The list below contains affiliate links, but these courses are free or can be completed with a free trial subscription. I chose the courses based on quality, and ability to earn a certificate for free, as well as wanting to be able to personally vouch for the content.
| Product Name / Product Image | Rating | Learn More |
| --- | --- | --- |
| | | |
| | | |
| | | |
| | | |
| | | |
1. PMI Kickoff Waterfall
PMI, the Project Management Institute, is one of the premium project management professional bodies in the world. It has a short course in predictive/waterfall project management tools and techniques called PMI Kickoff.
The best part is that you end up with a Credly badge (they used to be known as Acclaim badges) so employers can verify your achievement and you can share something worthwhile on your LinkedIn profile or resumé.
When I did this course I was pleased with how user-friendly the interface was, how interesting the content was and how smooth it was to work through the materials. It also comes with templates that you can download to help you manage your own projects.
I am not sure what I was expecting, but it was better than my expectations. A good, solid, free course with a quality badge at the end of it.
Time to complete: A couple of hours
Best for: Complete beginners who want to learn the basics of project management, people responsible for managing small projects at work but who have never had any formal training.
Certification received: Credly badge issued by PMI
2. PMI Kickoff Agile
PMI has two flavors of the Kickoff badge: one is waterfall, and the other provides an introduction to project management from an Agile perspective. Why not do them both?
The same points stand as for the predictive/waterfall course: there is a badge available at the end of it, the user interface and student experience is good and it won't overwhelm you as it's very short but structured enough for you to come away with some helpful skills and templates.
Time to complete: A couple of hours
Best for: Complete beginners, people who work with agile teams but are not responsible for managing the overall team, people who want to learn more about agile.
Certification received: Credly badge issued by PMI
3. Create a Project Charter with Google Docs
The Create a Project Charter with Google Docs course from Coursera Projects Network is a hands-on project-based training. There are a few Coursera hands-on project courses that provide project management skills, and this was where I started.
I thought the training was well put-together and it's very short, so it is perfect for when you are given a task and need somewhere to start.
Time to complete: 1.5 hours
Best for: People who have been asked to create a project charter for the first time and want support to feel confident they are including the right information in a professional format.
Certification received: Coursera certificate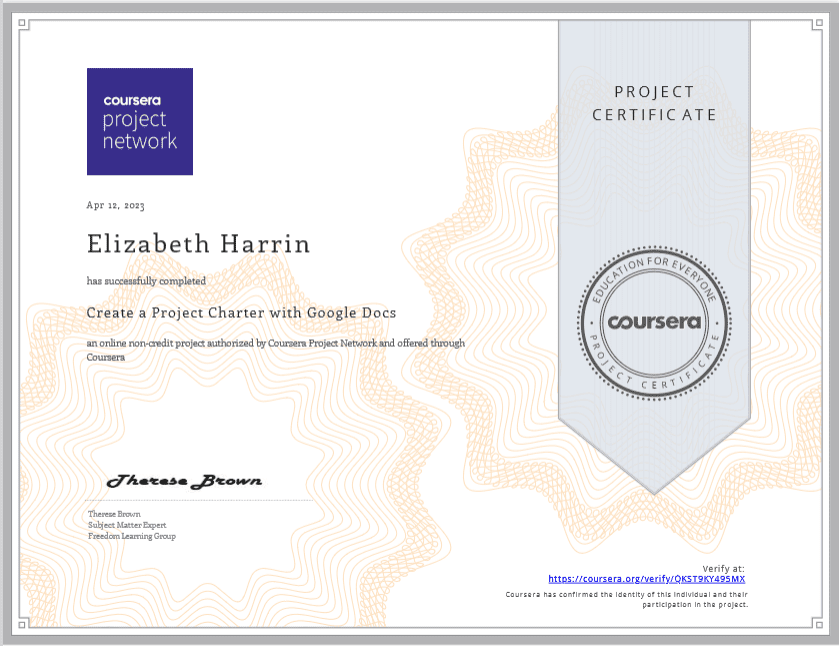 4. Create a Project Management Tracker using Microsoft Excel
Another free Coursera Project Network certificate, this one on creating a project management tracker spreadsheet will help you structure your work with dropdown lists and conditional formatting. You'll make a spreadsheet to keep track of your project that you can share with the rest of the team.
My verdict on this online course was that it's great to get you up to speed quickly with some simple Excel formatting like color-coding cells based on data validation that make your documents look much more professional.
Time to complete: 2 hours
Best for: New project managers who want a simple way to track their work (and they don't have access to an enterprise project management tool so they are stuck with spreadsheets).
Certification received: Coursera certificate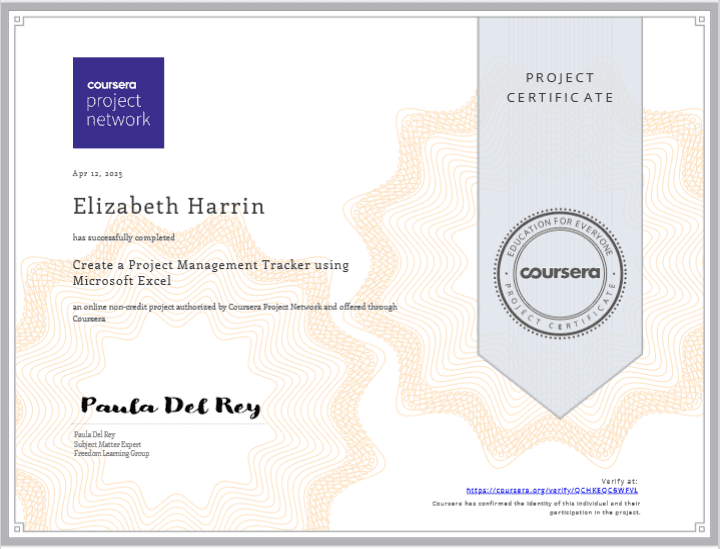 5. Project Management Fundamentals
The Project Management Fundamentals course is taught by Bonnie Biafore – she's pretty well-known in the project management community and is the author of many useful books, so she is definitely a trainer worth studying with!
The course covers the fundamentals of project management (ahem – clue is in the title) and a wide variety of topics from stakeholder analysis, requirements, creating a project budget, resource management, scheduling and monitoring and control. It is aimed at beginners.
Note that this one is only free if you complete it in your first free month of LinkedIn Learning membership. As it will take you a morning to complete, you can easily join LinkedIn Learning, claim your free month, do the course, get the certificate and then cancel.
Time to complete: 3.5 hours
Best for: New project managers who want a quick boost to develop formal skills.
Certification received: LinkedIn Learning certificate
6. Google Project Management Certificate
The Google Project Management Certificate is the most comprehensive and 'best' course on this list, but it is also the most challenging to get for free. It is one of the best online project management courses I've ever done.
The certificate is made up of 6 courses. The Fundamentals course is relatively straightforward with no peer-reviewed assignments, and you could definitely complete that within your free trial to claim the Coursera certificate for free.
But whether you could do the whole certificate… I found the agile project management course the most challenging personally, and if you have zero prior experience, the whole thing could be a challenge. Read my experience of taking the Google Project Management Certificate in a week and see if it is something you feel you could commit to.
I don't know if you would be up for it or not, so I wanted to include it so you could make the choice yourself. It is the most respected course (in my opinion) on this list, and will be worth the most to a future employer because it is GOOD.
Time to complete: It is 6 months worth of content, paced at a topic per week. If you have the time, you can complete at least a couple of the courses and get the certificates within your free 7-day trial. Note that you will have to go some to get the whole certificate (6 courses) earned in a week.
If you are completely new to project management, think about spending 5-10 hours per week on this project management certification.
Best for: New project managers, people who want to become project managers.
Certification received: Coursera certificates per course, Credly badge for completion of 6 courses
Recommended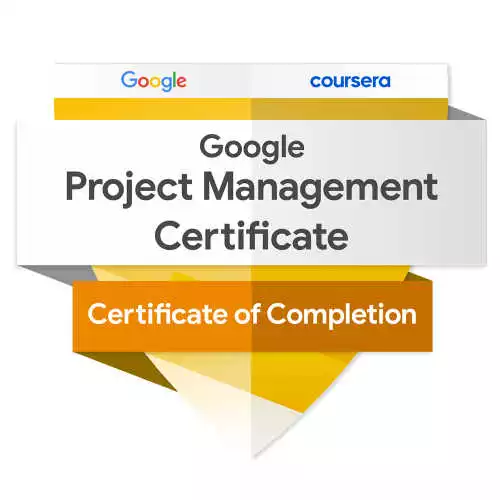 Are free certificates worth it?
A free project management certificate is not worth as much to an employer as a paid one. I am saying that as someone who used to recruit project managers, and someone who now mentors project professionals and supports them with their job search.
When you pay for a course, you are paying for access to specialist training, exam prep materials, and the cost to the professional body for putting on the exam and maintaining their credential to a very high level.
I would not personally rate a free online project management training course as highly as one that you paid for.
Watch out!
If someone is telling you they can get you the Project Management Professional (PMP)® certification or exam for free, or PRINCE2 for free, I would be highly skeptical. These are certifications managed by professional groups and they do not give away their materials for free. Don't fall for scams!
Non-certificate courses with audit mode
If you are open to taking courses in project management that don't end up with a certificate, there are a lot more choices. EdX, LinkedIn Learning and Coursera all have plenty of training options that will help you understand project management principles. Sign up to take the class in audit mode.
Auditing a course means that you have access to most of the content but no access to graded assignments, exams, tests, timed quizzes or any other formal assessment. Typically, you need to complete the formal assessment to earn the certificate – and that's the paid part.
If you are interested in learning for learning's sake, or want to know how to manage successful projects but don't need a piece of paper to prove it, then I would personally opt for either auditing the Google Project Management course (if you are a beginner) or a more advanced class taught by a university (if you have prior experience of project management in the workplace).
Take a class, if you love it and think it is worth it, pay for the upgrade to do the assessment and get the certificate.
Benefits of free project management certificates
Having said what I said above, there are some reasons why you might want to spend time working towards a free certificate:
They will show you what is involved in the work to manage a project, so you can double check that it is the career for you.
They show employers you have at least done some training, which is better than having no courses on your CV or resume at all if you want a career in project management.
They help you understand the tools, techniques, jargon and skills involved in managing projects, so you can work effectively with a project team even in your first job.
They are often quick to earn, as you can see from the course durations and descriptions above.
You just need an overview of project management and don't need in-depth project management courses to do your job.
So I wouldn't write them off completely. If you can't afford paid training or don't meet the eligibility criteria for some of the more advanced/popular courses, then free certificates might be your only choice.
Free courses for earning Professional Development Units
Professional Development Units (PDUs) are PMI's continuous professional development scheme. Lots of professional bodies have requirements for their members to do training each year to keep their skills up, so you might be part of an association that calls continuous learning credit something different.
Another benefit of taking a free certification program is that you can improve your skills while also earning education hours that count towards renewing your membership.
However, I would argue that you don't need the certificate or an exam to meet the requirements of your development scheme. Many courses will give you a transcript or certificate of completion, or you can take a screenshot of the amount of hours you have spent on the learning material from the software itself.
Personally, I wouldn't limit myself to only courses that offered formal certification because you can meet and evidence your requirements for ongoing learning in other ways. Still, if it's free and you get a shareable certificate at the end of it, that's also good!
When you're ready to upgrade to paid
Free courses will only get you so far, so when you are ready to upgrade to paid classes, here are some I recommend:
Browse the project management training available with a Coursera Plus subscription.
Check out my favorite PMP exam prep class when you are eligible for that.
See if your company will let you expense a subscription to LinkedIn Learning and make the most of that.
Happy studying!
Pin for later reading