Why do projects fail? (Includes examples!)
It's easy to find examples of high-profile projects that fail. The ones that hit the papers are often public sector projects because their audits and budgets are more open to scrutiny.
Here are some high-profile failed projects:
Following an internal review, Multiplex, the Australian development company responsible for the reconstruction of the Wembley Stadium, became aware that costs for the project were escalating to the point that the company would make a loss of £750 million on the project. This was largely due to the unforeseen increase in the cost of steel.
The Millennium Dome hit financial difficulties and found itself needing an additional £179 million of National Lottery funding during 2000.
The Scottish Parliament went through five iterations of its project plan and suffered a delay of 20 months. It also cost ten times more than the original budget, finally coming in at £430 million.
The planned spa complex to boost tourism in Bath was originally budget at £13.5 million. Unexpected delays and a host of building-related problems have pushed the cost to £43 million, £30 million of which is coming from Bath and North East Somerset Council. They originally planned to invest just £3 million in the project, with the rest coming from lottery funding. Instead, tax payers have footed the bill.
The Channel Tunnel construction project saw its budget rise from £4.8 billion to £10.9 billion.
The Airbus A380 was due to take to the skies in 2006. The international team did not use compatible design software which led to snowballing problems. Each year the project is overdue costs €1 billion in penalties to their 16 customers. Delays to the €11 billion project have also contributed to the sliding share price of EADS, Airbus' parent company, and a recovery plan including job losses in the UK and Germany.
There were investigations, reports and reviews of these projects, and many others. When you are working on a high-profile project that fails, expect to be in the public eye!
Failure or success? Let's look again
However, there are always two sides to every story, and it is possible to interpret these projects as success too. For example, the Millennium Dome attracted 5.5 million paying visitors: twice as many as any other UK visitor attraction in the previous year, plus another 1 million also were entitled to free entry.
The vast majority of visitors (87%) were satisfied with their day out. And the project timeline was maintained as the venue opened its doors on time, which is pretty important for a millennium attraction.
The Scottish Parliament may well have been over budget and delayed, but it was a success in the eyes of the may when the innovative building, designed by Enric Miralles, won the Stirling prize for architecture in 2005.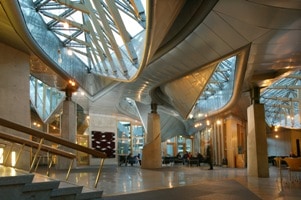 The Airbus A380 took its maiden transatlantic voyage in March 2007, silencing the critics and proving it could use runways shorter than other smaller jets. For airline passengers, quality of the aeroplane (and therefore its safety) is more important than whether the project delivered on time or on budget.
If quality is the definition of success, the early flights show that Airbus has made a big impact with their superjet.
These examples show that defining what we mean by success has a significant impact on whether we believe a project has 'failed'. The interpretation of those negative headlines hinges on the definition of failure, so it's essential to know what is most important to your project.
What will make your project a failure? What will make it a success? What are the most important criteria for your Sponsor and how will you define them?
These are important questions to answer during the project initiation phase. Read my definitive guide to project success criteria to help you plan how to measure the success of your project.
Having project success criteria alone won't be enough to guarantee that your project is a success. There are other issues at play that can cause your project to fail.
Causes of project failure
There are many factors that contribute to project failure. The UK Office of Government Commerce did a study that shows the main reasons that projects fail are:
lack of clear executive leadership (the 'missing' Sponsor)
poor processes for identifying and managing risks associated with the project
a gap between the Project team, often with technical expertise, and the rest of the business, who often don't understand the nitty gritty details
failure to take into account and manage the fact that humans naturally dislike change and the impact this has on business processes and people
project durations that stretch over a year, as the business environment evolves rapidly.
Technology was one of the least likely reasons for project failure. This shows us that the human implications of change are far more important than any IT system design.
There is plenty of academic research into why projects fail, and the opposite: what makes projects a success. What is missing in the project management profession is a willingness for organizations to talk about why individual projects fail. There is a difference to filling in an anonymous questionnaire for someone working in academia and coming out in public with details about why your project was a disaster.
Many of the case studies about project failure are publicly funded projects, which are accountable to taxpayers: the majority of the list above are public projects. The audit reports and inquiries are available for anyone to read, and while they are often on a big scale, there is a lot managers of projects of any size can learn from them.
I've written about lessons learned on a number of projects: have a look at some of them here.
How would you define success on projects? How would you define project failure? Let us know in our Facebook group.
A version of this article first appeared on this blog in 2007.
Image © Scottish Parliamentary Corporate Body – 2007