Top 10 Books on Change Management (2023 edition)
This blog is reader-supported. When you purchase something through an affiliate link on this site, I may earn some coffee money. Thanks! Learn more.
Change management is so important for making sure that the change you deliver is embedded in the organization. In other words, if you want people to use what you create — or to shift their ways of working to the new standards and processes you implement — then you have to help them through the transition.
Here's my list of top change management books for leaders.
See this list (and some extras) on Amazon.
Short on time? Buy Leading Change by John P. Kotter. It's my top pick
How I chose these books
I looked for:
Writing style and whether they were engaging and easy to follow
Contents — how much did the book provide in terms of things you could repeat yourself at work?
Inspiration — how did I feel after reading the book? Was I inspired to put the ideas into practice?
1. Leading Change by John P. Kotter
Professor John P. Kotter is a leading authority in change management, and this is the book to start with. Leading Change (2012) is a comprehensive guide to his 8-step process for managing change.
Kotter's way isn't the only way to manage organizational change, but it's a common model now and it's helpful to understand the process so you can see what, if anything, you want to apply to your own projects.
Kotter's 8-step change process is:
Create a sense of urgency
Form a guiding coalition as the change team
Create a vision for the change
Communicate the vision
Empower people to take action by removing barriers
Create the opportunity for quick, short-term wins
Build on the change incrementally
Make it stick for the long term.
That's a super high-level overview, and the book goes into it in much more detail.
2. Making Sense of Change Management by Esther Cameron and Mike Green
Making Sense of Change Management: A Complete Guide to the Models, Tools, and Techniques of Organizational Change is now in its fifth edition.
It's a bestseller, billed as the "definitive" guide to change management, and it's comprehensive. You'll learn the theories and change management models and see how you can use those in the workplace.
Aimed at people doing change management in a leadership role (aren't we all?), it will help you understand how to adapt an organization in readiness for change.
I think this book is more for transformative, disruptive, organizational change instead of project-led 'small' change, but the theories, case studies, and techniques can definitely be applied to a project environment.
3. Our Iceberg is Melting by John P. Kotter
Another book by Kotter, Our Iceberg is Melting: Changing and Succeeding Under Any Conditions, is an easy read about why the 'burning platform' is essential to help businesses move to new ways of doing things.
I loved this book when I read it: it's a business fable (which is not a type of book I like to read) but it's fun, and it definitely gets the message across. It's about a group of penguins living on an iceberg and how they come to terms with what their next steps should be. You'll read it and be nodding along: "Oh, that's just like my colleague X."
The point of the book is to highlight different archetypes: the types of colleagues you will most likely be working with (or who will be blocking the change) during the project. When you better understand what drives them, you can create a change plan that supports everyone's needs and brings people together behind the vision.
Oh, a 'burning platform' is where the change is so extreme you have to jump from the burning platform into the sea in order to move forward (and survive) and there is no going back. We had one of these on my largest project to date and it was an awesome way of helping people understand why we were going ahead with the change.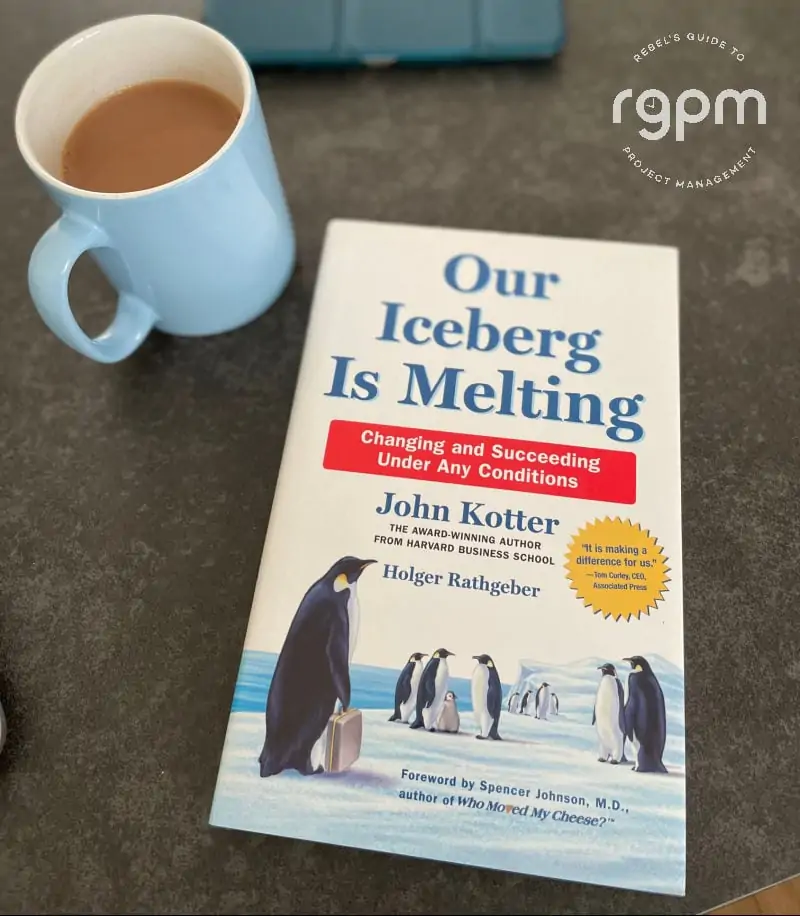 4. Communicating Change by Elizabeth Harrin
Disclaimer: I wrote this one!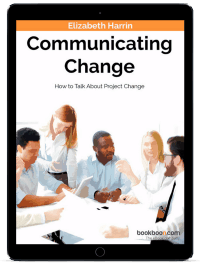 Communicating Change is all about how to talk to people about the changes your project is delivering. You'll get lots of practical advice about what to say when, how to identify how people want to receive information as well as recommendations for doing the communication.
It focuses mainly on how to talk about change (in writing or in person) as in my view, this is the hardest part to do. If you can get people on side with what is happening — or at least deal with resistance to change when you cannot do that — then you'll feel more confident about going ahead with the project and the change will land more effectively.
Communicating Change is published by Bookboon in ebook format, and you can get it here (or included in your Bookboon subscription if your company has an account). It's one of the best things I've written, so if you can check it out, please do!
5. The Effective Change Manager's Handbook edited by Richard Smith et al
The Effective Change Manager's Handbook: Essential Guidance to the Change Management Body of Knowledge is an accessible and practical guide to what change managers actually do.
It has chapters written by well-respected practitioners, so while you will pick up the theory, the aim of the book is to make it possible for you to do change management in your organization, in big and small ways.
Aimed at people who don't necessarily have the job title of change manager, if you deliver change as part of your role, you'll find something useful in here to help. People who have change manager job titles may find other books a bit more useful, but often project managers are expected to do the change part of the work as well, without any formal training or guidance. This book is a good starting point.
The topics covered include sustaining change, change readiness, and there's a section specifically on change in a project management setting. There's also a substantial section on facilitation because talking to people is so much of what change management is all about. This is a good starting point to dive into the world of change management.
I'm always a bit wary of books written by multiple authors. While you get a great selection of voices and the book can include more expertise than a single-author book, sometimes they feel like the chapters don't hang together well.
6. The Theory and Practice of Change Management by John Hayes
This is another book that has had multiple editions, so be sure to get the latest version. The Theory and Practice of Change Management is a bestseller in the field but feels to me less accessible than some of the others on this list as it's really essential reading for final year MBA and change management degree students.
Probably not the best one to start with, but it's a well-respected guide to the field so it felt wrong to leave it out!
This one would suit you if you work in a large organization in the role of change manager, or feel that is a route you would like to go in the future. It's essential reading if you are studying change or organizational leadership.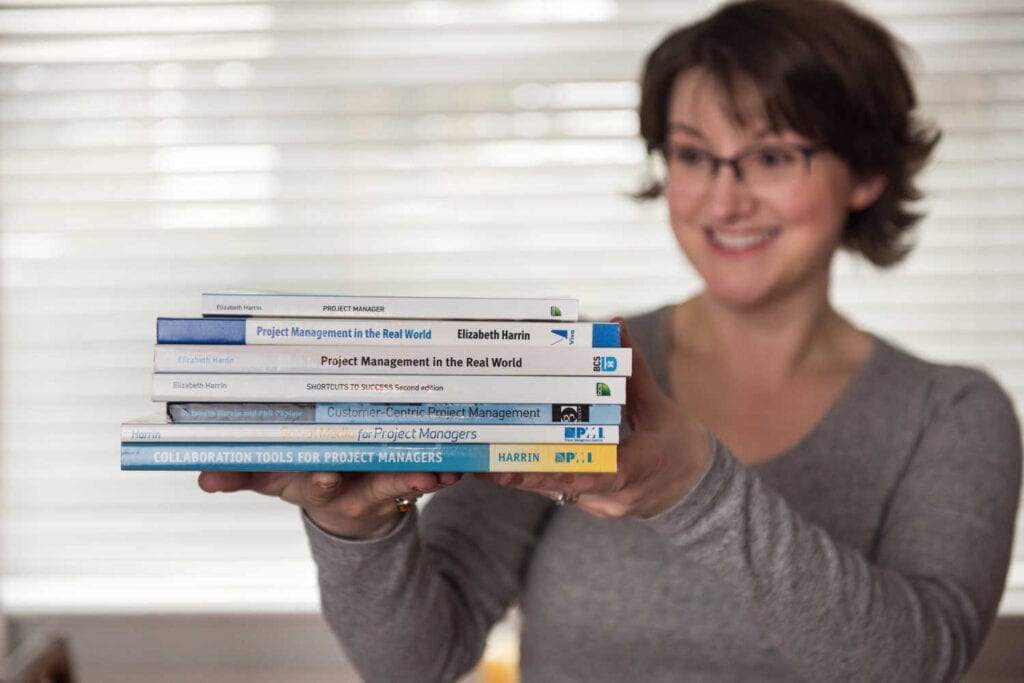 7. Crucial Conversations by Kerry Patterson et al
Crucial Conversations Tools for Talking When Stakes Are High is a frequently recommended book. This is less about the theory of change management, and more a guide to how to talk to people about change when it really matters.
It's a reasonably priced book that will do well on your shelf for all kinds of situations, not just managing change at work. So many of the conversations we have to have as project managers need to be brave conversations. Whether you are providing feedback to someone who has failed to complete a task as expected to the required level, coaching an underperformer, or telling a customer that their deliverables aren't ready, a lot of our conversations fall into the 'difficult' criteria.
This book will give you a rounded overview of how to face these conversations by preparing and reacting in the situation as necessary. You'll feel more confident, and that's really the goal, isn't it?
8. Switch by Chip and Dan Heath
Chip and Dan Heath have written some great books, and Switch: How to change things when change is their well-read take on change management. I love their style and find their writing engaging.
This is a good guide to overcoming resistance to change, and its easy-to-read style means you'll pick up nuggets of information without it feeling like your reading time is work time. You can pack this one in your commuting bag or grab the audio book version to listen to during your workout/run/baking time etc.
9. The Catalyst by Jonah Berger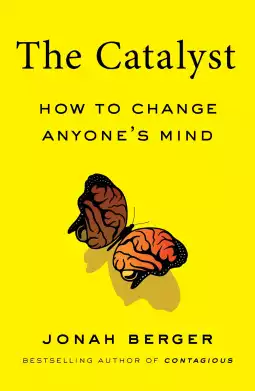 The Catalyst (2020) is so good! There are so many wonderful examples in it, and I sat reading in the Waitrose cafe with avocado on toast not noticing the time passing. It's a book about how to reduce resistance to change through removing the roadblocks.
Instead of pushing harder, first, seek to understand. Then you can dismantle the objections one at a time. Berger gives you a step-by-step guide to do exactly that. The case studies and examples are brilliant, and help illustrate his points with such clarity.
You'll come away from this book with a totally different outlook on why people make the decisions they do and why they hold their points of view. Once that window in your brain has been opened, it will never close.
This one is a must-read.
10. Leading Transformation by Nathan Furr, Kyle Nel, and Thomas Zoega Ramsoy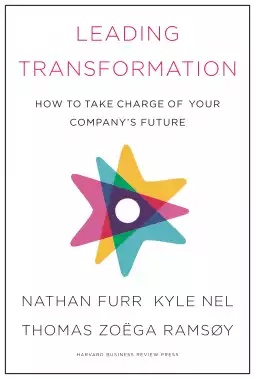 Leading Transformation: How to Take Charge of Your Company's Future by Nathan Furr, Kyle Nel, and Thomas Zoega Ramsoy was an interesting read, but I'm not sure how repeatable the case study would be.
The book basically shares a fascinating business case study that resulted in organizational transformation. It draws heavily on neuroscience and change management and talks about using science fiction writers to design the vision for the future — sharing good practices relating to storytelling.
You'd need a brave organization to replicate the results, but there are tools in here in your own projects, especially around the use of stories to communicate the vision of the new world. Using visual tools to get your message across is not a new idea, but doing it with comics and in such an innovative way was a new take for me.
Your reading list
And that's your reading list for change management books! These books will give you a rounded view of change management, and plenty of practical tips for making organizational and project change run smoothly in your business — and stick.
Looking for some immediate tools on change management, check out the 8 levers of change post discussed by Shea and Solomon to get started.
If you are looking for some other suggestions for project management books to read, you can check these out:
Which one will you read first?
Pin for later reading: