3 Career Benefits of Project Management
Earlier this year, searches for "project management" reached an all-time high on Google, and these searches are widespread, reaching the far corners of the globe.
With many workers seeking flexible work arrangements, opportunities for advancement, and a greater sense of purpose, project management is a more popular and attractive career path than ever. The surge in project management is creating a career path for changemakers.
In this 'never normal' business environment, leaders who are looking for ways to measure success based on outcomes are realizing that project managers are the backbone of their businesses — that without skilled and trained project professionals, projects are at risk of losing the focus and collaboration needed to exceed expectations.
As long as our industry is in the spotlight, the project management community would do well to ensure the benefits of this career path are front-and-center for what I call the 'project management-curious.'
Those benefits include:
Doing work that matters
Being well-paid
Being less likely to get 'stuck' in a job
Here's what those career benefits of project management look like.
1. Project managers do work that matters
Today, everyone is looking for more meaning in their work. Project managers make new, important things happen. In order to make big things happen through others, project managers need a more diverse skillset than ever before.
Project managers of today are tasked with helping to build strategy, leading their organizations through risk mitigation practices, and fostering collaboration amongst teams — and often teams with varied backgrounds and perspectives.
And project managers are utilizing a plethora of skills beyond the technical skills they possess. My organization calls these skills 'power skills' — like empathy, communication, and collaborative leadership — because they give people the power to connect with others on a human level, allowing for more meaningful and authentic interactions that drive better outcomes.
A strong project manager today must possess these crucial interpersonal skills to be an effective leader of teams.
Being a project manager accelerates all of the skills you need to make change happen – and the clearly important change you are driving toward makes your work far more meaningful.
2. Project managers are well-paid
According to my organization's recent Project Management Salary Survey, the median annual pay for project professionals in the United States, for example, is $115,000 – more than double the median annual income for all American full-time workers ($51,480).
This annual survey is an important resource for project practitioners who want to know their worth and organizations who want to stay current with the salary landscape for today's project professional. It is the largest survey of its kind — polling 30,000 respondents across 40 countries — and provides critical insights into how skill level, experience, and certifications impact salary and give project professionals a competitive advantage.
Our Salary Survey consistently finds that obtaining certifications can boost professionals' pay expectancy. Survey respondents with a Project Management Professional (PMP)® certification report higher median salaries than those without a PMP — 16% higher on average across the countries surveyed.
Whether you are a professional looking to gain an edge in your career journey or an organizational leader who wants to upskill talent to meet the increased demands of today's economy, prioritizing these kinds of upskilling opportunities is imperative in today's competitive job landscape.
Free training!
Kickoff from PMI
An excellent free beginners project management course that comes in Agile and Predictive versions. Perfect for accidental project managers and people needing a structured approach to project work for the first time.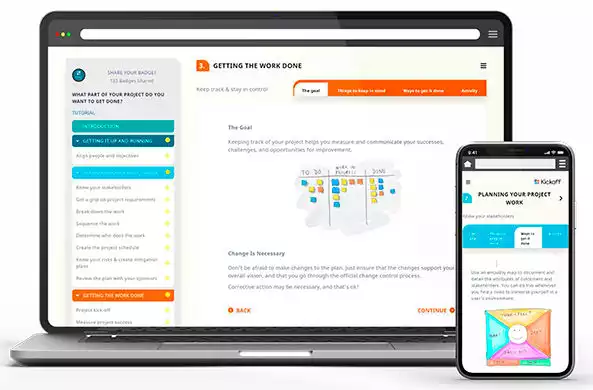 We may earn a referral fee if you sign up #pmiaffiliate #ad
3. Project management means you're less likely to get "stuck"
Project management skills are in high demand across virtually every industry. Regardless of which industry interests you, there are most likely opportunities for project managers.
And because many of the required skills are transferable across different industries, project management professionals often have the flexibility to recreate themselves at any stage of their career, no matter where their journey has taken them thus far.
We know that humans aren't meant to be machines. As their passions evolve and the need for project managers intensifies, there may be opportunities for skilled project professionals to pivot and continue honing the skills they have been perfecting throughout the years, but in an entirely new industry.
Project management is a stable career path
Although what it means to be a project manager is expanding, when it comes to job stability and a clear path for growth, project management stands out in the crowd.
According to PMI's 2021 Talent Gap report, the global economy will need 25 million new project professionals by 2030 to fill crucial roles across industries, including construction and manufacturing, finance and insurance, and management and professional services, among others.
And new opportunities for project managers are being created all the time. For example, the passing of the Infrastructure Investment and Jobs Act (IIJA) in the United States last year will surely open up a host of new jobs for those who possess the in-demand project management skills needed to work on these vital infrastructure projects.
We're already seeing this growth come to fruition: 4,300 projects are now underway within six months of the passing of the bill.
All of this paints a picture for the future of project management and the skilled professionals who fill these roles. As long as projects need to be completed and businesses have goals and outcomes they're working toward, project management professionals will be critical to the economy, resulting in more work (and fulfilling work, at that) for those who are at the core of bringing these projects to life.
Recommended
PMI Membership
Why join PMI? For the resources, programs and services you need to obtain valuable knowledge, the opportunity to network with project professionals around the globe and advance your career. I'm a member, will you join me?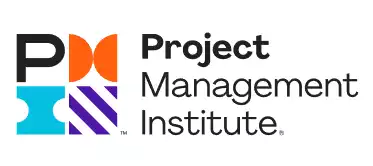 We earn a commission if you click this link and make a purchase, at no additional cost to you #ad