Book review: Microsoft Project 2013: The Missing Manual
This blog is reader-supported. When you purchase something through an affiliate link on this site, I may earn some coffee money. Thanks! Learn more.
Read our review guidelines.
In Microsoft Project 2013: The Missing Manual
, Bonnie Biafore aims to share the basics of project management and how to achieve what you want to do in Microsoft Project 2013. That's quite an ask for one book. Part 1 is a primer on project management and I was surprised that there was so much about this including project selection. It's written as if it is aimed at a complete beginner – at least, the early bits are; the book gets technical pretty quickly – and there are nice boxes called 'reality check' scattered throughout. They tell it how it really is, like this one (which you probably can't read) titled 'When Stakeholders Aren't Supportive'.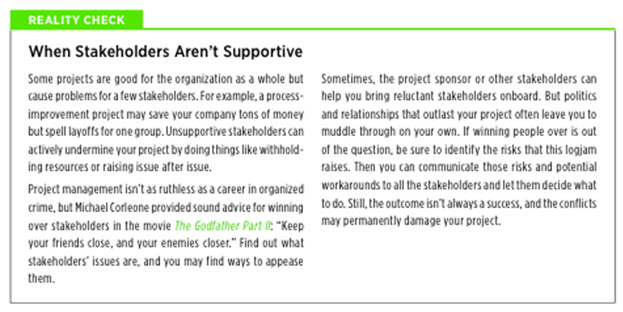 Chartering the project
As part of the 'how to do project management' stuff, Biafore describes a project charter as a press release. This appeals to me as someone who writes press releases and I'd not thought about it like this before. She writes:
The project manager needs some publicity, too. Your authority comes from your project and its sponsor, not your position in the organisation, so people need to know how far your authority goes. The project charter is like a project's press release – it announces the project itself, as well as your responsibilities and authority as its manager.
There's lots of practical advice like this, including the handy tip of not getting the most senior manager to send out the charter unless they actually know something about the project. You need authority, but you also need credibility, so choose someone who can give that to you, not any old senior manager in a suit.
"Like the pop-fly ball that drops to the ground as the third baseman and shortstop stare at each other, project work can fall between the cracks," she writes, whatever that means.
Getting technical: MS Project 2013
It's not until Part 2 that the book starts talking about MS Project. The biggest news since the product's last release is that Project is now part of the Office 365 suite and there are easier to digest reports (which frankly wouldn't be hard). In fact, there's a lot on reports which leads me to believe that getting them to look how you want could be tricky.
The book only covers the Standard and Professional editions, not Project Server. Some of the 365 suite features are covered but that software is evolving and the book is likely to get out of date quickly (and Biafore acknowledges that).
There are usability tips like collapsing the ribbon so you can see more of your plan on the screen and keyboard shortcuts. Biafore uses an example to create a basic project and then goes on to use another example to create a 'proper' schedule in a lot more detail.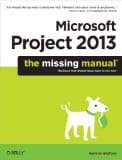 She also includes tips on using other Microsoft products alongside Project, such as how to create a RACI matrix in Excel and importing resource names from your Outlook contacts.
The book is full of tips like how to create a resource and assign it to tasks at the same time, which are all aimed at getting you operational faster. I like the idea of downloadable worksheets for things like capital budget planning from the book's website and also links to MS templates online, which this book provides. They make the book more useful (and give it a longer shelf life) and the added resources will help you get your project on track more quickly. Having said that, I haven't downloaded any to try them out.
Check your schedule
There's a lot about how calendars control resource and task scheduling with plenty of detail and screenshots about how to set up the correct variations of working time for your project.
As well as detailed walkthroughs and how to information, there is also practical advice for making the best possible schedule. For example, Biafore says you should be on the look out for these 8 things as you refine your schedule:
Task dependencies that shouldn't be there or should be a different type.
Tasks with inflexible date constraints that they shouldn't have.
Manually scheduled tasks that should instead be auto-scheduled.
Work or duration values that see too low or too high.
Work packages/tasks without assigned resources.
Summary tasks with assigned resources.
Overallocated resources.
Resource calendars that don't represent people's actual availability.
You can do some really advanced stuff, like setting work contours within an individual task to reflect how work is actually done – after all, resources don't work at the same pace for the entire duration of a task, especially if it lasts over several days. You could get really whizzy with your resource management using the advice in this book, but many of the features described will be far too much detail for the average project.
While it's good to know what Project can do, it would be useful to have some sort of signpost in the book to say 'you can do without this feature if your project environment is not that mature or is relatively straightforward'. This would help new project managers work out which features they should use (like dependencies and baselines) and which ones they can leave and learn about another day (like creating an Excel form to display task information from Project and use it to get task updates from team members).
At over 800 pages the book covers a lot of ground. Much of that is screenshots, which are good and helpful. What surprised me was the breadth of the book, which covers everything from 'what is a project' to crunching some serious project calculations using data cubes. I don't think you could read this knowing nothing about project management and turn into an expert by page 800, but if you need a detailed knowledge of MS Project 2013 then you certainly will get it from this informative and practical book.