How to Add Projects in LinkedIn: A Step-by-Step Guide
Did you know that you can add projects to your LinkedIn profile? Yes, you can add a different section to your LinkedIn page that talks about your professional profile in a new way: via the projects you worked on.
And you definitely should. Let's find out why and how you can use this powerful feature to boost your professional profile and make it more attractive to potential clients and hiring managers.
What's the value of adding projects to your profile?
Projects are a great way of showcasing what you can do and to provide some real data behind your work experience. People are always saying that your LinkedIn page should talk about your results, not your jobs, and projects are the evidence you can add to show the impact you made through your work.
You can add in specific information relating to a particular project. Show off your best work in a way that definitely doesn't feel like you are boasting! LinkedIn should be more than an online resume. Making use of all the available sections helps present you professionally in a rounded way, with more detail than you can include in a cover letter or CV.
Whether you are open to work or simply building your personal brand as a leader in your field, having your projects on your public profile is a way to increase your network because it makes it easier for people to find you – more on adding keywords in project descriptions later.
What sort of projects can you add?
Projects in LinkedIn are attached to a role, so as long as the role is included in your profile, you can add any kind of project. From initiatives you led as part of your volunteer experience to linking to your digital portfolio as a graphic designer, you can add pretty much anything. Just make sure they are related to your work history in some way!
Each project can include a URL, so if you have a website of your own, projects are also a way to drive traffic back to your site. Or link out to your clients as a way of showing the kinds of organizations you work with.
It doesn't have to take a lot of time to add projects to your profile. Here's how to do it.
How to add projects to LinkedIn
First, go to your profile.
From your profile, click the link to edit it.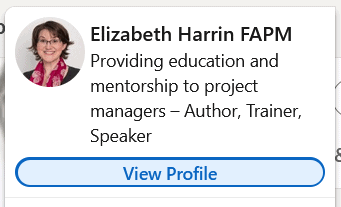 Add a Projects section
If you don't currently have projects on your profile, you will need to add a section. Click Add section.
Then find Projects – it's under the Accomplishments menu.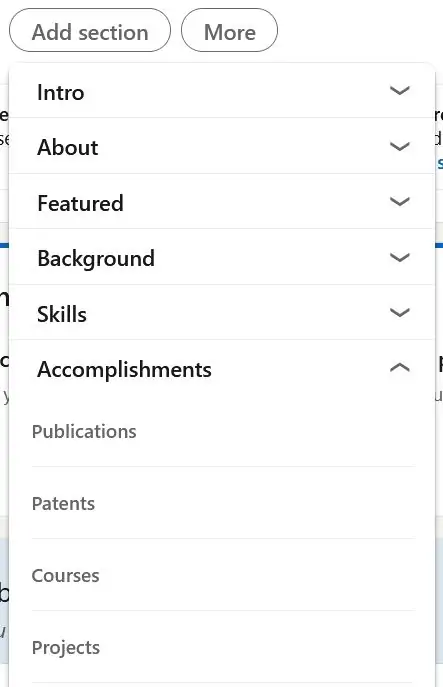 Add your first project
Next, you'll see the popup that prompts you to add a LinkedIn project.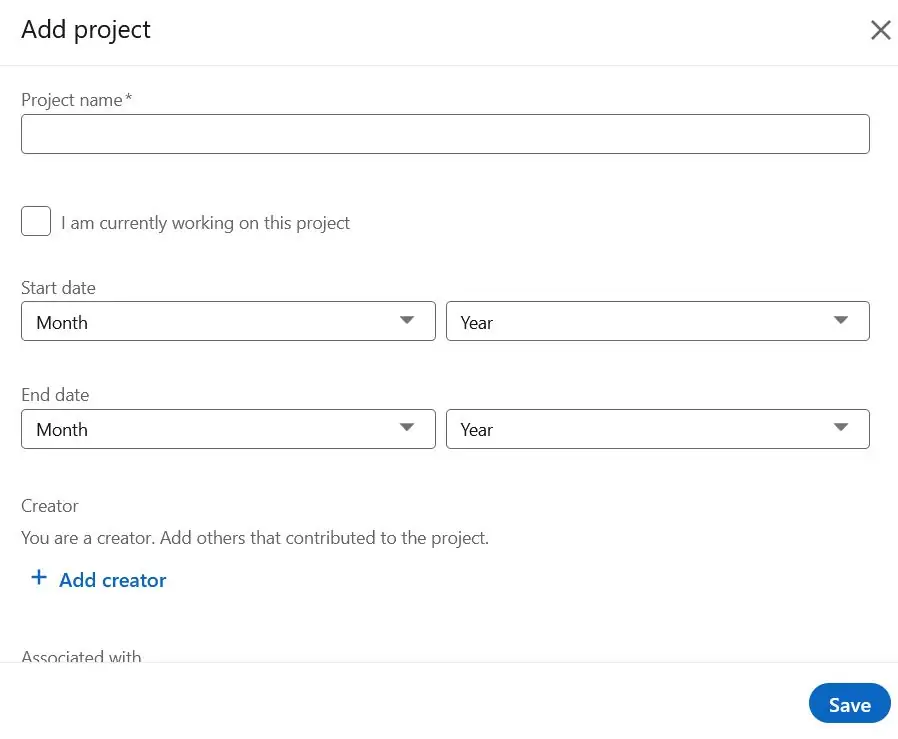 Type in the details for the project. You'll need to include:
Project name.
Start date and end date (it's OK to just have years).
Any other colleagues who worked on the project with you.
The role it was associated with – select this from the drop-down list of your roles that are already on LinkedIn. If the project relates to a new role, add that first.
Project URL if it is a publicly available project or something you can link to.
Description. You've got 2,000 characters to talk about what you did and what the project was all about.
Adding colleagues
If relevant team members that worked with you are already your LinkedIn connections, they will show up and you can select them from a drop-down list.
If you are not connected with them, you can add their names, but I would recommend you don't. There's no need to tag people who aren't connected with you on LinkedIn. No one is going to assume you did all the work yourself just because someone isn't listed.
You might even find that colleagues reach out to you and ask to be added!
You don't have to limit it to colleagues. If you worked with clients, link to your clients' profile, or key suppliers, or any of the additional, wider stakeholder community to whom you are connected.
Writing project descriptions
LinkedIn is often used as a search engine for recruiters, so you can use project-related keywords in your descriptions as a way to signal to potential employers that you have experience in certain areas.
Use your job description for your current role as inspiration for the words to use, or look for keywords in the project management job descriptions of the roles you want to apply for. This will help your profile show up in the search results.
Start with an attractive project name that is both descriptive and interesting. You have loads of characters, so add in as much information as possible, but it needs to be relevant information. Think of projects like case studies for what you are capable of, so talk about all the elements of the work, from your interpersonal styles and navigating different work styles to your technical skills as a project manager, like risk management.
Do not write the description in the third person. You can talk about what you did and how you managed the work. Ultimately, this is your personal choice, but I think it sounds a bit odd on your professional profile page to be talking about yourself in the third person, especially when it comes to describing the things you actually did.
If you prefer to stick with third person, that's up to you, but make sure all your projects are written that way so they are consistent.
I've written before about how to list project management skills on your resume, so take a look at that if you need some help dropping the right kinds of phrases into your online profile.
LinkedIn Accelerator
The LinkedIn Accelerator is your step-by-step guide to creating a profile to impress.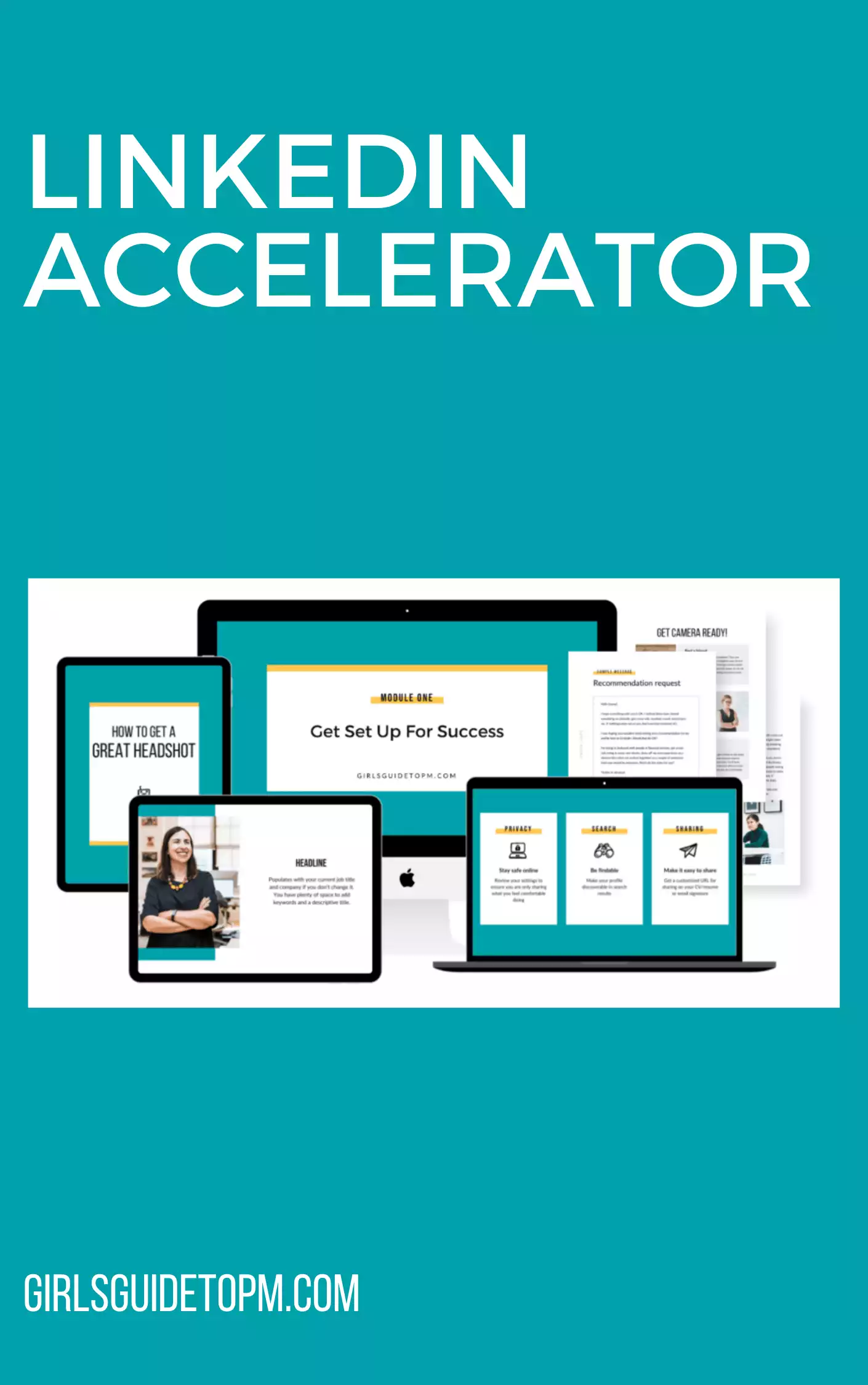 Example of a project description
Here's what I wrote for one of my projects.
I managed a core central project team of 6 people, who were joined by business specialists and secondees as required throughout the lifecycle of the project.
The overall budget for the 4-year program was about £10m. I took over budgetary responsibilities in 2009. In 2010 the amount under my direct control was £2.6m (capital).
This program included major capital purchases of IT systems from two vendors. I was responsible for the project contract management; this included attending monthly supplier meetings. I was involved in the annual renegotiation of supplier maintenance contracts.
I copied and pasted that from my APM Fellowship application form, which handily had all the dates of my project work on as well! (At least up until the point I applied… after that, my exact project dates are a bit hazy as my records aren't that brilliant.)
You can write a lot more, and if you are a job seeker, it's a good idea to be as descriptive as possible to show off your own skills as well as the work you did.
Remember, people will be judging your communication skills, so proofread your work!
Save your project
Click Save. You're one step closer to having a complete profile!
Add another project if you want to list more accomplishments. Keep going until you feel like you've done enough.
View your LinkedIn project
Now find your project on your profile. It will be in the accomplishments section.
Expand the section with the drop-down arrow and you'll see all the text. If it doesn't look like you want, or if you remembered some extra details worth adding, click the pencil icon to edit it.
The downside of how it appears on your profile is that it is not displayed alongside your role in the experience section. Despite choosing what role relates to the project, they don't appear to be connected in any way.
I think that's a pity, as hiring managers (or just normal LinkedIn members) will have to scroll way down to the bottom of your profile to see the projects, and then guess which ones relate to which jobs, using the dates as a guide.
Because of this, you might want to add the company name into the project description so it's really clear which project relates to which role.
LinkedIn may well change this in the future – all the social media apps mix up how information is displayed and entered as they constantly evolve.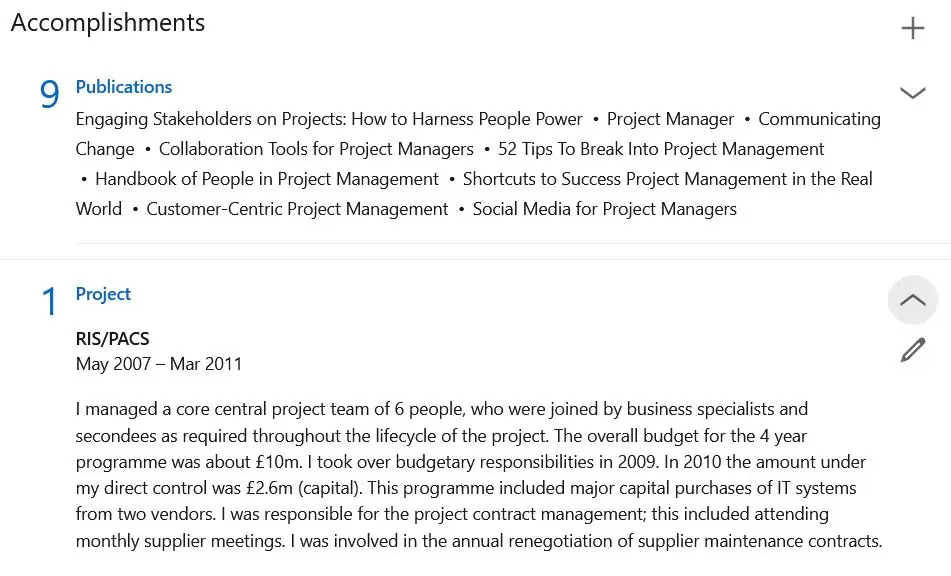 Your next steps
Ready to add projects to your LinkedIn profile? As you can see, it's really easy, so here's what to do now.
Login to your LinkedIn account
Follow the steps above to add some awesome projects that relate to your work experience
While you're in there, make sure the other parts are filled out, like the education section and your current position
Try to keep your LinkedIn profile up to date and stay an active user of the site so next time it's not such a mammoth job to add all your past experiences and projects!
Pin for later reading: